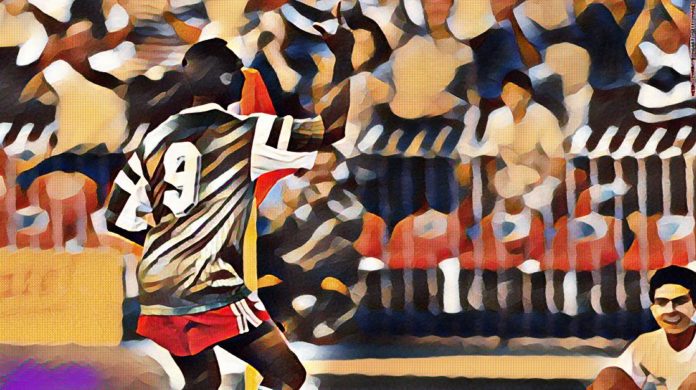 Hey folks, and sorry. It's been a couple of days since I've updated you all on the latest from Cameroon. The reason is that we've been on the real-life road in the last couple of days, viewing a property on the outskirts of Madrid, quite near a place called Toledo.
A quick side track…
Two and a half years ago I published the first "Johnny Cooper, Championship Manager" book which used the Championship Manager 99/00 version to tell the story of the season with JC managing Mansfield Town FC. If you haven't read it yet, get it on Amazon – it's well worth £2. Anyway, the main protagonist of Johnny's first season in management was a talented Spanish striker who he signed on a free. The guy is called Onesimo Sanchez. Two years ago, when we moved to Spain having used FM to decide on Torrevieja, I said to Jess jokingly "all I need to do now is meet Onesimo Sanchez!" Well, Onesimo is still head coach at CD Toledo. So maybe, just maybe.
Back to Cameroon. Let's kick start today with this incredible news.

Little old Tonnerre KC have qualified for the CAF Champions League semi-finals with two games spare. Get the hell in.
We smashed current holders Asante Kotoko 3-0 at our place with an Ndzana brace and a goal from Awono doing the damage. Then, a week later, we destroyed CA Bizerte 5-0 at home in an incredible display. We are in the actual semi-finals and who knows what might happen? Well, considering we then went to the DR Congo and got done 3-1 by Mazembe I am not getting too carried away.
The main issue I am having is that I have fallen into the trap of squad rotation, which I never ever do. I always have a first choice XI then play them into the ground using the rest option all the time, helping players recover fast. Because two of my first choice XI are not registered for the Champions League, I've mentally used that as an excuse to change the side around a lot and our league form has suffered as a result.
The result after beating Asante? Hmmm, actually we beat the champions Canon Yaounde 1-0. The result after beating Bizarte? Aha! A 0-0 draw with Racing, a team we should be beating. In fact, we drew 0-0 with Unisport before the trip to Mazembe where we lost 3-1. It may not seem like it, but I do feel that the Champions League run is affecting us in the league.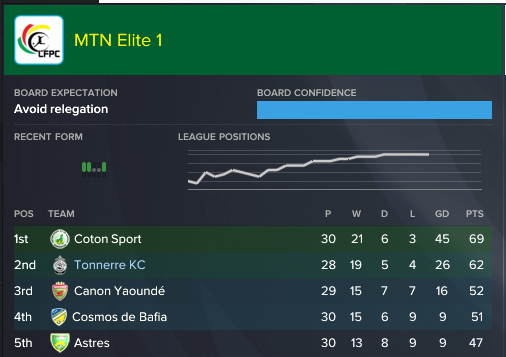 I'm annoyed, because we had enough games in hand to be top of the league if we won them all – now, two wins only has us second with four to play so we need Coton Sport to mess it up somehow. If we don't win the title it will feel like a massively missed opportunity with how the season has gone.
Our run-in, not including the CAF Champions League semi-final looks like this.

We need to beat Asante to be sure of topping our group – not that it makes a great deal of difference as it is just awesome to be going through. I would genuinely expect us to win all of those league games, bar Canon Yaounde which will be tough as always – so there is every chance we could do it.
Coton Sports don't really have any banana skins in their remaining four games and they will be keen to close it out this season having thrown it away in last season's final day drama. We just have to do our bit.
As you can see, we are still in the Coupe de Cameroon too, so busy times.
Both the U21's and U18's have a great chance of winning their respective leagues again so it would be great for the first team to win their first bit of silverware!
Who knows? Well, Mark Monroe will by tomorrow.
Until then!
#LeTKC