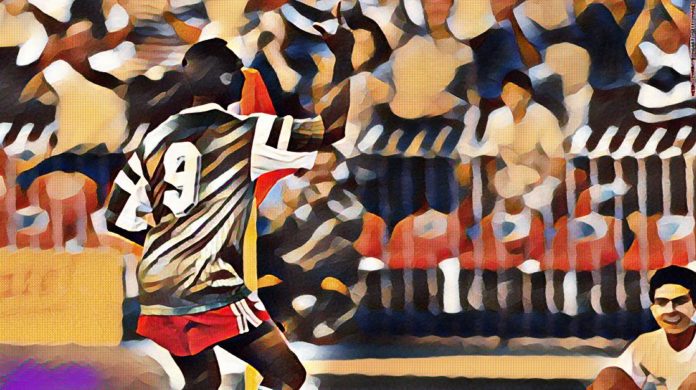 Firstly, I have to come clean. I didn't get through anywhere near as much as I hoped yesterday so if you are tuning in expecting to hear about ten or fifteen games you are going to be very disappointed. But, we did potentially find a new house to go and play in so swings and roundabouts!
I actually got through four matches with Tonnerre KC (and they were four big matches I can tell you) and we had Mark Monroe's second match in charge of Cameroon, a trip to Mexico.
Let's cover Tonnerre first!
First up was a friendly against Fortuna Yaounde just to keep the lads match fresh before the CAF Champions League got underway. We strolled through it 1-0, without really over exerting ourselves. The main thing was we kept some game time in our legs and didn't pick up any injuries before our trip to Tunisia.
Our first opponents were CA Bizerte who were in the competition courtesy of being the Tunisian Cup runners up last season, and with Club African doing the double they took a Champions League place. I don't really understand it either. CA Bizerte finished 4th in their league last season, so they had a strong season themselves and were, as expected, clear favourites. I was worried that the occasion might get the better of us – getting to the group stages was a massive achievement and nobody expected us to even collect a point. I took the risk of calling back in Cameroon U20 international Fabrice Boya on the right of midfield, even though he apparently needed a rest. Boya repaid my faith by scoring the opening goal after 27 minutes, a deft finish after a slick passing move. Frustratingly, we failed to hang on until half-time, Bizerte equalising after 42. The customary half-time kicking and double change worked once more though, and fellow Cameroon U20 international Karim Ndanza netted a brilliant winner, leaving me leaping off the sun lounger. Considering the other match in the group had finished all-square, this was an early advantage for us, plus over €100k for the win!
One of the things you hear a lot about in the real world is how a team might struggle to adapt to playing continental football and domestic league football for the first time. Well, we suffered after that high. A disappointing 1-1 draw with bottom club Sable certainly brought us back down to earth with a thud. Still plenty of work to be done in the league, that's for sure!
We did sort ourselves out for the next game though, a trip to UMS Loum ending in a convincing 2-0 setting us up nicely for the visit of African giants, five times winners of the CAF Champions League, TP Mazembe of DR Congo.
These boys are one of the biggest names in African club football, so getting anything from them would be an incredible achievement. As it was, we were dominant in a 0-0 draw, unable to score but not giving them a sniff. Four points from the first two games? I'll take that all day long.
That leaves us top, but if Asante win their next match then they will join us on 4 points.
So, flipping over to Cameroon.
Ex-Tottenham and Norwich defender Bassong was brought in to add some left-footed balance at the back, and the 22-year-old(!!) Minala came in to create a very young central midfield pair.
We were excellent in the first half, a fine striker from Kaptoum giving us the lead. Disappointingly we tired in the second half and allowed Mexico to snatch a draw. Still, they are ranked 12th and we are ranked 31st right now so it was a decent result. We have the makings of something half decent here, if we can get a tight squad together. The U20 side came runners up in Toulon as well, which was great to see.
So just a short update today so I can crack on and get through some more games tonight.
We are building the future here, just like we said we would.
#LeTKC