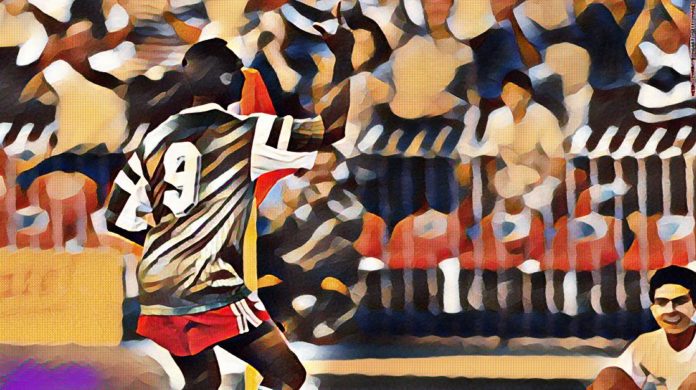 Didn't want to win the cup anyway.
Both legs against Fovu Club ended 0-0 and we lost on penalties, something like 10-9. Gutted.
Still, we only had to score one sodding goal and we failed to do that.
So that is the 2018 season over, and it wasn't too bad at all.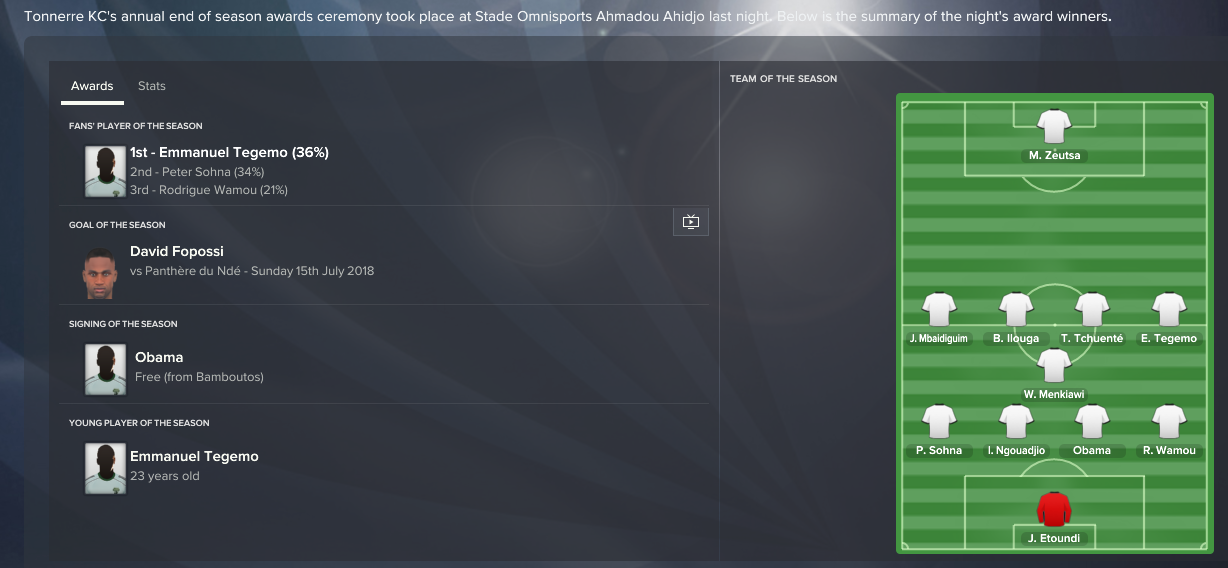 I've decided to get over the disappointment quickly and look ahead to next season. We have the African Champions League to sample! Time to do some research…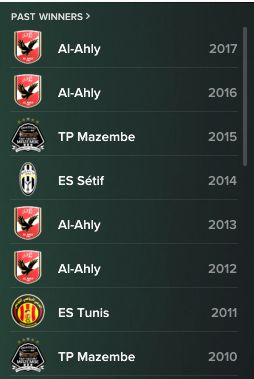 So Egypt seem to do well, or Al-Ahly as they are known. Mazembe are from the DR Congo, Tunis from Tunisia and Sétif are from Algeria. Each of those clubs play in leagues that are rated in the top ten in Africa. Our league is ranked 11th.
As I typed that, the 2018 final processed and the winners were Asante of Ghana, their league ranked 15th. Hmmmm, I wonder if we could surprise a few?
Last season Coton Sport and Union Doula represented Cameroon. Coton Sport made it to the group stages but finished bottom. Union Doula went out in the second round.
This is the format for the competition.
It's not going to be easy to do well, but nothing worth having is apparently.
Having gimped it in Asia before, I thought it prudent to actually read the rules. So, we will play our prelim in early February and I have to have my 30 players by mid-Jan. That shouldn't be a problem as I cannot see much transfer activity happening this winter, and if there is any I would hope it will be done for the opening bell of the transfer window.
This is huge step for Tonnerre KC, and it has provided me with an opportunity to try and improve the club. Gone are the days where I was the only member of staff! With one of the coaches claiming "Tonnerre KC's players are not of a standard I want to work with" when I offered to renew his deal, I binned him and promoted the U18 coach. I've also added one more coach to the first team, recruited an U21 assistant manager and replaced the U18 coach. Julio M, I presume, will take up his U18 assistant manager role very soon.
I haven't stopped there however. I managed to persuade the board to let me have a Sports Scientist, so one has been recruited alongside a new Head Physio and a physio for both the U21 and U18 sides. I wasn't allowed a Data Analyst though, which was a shame.
A Head of Youth Development has been brought in as I was unable to increase anything on the youth coaching front – the board have finally paid for the new youth facilities which meant the proposed first team training facility improvements have been cancelled. But, we have shelled out €450k and we are still in the black.

Upon this news I went out and recruited a couple of extra scouts.
Now, all these new members of staff come at a cost but I have worked out that a home gate in the Champions League plus the fee for even losing the prelim will cover their wages for the year. And I will be distraught if we go out in the prelim.
Other than that, what else did I do last night?
Contracts have been renewed where I wanted them to be renewed other than Marcy. He is playing hard to get, but he will sign. Academy players that I have marked on the list as poor trainers, poor attitudes or poor performance have been released – I am happy to give people a chance to develop but if they were 18 in the U18's and show any of those three weaknesses then they have gone. The same with anyone 21 in the U21's.
I have a couple of transfer targets in mind, but initial talks have suggested they don't want to join us yet, so we will keep an eye on them. Genuinely, short of Julio M retiring, I cannot see any outgoing names this winter.
I am very positive about next season and I cannot wait to get started.
I'll be back tomorrow.
#LeTKC