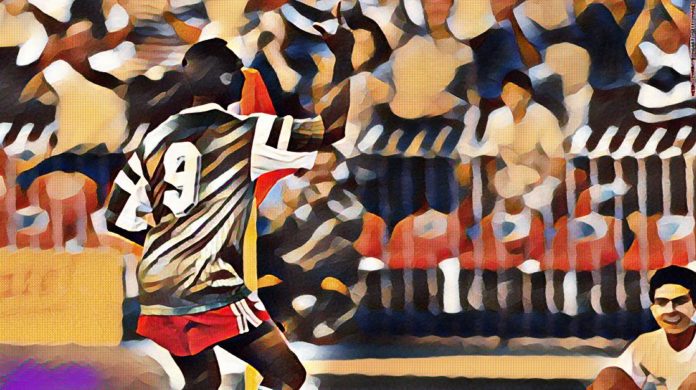 That is a genuine question. The last three nights, no matter what has gone in the previous matches, we have lost the last one of the night 1-0. It's a tad frustrating. Especially last night. It brought to an end a superb ten match unbeaten run, including six wins and four clean sheets. That run saw fly up the continental spots, though if we'd won that last game we'd be sitting much prettier…
Thirteen games to go and, realistically, 3rd down to 9th are fighting for the final top four places. I really do feel we can do it, we have loads more to offer but a lot will depend on how we bounce back from the 1-0 defeat to UMS Loum.
In the unbeaten run we saw off teams down the table in the main, but gained valuable points against both Fovu Club and Canon Yaounde. Smashing Renaissance 4-1 felt pretty good.
There's been quite a lot of transfer activity as I looked to strengthen the squad.

Obama has slotted straight into the back four and has made a difference, meaning that I was able to cut my losses on Onda who was a massive €18k flop. The other guys will all be prominent first team players, probably next season.
Several guys that just won't cut it against some of these new faces have been allowed to go and forge a career elsewhere. I guess, longer term, we will start to strengthen Cameroonian football in general by doing this. But these guys have left us…
Djidda never justified the €75 a week I gave him, so another transfer fail from me. Boya wasn't ever likely to become our number one and we have better kids who can learn their trade on the bench. Djoufack, did well for us getting to this point but is a MTN Elite II player really as is Bekep. Hopefully they can go on and do very well for AS Etoa. Mbassi was never going to make the first team, despite being a useful U21 player but deserves a shot at first team football elsewhere. The majority of the boys out on loan I cannot see coming back and slotting into the first team so should get used to playing elsewhere.
Financially, we are in great shape but I am a bit confused.

We have way over €600k in the bank but we don't appear to have paid for the new training facilities yet. The work is marked as "started" and is the planning stage, so I do hope it goes ahead.
The next five games are season defining – we have Unisport (6th), Astres (5th), Coton Sports (1st) and Panthére (8th) as well as Botafogo who are down the bottom. If we can come out of that run on unscathed then we are well on for a run into Africa!
Julio M, our experienced left midfielder, has smashed his hip and has announced he his retiring at the end of the season. I've offered him the role of U18 assistant manager as I want ex-players to be the future coaches. Mind you, it will be a long time until another one is retiring!
I'm excited about the next playing session, we will have a very clear idea of how the rest of the season looks.
Let's do this!
#LeTKC