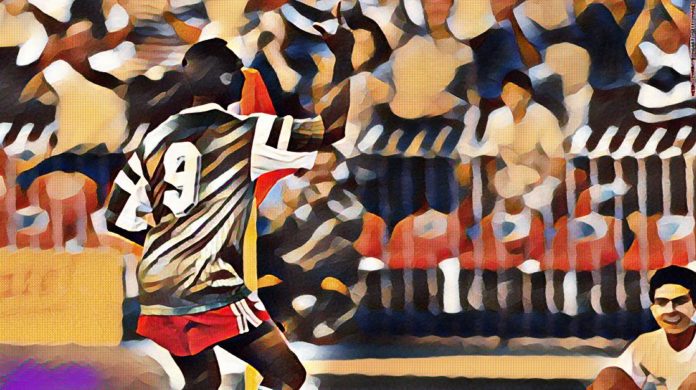 I certainly did not expect to be saying that come the final whistle of our final league game. 279 people saw us beat the already relegated champions of the previous season, Lion Blessé. We won the game 2-0, meaning we ended our first season in the MTN Elite I in an incredible 7th place. Incredible when you recall the fact we were rock bottom with 4 points after 13 games. Since that moment, we lost once but what an annoying loss it was.
We went into our final three games in form and full of confidence. We ended Young Sports Academy's hopes of winning the title, seeing them off at home 2-0. Next were Canon Yaounde, again at our place. By this stage we knew two wins in the last two games could, if results went our way, see us sneak into 4th spot. There is not much like a derby against your city rivals when both sides are aiming to sneak into the continental positions but we just completely failed to turn up in front of our largest crowd of season, just shy of 16,000. We lost, 3-1, the biggest disappointment of the incredible comeback season.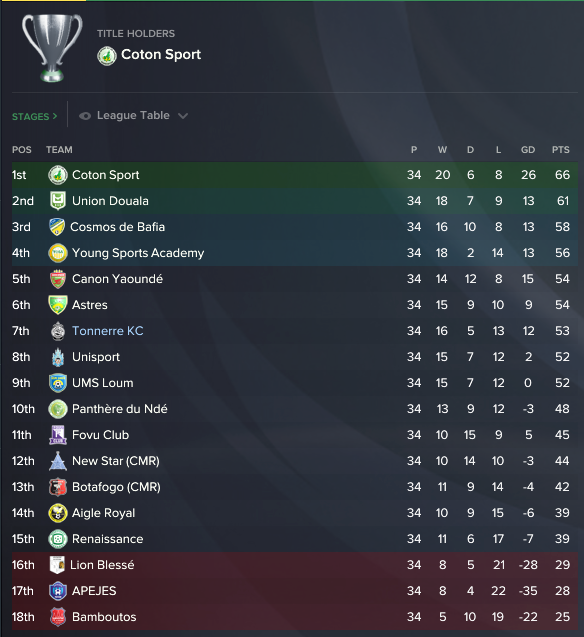 As you can see, a win against Canon and we would have finished 4th. Goal difference would have seen us qualify for the continental competition next season. But what a turnaround, considering the start we had and where we were when the transfer window reopened.
It's ended up being a decent season for the academy sides as well.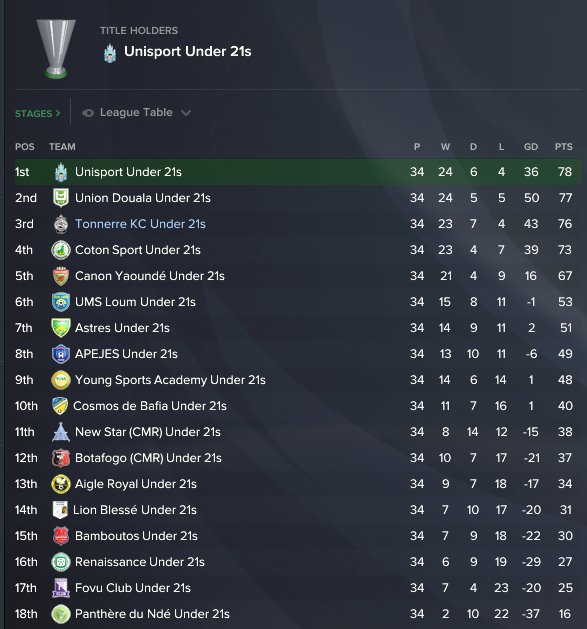 The U21 side will be kicking themselves as well, that title was there for the taking. In the end, a late draw cost them in the final game. But, that should give us hope for the future as players are developing nicely in second string.
What about the U18's?
These boys did brilliantly to finish 2nd, considering their poor start. Again this is pleasing, as the whole club is historically geared towards generating young talent. Some of this year's intake are already earmarked to be promoted to the first team squad next season.
I did some quick analysis of the players, based on the KPI's that I've always used and seen before. In the end I let these boys go.
The decision to release them was based on a blend of poor performance, poor training and personalities that I decided I didn't want. Of course, if they'd had an unfavourable personality but played and trained well, I'd have kept them. Equally, a top personality coupled with poor performance and training didn't save them. Seven, plus one experienced centre back in the first team who was on €300 a week creates space – each of the seven were on N/C terms or still on youth contracts, so there was no great financial loss in giving them their cards.
I really was in two minds over Kitimbi.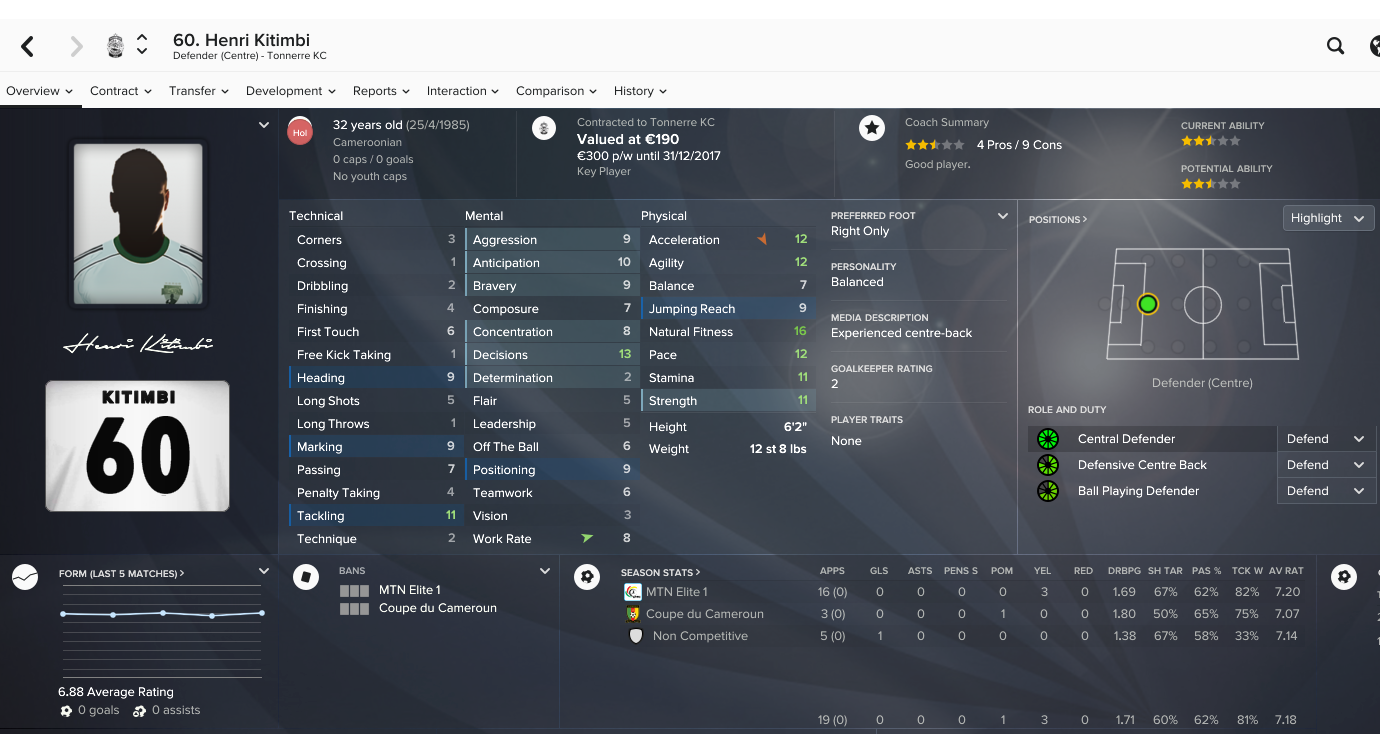 He performed very well for us, he added some experience to the back line. There has been nothing in terms of his attributes to suggest decline. But, €300 a week is significantly more than anyone else is on, so I've decided to let him go. Onda needs to start justifying the €18k I spent on him, so he will take over as first choice CB and one of the young academy lads will move into the first team squad.
The board have increased the wage budget to €12,500 a week and I'm still spending less than €3k a week. They've also given me €89k to spend on players, but I can't see myself being able to spend a fraction of that unless I need to go out and replace a key player I wasn't expecting to lose.
Providing the squad remains the same, I'll be looking to blood some of these kids next season.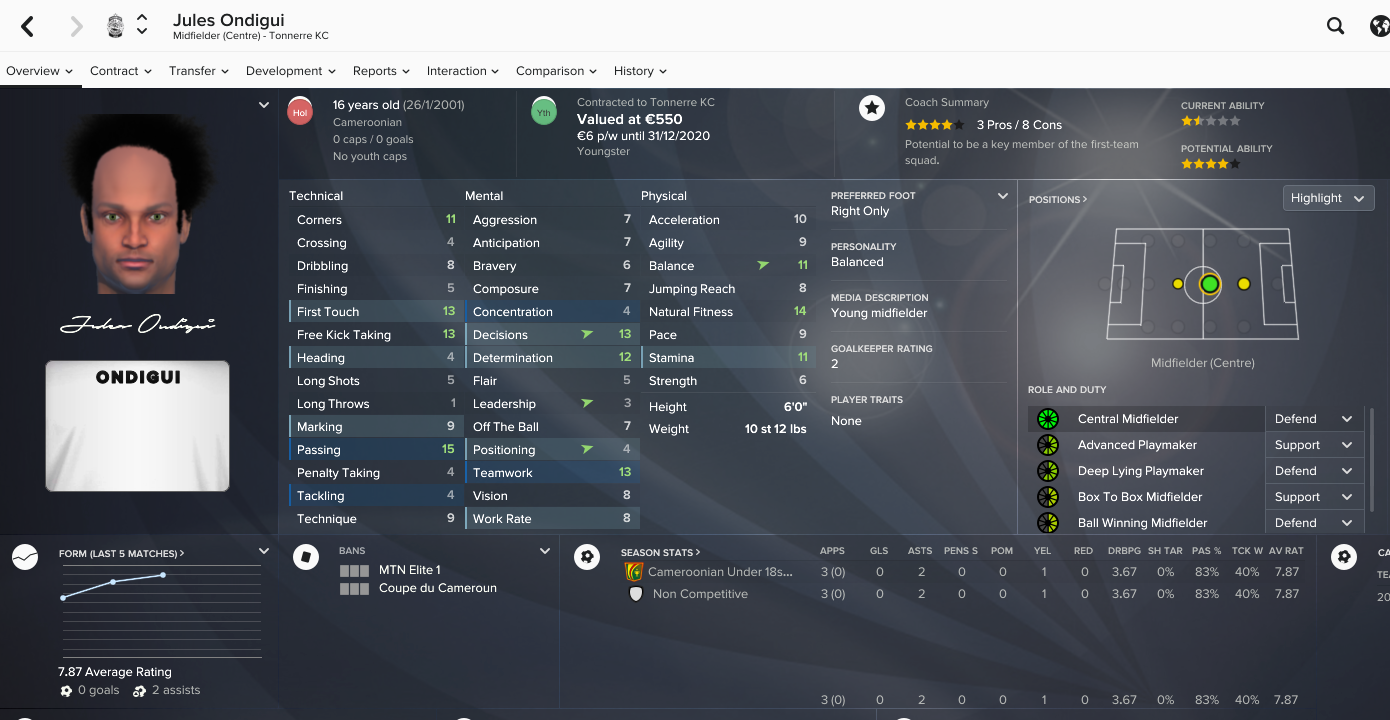 He looks alright, doesn't he? He caught my eye in the intake match and then did very well in his three U18 games. He's going to train with the first team squad, and be available for the U21 side until a chance comes his way. He's being trained as a CM roaming playmaker/tackling right now, so try and improve all his attributes.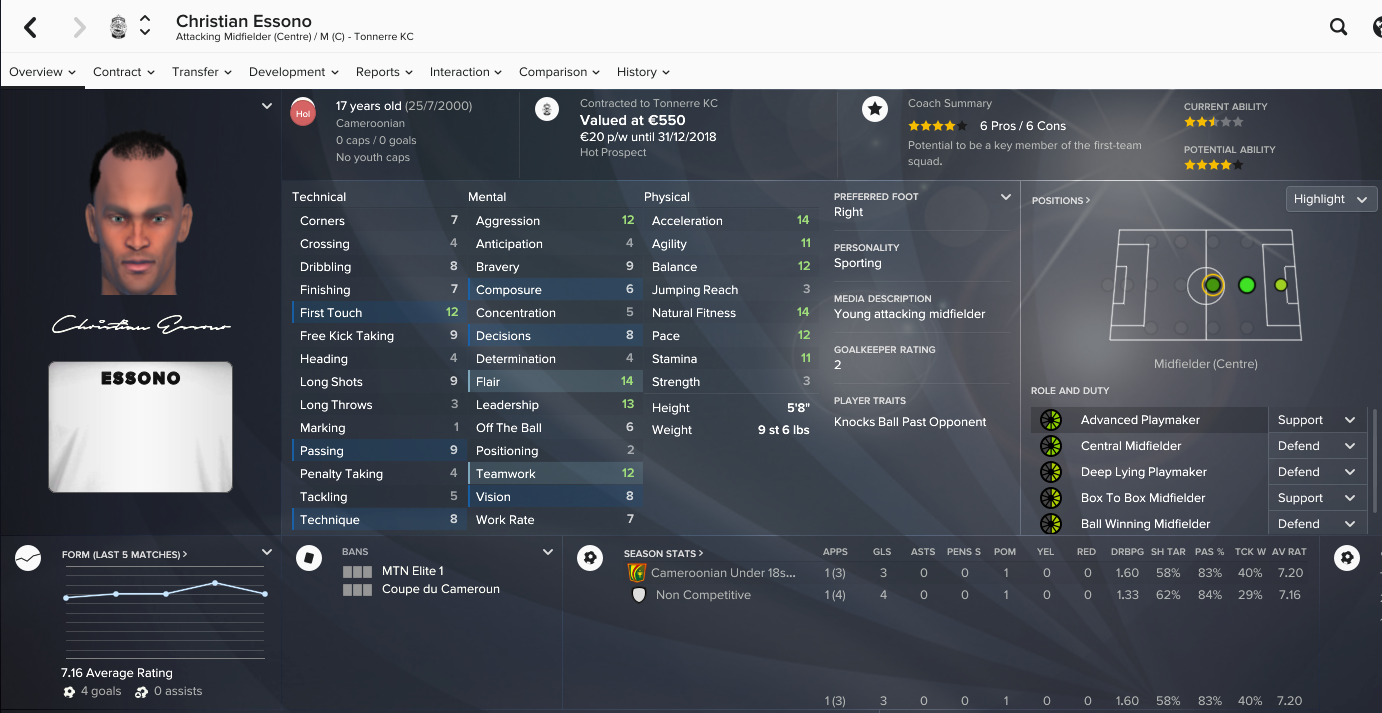 I nabbed this lad on a free in the last transfer window, when we were still playing two attacking midfielders – he is has impressed me in a central midfield role though, so again joins the first team training and will be available for the U21's.
In the academy sides, these lads are very much earmarked.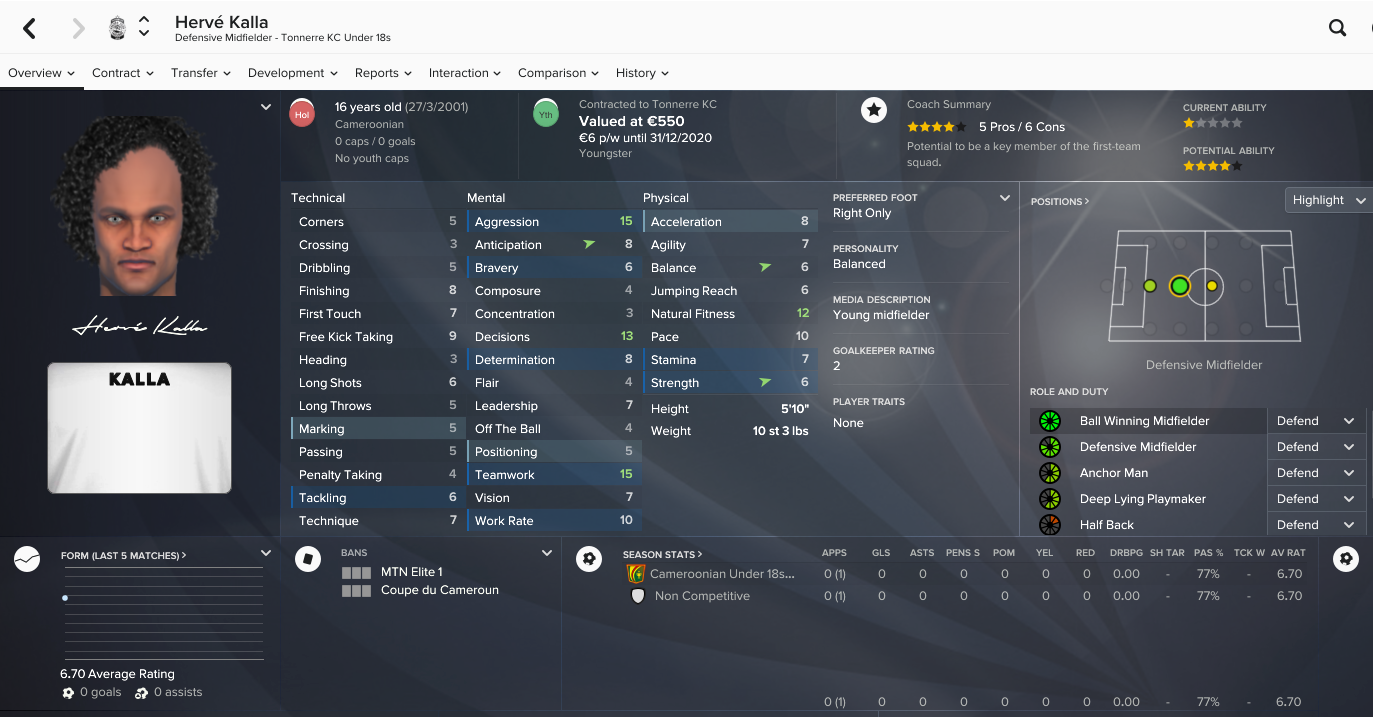 He doesn't look like much yet, but I have a good feeling about this kid. He'll stay in the U18 side for now, but may well be moved into the U21 squad quickly. It'll be interesting to see how his attributes grow.

I'm already looking at this kid as the next Rigobert Song, one of the Tonnerre alumni. If he could just be a little quicker, he would have the lot so I am going to watch his progress closely.
Now, the more eagle-eyed of you will have noticed that these players have STAR RATINGS! Woo! I decided as part of the club progression, we could probably do with some coaches so I have recruited an U18 coach, an U21 coach and two coaches to assist me in the first team. They are costing me, in total, about €500 a week so we shall see how it goes.
One thing about Cameroon is that it is a bloody long close season. We finished in early September and preseason won't start again until mid-December. I could have got some end-of-season friendlies in but, even though the money would have probably paid for the coaching staff next season, I decided we all needed a rest.
I have very little scouting to do, all the players I want to renew are renewed and the preseason friendlies are all lined up, so I guess I can put my feet up now until we go again.
#LeTKC