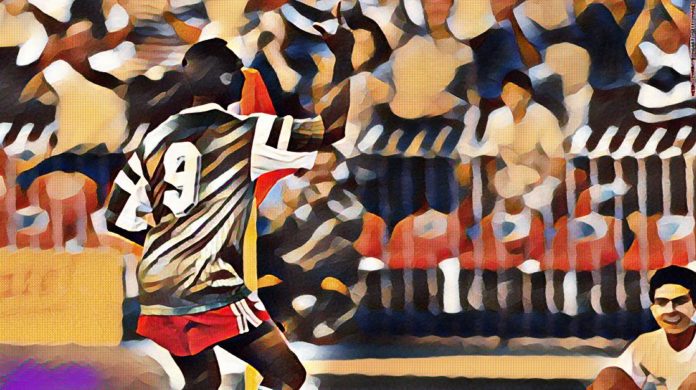 When manager of Sheffield United, one of my all time favourite managers Dave "Harry" Bassett used to have the Christmas Party at the start of the season as he noticed his players used to perform better after January than at the start of the season and, frankly, he was getting a bit tired of dramatic second half of the season escapes from relegation.
Harry, I know how you feel.
As I informed you in the last update, we haven't exactly set the MTN Elite I alight. In fact, we ended the last update absolutely rock bloody bottom and with some ground to make up. I'd narrowed the future down to four options.
Switch from our attacking 4222 tribute to the Brazilian 1982 side that had got us promoted to something more stable, like a 4141
Abandon the signing U21 players only policy, and bring in a few players to hopefully help us turn things round
Bring in some support in the backroom team
Give up all hope, holiday to the end of the season and hope I still had a job post-relegation.
Obviously, the fourth one wasn't really an option so I gave a lot of thought to the other three possibilities.
We started with the switch in formation, which coupled to a slight switch in playing style as well. The 4222 was built on control/very fluid but, frankly, the results were speaking for themselves. Now, if we scored from the chances we had created the defence may not have been under so much pressure. Equally, if we had defended better the strikers may not have been snatching at their chances so much – the facts were there, we were scoring goals but shipping more than we were scoring. We had high possession stats, but teams had cottoned on the fact that if they waited, they'd get enough chances against us to score. And boy, did they score.
I spent a morning reading and asking questions around my idea of a 4141. I'd had a very good one at the back end of FM16 and used one at Torino earlier in FM17 but could not find any of my notes on it at all. I thought about the roles that were known for working well in FM17 – whilst refusing to go strikerless which, as the months go by, does seem to be a tactic that has broken the FM17 match engine and almost guarantees any side in a division can over-perform massively. Even an SI developer has said that he was grateful nobody was playing strikerless in the FM17 cup as it would have exposed all the flaws. Anyway, IWB have had great success so I wanted to incorporate them for the first time in my FM17 tactical approach, and I wanted to return to two WM/A in midfield supporting a trequartista up-front. My playing style change was to flick it down a notch from control to standard, hedge our bets a little more.
This is what it looks like.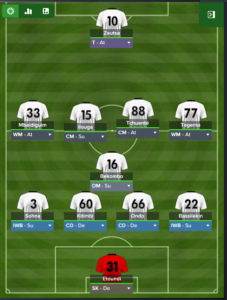 Nothing massively fancy about it – one man sitting and protecting the defence, one shuttler, one attacker in the midfield trio. The WM/A is a favoured position of mine because the get into scoring positions as often as an IF (in my opinion) whilst offering the fullback much more protection. I was lucky enough to give it two games in the academy sides to have a look, before unleashing it on an unsuspecting top flight…

The Coton result was our first win in ten matches, and moved us from four points to seven. They were also in 4th place at the time, so there was a buzz around the place. I felt I had stumbled across something – well, not stumbled. I'd spent hours working it all out. But hey. UMS Loum brought us tumbling back down to earth as we led early and I was loving it. But, they equalised on the hour and scored twice in the last ten minutes to pinch it, the second being the most laughable goal we had conceded all season. I realised that we had a better tactical approach that might give us a chance, but I didn't have the quality of players to sustain any form of recovery and we could not afford to win once and lose the next one if we wanted to stay up. Fortunately, the transfer window was due to open. I started thinking about options…
The Aigle Royal defeat moved me from drawing up a shortlist of potential recruits to moving fast to get deals done. My gut was telling me we could get out of this mess if, and it was a big IF, I could get the right talent and character in the squad fast.
Armed with a €40k transfer budget due to my brilliant financial management to date, I went shopping.
Little Tonnerre KC went out and paid actual money for people. But the penny dropped. Little Tonnerre KC? We need to change that attitude. To give it some English relevance, we are a bit like Leeds United. We are a huge club in Cameroon – in the top flight we pull in the 4th largest average attendance. We have history, history that involves success. Sure, we've had to rebuild but we can also believe that we can be the best and to be the best sometimes you have to spend a little money, and sometimes spending a little money means people remember you exist.
So all that added up to about €26k in money spent. Admittedly, €18k of it was on a centre back and is the biggest transfer fee paid in Cameroon this season, but as I said – it lays down a marker of intent. The bigger impact has been on our wage budget, which I have gambled on somewhat. We have doubled our outgoing, but I still feel we will be profitable this season AND we might have just bought a ticket to the "you might not get relegated" lottery.
Julio has slotted into left midfield very nicely. Essono was already agreed when we were playing two attacking midfielders, so he has gone into the U18's. Tegemo is already a crowd favourite, playing right midfield. Menkiawi is an absolute beast, 6ft 4 of defensive midfield muscle. Ondo has struggled, probably due to the size of the fee – as ever, when I spend big I regret it. Awono is versatile, and is a great substitute for us to have. Tchuenté is performing nicely as the CM/A. Wamou is a brilliant right back, doing very well as the IWB. Isi is fighting Ondo for a place at centre-back alongside Kitimbi who is on €300 a week, which is about what I was paying everyone in total before I went on this spree.
So, has this been a mad gamble?

If it were a gamble, my chips seem to be coming in! We have gone a wonderful run, ten league games unbeaten including some fine results against teams higher in the league than us. OK, OK, every team was higher than in the table than us but we've done very well against some teams in far higher positions than us.
As I mentioned, all bar Onda have really settled in quickly and have brought out the best in several others. The goalkeeper Etoundi is reborn and confident. Sohna is becoming a brilliant left back. Ilouga and Mbabi are dominant in the midfield, Armstrong Bekombo improves every week. Up front, Marcelin is doing fine, fine work and has 14 goals from 25 starts.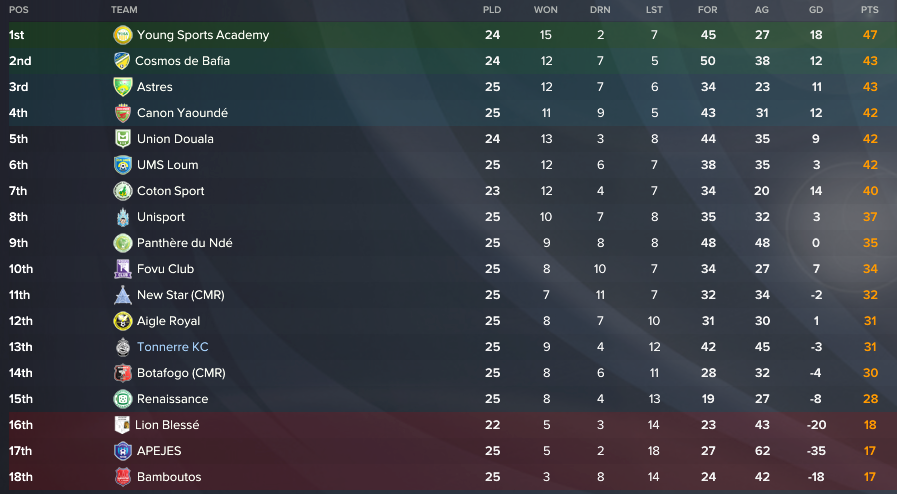 That looks a little bit better, doesn't it? Let's pretend Lion Blessé, current champions you would do well to remember, win all their three games in hand – that would leave us eleven points above the drop zone with eleven games to play. I am not counting any chickens yet, mainly as I am pretty sure any chickens I could have would be swiftly stolen in Cameroon from what I have been told. But, we are in much better shape than we were. Top ten is a lofty goal, if we can maintain this form. But, more importantly, we could avoid relegation meaning that the foundations are set.
How does this short-term shift in policy affect our long-term vision? Well, it doesn't. It means some of the players that are not ready for top flight football yet can drop down to the academy sides and continue their education. Nobody is written off long-term and, if they have the right character, they can learn from their experience. Already, the academy sides are seeing the benefit as both teams have shot up to 2nd in their respective tables.
We have moved three players on, but they were in their early 20's and didn't figure in the new framework – everyone else is now being trained in accordance with this tactical plan, which I feel will do us well for a few seasons.
I repeat, we are not safe yet but we have given ourselves a bloody good chance of playing Elite I football next season.
At the end of the season we will hopefully celebrate, take stock and revise our plan.
As ever, any questions do fire them over!
#LeTKC