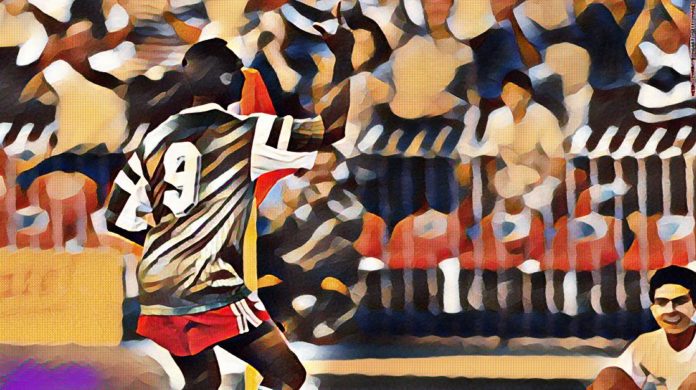 Yeah, how do you like them apples, eh? Since we last spoke yesterday, that unbeaten run has gone on and on and on. Relegation thoughts have been replaced with cheeky "we couldn't sneak into the top four, could we?" Well, of course we can't but we can dream. We can certainly dream.
There is a slight minor blip in there though, as you will have seen. We lost to Unisport on away goals in the cup. I genuinely saw us as having a chance in the cup, and we absolutely sodding well murdered Unisport over two legs, hitting the post five times seeing three cleared off the line and playing an hour of the first leg with ten men. How we did not win that game will haunt me, forever. I mean, even in injury time in the second leg we hit the post, bar and missed a fucking one on on. Seriously.
But, as I said our MTN Elite I future is secure for at least one more season.
I said it tongue in cheek, but with three games to go to still be mathematically able to qualify for the Africa is amazing. We have to play Canon Yaounde, and we have a game in hand on them. Win both those and we are on for top six. Young Sports will be very tough, but we knocked them out of the cup. Our final game will be against current champions, Lion Blessé, who might need a win to stay up or could be already doomed – so we shall see.
So far this has been one of the most interesting seasons I have ever had in FM. Never before have I been in such a relegation battle and survived. I rarely, so rarely change an entire playing style mid-season and for it to work. I certainly never go and bring in an almost entire new starting XI in the mid-season transfer window. So it is fair to say I am broadening my horizons.
As the season end approaches, I am having to split my focus between seeing how high up the table we can finish and looking closely at every player in the Academy set-up. This year's intake looks decent, and only those with a personality I like have been taken on – however, this was 80% of the players on trial so we have an inflated academy squad list right now. I'm starting to form in-out opinions as their seasons draw to a close, but the final decisions will made when I look at the stats and compare them to last season. Mind you, comparisons will be a little tricky due to the change in tactic and positions. Either way, some lads will be cut which is quite usual. I've been making notes of those that I have had to bollock frequently around poor training performance.
Assuming I can keep the core of the first team squad together, I am not initially planning to recruit anymore first team ready players. I would like to keep this team together, watch it grow and add to it from below if possible. That's the plan anyway.
Heroes are starting to make names for themselves at Tonnerre. Etoundi, the 6ft 6 giant in goal, is becoming a bit of a cult. Sohna is a wonderful player that will no doubt be tricky to retain. Of course, Tegemo's eight goals from right midfield has made him very popular as is his opposite wing partner Julio M on the left. I believe they've only really assisted each other. Up front Marcy is still finding the net frequently with 17 league goals. However, his efforts in training are becoming detrimental to his attributes, so he needs to buck his ideas up.
Financially, even with the massive increase in wages, we are on the up and up and have even tipped 10,000 people in the stadium for a couple of games. This club is slowly regaining traction and I think if we end this season on a high we can really look forward to the 2018 campaign.
The biggest decision I will make is whether I bring in a backroom team to assist me. I am still not 100% sold on the idea – I'm not doing that bad a job myself.
Anyway, the season will be done today so it will be a fresh piece of paper tomorrow for you.
#LeTKC