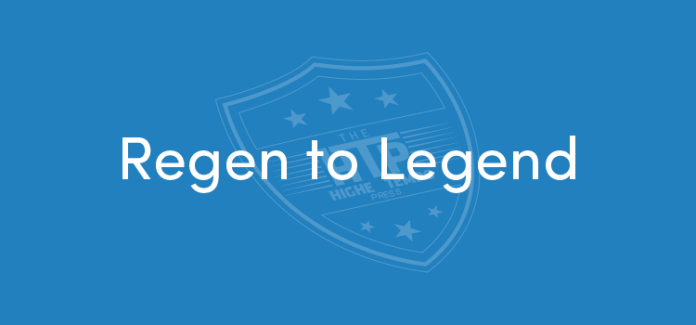 The entire Portuguese second league season boils down to one final set of fixtures to decide who will become champions. Two teams are locked together at the top of the table, last seasons runners up Benfica B and long time leaders Leiria. Leiria has been taking the division by storm but one point from their last two games has allowed Benfica, who had been quietly keeping pace, overtake them at the last minute. Benfica now
Leiria has been taking the division by storm but one point from their last two games has allowed Benfica, who had been quietly keeping pace, to overtake them at the last minute. Benfica now lead the way courtesy of their two head to head wins over their rivals.
For Leiria, who cruelly missed out on promotion last season by head to head record, perhaps the result of this weekend isn't so significant. They are playing in the top division in Portugal for the first time since 2012 either way, however, we know their manager won't see it this way. Two seasons ago Bruce Parker was in the same situation as Blackpool manager. Promotion was already assured and his side were third favourites to take the title. A last gasp goal allowed his side to leapfrog Portsmouth to the top of the table and take home the silverware. It is Leiria who are on the back foot this time as they require a favour from Benfica B's opponents, 11th place Famalicão, to overhaul them.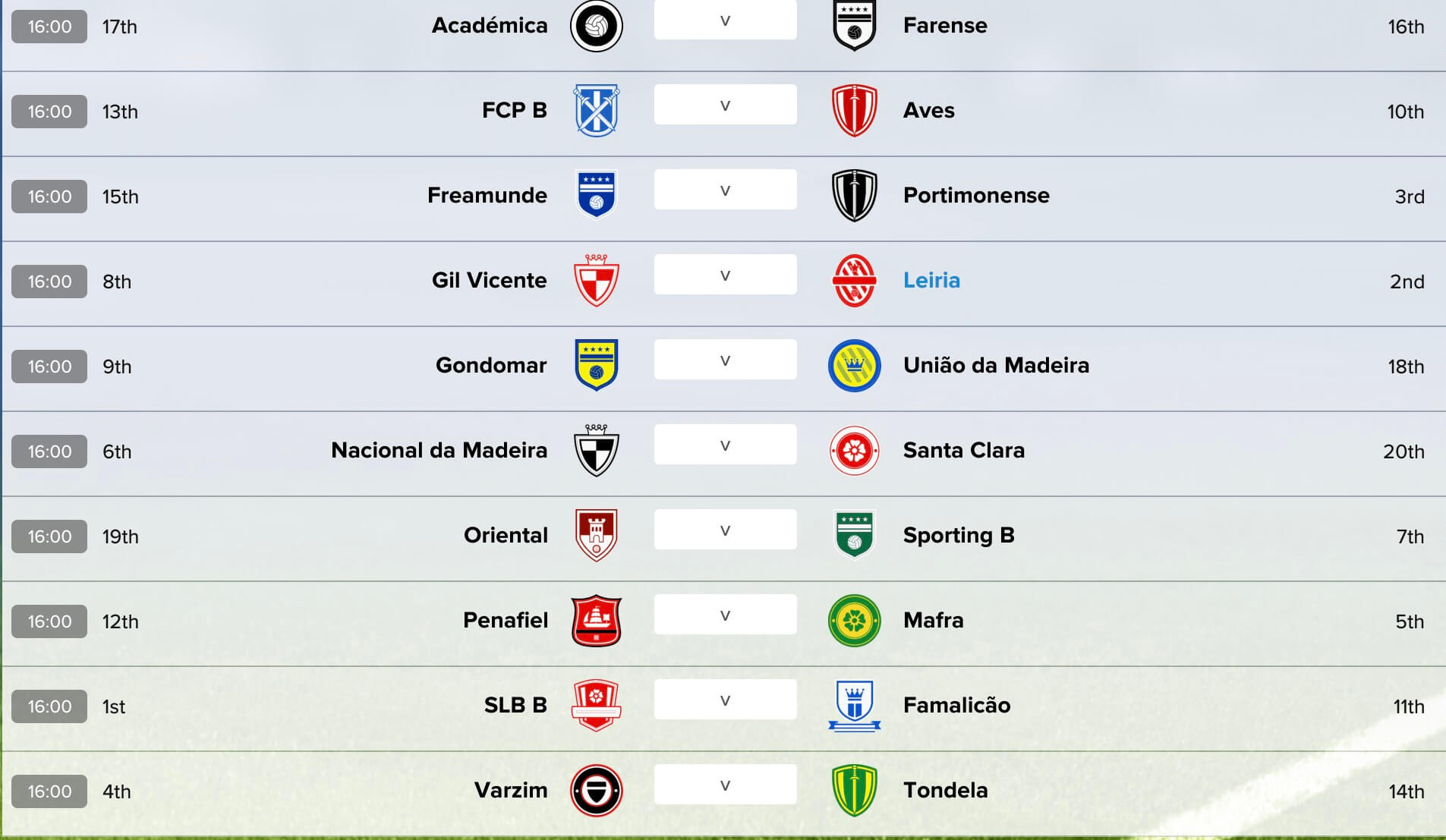 We start our coverage at the Caixa Futebol Campus, home of Benfica B as their fans look to start the party early.
Kick-off // The sides are out here and at Estádio Cidade de Barcelos for the Gil Vincente v Leiria tie. Benfica get their game underway attacking the home fans in the first half.
5 min // Benfica come close as defensive mix up allows a one on one chance for Gomes but he fluffs it wide of the right post.
8 min // GOAL it's a big goal in the title race as Gustavo Tocantins heads home a floated cross to give Famalicão the lead. News filters through to the 49 Leiria fans and they are on their feet, they are top of the league by a point, but with still so much time to play.
SLB B 0 – 1 Famalicão
28 min // Leiria are applying the pressure to Gil Vincente as they see their third good chance go begging. The players and staff look not quite sure whether to stick and hope things stay as they are, or twist and go for broke. The situation is reminiscent of last season where they held on for a draw but a late goal to their rivals cost them dear.
38 min // Benfica look to be over their shaky start and are now forcing the play in their game. They cannot be promoted so winning the title is their only aim from this game but at the moment it isn't going to plan.
45+1 min // GOAL over to the Estádio Cidade de Barcelos and it's a goal for Leiria. Joel Leal runs off the shoulder of the last man to meet the perfectly weighted pass. Only the outrushing keeper to beat and a little dink sees the ball trickle into the net. So cool from the 20-year-old forward in this situation.
Gil Vincente 0 – 1 Leiria
Half Time
Both games finish and the managers have just 45 minutes remaining of this long season in which to decide their fate. Leiria have the advantage at the moment but can they hold out?

Kick-off // Benfica came out early for the second half but need a two goal swing in their game or Leiria's to steal the title away.
49 min // GOAL there's one! Paulo 'Gary' Lynneeker thunders one home for Gil Vincente following a corner. Leiria didn't deal well with the cross and it drops to Lynneeker who was lurking on the edge of the box, ready to lash it home. Another goal for Gil Vincente or Benfica will gift them the trophy.
Gil Vincente 1 – 1 Leiria
51 min // Almost an instant turn around as Gil Vincente hit the post. A calamitous mix up from a back pass sees the Leiria keeper smash a clearance off centre back Wellington Lucas. The ball bounces to Gomes but he doesn't have time to get it under control. Three inches to the left and Leiria would be down in second again.
61 min // GOAL Joel Leal may have just given Leiria the title! His fourth goal of the season may be his most important one of career so far. Leiria now have the lead again and Benfica need a big last half hour to overthrow them.
81 min // Leiria have shut up shop for the day. No matter how much of the ball Gil Vincente have they can't work or quick enough to get through. The home side seem demotivated as they look condemned to finish mid table. Nothing coming from our featured game as Benfica cannot find a way through either.
92 min // Full time at the Estádio Cidade de Barcelos and Leiria's 49 away fans are celebrating. They are just waiting for confirmation of the final whistle in Lisbon.
Full time // it's all over, Leiria are crowned champions and will move up to Liga NOS next year with a new trophy for the cabinet.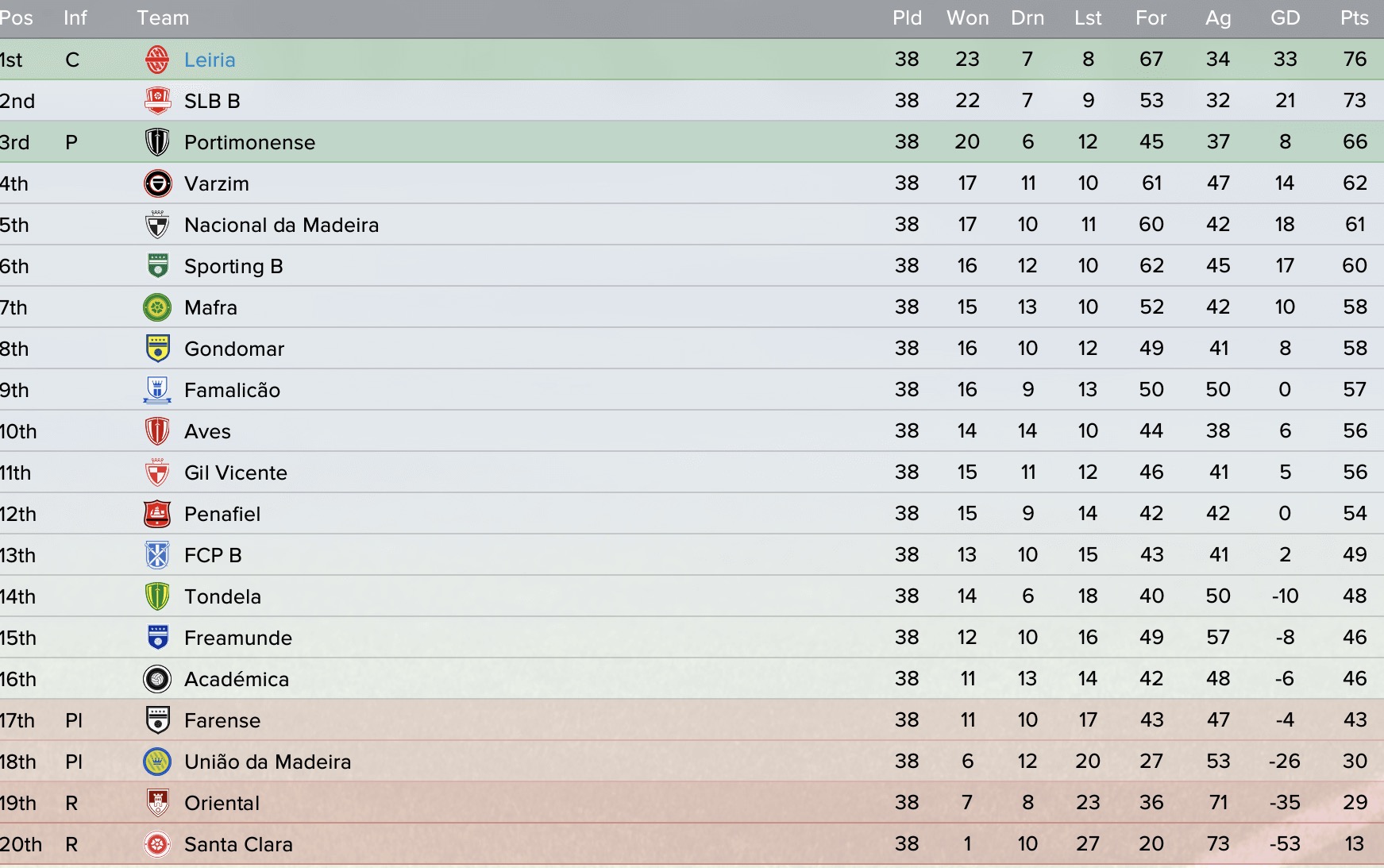 Speaking after the game, Leiria boss Bruce Parker said a few words; "It takes great focus to come back from last seasons disappointing end to fight on and win the title. The major difference this season was that we fought to keep our best players, without these we could not have overcome the tough winter period and won this league."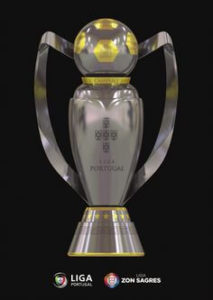 It is Parker's second title in four years of management. In 2017 his Blackpool side secured the English League Two crown. After spending three seasons in the third tier of English football Blackpool were relegated back to League 2.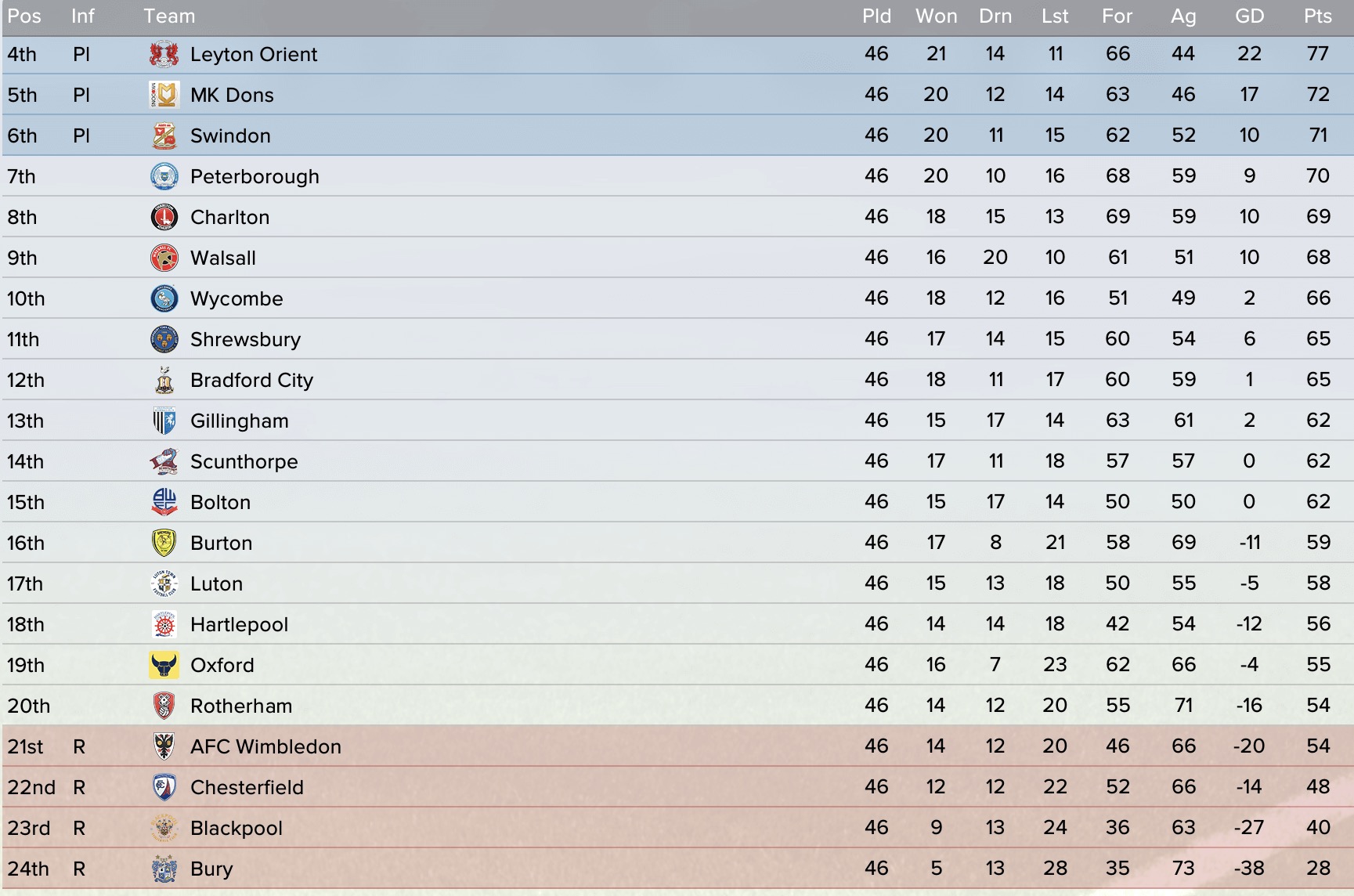 Only time will tell if the manager will stay at Leiria. After much interest from La Liga and the Premier League he will have a tough decision to make. With promotion, however, he has a seat at the table to one of Europe's top leagues, and with a side already able to compete he may find moving a difficult choice to make.