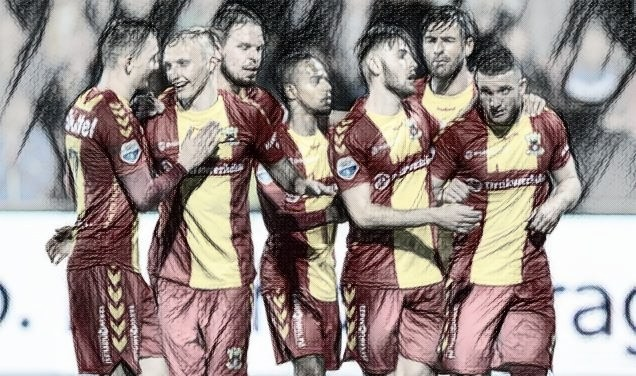 After having great success with Nottingham Forest, I have decided to emulate this with my local club, Go Ahead Eagles from Deventer. It is a small club that was promoted to the Eredivisie at the end of the 2016/2017 season. With its limited resources it has always shuttled between Eredivisie and Jupiler League (the 2nd level on the Dutch football pyramid). My task is clear: maintain our Eredivisie status and grow into a bigger club.
The club known as Go Ahead Eagles
The main reason I fell in love with Go Ahead Eagles was its stadium. It is situated in the middle of a residential area, which you don't see very often anymore. I always find it amusing to see people leave their houses, cross the road and take their place on the stand in a matter of a few minutes. The stadium is called De Adelaarshorst (The Eagle's Nest) and here's a picture: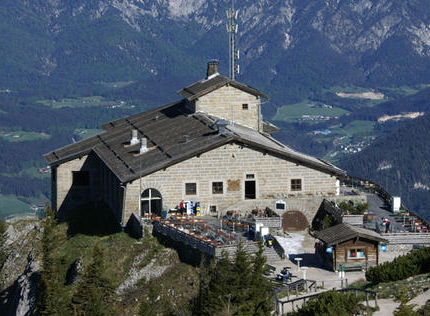 No, not that one!!
That's better.
Even though the metal gate that gives access to the grounds says 'Home of Football', this a bit of showboating. The club has won the Eredivisie four times, but the last time was in 1933. Kowet, as they are known as among the fans, have been promoted to the Eredivisie four times without ever winning the Jupiler League. A very curious achievement. Our main rivals are PEC Zwolle, and beating them will be a secondary objective for this season.
Squad assessment
The first screen I go to when I selected a new team, is the team comparison screen. That way I can see what we are good at and where we are lacking any quality. This will inform me going forward in choosing a tactic and my strategy in the transfer market. So, what is my team good at and where can we improve ourselves?

As you can see, we have a lot to improve, though, not all of these attributes I find very important. It is nice to have flair when you're a top side. But at Go Ahead Eagles, I want my boys to not take too much risks and just tick to the plan. Since I don't use long throws, the lack of quality in that department is none of my concern. Attributes I do see as invaluable are determination, pace, tackling, and marking. These are areas I will seek to strengthen through training and the transfer market.
On the plus side, we are above average in a number of useful areas. Particularly finishing will come in handy, since we won't get many chances and will have make the most of them. Bravery and concentration are also nice to rank well on. Last but not least, we can make the most of corners and we'll just have to earn a lot of penalties. Maybe Arjen Robben is available…
The squad
We have a mixed squad of good talent and wily old veterans. Most of them are definitely Jupiler League level, but have the potential to establish themselves in the Eredivisie. After looking at the players, I already have a basic formation in mind which I want to play. More details about my tactics will be given in part 2 but I can already reveal I will be lining up in a 4-1-4-1 formation. As anyone who knows a thing or two about tactics will tell you, however, formations don't mean much, it's the player roles that determine the way a team lines up during the match. The basic formation does allow me to assess squad depth and identify areas I need to strengthen. In order to do so, I always make one of these: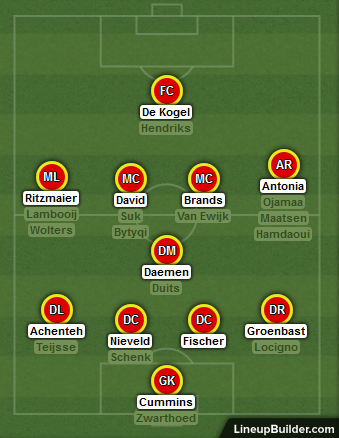 As you can see, the squad depth is a bit unbalanced. I am overstocked on wingers, but lack the necessary depth in defence. The Eredivisie season is 34 matches long and since we don't have any European matches, I am aiming for a squad of 23-25 players. Every position need to be filled at least twice. After that, I might promote some youth players to act as back-up in case of injury crises. So I may decide to move some of these wingers on and invest the money they free up to add to the defence. How this turned out, you can read in part 2. For now it is suffice to know most areas are adequately covered, except central defence.
The staff
The backroom staff is a bit threadbare. We have no fitness coach, no head of youth development and no U19s manager. This will need to be addressed. Other areas that are in desperate need of an upgrade are the physio and scouting departments, with the latter only manned by ex-Liverpool player Jan Kromkamp, who was a capable right back in his time, but a very mediocre chief scout in mine.
Below is a quick overview of who I let go and who I signed. With regards to the vacant U19s manager, I chose to promote Toine Rorije, former Go Ahead Eagles player and U19s assistant manager. The U19s staff is still in need of enlargement, but considering our finances this project is very much one for the future.
After all these changes, we are still lacking in sport scientists, data analysts, U19s coaches, etc. But like I said, we will add them piecemeal in the coming years. I plan on being here for a while.
With the squad assessed and the backroom staff sorted it is time to take a look at tactics, the transfer market and the pre-season friendlies. Join me in part 2 when I do just that.