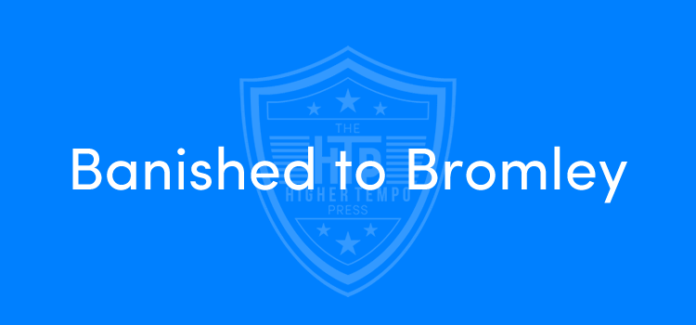 Before the first game of December I decided to call a team meeting regarding our poor form of 4 losses in our last 5 games. Thankfully the entire squad reacted well to me telling them they should be performing better but whether they start to perform… we'll see. It was then confirmed that we'd face Hemel Hempstead.
In the run in to the next match we also had a loan offer accepted for Forest Green's Omar Bugiel, a striker who could rekindle our form and luckily I was able to get the deal done within a couple of days.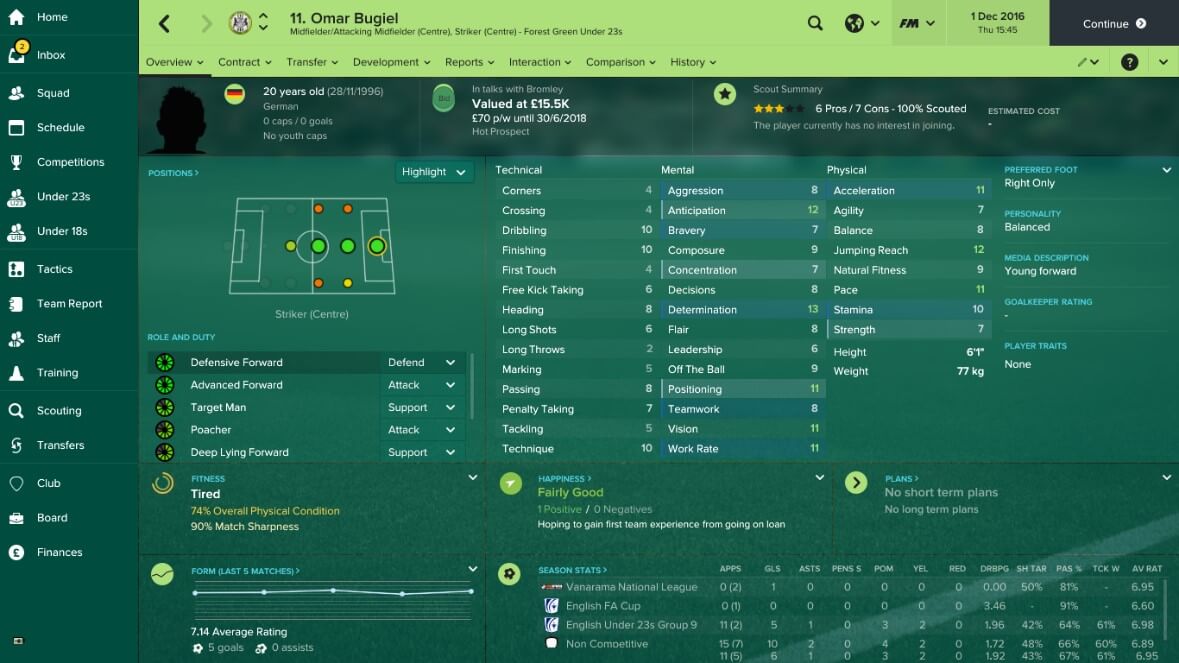 The next game saw us take on an 8th placed Maidstone United looking to finally buck the trend with Omar Bugiel also making his debut. It only took 10 minutes for us to break the deadlock through Elford-Alliyu for his 10th goal of the season after pinching the ball off a centre back inside the box and placing the ball in the top corner. The lead was then doubled just before half time as Bugiel played a quick one two with his strike partner before putting the ball in the bottom corner to make it 2-0. Bugiel then made it 3-0 just after half time, as he beat the offside trap he was found by Thomas O'Connor nicely before he volleyed home with his left foot. Blowing a bit it was time for Bugiel's standing ovation as he was replaced by Cemal Ramadan who won a penalty late on which was dispatched by Blair Turgott. Unfortunately there was a dampener on the day as we weren't able to keep a clean sheet but that doesn't really matter does it, we won a game!
Unfortunately though we were hit with another injury as Bradley Goldberg was hit with a double hernia putting him out for 2 months.
Waiting for our FA Trophy game with Hemel Hempstead I finally got some news from the board on the senior affliates coming back telling me that Nottingham Forest, Derby and Scunthorpe were interested. And with Forest looking the most attractive proposition they were the clear option for a recommendation as with the money on offer it'd be silly not to.

But now it's FA Trophy time where we picked up from where we left off a week earlier as a O'Connor long ball from midfield was headed in by Elford-Alliyu for his 11th goal of the season and 2nd in as many games which ended up being the only goal in the game which saw us receive £5K for going through to the next round.
In the week I also tried to take advantage of the club's new link with Nottingham Forest, making loan offers for midfielder Matty Cash and striker Ben Brereton who currently has 26 goals in 28 games this season. But understandably only the Matty Cash offer was accepted however the player opted not to come to Bromley.
We then went into the draw for the 2nd round of the FA Trophy which saw us picked to play Boreham Wood at home.
But back to Vanarama affairs which saw us line up against Macclesfield as well as seeing centre back equal the record for the club's most league appearances at 156. Unfortunately he wasn't able to keep a clean sheet in his record equalling game as a loose ball in our box was buried by Macclesfield's Anthony Dudley after 11 minutes. But when you have Omar Bugiel in your team you don't need to worry as the German levelled the scores with half an hour gone after cleverly beating the offside trap and shooting across the keeper into the back of the net. It only took 4 minutes after the break for us to take the lead too. Thomas O'Connor scoring with a header from a corner. Later in the half Bugiel then turned provider as he fed Blair Turgott a nicely weighted through ball into the box before he finished neatly. Maccesfield did manage to pull a goal back late on but it wouldn't matter as we clinched our 3rd straight win since Bugiel had been introduced into the side.
With over a week's lay-off between the Macclesfield game and our next game against Sutton United I decided to arrange a friendly with my most local side Lewisham in order to keep up the squad's match sharpness. The game was won 3-1 and we brought in £4.5K but one negative came from the game as top scorer Lateef Elford-Alliyu picked up a 3 week hamstring injury, maybe I shouldn't have organised the friendly.
The last game of December came on Boxing Day against Sutton United who sat 5 places below us in 18th and without Elford-Alliyu it was time to give Cemal Ramadan another chance to shine up front after showing good form in the under 23's. Things didn't get off to the best of starts though as Roarie Deacon managed to sneak in behind right back Alan Dunne to open the scoring for Sutton. But like I said earlier there's no need to worry if you have Omar Bugiel in your team. He made it 1-1 with a left footed effort after being found from a long ball by Minshull who was on the half way line. The scores weren't level for long though as Sutton went back into the lead just before half time and sadly saw the end of the month's winning streak.
Maybe friendly's in between matches should be avoided from now on but on a positive note Omar Bugiel has 4 goals and an assist in 3 league games since joining on loan which saw him win both the young player and player of the month awards.