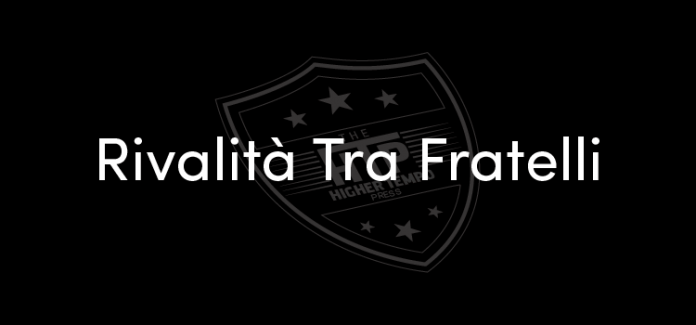 This is the story of two brothers, a modern-day Cain versus Abel if you will, based in the northern powerhouse Italian city of Milan. If you'd like to replicate this challenge, we're using the updated medium database with the following leagues: England (Premier League, Championship, League One & League Two), Italy (Serie A & Serie B), Spain (La Liga & Segunda División), France (Ligue 1 & Ligue 2) and Germany (Bundesliga & 2. Bundesliga).
Rivalità Tra Fratelli – #WeAreTheRivals, Episode 14
CHARLIE: You join us at a tense Tango Towers as this episode gets underway. Mike has come in this morning gloating about his Leeds United save, which has led to all sorts of arguments.
MIKE: I started my own game with the update, set myself up as unemployed with a professional footballers reputation and picked up the Leeds job in December with them 21st in the Championship and in all sorts of bother. I stayed up very late last night into the early hours of the morning to get them promoted via the play-off final.
CHARLIE: This is, of course, in contrast to my own private save with Hibernian which is not going well. We're struggling and I am 'insecure', in more ways than one it has to be said. Any thought of a title-winning season has gone, we're well adrift, which means currently we're playing for pride and there's precious little of that knocking around. Should have really tried that a while ago when I first took over. So as you can imagine, things are somewhat fractious between us today.
All of this follows a debate/discussion/argument last night about what constitutes as success in this save. How will we know who has won? Mike, somewhat understandably, has placed a premium on trophies won. And why wouldn't he? He's already won the Italian Super Cup. I think the league is the judge.
MIKE: If the league is the judge, I'll win that as well. What's more, AC Milan are already ahead in the table and anything less than an Inter Milan win in this Milan Derby should see us over the line. There will be five games to go after it ends but only really Napoli are a concern, even that one is at home. Despite the lack of a decent position for Wazza Rooney, I'm selecting the Dogs of War with a control mentality and this time, no changes. Having learned the lesson of our last Milan Derby, there will be no overloading and no knee-jerk reactions.
CHARLIE: With Mike looking to either control or defend proceedings in the San Siro, we are designated as the away team and as such will be countering with the Classic José with a physical midfield of Touré, Brozovic and Kondogbia. After much more deliberation, Icardi continues as our striker. He may be sold at the end of the season, for now, I'd rather start him and bring on Barbosa if needed.
It's quiet as we sit down to play this game. Tension is thick in the air. Inter need to win or it's going to be very tough to win Serie A.
MIKE: It does make me laugh to see the coaches not shake hands at the outset of the match. After the Leeds/Hibernian arguments, we're not likely to replicate that to real life. They were 21st though, worth remembering.
CHARLIE: As Mike continues to wax lyrical about Chris Wood, the first chance is for AC Milan's Vangioni. He hits a hard strike from a corner after the ball pinballed around but Handanovic makes a smart stop, parrying the ball so far away from goal it went for a throw in. Handanovic also foils Rooney before we head up the other end on around 20 minutes. A foul by Rooney close to the half way line gives Candreva the chance to launch one in, Donnarumma flaps and Miranda beats Deulofeu to the header. The ball rebounds off the post for Miranda to just tap home.
MIKE: There's a 50-minute gap between goals, to be fair Handanovic kept us at bay and a couple of last second blocks by Miranda assisted. We equalise, the classic FM17 goal of the ball passed around on the edge of the box before a winger or full-back escapes the attention of his marker to receive the ball and cross for a striker to score at the near post. This time it's Calabria losing Eder and Bacca is the grateful recipient.
CHARLIE: A draw is no good to us and as we flood forward, we get hit with a sucker punch. Deulofeu's mazy run sees the ball passed across the pitch from one side to the other from Gerard Deulofeu to Bacca to Rooney and Ocampos finishes it off. With just a minute on the clock, Nagamoto overlaps and crosses for Icardi to equalise, 2 – 2!
MIKE: Just as I mutter; "I'll take a draw, I'll take a draw", Wazza Rooney just lightly trips Brozovic. Just a little tap on the ankle and the Inter Milan player goes down like he's been cut in half with a samurai sword. The referee, of course, brandishes a second yellow and Wazza heads down the tunnel. I sympathise as he extends his arms, pointing at Brozovic and making the universal 'He f***ing dived, ref!' gesture. Despite a late headed chance from a corner, which Miranda headed over, we cling onto the point. With the finishing line in sight, we are 5 points clear with Inter having a game in hand.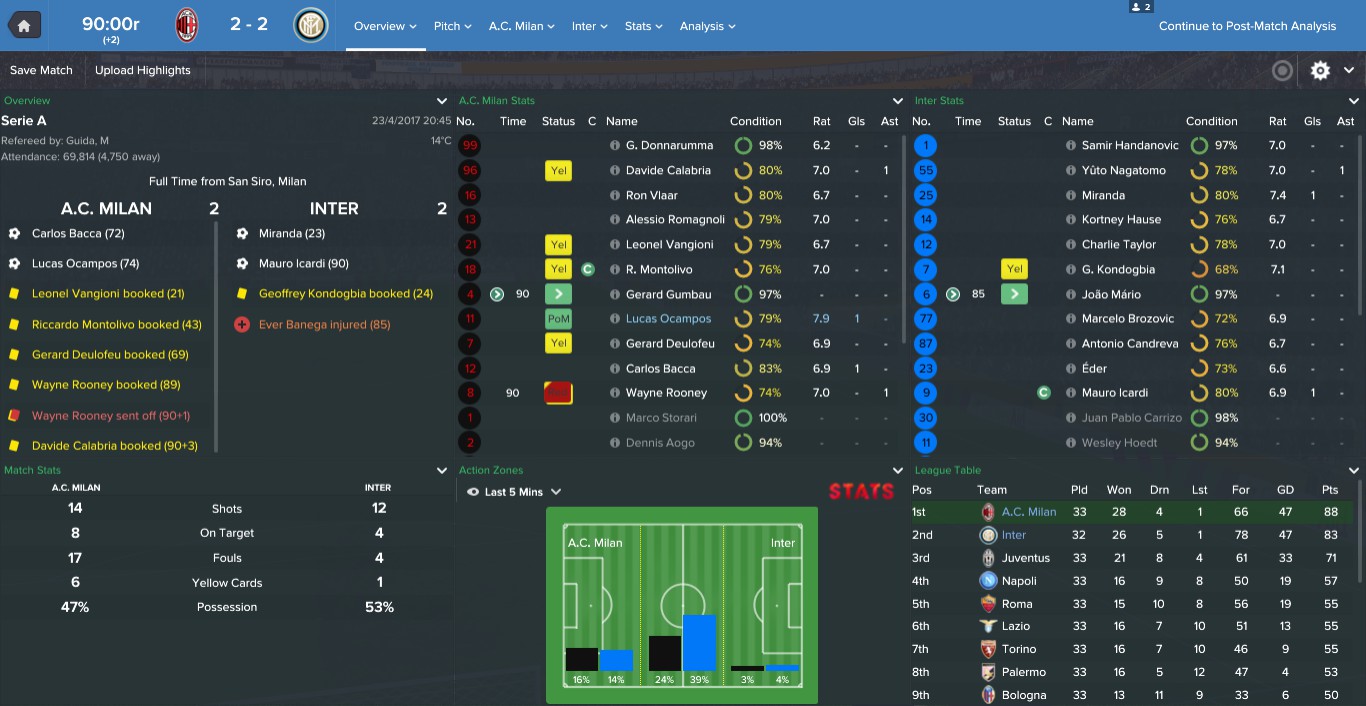 CHARLIE: Balls. This is now going to be very tough but we have our game in hand against Cagliari next and we HAVE to win. No ifs or buts, no passing go and collecting 200 squid. Icardi does have three goals in his last four games now since returning to the starting lineup but that is scant consolation really.
Cagliari are toiling down in eighteenth place in Serie A and have recently appointed former Inter coach Ivan Juric in order to save them from relegation. It's looking less likely by the day.
In terms of the team, I'm playing the inverted wing back formation and Ollie Watkins comes in to start as a shadow striker behind Icardi with Perisic having poor match sharpness. I'd expect to use him though in the second half.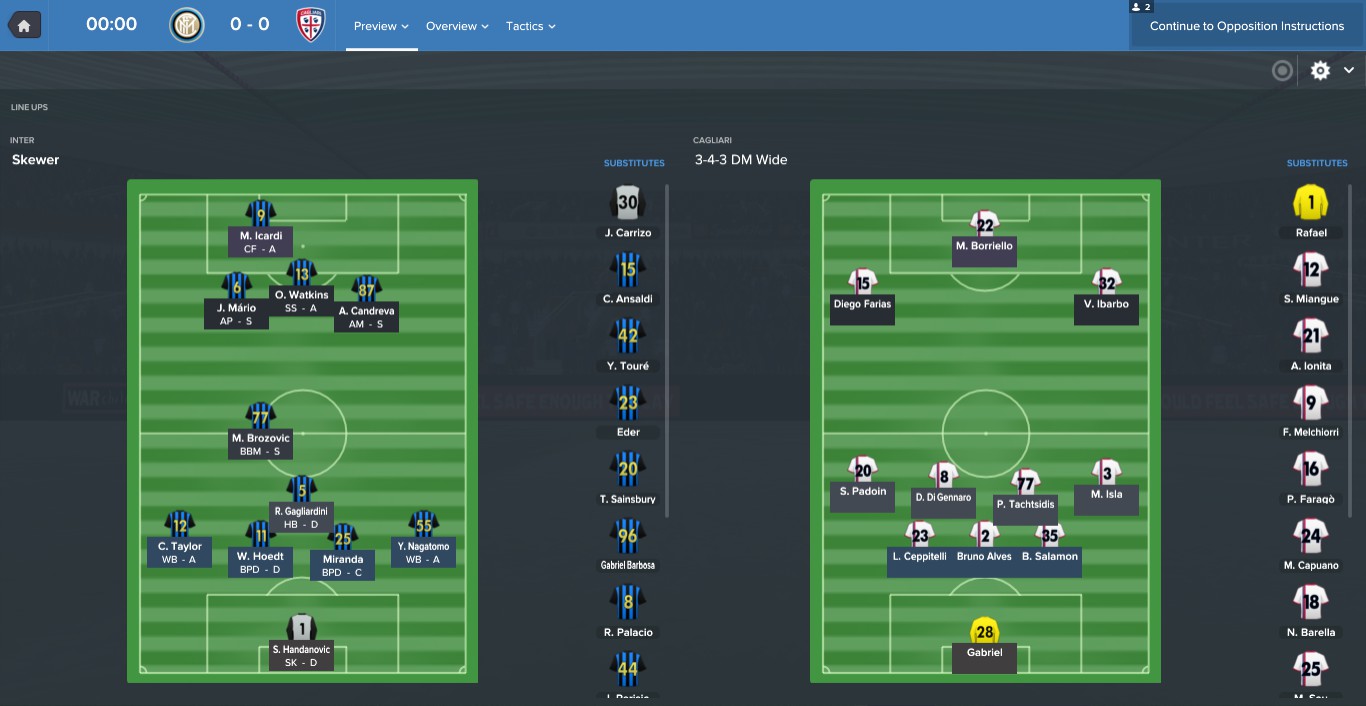 Mauro Icardi looks to be back. I'm stopping short of saying that he IS back because that's just tempting fate and I'm well aware of the pitfalls which follow such statements. He opens the scoring with a thunderb*astard from the edge of the area following a knockdown by João Mário before Ollie Watkins is set up by Icardi for his first goal in an Inter Milan shirt. He's then fouled by Borriello in the Cagliari penalty box and Icardi slams the penalty into the roof of the net, grazing the crossbar in the process.
Just before half time, Mauro Icardi profits from some lovely interplay between Watkins, Candreva and João Mário before the Portuguese midfielder plays a through ball for Icardi just to run onto. Icardi doesn't break strike to lash the ball beyond the Cagliari goalkeeper.
Cagliari look absolutely shorn of confidence as just six minutes into the second half Ollie Watkins wriggles free to score his second for a well-deserved brace. Having brought Perisic and Barbosa on at the hour mark, Barbosa goes on to score two and it is an absolute gubbing.
MIKE: It's all well and good him winning his game in hand but he's still two points behind. I am in control. If I win all remaining games then I win both and the challenge. It's that simple. Fact. And I don't have to worry about Europe.
CHARLIE: He does have a point, annoyingly. But the important thing is that we can overtake into top spot with our next match being against Atalanta before AC Milan play Fiorentina. Atalanta are not the force of the real life Serie A, they are having a poor season in sixteenth place.
I'd rather not change a winning side but that decision is made for me as Nagamoto is suspended, Ansaldi comes in. Giagliardini controlled things in the middle of the park against Cagliari, he moves slightly forward with Brozovic sitting out for Yaya Touré.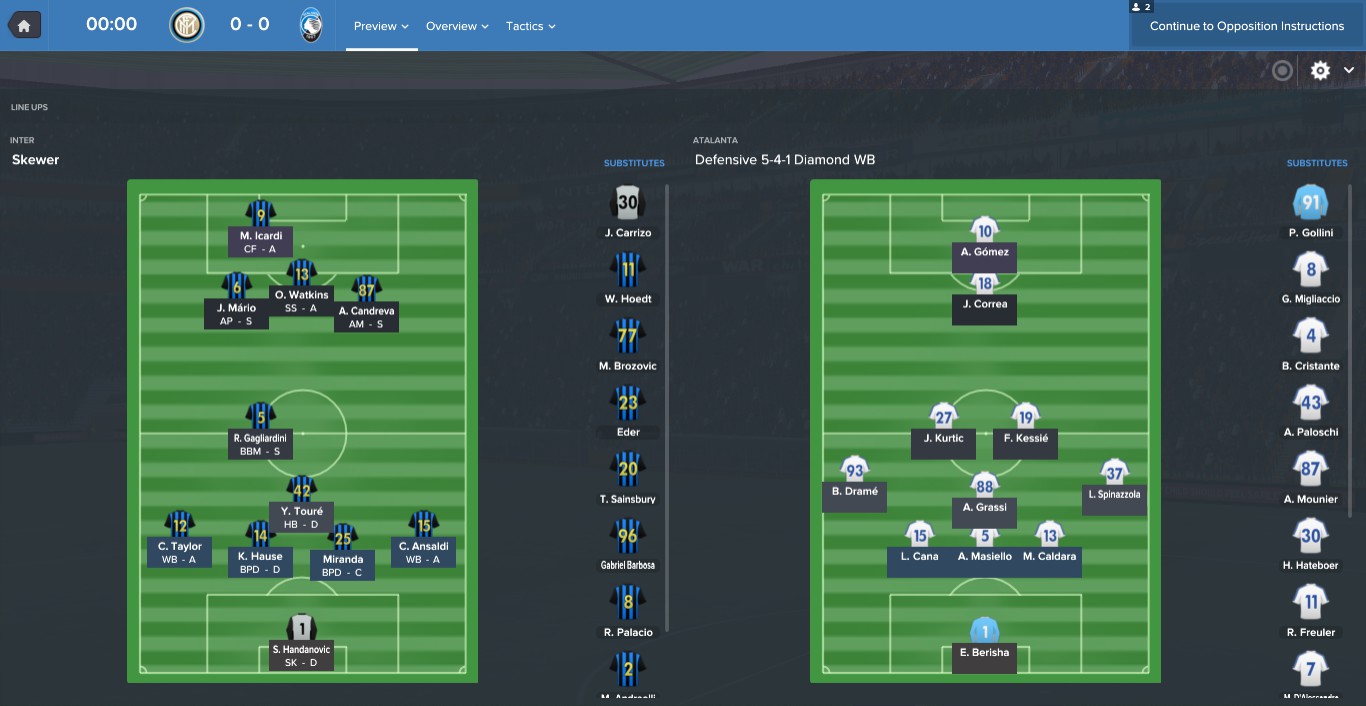 With just a minute on the clock, Mauro Icardi is found by Ollie Watkins and the new forward partnership pays dividends as the Argentinian half-volleys the Nerazzurri into the lead. Icardi may be top scorer but I put Candreva's contribution down as more important on balance and it's the Italian winger who scores Inter's second, his personal eighteenth in all competitions (he also has eighteen assists).
The difference between Icardi now and Icardi a month ago is just startling as he smashes in another penalty. Substitute Kondogbia puts us four goals to the good before Atalanta get themselves a late consolation. We're in first place in the league but a lot depends on AC Milan, who play Fiorentina in a day's time.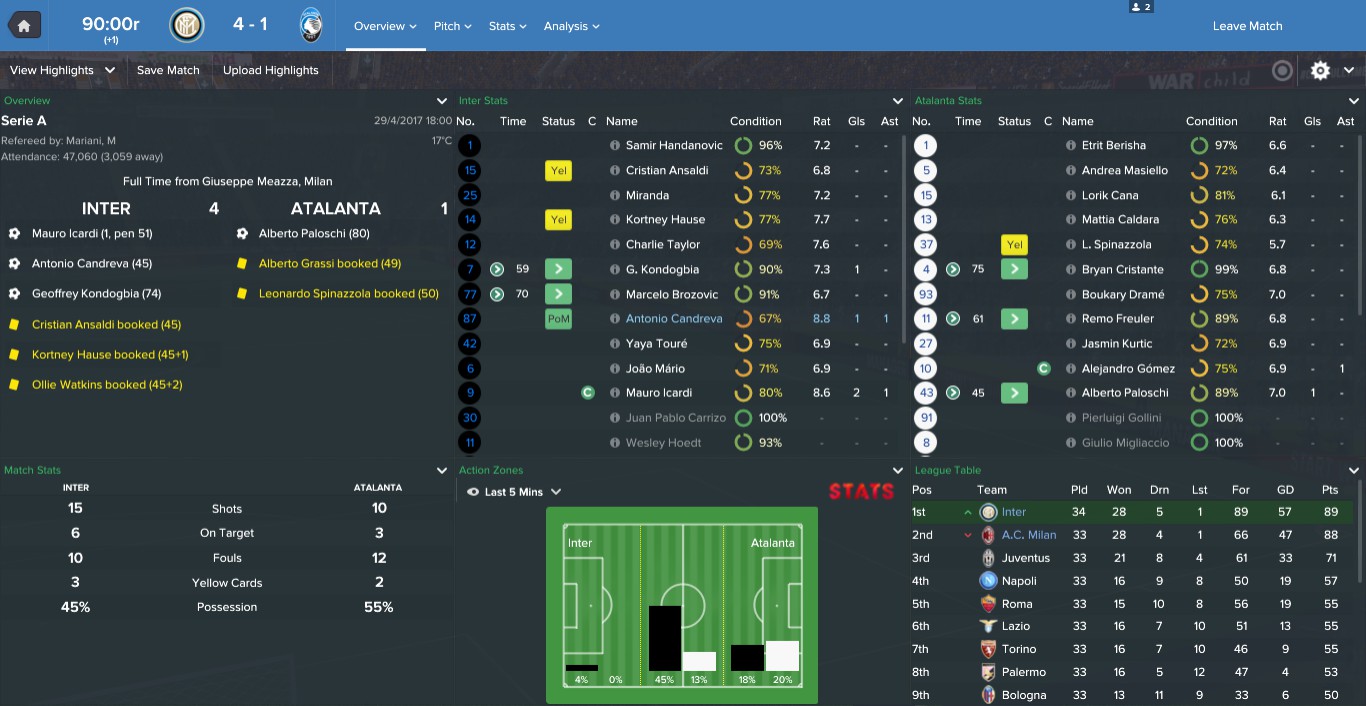 MIKE: I don't like the idea of playing Fiorentina under Louis Van Gaal at the Artemio Franchi. I don't like it at all. Wazza Rooney is suspended, as is Vangioni. Abate and Kucka are out injured. We're playing our Dogs of War formation on a standard mentality to begin with but the good news is that Dennis Aogo, who longer serving (Ed: And longer suffering) readers may remember I signed to replace both De Sciglio and Antonelli at the start of the season but got injured after playing just two games in an AC shirt.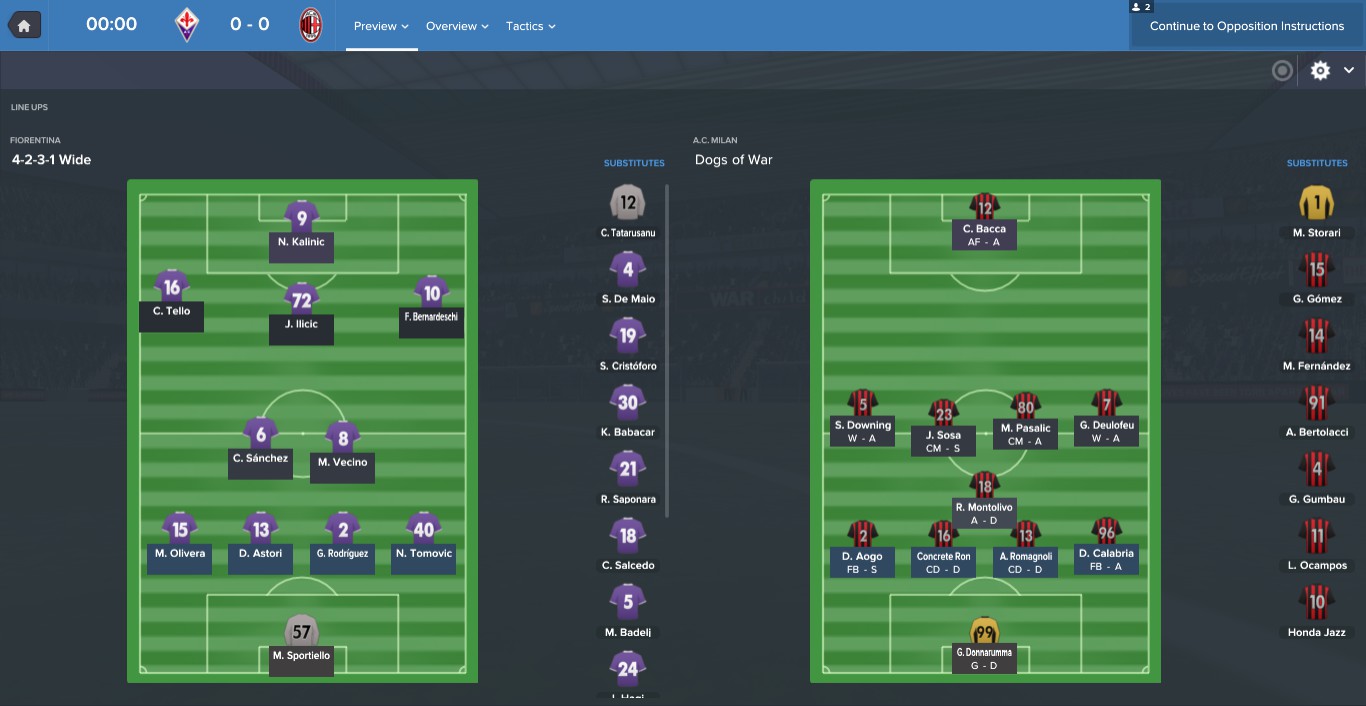 Shite.
A 0 – 0 draw isn't what anybody wanted, except probably Louis Van Gaal, who I can just imagine showing a rare moment of emotion to punch the air at the final whistle.
It was an even game, it's just left us level on points with Inter and they are higher than us based on… goals scored? The record against us? I don't know and quite frankly, I don't care. Second is first of the losers, I've said that before and I stand by it.
To make matters worse Dennis Aogo got himself sent off for a horror tackle. At the time I thought a yellow would have been bad enough, a red an outrage but on second viewing he did go in with excessive force. Not impressed.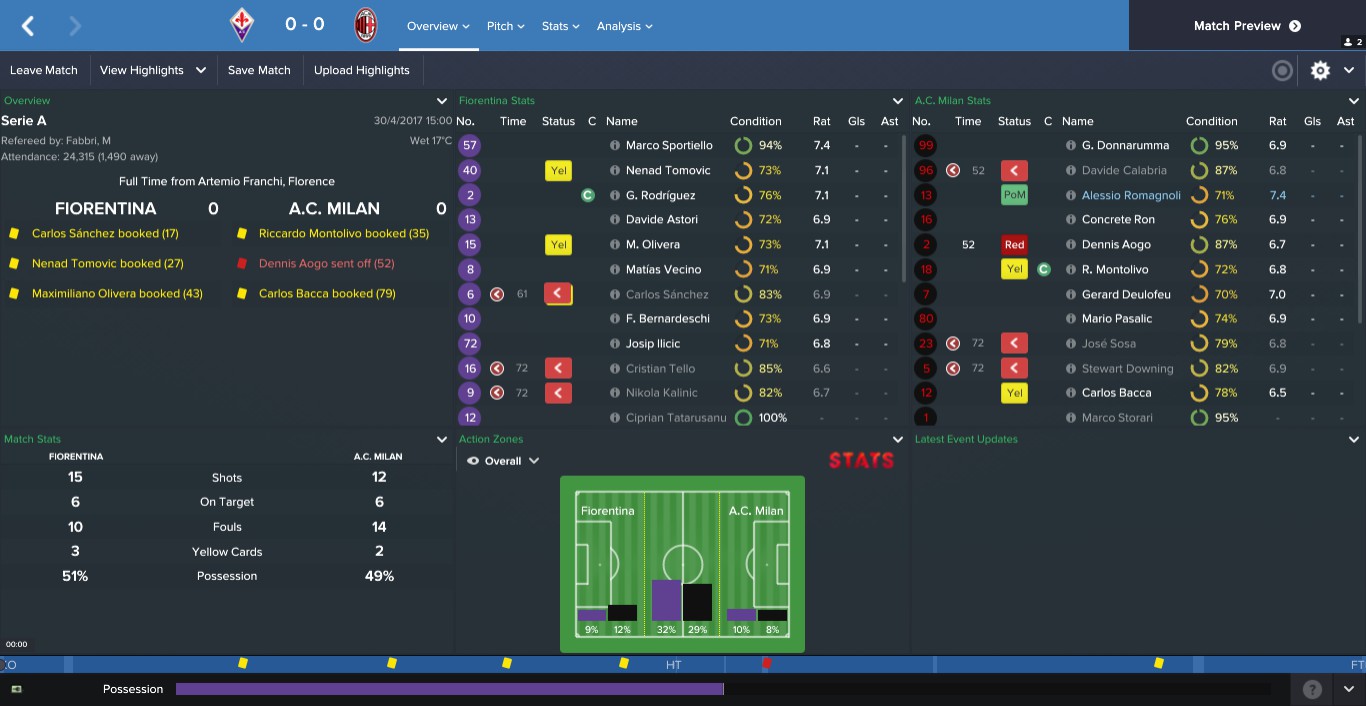 At least I can now sit back and watch Monaco run Inter ragged before the next round of Serie A fixtures.
CHARLIE: After all those nights spent worrying, tossing and turning while considering the form of Mauro Icardi, whether to sell him to Manchester City, I have to admit he has turned it around marvellously. Following a last-minute goal against Monaco, he has nine goals in seven games.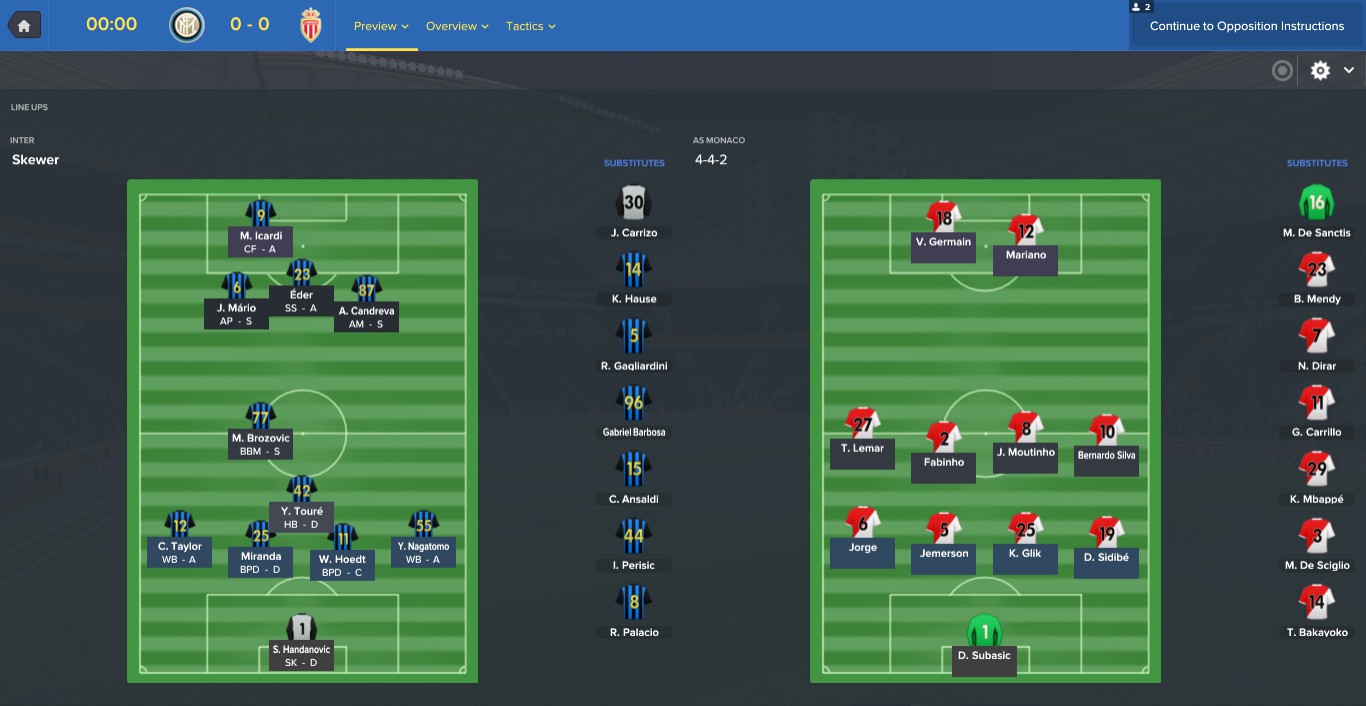 In what is becoming a recurring theme, Antonio Candreva is Johnny-on-the-spot with a goal after Charlie Taylor's cross to settle any nerves before 20 minutes is on the clock. His goal is then followed late on by Icardi's strike after a slide rule pass from Brozovic, cutting the Monaco defence open.
The three players who I thought could hurt us; Bernardo Silva, Thomas Lemar and Moutinho, hardly got time on the ball thanks to the pressing of Yaya Touré and Brozovic. The highly rated Mbappe didn't make it onto the pitch.
In the other semi-final, Manchester United defeated Bilbao by five goals to nil.
The tables truly have turned, as Mike looks at his schedule and sees two draws in his last two games, Inter visit Sampdoria with the opportunity to go three points clear and suddenly our results against AC Milan are so important. They are keeping us top of Serie A despite the equal number of points.
All we need to do now is not balls it up and for this reason, Ollie Watkins doesn't get a recall. Perisic plays in behind Icardi with both Candreva and João Mário supporting in behind. The 'Skewer' has worked so well lately that it has to continue, even away from home with a control setting.
Sampdoria have Ashley Young on loan from Manchester United wearing the number 3 shirt, Mike has pointed out that he'll be on the phone to all his teammates in the event we end up together in the Europa League final. I think Ashley will be a lot more concerned with the plight of Sampdoria, who may be condemned to relegation very soon.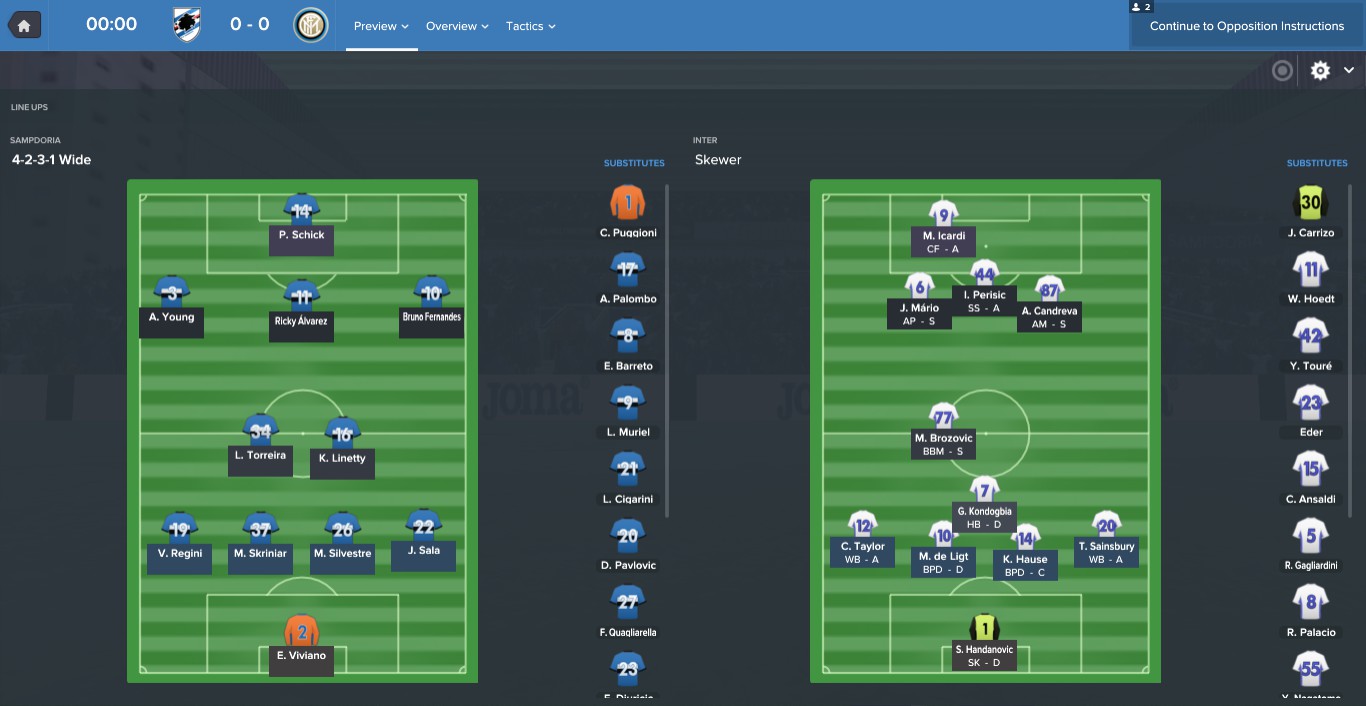 I wish I'd not made that comment about AC Milan's draws. Sampdoria just wouldn't lie down and die. Our opening goal is everything I'm come to expect from the Mauro Icardi who has rediscovered his form. Even when Mario picks up the ball Icardi is already on the move looking for the chance and when it comes, he doesn't disappoint. One touch to steady the ball, the other to blast it home from the edge of the area.
Sampdoria's equaliser is a counter attack led by Bruno Fernandes, who starts the move on the edge of his own box and finishes it thanks to a pass from Ashley Young out of the reach of Handanovic. Fernandes is involved again as Samp take the lead close to the hour mark. His jinking run finds Ricky Alvarez and Muriel finishes it off with an instinctive strike. On 80 minutes Ashley Young plays a suicidal ball across his own box and Icardi is the grateful recipient.
Matias Silvestre re-establishes Sampdoria's lead through a header from a corner before several nervy moments pass as we knock the ball about from the kick-off. Charlie Taylor has supplied countless crosses this season following his bargain move from Leeds United and he saves one more for Perisic to crack in at the near post.
It all ends 3 – 3, I don't know if that is a good result or not yet.
For the third game in succession, Icardi was watched by a Chelsea scout. First, we had Scott McLachlan, then Piet de Visser and now the Director of Football Michael Emenalo. Say what you like about operations at Stamford Bridge, they are doing their homework.
MIKE: Another game, another set of enforced changes. Montolivo has played well as our anchor man, having begun the season as an intended Pirlo-esque regista but an accumulation of cautions sees him sitting on the sidelines along with Aogo.
After what feels like so long of Inter trying to catch us up, they've now dropped needless points against a team for whom survival from relegation is a priority.
Genoa aren't set up as I expected, I thought they'd have flooded the backlines but they actually look up for a game. As a result, the intended Dogs of War formation has become #weareacmilan.
Carlos Bacca is the star, a first half brace underlines a Captain's contribution as he takes the armband with Montolivo suspended. First, he wins a penalty as a result of a trip and comfortably dispatches before getting on the end of a low cross from Ocampos. Mauricio Pinilla grabs a scrambled goal back for Genoa but aside from that, a fairly contented passage to three points.
Thirty-five games played, only three to go. Two points in it, only nine on the table. It'll go down to the wire.
Thank you for reading, join us on Twitter at @FM17Challenge, @CharlieTangoFM & @MikeTangoFM for exclusive comments, developments prior to episodes and reaction afterwards. Continued thanks to Chris and everyone at Tempo for the opportunity to share this with the readers.