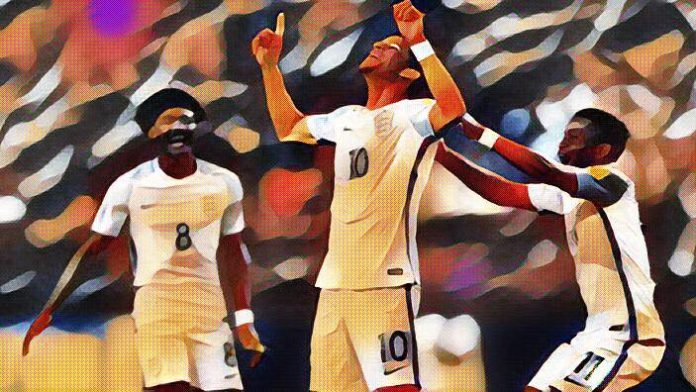 I love youth intake day, but I think everyone else does too. How do you make a successful youth intake day though? Well, you could reload and reload until you get some good players in your own youth candidates squad. If that is your style, though, that's fine. I do not care. I make the most of what I get and luckily for me, I got a decent crop of players.
Youth Intake Overview
I said decent, not fantastic, but a youth intake is what you make of it. I have a little trick up my sleeve though to improve it. If it is my youth intake day, as an English club then it is also a youth intake day for every other club in England. Now all I have to do is take a look at their youth teams and try to snatch a few up of their gems. It's pretty difficult as a League One club, but it is possible as I will prove in this blog post about this youth intake.
So youth development is a huge focus here during our Young Lions escapades, and that means I wanted to highlight this first intake. I want this post to be the one that says, much like Montell Jordan says, "This is how we do it".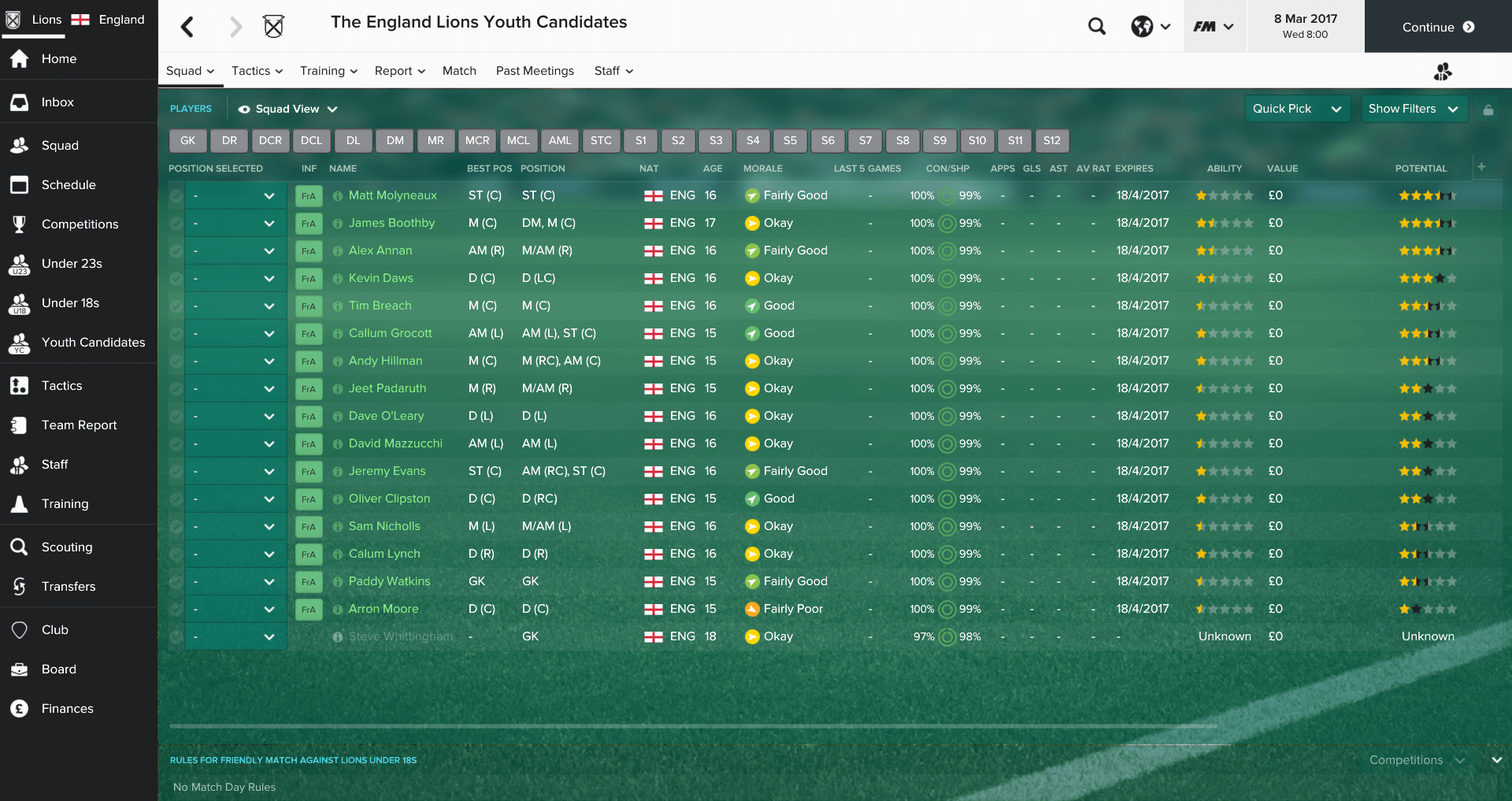 It's simple to improve your youth intakes. Improve your youth recruitment and junior coaching. Yet, we have maximised those and so we need to improve our youth intake in other ways. This isn't a guide, but if you learn something new then fantastic. This is what I actually will do with my youth intakes in a series where it actually matters.
Do Not Recruit Everyone
This is very important once you have established your conveyor belt of talent at a club. The more players you have in your youth team, the less game time they will get. You will still be paying their wages and they won't be doing anything for you. This links into a later tip to get the full effect. A player with half a star potential and low attributes will never be a good player. I am sorry, but that is the harsh realities of it. You will be better off having the greyed-out players over those with no hope of a professional career.
Once you have had a couple of youth intakes, your youth team should be pretty filled out with semi-decent players. Once you hit this talent saturation point you will be able to start cutting away the weakest. For now, I need every player. We have an unusual set up in that our youth teams are not in an organised league, instead, we are playing friendlies each week. I didn't want my youth team to hinder the progress of other youth teams by dominating youth football. We started with no youth players. I now need to begin developing a youth team. Eventually, you will see me trying to cultivate only the best in this youth set up.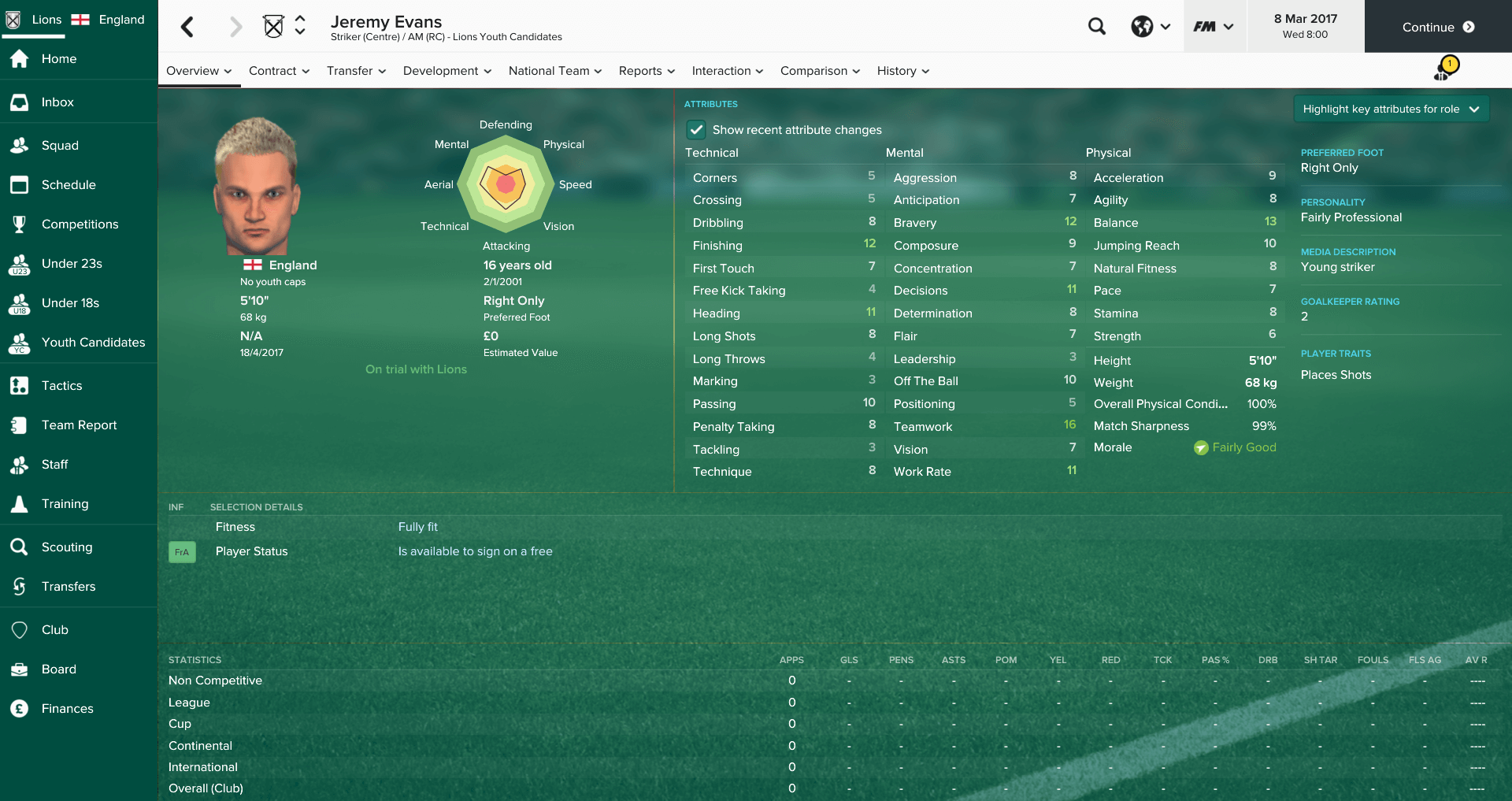 Poach Other Teams
So I said I didn't want to ruin other teams, but taking some youth players from them is going to be super useful for us. We won't always get five-star players coming through, but we always want to be developing youth.
This is likely how we will be getting most of our first team players. Not by playing strict youth academy challenge rules, but by poaching some of the best English players I can from someone else. It costs compensation, sometimes up to one million pounds, and yet it's so worth it. Some of these players will make that back for you 10 or 20 fold. Assuming you have a good eye for a player, you will almost always make a profit.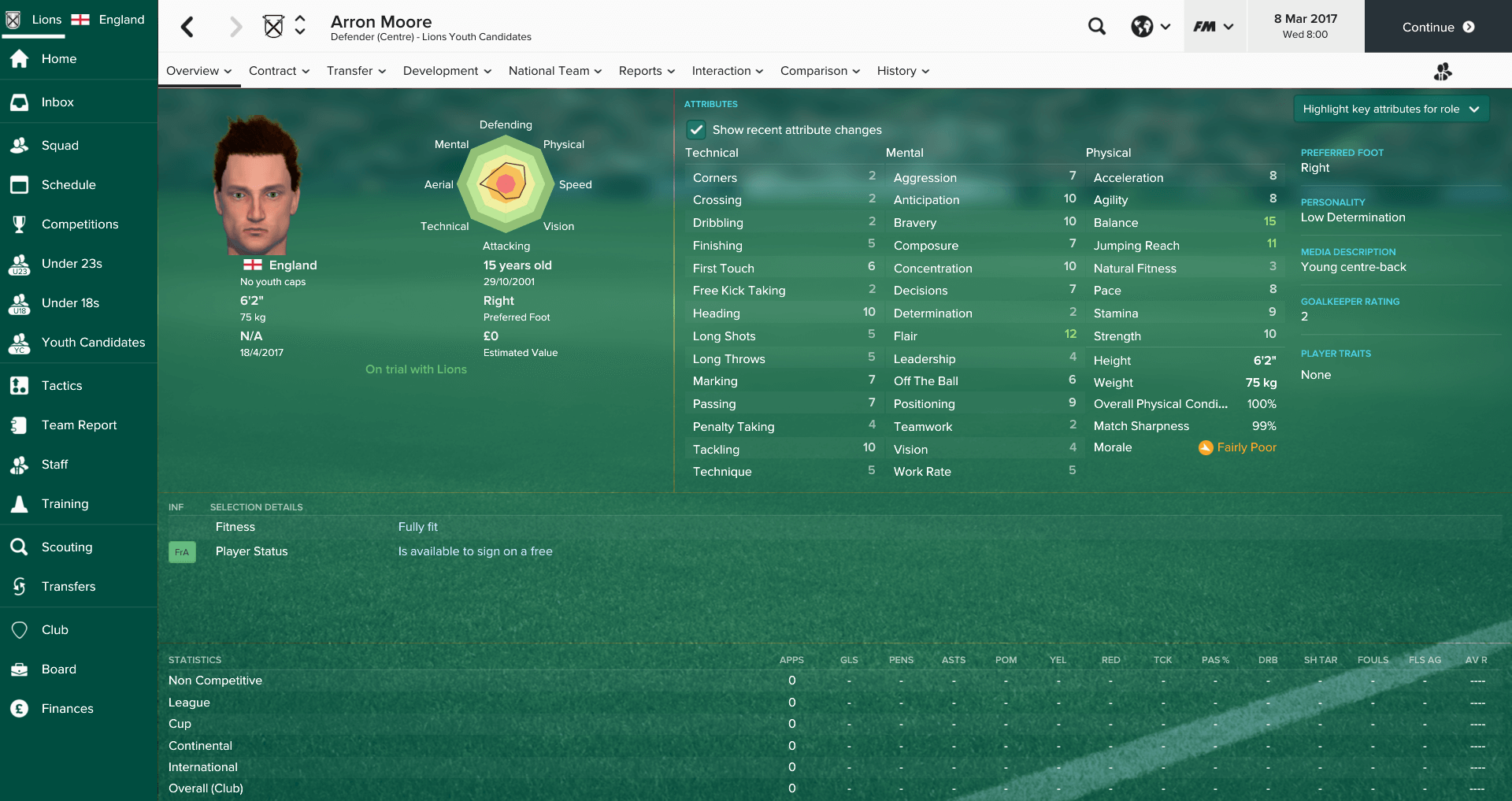 The first thing I look at is the value. Higher value usually indicates higher reputation. A 15-year-old who has just been generated by the game has not had any impact on the world, and so their value will be a sign of only three things.
Club reputation – the higher the reputation of the club, the higher their value.
Current ability – the higher their CA, the higher their value.
Potential ability – the higher their PA, the higher their value.
It's easy to adjust for values. A 15-year-old valued £100K at a 3rd tier side is worth checking out. A player valued the same at a top division side is worth putting on the shortlist, but is a low priority for scouting. I've seen 15-year-olds at top teams be valued at £2M despite having been generated that same day.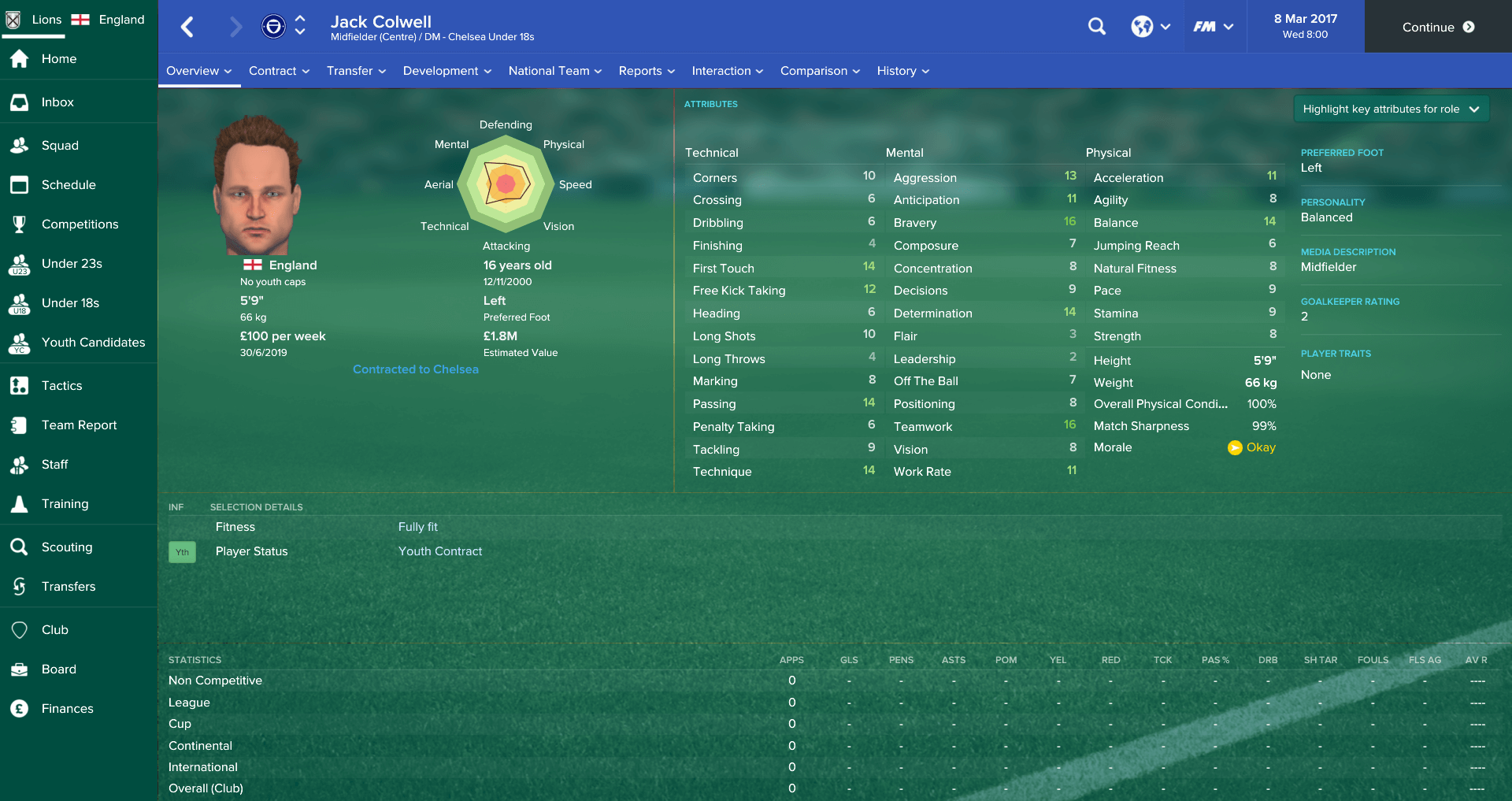 As a third tier side, we won't be snatching the best away. I can, however, get some pretty good players with great potential. By manually checking every English youth team and sorting by value, I can usually find six or seven players worth looking at. Of those, I will likely get two or three of them. This time we managed to get four of our targets.
Start their careers right
I've talked before about developing a career path in my ever popular "How to Build the Perfect Squad" article. In this series, the article couldn't ring truer than in what I am building here. I need to get the development for all players perfect at all times. I'm trying to build a nationwide dynasty, and so if I get it wrong, then the whole premise falls down.
I will go further into depth in a later blog post, so I will only give a brief overview of this. You can go over to the blog post "How to Build a Perfect Squad" for some similar ideas being used here.
We start off with developing physical attributes up to an acceptable level. Central defenders do not need to be as quick as a winger, but if they are too slow then they may be a liability. It is important all players are at least somewhat rounded, due to the nature of our playing style. Quick, aggressive. Lately, we have tended to the style of ceding possession to the opposition in a bid to draw teams out. This means our team needed to adept at defending across the pitch and have the technical abilities to make the most of the ball when we have it.
So we develop the physical attributes up until the player is 21, or until they have no obvious weak physical attributes. After this, we develop a mix of mental and technical attributes. I start by picking their weakest attribute needed for their future role. If they are (and it is unlikely for young players) well rounded then we'll develop a weak attribute not relevant to their role. If we don't do this then we'll put them on a position training regime.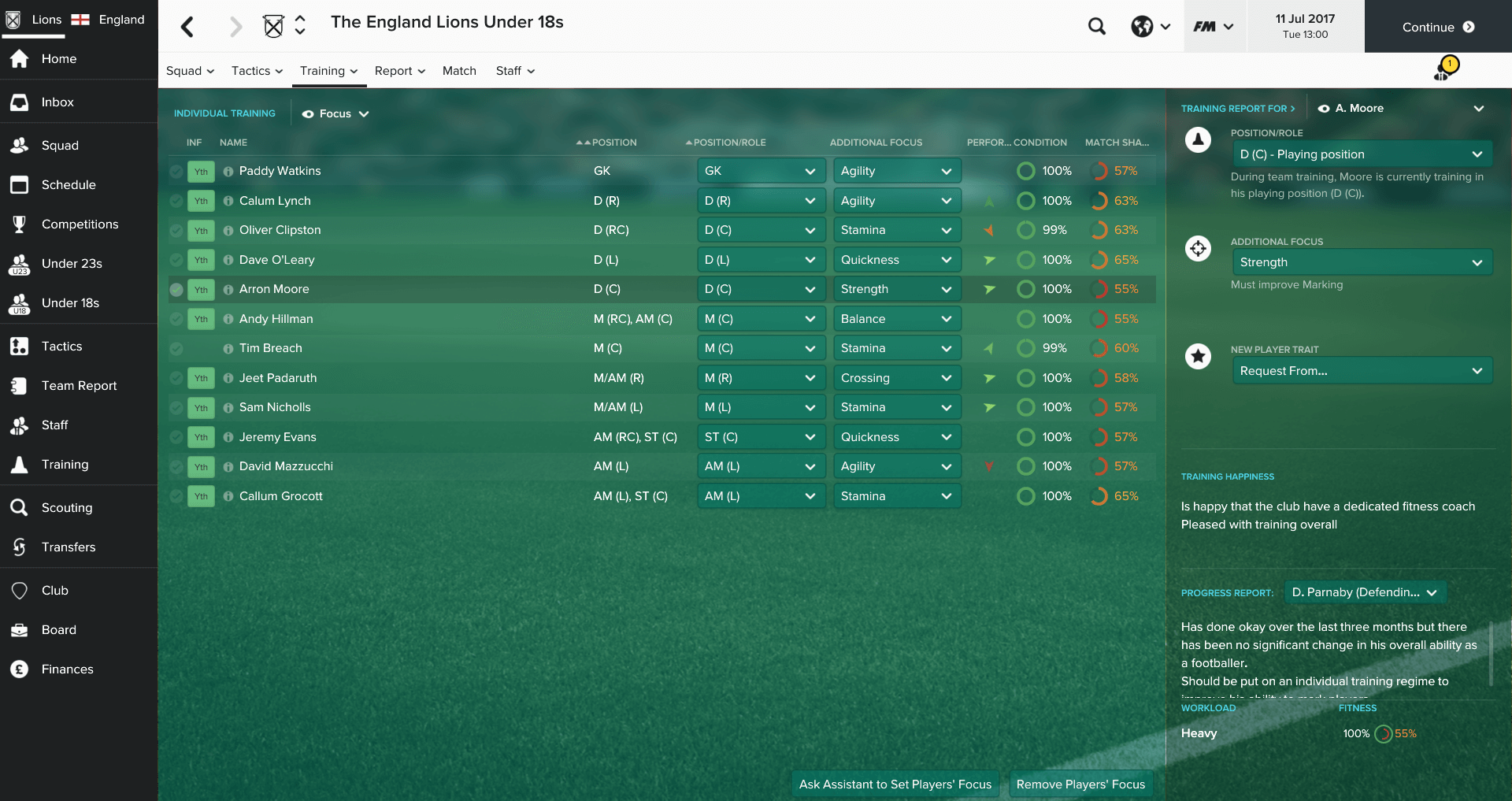 You can see this guide in action. Our youth intake was good thanks to our top facilities, but I made it so much better. In the long run, it will be worth the amount of money. If you're a top division side, £2M is not that much to take from your budget to spend on 4 young players. If you're a weaker, or a less financially well off side, aim for worse players or only one or two.