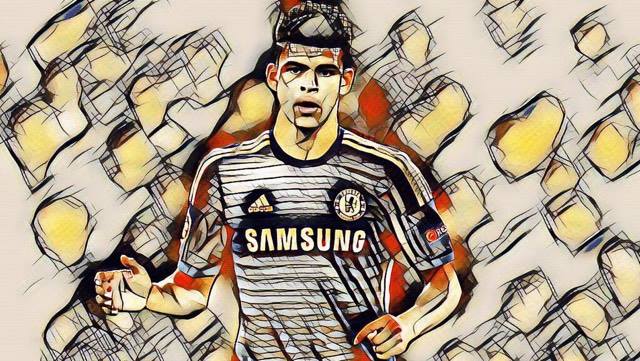 Dominic Solanke's transfer from Chelsea to Liverpool raised a few eyebrows when it broke earlier this week. With the 19-year-old's contract due to expire next month, he is understood to have signed up to start a new challenge at Anfield from next season. With first team opportunities limited at Stamford Bridge last season, the young forward who played just 17 minutes for Chelsea, will hope to break into Jurgen Klopp's first team plans.
Let's take a look at how his career may go following the move as we track his progress on Football Manger 2017. I have edited in a future transfer for Solanke on 30th June 2017 for £3million. This is the expected figure a football tribunal will settle on as the player is under 23 years-old.
According to FM, his attributes at the start of the game are as follows: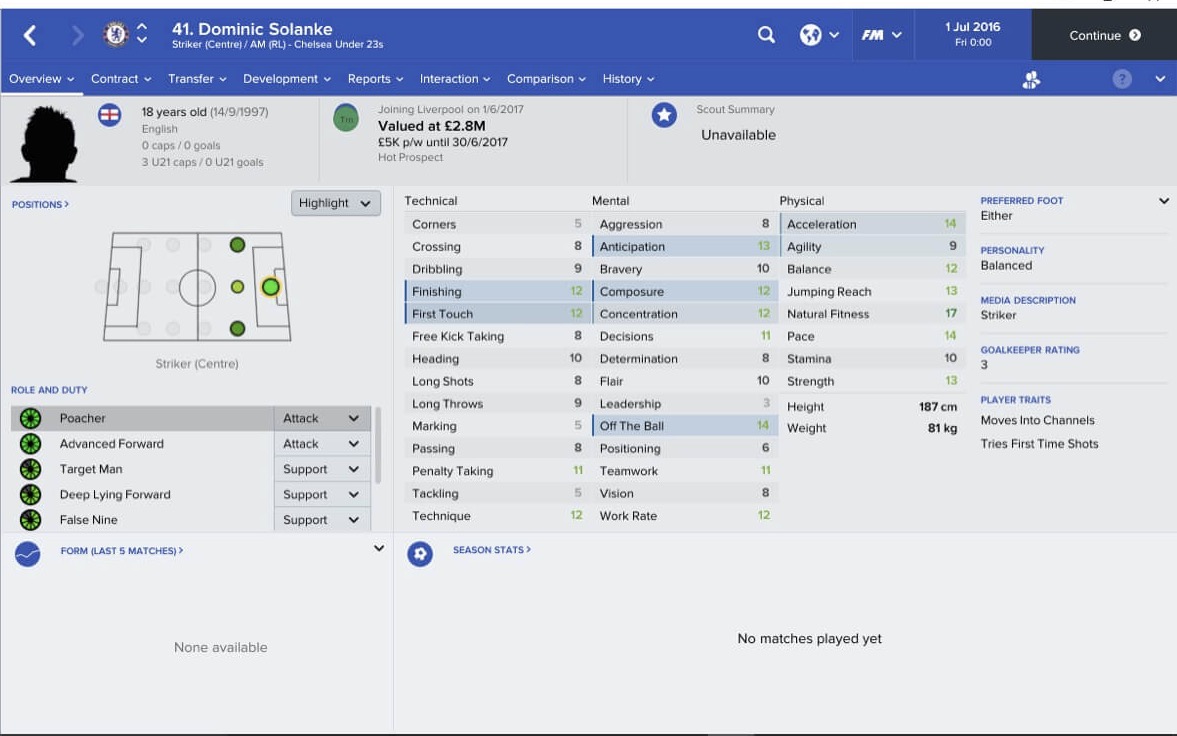 One year later, on the date of the transfer, there has been no change in attributes. This is not surprising as Solanke made just one appearance for Chelsea in that season, actually more than in real life.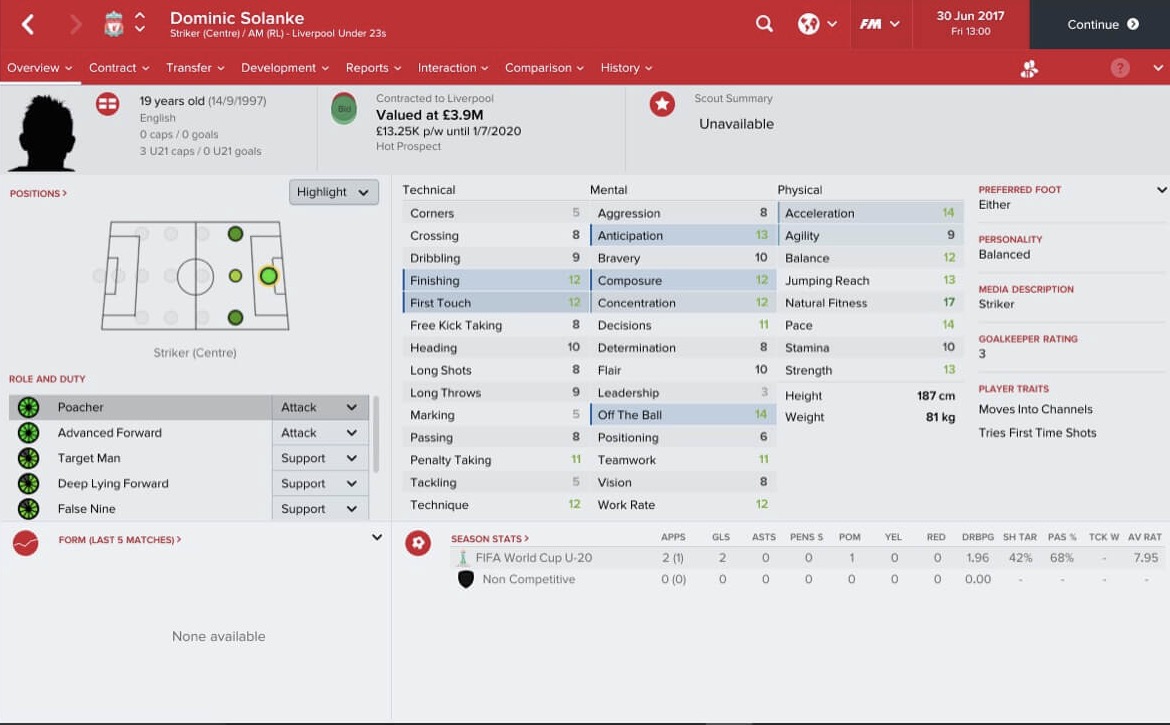 His value has increased by more than £1million, probably due to his transfer fee. His contract has increased from £5k p/w to £13.25k.
After five years in June 2022 things haven't worked out so well for Dominic.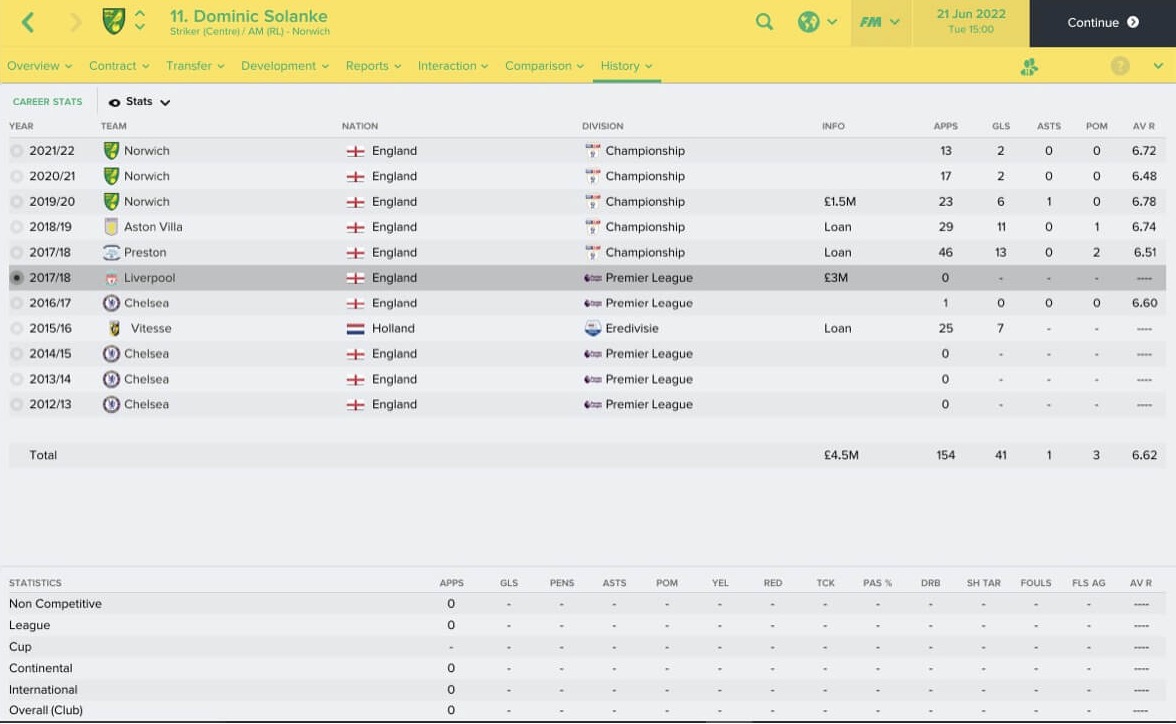 He started the 2017 season in Liverpool's under 23 squad before a loan move to Preston North End in the Championship. He scored 13 goals in 46 appearances for them and had an average rating of 6.51. Unfortunately, that season saw Preston relegated to League One.
The following season he returned to the Championship on loan, this time to the Midlands and a season win Aston Villa. His strike rate was better in that season scoring 1 in every 2.6 games, but his time was more limited, making just 29 appearances.
That season was not enough to get him a place in Liverpool's squad and he leaves the club in the summer of 2019 making no appearances for the first team. He sealed a £1.5million move to Norwich City but in three seasons did not break into double figures for goals scored. Overall he scored 10 goals in 53 appearances and his game time looked to be decreasing at the end of the 2021/22 season. His value is now £23.5k, which is less than his £24k per week wages. His contract at Norwich was due to expire at the end of the season so we waited to see who picked him up next.
His attributes showed some improvement in the five years. Slight improvement to his 'striking' attributes such as finishing, composure and technique was to be expected. The only notable increase was in his determination which increased by 3 points. Drops to his pace and stamina may be due to lack of game time as at only 24, these shouldn't be age related.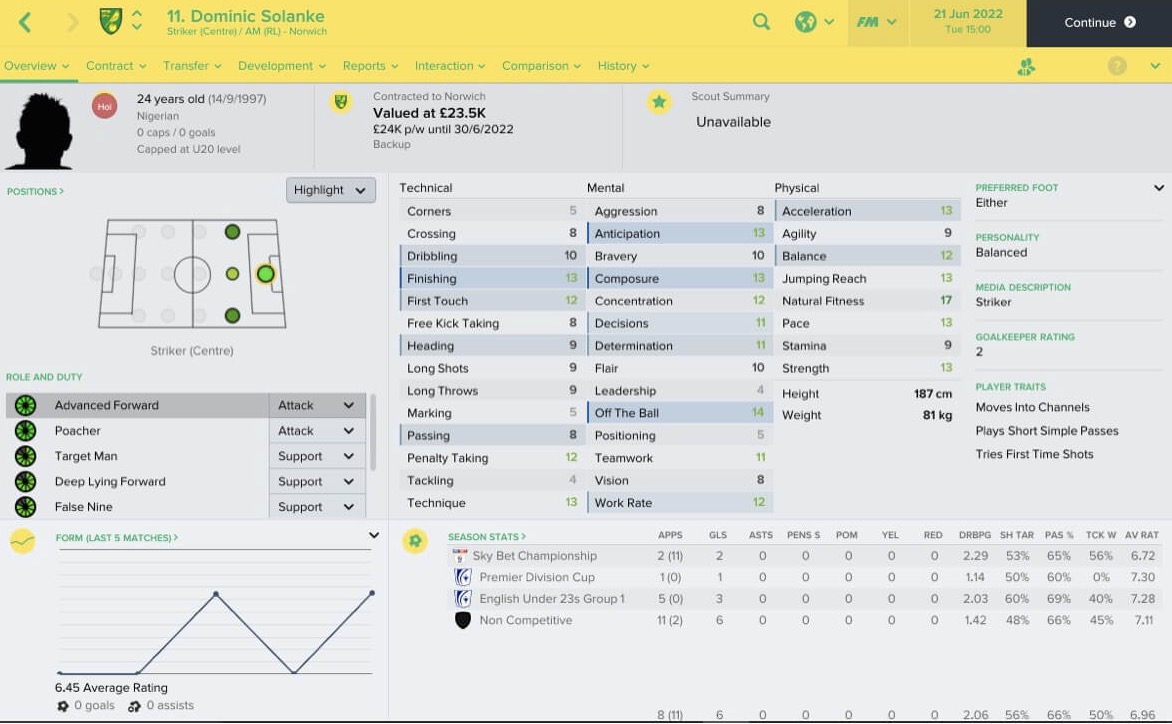 In the summer of 2022 his contract was not renewed at Norwich and so he moved to Munich with 1860 in the Bundesliga 2. He had more success in Germany scoring a goal every other game (14 in 29) and an averaging rating of 7.15.
That was enough to get him a move to the Bundesliga with Hertha Berlin. He was not as successful but 37 goals in 116 goals was one of his best career runs. His final season in Germany saw his lowest amount of games and goals but he moved to Russia for the following season.
The 2027/28 season saw a 29-year-old Solanke move to Moscow with Spartak where he rediscovered his scoring boots bagging 10 in 25 games at an average rating of 7.08.
He was runner-up in the African striker of the year for 2027 but this was his only notable achievement.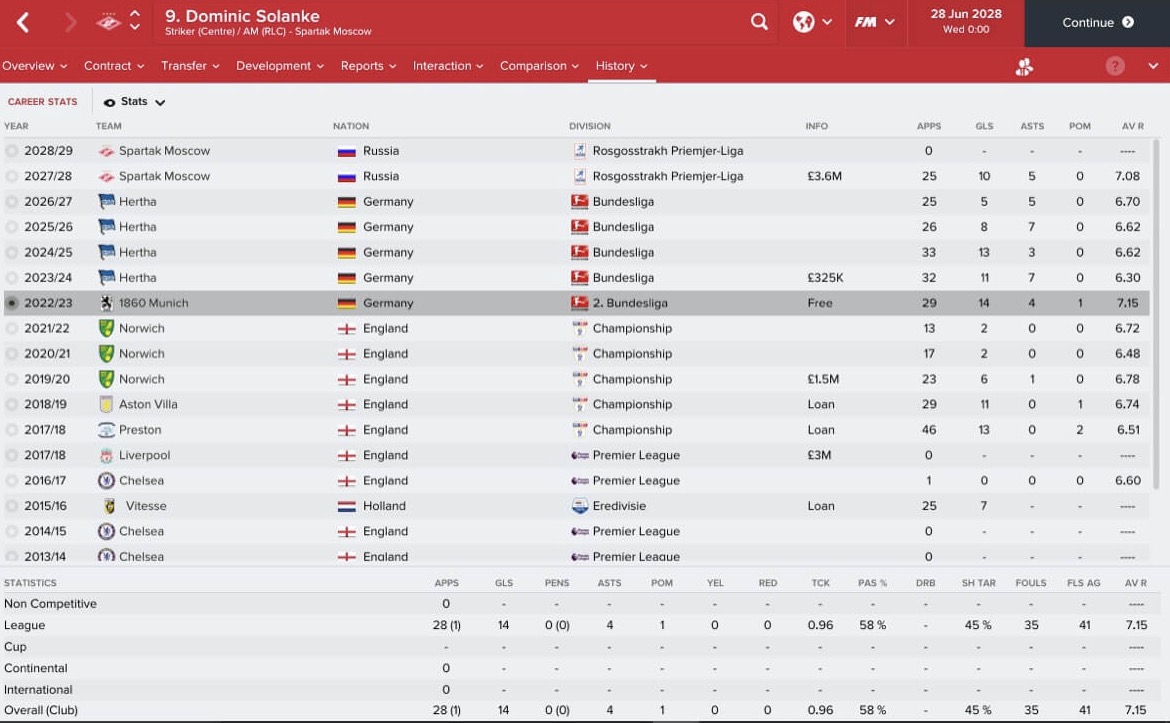 After 12 years in the game, he had a journeyed career and scored goals in some top European leagues. Scoring 95 goals in 299 games over the 12 years tested, his strike rate of 1 goal in just over ever 3 games is not bad. Solanke did not develop much more as a player from 2022 to 2028 but did improve in attributes needed for a striker overall.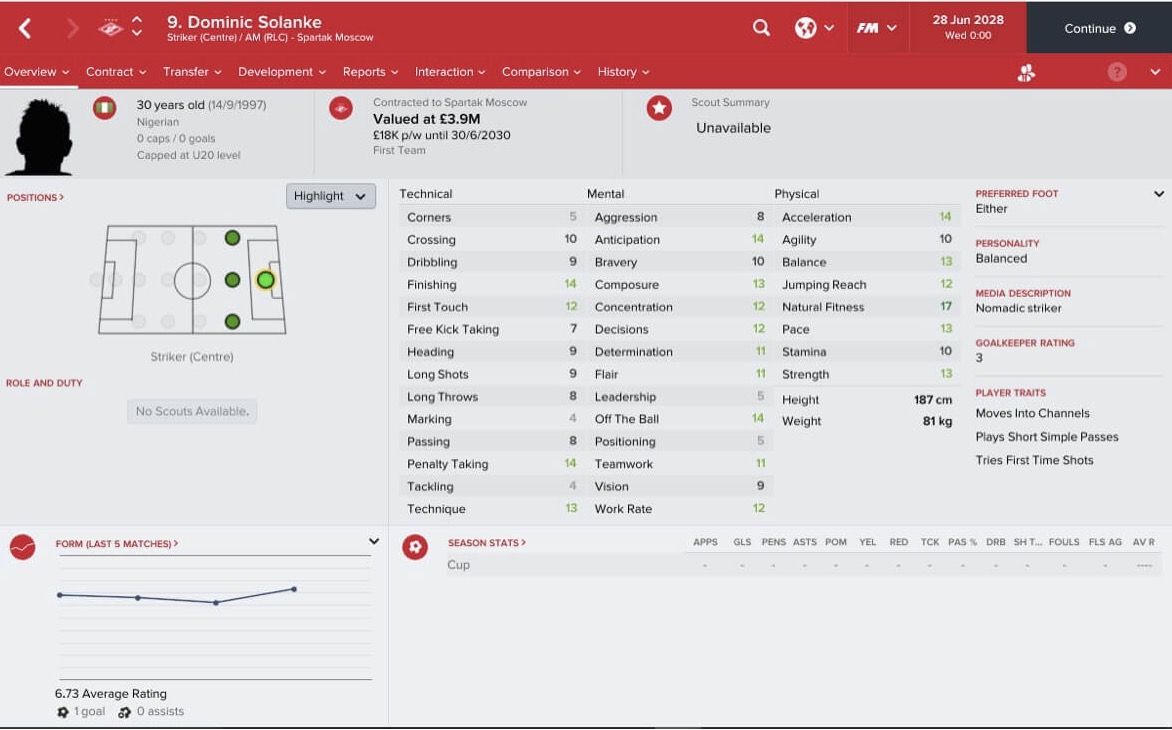 Verdict
According to FM the transfer to Liverpool was not a success for Solanke, however, he did go on to have a successful career around Europe. He has proven to be prolific at times under an AI controlled management. He would suit a Championship level side team, and with the right training, could progress to become a top level striker. At the moment though he is not ready for the FM17 version of Liverpool.