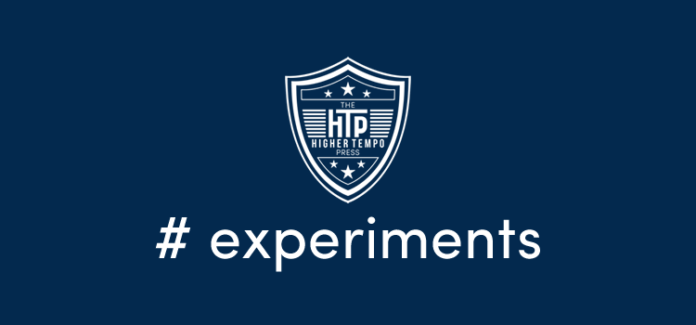 Transfer gossip is as much part of football now as press conferences, post match analysis or any other media produced article. Most of the time it is there to sell season tickets, sell newspapers or even to help renegotiate a players contract. But what if everything they said came true? I have taken one days gossip, edited it into FM17 and taken a look at how it would affect the following seasons, according to FM.
Now for this first part I'll have to change my user name to Only in FM as, although it wouldn't be a bad deal for Real Madrid, Cristiano moving to Manchester for the amount of money discussed just isn't happening. What would happen if he did though, could United regain the league and push on in Europe?
16 goals in each of his three seasons is good but far down on what he has achieved in Spain. He does gain above average ratings overall at around 7.57. So if Ronaldo wasn't scoring the goals, was the other player they were linked with?
This piece of transfer gossip seems to have more to it. I can see Morata moving to the Premier League and with the departure of Zlatan in the off season, they need a new signing to lead the line. In the game, anyone who has played in the Premier League will have seen Zlatan tear it up for the first few years but can Morata take on that mantle?

No. Quite simply he does not feature in enough games after the first season. Scoring only 10 in 34 games of his first campaign in Manchester wasn't enough to make him a regular feature to the side after.
How do United get on in the league having taken the two leading scorers from this year's La Liga Champions?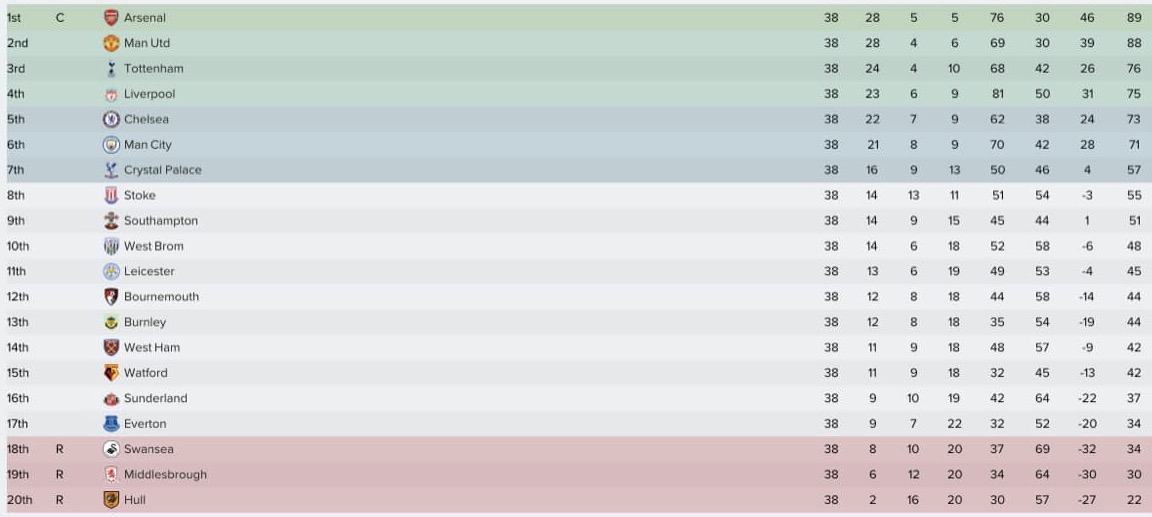 Over the three seasons tested, the 2016/17 season was as close as United came to reclaiming the Premier League crown. Helped by Morata and Ronaldo they missed out to Arsenal by a single point. In the following two seasons they never came close again. 2017/18 saw United drop out of the Champions League placed to 6th, 16 points worse off than the previous year. 2018/19 they did recover a little to claim 4th on 79 points. United did win the 2019 Europa League, following on from their real life success of this season. I am sure this would not satisfy the fans though at that point.
So that's how United got on, but what about Real Madrid? How did they cope with losing two of their main attacking players?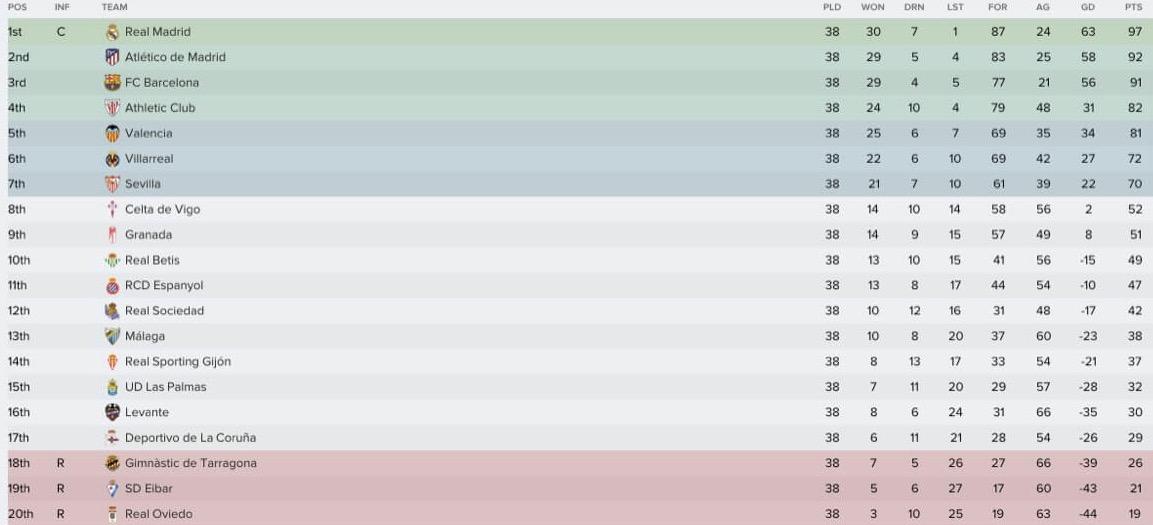 In the first season since losing Morata and Ronaldo, they missed out on the title on a head to head record to Athletico. As you can see above, they did go on to reclaim it the following year with a huge 97 points and losing just once. In the 2018/19 season Real finished 3rd behind again champions Athletico and Barcelona.
The return of Lukaku to Chelsea has had a lot of column inches during the summer window.
There are only a handful of clubs who could afford to take him from Everton but it remains to be seen if he will want to go back to the club which sold him originally. In the game this season Chelsea are not that strong, I haven't seen them win the league in the early seasons but can Lukaku help change that?

Almost a goal every other game in his three seasons at Chelsea is a fine record for the Belgian forward. In reality, his transfer to Chelsea would likely hinge on the future of Diego Costa so in this experiment he shares a lot of game time with the Spaniard. 28 goals in 67 games is good, but for his value, he would need to play more games and maintain that scoring rate.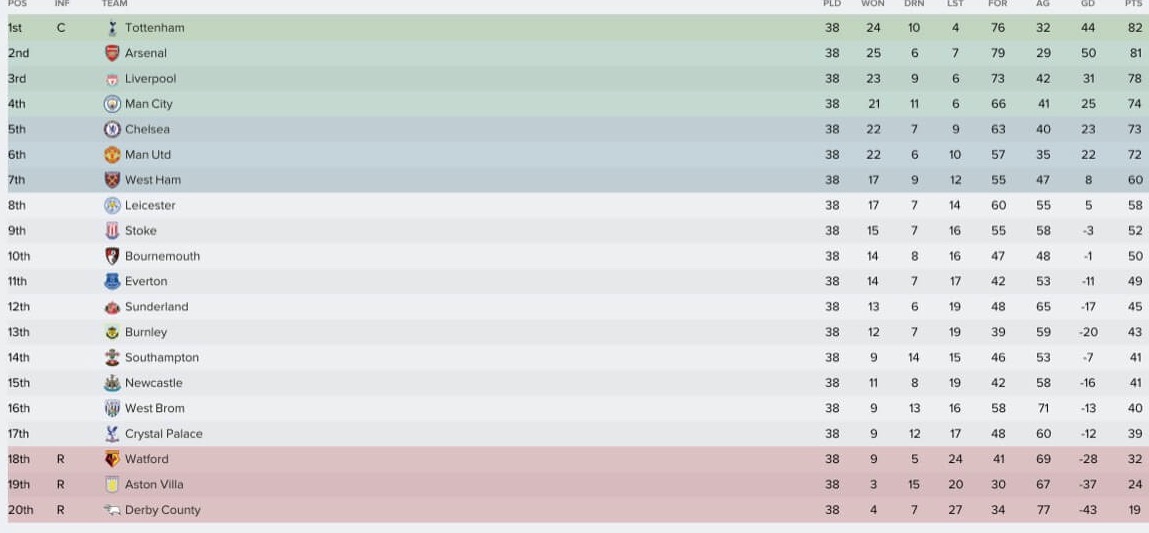 Of the three seasons tested 2017-18 was Chelsea's best league performance. Each year they finished 5th but in the above table they were only a single point adrift of the top four. In the previous season they had been just two points behind. They then fell away and finished the 2018-19 season 8 points behind. Chelsea and Lukaku did have a lot of cup success however and reached two finals of the FA Cup. They won the 2017 final but were beaten in the following years competition. Chelsea did however win a major trophy that year taking the 2018 Europa League as well as the UEFA super cup at the start of the 2018/19 season. Lukaku also helped Belgium to finish 3rd in the 2018 World Cup.
As you can see Chelsea and Lukaku enjoyed a lot of success together, but how did his replacement at Everton get on?
In the world of the transfer rumour, Everton took the money from the sale of Lukaku and brought in Moussa Dembélé from Celtic. Would it prove to be a like for like switch or would the young striker struggle in the Premier League?

Yes, he would. It is difficult to say what happened here as many fellow human managers on FM17 have had Dembélé light up their sides and score for fun. All I can imagine is that Everton are generally poor on this version of the game and have often been relegated to the Championship. As you can see in the 2016/17 league table (in the Ronaldo/Morata section) Everton almost get relegated in the first season, finishing above the bottom three on goal difference alone. After that, they recover to finish in 11th for the following two seasons. They do not trouble the latter stages of the cup competitions.
Do Celtic struggle due to losing their leading striker?
No. A 20 point gap suggests not. They win the next two titles comfortably as well.
In the first Premier League season tested Arsenal were the champions. They beat Ronaldo's United to the crown by a single point, but what helped them do it?

The acquisition of Carlos Bacca from Milan could prove to solve the real life issues that Arsenal have up front but could he help them continue their title-winning ways in FM17?
A similar return to Ronaldo and Lukaku, the Columbian striker scored 34 in 73 helping Arsenal take their first title in 2016/17. He had his best season the following year scoring one goal in every two games but Arsenal missed out on the title to Tottenham by a single point.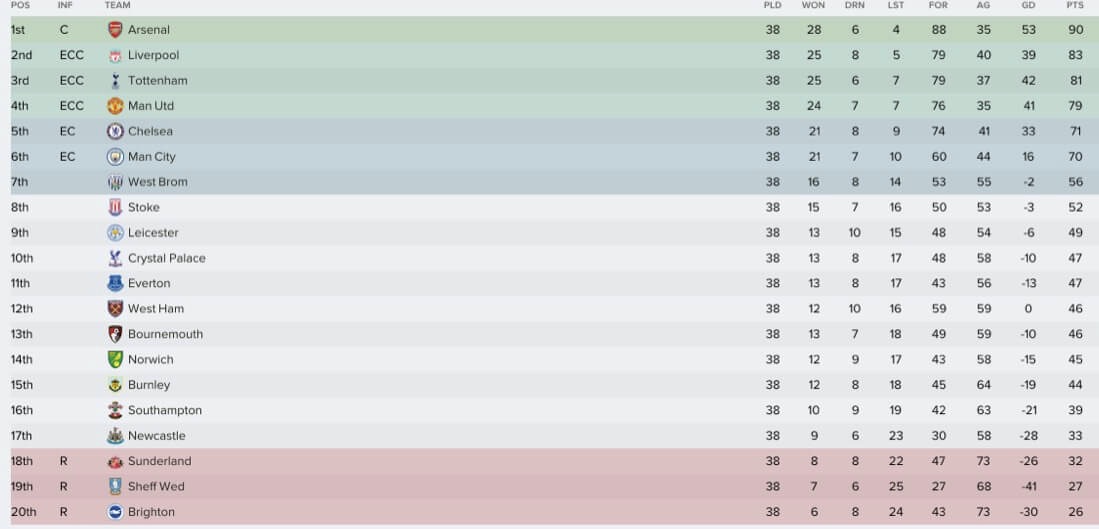 Arsenal did return to the top in the following season however and dominated the competition, winning the league by 13 points. Arsenal did not win any cups aside from the Community Shield but Bacca helped guide Columbia to a surprise win at the 2018 World Cup.
So what can we learn from the above? Well as with all transfer rumours very little. It is difficult to pick out the truth to each story. The one which had the biggest impact in Football Manager was Carlos Bacca to Arsenal, perhaps one of the more unlikely to become a reality. If you're a United fan then Ronaldo's return doesn't change much but for a fleeting title challenge. Lukaku would make a difference to Chelsea but if you're an Everton fan then Dembélé may not be the best replacement. The above is, of course, all according to FM but the reason we love the rumour mill is the endless possibilities and promise of a new season.