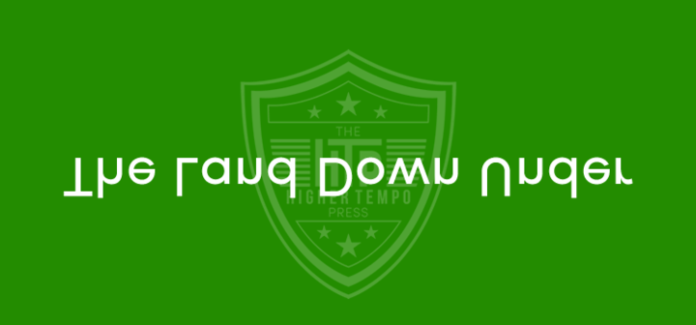 G'day, mate! Today is October 11, and it's a pleasant 68 degrees in Western Australia as we get ready to line up against Perth Glory away from home to open up the 2016/17 Hyundai A-League season. We will, however, not get to that match-up right away, because we have some final pre-season information to go over before we finally get into the regular season.
In the previous update, I focused primarily on my opinions on a couple of squad players and described the team situation during the pre-season. I didn't actually cover the matches that ran concurrently to the signing-heavy previous post. That's what this update is for, and we're going to go over the matches and my plans for the regular season.
We had a very busy pre-season, with 12 matches going from July to October to build up fitness and get ready for the next season.

We had a goalless draw against our youth team on the second day of my tenure just to have a quick preliminary glance at the players on the team and see them in action for the first time using @DistanceCovered's Pep G tactic that I've stolen to use.
Following a two week period to settle in and begin looking for backroom staff and set up training, we entered into a rigorous pre-season with a large number of matches. We had a couple of months before the start of the season with only the FFA Cup to provide fixtures to fill that time.
We started off with a handful of amateur and semi-professional regional teams to serve as confidence and fitness builders leading up to the FFA Cup, and our bottom-end professional team performed as one would expect against amateurs.
In the FFA Cup, we started off against Melbourne Victory and took a convincing 3-0 win to start off our cup run, with our new full back Rodrigo Alvim scoring a goal on his first outing for the team.
For our first meet-up with another A-League team, this was an encouraging sight to see us so thoroughly controlling the match.
The second match in the FFA Cup wasn't so hot, however. Perth Glory, who admittedly are one of the better teams in the league in each of my Australian Football Manager Saves, came in and showed us what for in my first defeat with the team.
If you'll remember from the previous update, we were expected to reach the quarter final of the competition. Unfortunately, Mr. Chairman, I failed in that first test with you, though I do appreciate you cutting a break considering the opposition.
With our cup run ended prematurely, we had some additional fixtures lined up to do before the season started. I wanted some more time to build up team fitness, and with international fixtures and pre-season injuries coming up, I wanted to see who could serve as rotation players when others were gone.
The only other game I want to highlight specifically is our run-out against Sydney FC, who finished the current A-League season with only one defeat in 27 regular season matches. I saw this match-up as an intriguing one that I looked forward to for two reasons. Firstly, it would be an excellent test against some very high-quality players in the league, and I had some sentimental interest in meeting the team I spent five years managing in the past.
We saw the same trend in match stats that I saw in previous meetings with teams. @DistanceCovered's Pep G tactic has been allowing me to control a high amount of possession on average, though against bigger teams in the league I'm only able to sit equally with them on how many attempts at goal I am actually able to get.
The rest of the pre-season ran out as draws because I was hit by international fixtures calling up 3-6 players at a time from my team. We were also hit with injuries, several of which were serious ones lasting a month or longer, including a damaged spine, putting out one of my men for a solid couple of months.
Not the great pre-season that I envisioned, but it's satisfactory all things considered.
With 12 matches to get ready for our opening game against Perth Glory, I have noticed some important things about our team. First, possession is phenomenal, and we have excellent control over the ball and were generally capable of making serious attempts to score goals. My second observation is that we need some better strikers. We have plenty of chances, but we have a hard time actually converting them to goals. With my growing performance sampling from the pre-season, I plan to eventually compile performance stats on my strikers and see what kind of replacements I can scout.
I deliberately left two slots open in the 23 man squad registration so that I can look around for free transfers who might be of sufficient quality to join the team, and we're going to be searching the stats a month or so leading up to the mid-season transfer window in January to figure out statistically where our weak points are. I won't go into a whole lot of detail on the actual methodology that Darwen created and Reids recently expanded on, because those posts do just that, but I will try to make a post during the mid-season window going over what stats and attributes I was looking at and how I chose to sign my mid-season signings if I make them.
For the first half of the season, I think I have a preferred Starting XI in mind.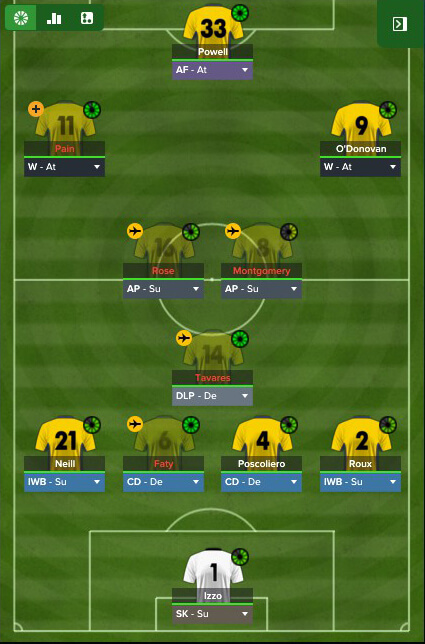 Izzo; Roux, Poscoliero, Faty, Neill; Tavares; Montgomery, Rose; O'Donovan, Pain; Powell.
Finally, I think it's only fair to wrap up the pre-season posts with the season opener that I opened the article with, so how did we do?

Unfortunately, we went back to Perth, and we have been defeated yet again at their home ground with a rotated side, as most of our key players were out on international duty to start our mid-week opener. We opened up with a frustratingly high amount of shots at their goal attempting to score before the Irishman Andy Keogh came in at the 30th minute to score an excellent goal to end the first half with us down a goal. Fabio Ferreira, a left winger, caught an excellent cross from the right wing to catch the keeper out of position to equalise, but Grant and Keogh quickly returned fire to remind us that we were in Perth and not Gosford.
Our first match ends with us on a -2 goal difference and sitting at the bottom of the table with a match against Sydney FC coming up in a mere 3 days.
Let's hope that when I return to you later on in the season, there's some good news to share!