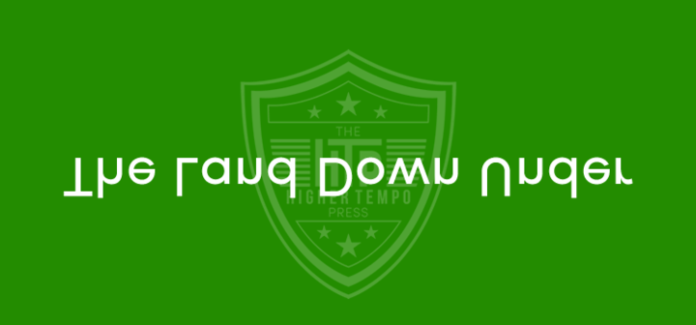 G'day and welcome back to Gosford, New South Wales! In case you missed it, my name is Damon, and I'm in charge of Central Coast Mariners of the Australian Hyundai A-League. In the last update, I spoke briefly about myself and my Football Manager career before getting into the rules of the A-League. If you want to brush up on those rules really fast, go check out that update. In this post, I'm going to give a glance over the squad.
To touch once again on team registration rules, we can have a maximum of 23 players on the team and of those 23 players, no more than five can be foreigners and no more than 20 can be over 20-years-old. We're under the requirements on all of those counts so far.
In addition, we have a league salary cap of AU $50,000 per week that we're not allowed to exceed. In terms of our club, however, practically speaking we've currently got $25,000 worth of players currently on our payroll, and the board is allowing us just under $10,000 to spend to supplement our playing squad. As I said in the last post, Australian football is similar to the MLS in some ways, but at the same time, it's different. Whereas the MLS structure enables each team to have sufficient funds to come up to or near the salary cap for competitiveness, the A-League teams function like more traditional clubs with the wage budget being whatever the board of your club feels like paying out, which in my case will amount to roughly $35,000 out of the full $50,000 per week.
As for the team itself, overall we're nothing special. We're predicted to finish dead last in the A-League this year, and that's all the board is asking of me. In the FFA Cup, we're expected to reach the quarter-finals.
Going over all 21 players currently in the squad would take a while, but to hit it in broad strokes, a lot of our best players who I would expect to hold the squad together happen to be in their early 30s. They won't be around for long, so I'm going to have to do some scouting during the season for replacements and size up my youths to see if they can have some role to play in the side.
Senegalese international Jacques Faty, a former Sydney man, is the highlight of the team when you look purely at skills. In the skills that matter for his role, he's nicely balanced between 12s and 14s with the stray 10 in concentration. He's rated by the staff as one of the best men in our team, however, he's 32-years-old, so he's on the decline or soon will be. He'll get the job done this season, but I don't see him as a viable member of the team beyond this season. As I mentioned in the previous post, it's my intention to bleed in and develop elite level Australians in the long-term, so I'll be finding a nice, young lad to take his place.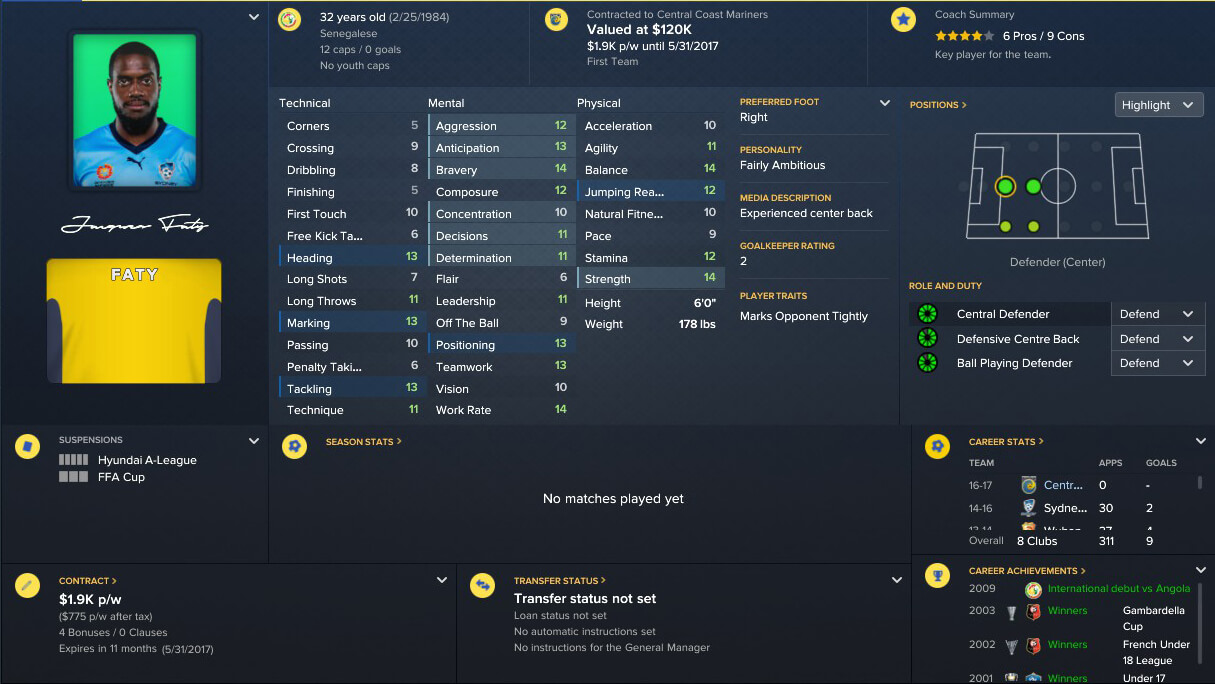 34-year-old Scotsman Nick Montgomery shares the same story. He's been in the A-League with the Mariners since 2012, and he's still a phenomenal midfielder when you look at the stats, but he's far too old to continue being in this team. If he doesn't decide to retire at the end of the season, it's very likely that I'll opt to not renew his contract.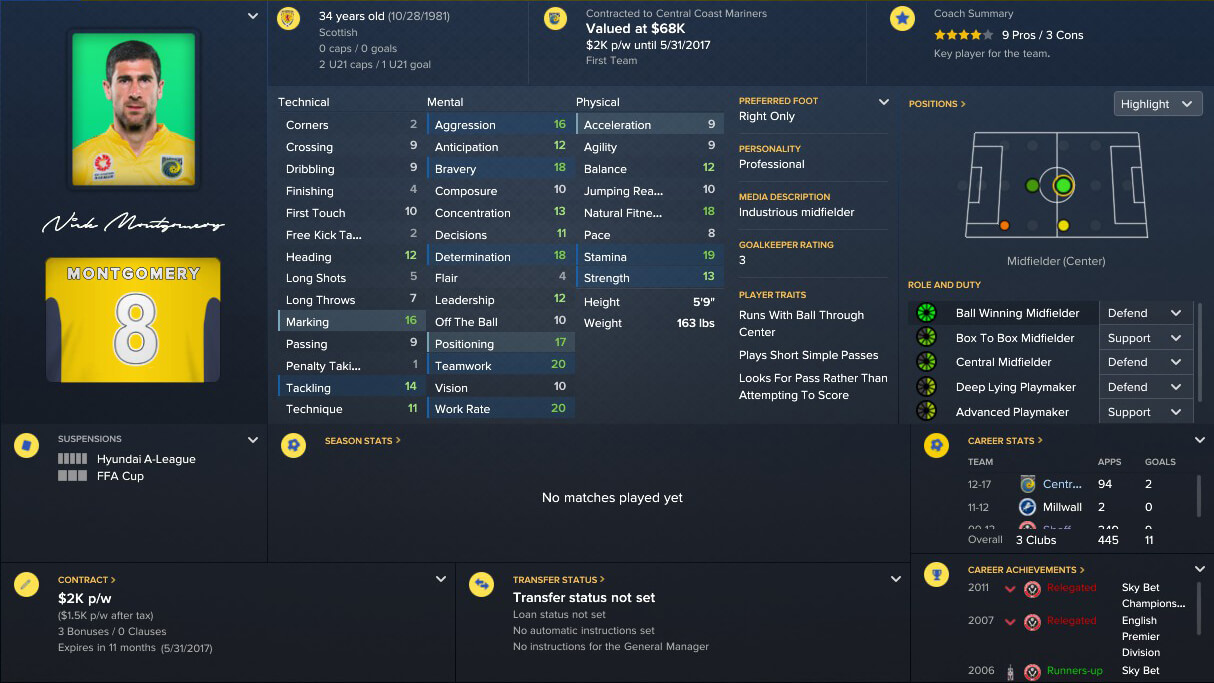 Looking towards the youth, my two favourite younger players in this side are a pair of left and right fullbacks.
22-year-old Michael Neil is physically fit and satisfactory, and while he's lacking a bit in the mental attributes, he still has time and room to improve them given the right incentives and training. As a younger Australian, if he can perform as I'd like him to domestically, he could be in the team for a while.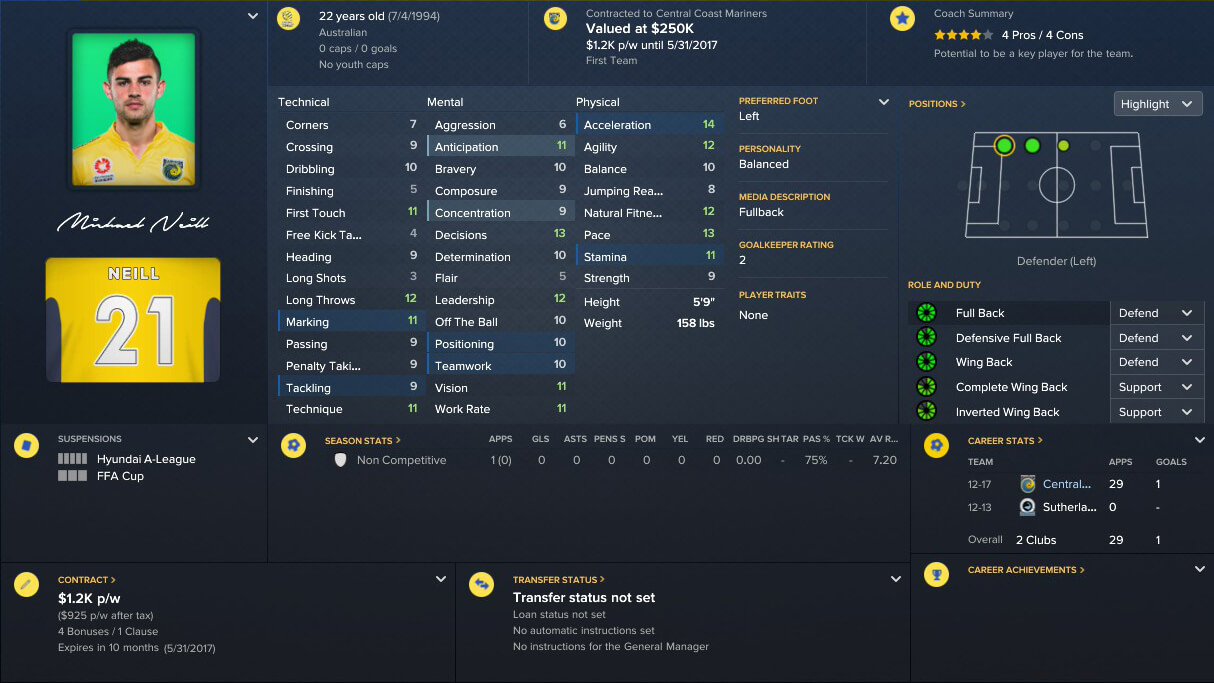 On the other end of the defensive line is 23-year-old Storm Roux of New Zealand. A minor injury in preseason sidelined him for the first handful of preseason games, but he should bounce back from it and is likely to be in the first team as a regular member of the squad.
As far as depth goes, the team is actually in fairly good shape. Most of the players are cross-trained to other positions, so we've got 5-6 capable players per position, except for goalkeeper and left back, who both have two.
We had a pretty demanding preseason with a match a week set-up and a couple of instances where I scheduled midweeks around the FFA Cup runs prior to the regular season, and players were getting injured in my high-intensity training and busy friendly schedule, so I had my Chief Scout sending men out to find me fullbacks.
After a solid month or two of scouting every player that the staff had knowledge of, I found 32-year-old Brazilian Rodrigo Alvim at Miami Dade FC in the USA. He's competent and about the same in skill at fullback as the youngsters, but he has his age working against him right now, and he's going to be a short-term option for the team so that we have a little bit more coverage for this first season. He's going to rotate in and out as the fixtures demand but will be out of the side at the end of the season for sure.
I usually give the original team a chance for the first half of the season in charge of a new club, so with the exception of Rodrigo Alvim, I don't plan on signing any other players during the first half of the season. When we get to the second half I'll be examining the performances of the men I have and see how they work with the tactic I'm using, which is @distancecovered's Pep G tactic he shared back in April. It looked intriguing, and with a little polish for positional training, my team is in the right positions to have everyone at least competent in all roles, so I figured I'd see how it went.
This particular signing didn't use the Searching the Stats that I've been using since I read about it last year on Tempo because I don't actually have stats obviously. I won't go into that in detail since Reids has a series on it himself, but that's what will be influencing my summer transfers later on in the year.
In part three we will finally get on to matches, and I'll show off the preseason match results and the FFA Cup run.