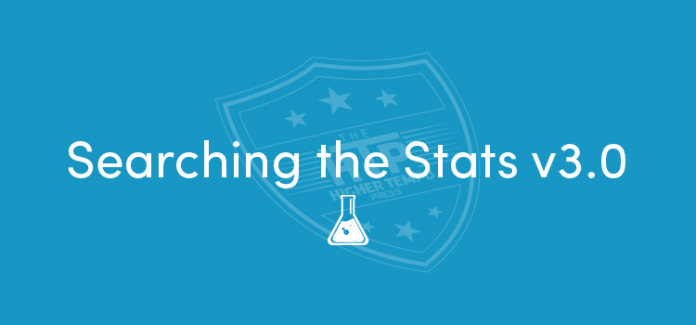 Episode 7 – The Striker
Episode 1 – Introduction and full-backs
Episode 3 – BWM + B2B Midfielders
With our potential squad now forming nicely, it's time to find a couple of strikers. The criteria we're looking for are as follows:
Goals and Assists are obviously straightforward, although our striker will play in the Poacher role so I'll be focusing more on the goals aspect rather than the assists.
Goals per 90 minutes, Shots on Target per 90 minutes and Shots per 90 minutes will help determine our strikers shot quality.
Shot Conversion rate will help us work out how clinical the striker is (goals divided by shots x 100)
Penalties and Penalties Scored ratio is another important factor, we don't necessarily want to sign a striker who's scored 15 goals if 7 of them were penalties – although we do need a penalty taker in our team so who better than the striker!
Minutes Played and Average Rating are self-explanatory and are both important in our decision.
So the final criteria we're sticking into the player search is:

Age is no more than 32
Starting appearances more than 15
Value between 150k and 20m
Goals at least 15
Assists at least 5
Penalties Scored Ratio is at least 80%
This gives us a list of the following 15 names:
Pedro Sanchez: A product of Atletico Madrid's academy the 26-year-old spent 8 years at Atletico, only making one league appearance for their first team (in which he scored). Loan spells to Tenerife, Vallecano and Tarragona then followed before Greek team AEK purchased him for £675k. He was an instant success scoring 51 goals in 127 games during his 4 seasons there. His head was turned and at the start of the season, he moved to Russian side Krasnodar where he's scored an incredible 25 goals in just 26 games. Added to the main shortlist.
Ben Woodburn: The 31-year-old has been at Liverpool for the entirety of his career and has been a regular for Liverpool for an incredible 12 seasons, racking up an impressive number of goals in the process (142!). That being said, he's on 220k a week so will be unlikely to want to take a pay-cut since he has another 2 years left on his contract, but he joins the main shortlist anyway.
Andrae Madison: A product of Man Citys Academy the 26-year-old spent 7 seasons there without making a league appearance before Championship side Brentford took a punt on him for the measly price of £600k. He's repaid them with getting an impressive return of 87 goals and 30 assists in 214 games and has led Brentford into the Premier League for next season. Brentford are likely to be unwilling to part with their star striker but depending on the price could be worth a gamble. Joins the main shortlist.
Nermin Sekic: Sekic spent just one year at his native club FK Sarajevo in Bosnia before French Ligue 2 side Caen snapped him for up 100k, a couple of years on loan then followed before he broke into the Caen first team during 27/28. He scored 12 goals in 33 games but couldn't help keep Caen up. A season in Ligue 2 helped him develop and he netted 18 goals during 28/29, getting Caen an instant return back to Ligue 1. 14 goals in 37 games helped keep Caen up, however even with 21 goals in 38 games for the season just gone couldn't help as Caen got relegated. His goalscoring record is simply phenomenal considering he's in a bad team, could be a fantastic acquisition if we put better players behind him. Joins the main shortlist.
Bambang Panjaitan: The 25-year-old came through Ajax's world famous academy but never made an appearance for them before FC Groningen swooped and signed him for £3m. He netted 11 goals in 28 games in his first season for Groningen and has increased his goal tally year on year ending this season with 24 goals in 37 games. Joins the main shortlist  
Christian Gauna: The 23-year-old has spent the entirety of his career (bar a couple of loan spells) at River Plate in his native Argentina. His goal record is impressive, netting 72 goals in 171 career appearances. One of his loan spells was in the Portuguese Premier Division with Feirense and is the only season where he hasn't hit double figures. This is a red flag about how he dealt with the step up to a harder league, so joins the secondary shortlist.

Michalis Meimaroglou: The 22-year-old has spent his whole career at Greek side Atromitos, netting 69 goals in 208 appearances, despite being young his goalscoring record in the Greek league doesn't impress me very much, considering he'll be moving up to a harder league. Joins the secondary shortlist for further examination.
Nazareno Boscardin: The 24-year-old started his career at Gimnasia (LP) in Argentina. His 5 goals in 32 games as a 17-year-old attracted the attention of Benfica who purchased him for 875k. A couple of successful loan spells at Cypriot team Omonoia followed by he was unable to break into the Benfica side, before returning Argentina with Rosario Central for £600k. He's now spent 2 seasons at Rosario, scoring an impressive 39 goals in 74 games. Joins the secondary shortlist.
Renato Rossi: The 29-year-old came through the Juventus academy making 9 appearances for the Juventus senior team aged just 17. He was unable to keep his spot in the team and then embarked on 5 seasonal loan spells before joining Serie B team Hellas Verona for 600k. After 4 seasons in Verona fellow, Serie B team Spal spent £2.2m on him, where he netted 12 goals in 31 games, but his time at Spal was short-lived, before Pescara (again in Serie B) snapped him up for £2.9m where he's just scored 20 goals in 39 games. Despite having a good goal record, I have doubts about his career – having spent the last 6 seasons playing in Serie B. For a 29-year-old who's expected to make an immediate impact at a Premier League team, that isn't good enough so he's ruled out.
Rafal Zawistowski: The youngster (he's 21) came through the Montpellier academy before being bought after 4 seasons by Greek team Olympiakos, he failed to break into their first team and has spent the last couple of seasons on loan at Cypriot teams Apollon Limassol and Omonoia where he's done well (scoring 19 goals and 10 goals respectively). That being said, if he's not ready for the Olympiakos senior team, he's not ready for a Premier League team. Ruled out.
Jack Ward: Got his breakthrough at Everton, where he made his Premier League debut aged 21. Just one further appearance followed before he was released joining League 1 team Oldham, he impressed so fellow League 1 team Portsmouth took the plunge and bought him last summer for 230k where he ended up with 23 goals, taking Portsmouth to the playoffs. Now 28 and with only 2 appearances outside League 1 to his name I don't think he'll be able to make the step-up. Ruled out,
Mario Gallardo: The 28-year-old came through at Argentinian team Estudiantes where he spent 7 years before moving to Portuguese 2nd division side Torreense. 7 seasons later and he still hasn't found a good home, being moved from club to club on free transfers. Looks unlikely to meet the standards we require. Ruled out.
Javier Rodriguez: The 29-year-old came through the ranks at Valladolid, where he also broke into the first team. He was unable to hold down a first team position and moved to Greek team Asteras Tripolis. He helped fire them to promotion but struggled to adapt to the Superleague with few goals. A free transfer to Cypriot team Omonoia then followed where he's just scored 17 goals and got 12 assists in just 34 games. Joins the secondary shortlist.
Nicolas Zarate: The 20-year-old has just had his first season in senior football where he's netted an impressive 21 goals in 32 appearances for Argentinian team Aldosivi. Joins the secondary shortlist.
Dario Martinez: The 23-year-old has spent the whole of his career at Argentinian side Almagro where he's netted 65 goals in 147 appearances. His goal scoring record is increasing each season (ending this season with 22 goals in 28 games) and could be worth a punt. Joins the secondary shortlist.
So we've narrowed it down to:
Main Shortlist:
Pedro Sanchez
Ben Woodburn
Andrae Madison
Nermin Sekic
Bambang Panjaitan
Secondary Shortlist:
Christian Gauna
Michalis Meimaroglou
Nazareno Boscardin
Javier Rodriguez
Nicolas Zarate
Dario Martinez
Now let's examine the radars
Main Shortlist:
Pedro Sanchez:
Ben Woodburn:
Andrae Madison:
Nermin Sekic:
Bambang Panjaitan
Ben Woodburn takes a ridiculous amount of shots per game, which is likely how he's ended up scoring so many goals, but considering we'll be a team most likely battling against relegation or fighting for a mid-table spot, he'll have considerably fewer chances to shoot, which will mean fewer goals. Pedro Sanchez has impressive all round numbers, but his minutes played is a concern and could mean a bad injury record (I'll visit this later on). Andrae Madison looks a solid all-rounder, but a step up in class may mean a diminished return in goals. Sekic is the same as Madison except worse whilst Panjaitan looks to be clinical in front of goal with not many shots but still a decent goal ratio. I can't find a reason for Sanchez not playing the majority of every game so he goes in as our number one choice, followed by Panjaitan.
Pedro Sanchez

Bambang Panjaitan

Andrae Madison

Ben Woodburn

Nermin Sekic
Secondary Shortlist:
Christian Gauna:
Michalis Meimaroglou:
Nazareno Boscardin
Javier Rodriguez
Nicolas Zarate
Dario Martinez
Gauna has some fantastic looking stats, but is similar to Woodburn – we most likely won't get as many chances to shoot so he could potentially be a luxury player. Meimaroglou is in the same boat, but with fewer goals so drops to the bottom of the pecking order. Boscardin has an impressive record but still has too many shots for my liking. With 19 goals and 15 assists, Rodriguez would be a fantastic option with a partner alongside him, but we're playing a lone striker so I'm not convinced he'd work. Zarate looks to be a solid all-rounder with ticks in all the right boxes, and is still young as well, with Martinez much the same.
Nicolas Zarate

Dario Martinez

Nazareno Boscardin

Christian Gauna

Javier Rodriguez

Michalis Meimaroglou
So there we have our strikers! Join me next week as I hunt down the final position – the goalkeeper.