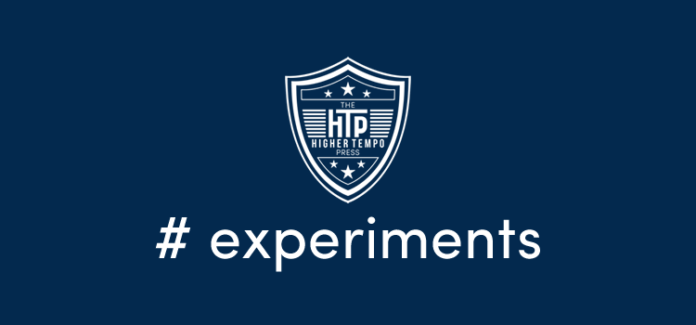 This week saw the announcement of Arsenals new signing Sead Kolasinac. He joins the club from Bundesliga side Schalke as competition in the left back position. His arrival possibly signals the intention to build on the three at the back formation which was successful at the end of the season. Whether he will replace Kieran Gibbs remains to be seen but with a heavy Thursday / Sunday schedule next season having more depth is no bad thing.
Making 30 starts for Schalke this season Kolasinac assisted seven times. He was a main stay to a side which, although they finished 10th, conceded the fewest number of goals outside the top three (40).
Results 2016-2021
So how will Arsenal get on with the new addition to their squad in the coming seasons? Using Football Manager 2017 I edited a free transfer at the end of the 2016/17 season and gave Kolasinac a contract until 2022 to mimic real life. Let's take a look how Arsenal will go over the next few years, According to FM.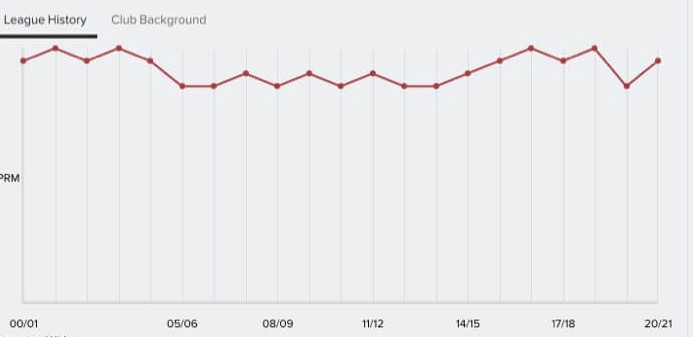 Well it's good news Arsenal fans, it appears that the next few years is a dominant league display winning 2 out of 5 titles. Now how much of an influence was Sead Kolasinac?

Oh, well he didn't even play enough times to get a medal had they won the title in the 2017/18 season before being shipped off to Inter for £12.5m. How did his Inter career go? He helped Inter finish second in the league in 2017/18 and 2019/20 as well a being beaten on the Italian Cup final in 2019.
During that time Arsenal took part in four consecutive Champions League finals from 2018-2021, winning two. So what was the key to success if it was not Kolasinac?

The additions of Griezmann, Laccazette, Digne and Çalhanoglu would likely have a greater impact on the side.
Development
Over the five seasons how does Kolasinac develop?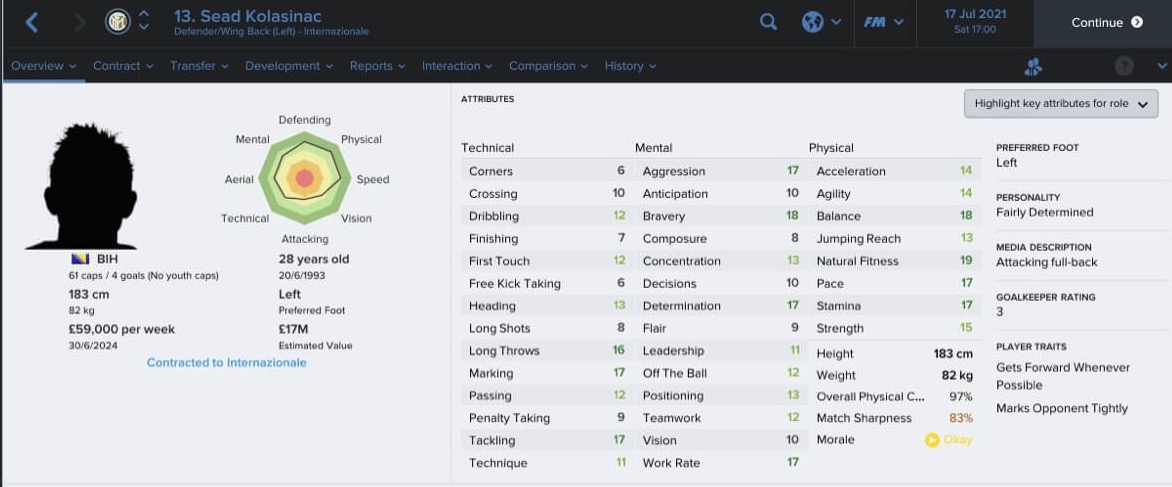 There have been small improvements to his attributes needed to be a good attacking full back. Gains of one point in his marking, positioning and leadership will help improve the defensive side of his game. Also, as an attacking threat his passing, vision and agility have show signs of development. At the age of 28 now he should be at his peak and so it is unlikely that significant gains will be made in the next few seasons.
His value increased from £8.75 million before his free transfer to £17 million in 2021 while his wages improved from £13k/week to £59k.
Summary
Both Arsenal and Kolasinac enjoyed a successful few years since his transfer however not while the two were together. According to FM it is more what else Arsenal do in the summer which has an impact on their future. Kolasinac came for free and left for a profit so in that respect it was good.