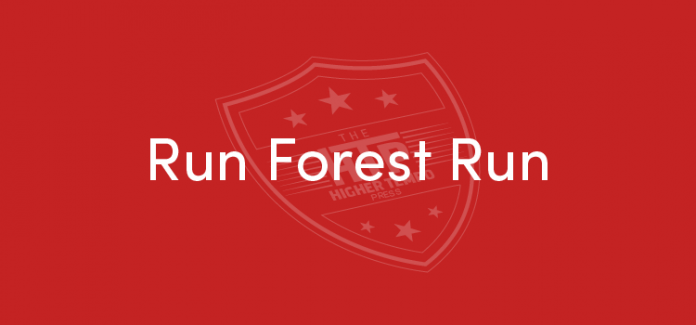 Sweet, short February. We only play three competitive matches with an 18-day gap without matches in between, which I decide to fill with a friendly against Galway United. Why? Because I love Ireland, that's why. Of these three matches, we only get a single point. But that point was earned during a hard fought display against Manchester United. That's my third point of the season against a top six side. The most disappointing result was giving away a 2-0 lead against Crystal Palace. I honestly did not touch the game for three days after that match. After out FM-ing both Burnley and Leicester City earlier in the season, the game decided to turn on me. FM giveth and FM taketh away…
We end the month 15th, five points above the relegation zone, but with a game in hand. Next month we face teams which we can all beat, and our safety from relegation could be brought a lot closer with a few decent results against them.

March is a bit of a mixed bag. Leicester City, Watford, Swansea City and Stoke City are all teams we should have won against, but for the most part failed to do so. We began the month great against Leicester, who we outfoxed (if you'd pardon the pun) by winning 3-1 with Ben Osborn scoring a brace. The less said about the game against Watford, the better. The game against Swansea was perhaps the most boring match played on this edition of FM, worldwide. But we went ahead twice against Stock City and twice allowed The Potters to equalise. That is a shame. This leaves us still 14th just 5 points above the relegation zone. The longer this situation exists, the better it is. Because 14th and five points means survival.

We continue our winless run during the month of April with two draws and three losses, although one of the draws is away at Stamford Bridge. Especially the run of three losses in a row sees us slide down the table to 17th. It is definitely not the right time for a slump, with relegation to the Championship very much back on the table. We could undo our fantastic work so far with the team. I estimate we need at least six points to stay in the Promised Land. And we only have two more games to collect these points…this is going to be very tight.
And just like those incredibly bad sports movies, we leave it to the very last to ensure survival. Just when all hope seemed lost and a late season slump saw us being dragged back into the Championship, the boys cried havoc and released the dogs of war. First we dispatched Everton at their own Goodison Park, thanks to a Forshaw goal. And we saved the best for last, demolishing eventual FA Cup winners Burnley 5-0 in the finest display this season. Jóhannsson and Assombalonga ran circles around Sean Dyche's defenders and ensured another season in the Premier League.
Season Review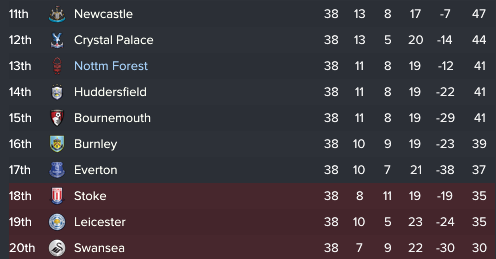 And so we end the season 13th, a very respectable position for a newly promoted side. It was a very tough season with nail biting moments and periods of frustration, briefly interrupted by sheer joy. It has been perhaps the most intense season in my entire FM career. You just know that one more season in the Premier League gives you the financial means to further stabilize, to buy the players you need to push for a place in the top ten. The TV money guarantees a safe financial future for the club and allows us to grow even further.
A big thank you must go to striker Britt Assombalonga, who used his first season at the highest level to contribute to 23 goals (19 goals, 4 assists) out of a total of 48. He has adjusted seamlessly to the bigger stage and showed no signs of stage fright. He has already been coveted by 1.FC Köln, West Ham United and Sevilla, but I'm confident we'll keep him at the club. Another outstanding performer was Pajtim Kasami. The Swiss midfielder has an average rating of 7.11 and has been a very consistent performer in the middle of the pitch. He was assisted in central midfield by Fans' Player of the Year Ben Osborn, a product of our youth setup who was ever present during the campaign. He scored five, created five and had a passing accuracy of 83%. It surprises me how effortless he was able to keep up with the higher tempo and tougher opposition. Standing at just 176cm tall, he held his head high and did not allow himself to be bullied by anyone.
My best acquisitions of the season were Adam Forshaw, Aron Jóhannsson and Conor Hourihane, the last one being extra satisfying since he was a free transfer. They all had average ratings higher than 7.00 and really added something to the team. Jóhannsson adjusted well to playing as a shadow striker and scored 6 goals and created 7 in just one half of the season. I can't wait to see what he can do next season when he's given an entire season to shine.
All good things…
But I'm going to stop writing about this save. Gaining promotion in my first season and staying up has been a thrilling adventure and far surpassed my expectations when I began. While fun, writing about a save also takes up a lot of my free time. Free time that is being claimed more and more by social commitments. But I'm confident this has not been my last save for the Tempo, and when things settle down I will return with a new adventure. In order to pass on what I have learned, I will be leaving you with a last post detailing some things I picked up while surviving the Premier League. So keep your eyes out for that and see you soon.