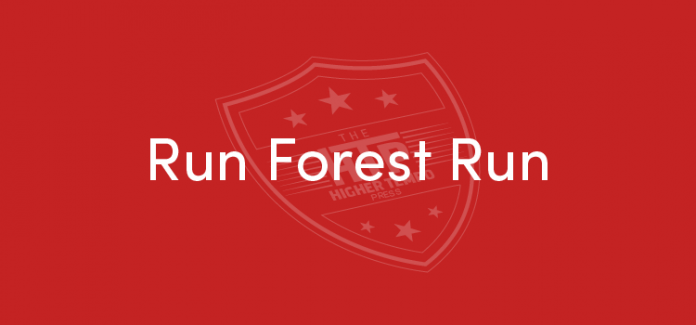 So, just to recap for a moment: we started our first Premier League season in an indifferent form. We had an already legendary win away at Leicester City, where we came from 2-1 behind to win 2-3 with 90th and 92nd minute goals. But overall, the season has been abysmal with 2 wins and 2 draws in 8 games. We are just above the relegation zone on goal difference. I have been playing a defensive tactic, hoping we can limit the damage and perhaps pick up points on the counter.
The first part has worked okay, with only the match against Manchester United ending in a complete rout. But the other games, while close, have been frustrating with not much between us and the other team, but still conceding due to stupid mistakes. But until now, my defensive tactic has kept us out of the relegation zone (barely), so I'll stick with it for now. Elsewhere, I've been on a great EFL Cup run, beating Oxford United, Stoke City, and Southampton in the process. The coming months are going to be crucial, with matches against Stoke City, Huddersfield Town, Bournemouth, Burnley, and an EFL Cup quarter final fixture against Charlton Athletic coming up.
November

We started the month terribly against 11th (!!) placed Chelsea. After the 1-4, I literally stood up and walked away. I had seen enough. I put the kettle on and stared out the window for a while. It's not easy being in the Premier League. For the next few matches, I decided to switch my 4-1-4-1 to a 4-4-1-1 with a shadow striker / deep lying forward up front. We desperately needed the points and the 4-1-4-1 just wasn't working, not in keeping others out, not on hitting them on the break. Even if we relegate, I'd like to think we did it with some bravado. And it worked! We picked up a valuable four points against relegation candidates Stoke City and Huddersfield Town, and beat Charlton Athletic to reach the EFL Cup semifinal. After 14 matches, we're outside the relegation zone at 16th place. I hope we can keep this up.
December

I always dread December, with its seven matches in one month. It's the perfect circumstance for a mid-season slump, especially with such a small squad as ours. But there was nothing to be afraid of. We played seven, and won four. Twelve vital points in the struggle against relegation which sees us rise to 14th place, seven (!!) points above the danger zone. And of the three losses, two were against top six sides. December sees the resurgence of transfer listed Kerschbaumer, who plays an important part in the win against Burnley. Another player who has profited from the change in formation is striker Britt Assombalonga. He scores four goals in the month of good cheer and reaches 10 goals. This has won him 3rd place in CAF Striker of the Year and the interest of Watford and Schalke 04. Hopefully, we can keep hold of him. December has lifted my spirits immensely and has given me faith that we can stay up.
Note: I'll save the January transfer window dealings for a separate post. This does mean you might encounter some 'strange' names. Consider them small spoilers. If you absolutely don't want to be spoiled, stop reading here and only continue after reading my January transfer window post. But if you're this invested in the series, you might consider seeking professional help or a hobby.
January

January is very much a cup filled month, with no less than five cup matches during the month. Unfortunately, they all end in knockouts. But still, I'm very proud of what we achieved during the EFL Cup. Reaching all the way to the semifinals is something no one predicted and it is a great achievement. When it turned out Manchester City was to be our opponent at the 4th Round of the FA Cup, elimination was almost a certainty. We are very far away from challenging these sorts of mega clubs. The elimination from both the EFL and FA Cups does bring an advantage. We can now focus on extending our stay in the Premier League, which is our main goal this season. The results from our three matches in the Premier League are slightly disappointing. I'm not really bothered about the loss against Tottenham Hotspur on New Year's Day, but losing 2-3 against Newcastle United and my personal Don Revie, Rafa Benitez, after going 2-0 up is very painful. Winning away at West Bromwich Albion has hopefully prevented these two losses from turning into a slump.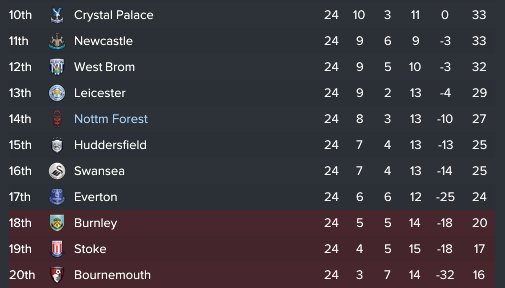 We end these three months in a relatively comfortable position, seven points from the relegation zone with only 14 matches to go. We even have the chance of climbing further up the table considering the reasonable gap in points. The change from 4-1-4-1 to a more adventurous 4-4-1-1 has definitely been the right decision and with the cups out of the way, I'm confident we can stay up.