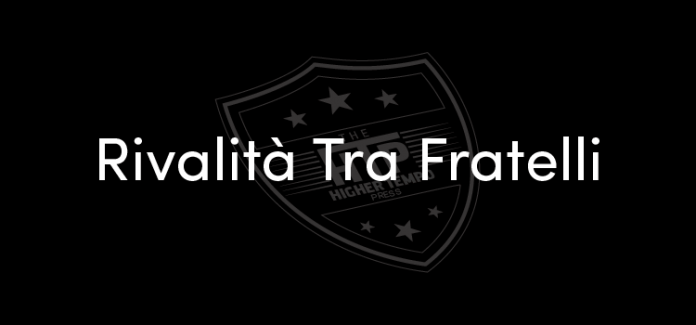 This is the story of two brothers, a modern-day Cain versus Abel if you will, based in the northern powerhouse Italian city of Milan. If you'd like to replicate this challenge, we're using the updated medium database with the following leagues: England (Premier League, Championship, League One & League Two), Italy (Serie A & Serie B), Spain (La Liga & Segunda División), France (Ligue 1 & Ligue 2) and Germany (Bundesliga & 2. Bundesliga).
Rivalità Tra Fratelli – #WeAreTheRivals, Episode 9
MIKE: I feel refreshed. I feel alive. I feel optimistic. There is a renewed confidence around the Rossoneri half of the San Siro, which is a shame because we have two full weeks before our next game. It appears Italy have a winter break, which is pretty crap timing just when we're doing well, I don't want to use the word conspiracy but I guess I just have.
Sampdoria did not plump for Louis Van Gaal, instead, they went with Vincenzo Montella. Name sounds familiar, can't place it though. Van Gaal rocks up at Fiorentina, on the same day as Francesco Guidolin returns to the Premier League with West Brom. Meet the new boss, same as the old boss.
Before we play our next game in January against Joe Hart's Torino, there's the small matter of the transfer window opening and boy, have I got a transfer for you.
CHARLIE: Transfer activity at this time of the year has become more frequent in England but I'm not overly interested. Should Mauro Icardi depart for pastures new then he'll need replacing but other than that…we're not in bad shape. The one position that does need improving is our central midfield. Behind Kondogbia and Brozovic, options are limited. I'm yet to work out what Gary Medel's best position is, since he's a liability at defensive midfield and wasn't convincing as a centre-half, hence the recruitment of Kortney Hause. We're turning the loan of Roberto Gagliardini into a permanent signing but that's only in 2018. I have my eye on somebody who flies in the face of my ROI strategy, who is needed for the short term, I'm allowing myself one big name per transfer window as long as it's balanced out with a youngster.
In other happy news, I've signed a new contract. After a brief negotiation, I'm happy to stay at the San Siro and continue the good work we've begun.
Congratulations go to Yûto Nagatomo, who has won the Asian Player of the Year Award. He gets some stick in real life, especially from @niczcarroll on Twitter for not being good enough to play for Inter but he's never let me down. His presence is part of the reason I'm happy to accept a bid from Leicester for Davide Stanton.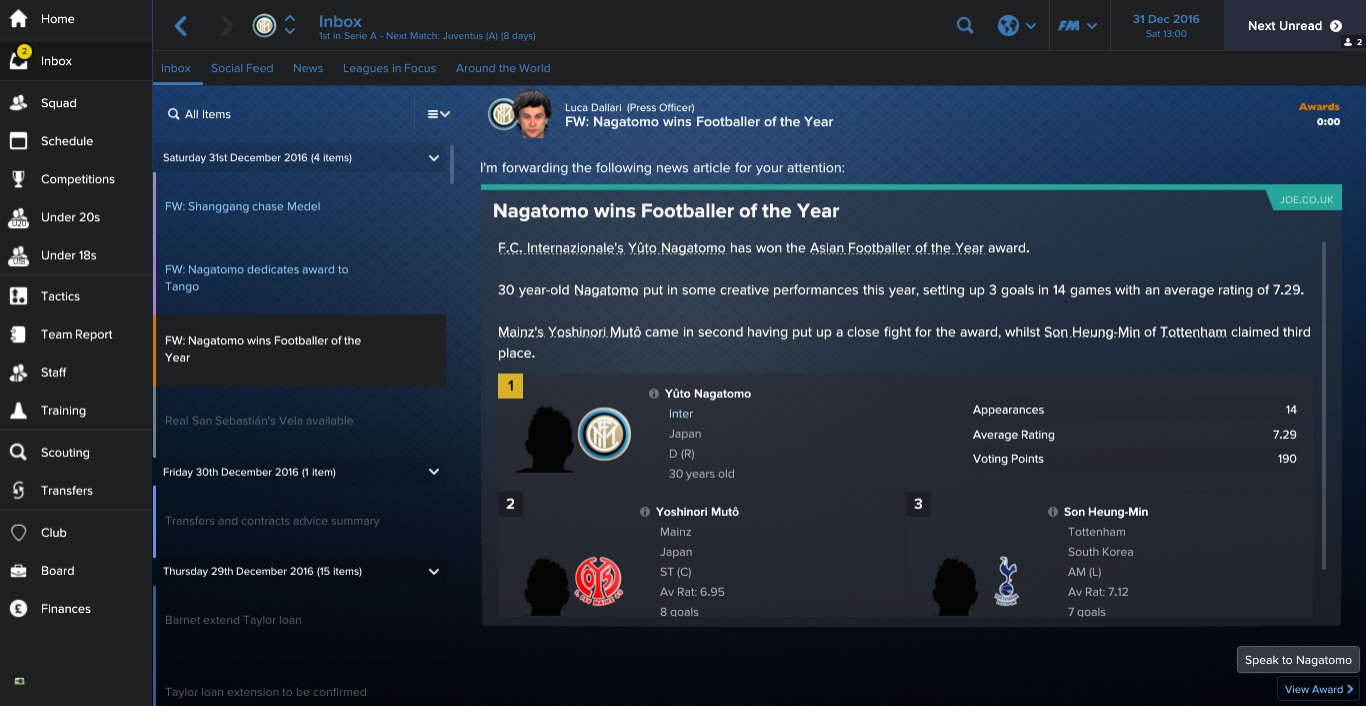 MIKE: Bench Warmer 2 (Gabriel Paletta) looks set to leave with Watford making a bid for him, but as soon as I see it included a selling team wage contribution, that's rejected until they come up with something better. Bordeaux will take him on loan, pay all his wages and have a buying fee if he reaches five games. That's the one for me. Somehow I've managed to transfer list Cristián Zapata, possibly in conversation. He looks set for Konyaspor on loan. Tottenham have come in big for Bonaventura. Starting at £32 million, I bid them up to the point when the transfer will be worth £58 million in total should they meet all the clauses. International appearances and league appearances shouldn't be a problem, winning the FA Cup might be a stretch but still…£58 million. Have to take it, we are blessed with plenty in the midfield.
CHARLIE: Milan is the home of transfer activity! Davide Stanton gets injured for three weeks but his move to Leicester still goes through. Mike has a theory about the Leicester doctors being told to look the other way considering Stanton will replace Jamie Carragher's favourite player Danny Simpson. Gary Medel is on his way to the bright lights of Shanggang or Quanjian, who make an eleventh-hour bid, both Jack Taylor and Bright Osayi-Samuel will continue with their respective EFL clubs for the rest of the season. An enquiry from Manchester City for Brozovic is dismissed out of hand before both Tottenham and Manchester United make a measly bid of £31 million for Icardi. Considering I want £70 million, we are way apart. He has also realised that Manchester City have cooled their interest so now wants to remain with us. Good lad. I'll just introduce you to our two new signings, Alessandro Rossi arrives as a 20-year-old prospect from Lazio for a minor £600,000 and the big name I mentioned is midfield enforcer Yaya Touré.
MIKE: January 3rd, 2017 is the day when I announce my brand new signing and it's a good one. Stewart Downing has been snuck in the door as a winger for a new formation but he barely registers any interest in the press conference because I send Suso to Manchester United and in return Mourinho sent me…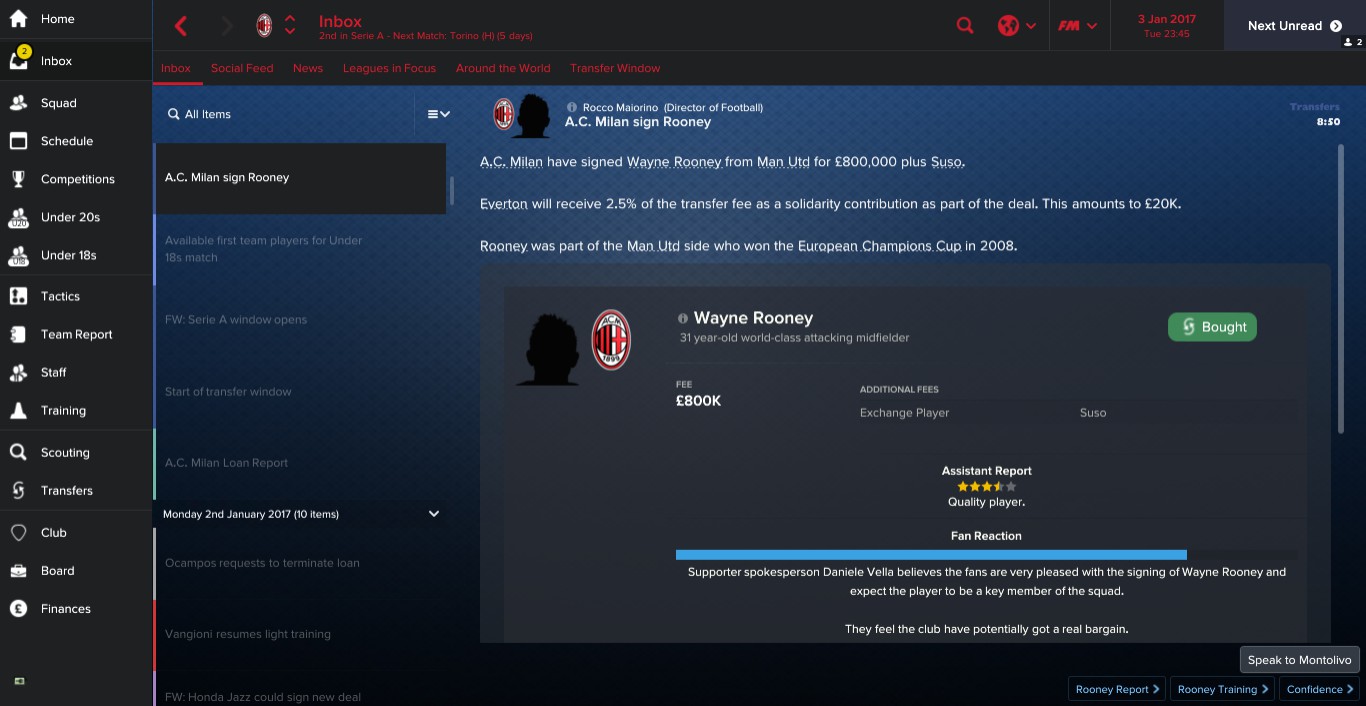 Oh, yes. England's record goalscorer. The most famous English footballer on the planet. He's here.
I do enjoy winding other managers up and it seems I have struck a chord with Torino's Mihajlovic. I don't particularly want to go full-on Keegan but I do love it.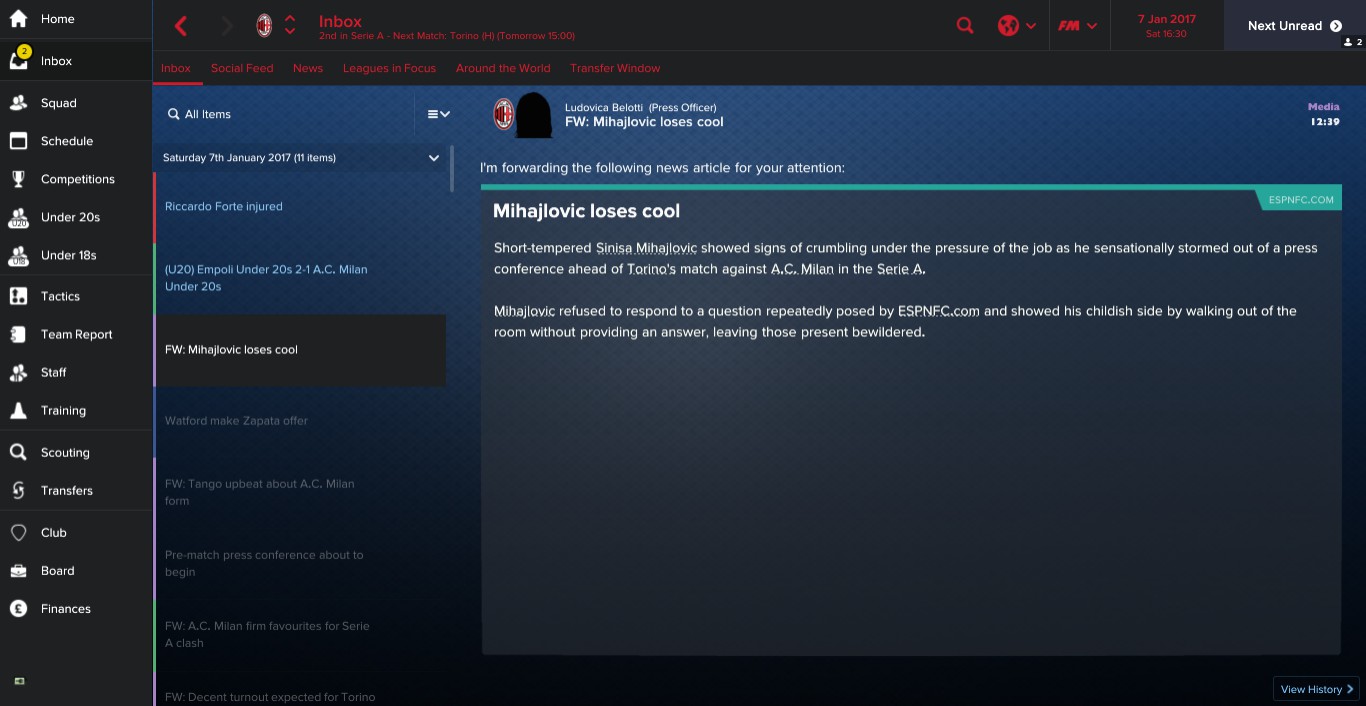 Rooney and Downey – new name – are straight into the side for our home match with Torino. It's time for a new formation, which I have brilliantly called #weareacmilan. Should get a few fans onboard. Four at the back, Montolivo and Gumbau marshalling defensive midfield while the forward four are Downing (left), Rooney (centre), Deulofeu (right) and Bacca (striker). Finally, I may have the answer to the Deulofeu problem.
As a manager you can't make every transfer count, you've just got to make sure that the batting average is good. After just one game, we've done so well we've enforced the follow-on. Two goals and would you adam-and-eve it, the two scorers are my new signings.
It's like I have a sixth sense. I am brilliant. I am the best Football Manager not only in my own family but in the world.
Downing at the back post from a Calabria cross, then Wazza Rooney's left-foot half-volley as sweet as a nut, my son. The second half flies by, mostly thanks to Zappacosta getting sent off for Torino. They had one measly shot on target in the whole game. They should be relegated for that if I had my way. It's all well and good criticising Joe Hart for a couple of errors but you want to look closer to home, Chairman.
CHARLIE: Another red card in Mike's game. I'm starting to worry that the match engine has something wrong with it. Seems like we get one every game but of course, one for the Old Lady would be most welcome as we face Juventus in Turin. That probably means there definitely won't be a red card.
Max Allegri's boys are having some problems. In their last four across three competitions, they've only won one game and that was a tight 1-0 over Pescara. They've lost to Monaco in Europe, Sassuolo in the league and AC in the Super Cup. Having watched AC Milan triumph in Qatar, I suspect the way forward is to get in Juventus' faces. They will not want to go to one win in five.
Yaya Touré is in from the start as I select Pep's Wing-Back formation with a control mentality. I think teams have been standing off them for too long in defensive or counter, I want to control the ball, keep it away from them. If we win this, it'll be ten wins in succession.
What a game! What a game! Straight from the kick-off the ball is popped around so everybody bar Handanovic gets a touch before Barbosa's shot is blocked and Candreva chances his arm…into the top corner! Get in you beauty! Just prior to half time Higuaín shows his worth with a cut-back for Dybala to level matters. If only he was fit for the Super Cup. Pjanic was queuing at the station so one of them was bound to put it in. Again from the kick-off, we get a goal, this time Candreva runs clear and assists Mauro Icardi. The main man is back, his head no longer turned and thankfully it was focused on the goalmouth.
Second half and nobody is taking their foot off the gas. On the hour Icardi scores a penalty for his second and Candreva matches him for a brace of his own, Charlie Taylor with a layoff and Candreva curls one in from the edge of the box. Dybala had got another back but we were good value for the points.
Now that was a game and a half.
MIKE: Since we're one game and six points behind Inter, the Serie A chiefs have arranged for us to play an additional game midweek against Napoli, currently stationed fourth in the table. It's like being in Europe playing in midweek!
Transfers continue to dominate the headlines as we await Real Madrid's response on Marco Asensio, Zizou isn't taking my calls apparently, but we have brought in a new central defender. With Bench Warmer 2 being a bit of an arse and Cristián Zapata on his way out at least on loan, we're in need.
After scouring Europe with my international cap button turned on, I've found the man we'd all love to have in our team – Concrete Ron Vlaar. He's in the stands to watch his competition, although I have sympathy for anybody sat near him.
I think the word here is…routine. I do enjoy putting a couple past Pepe Reina for no reason other than his bald head offends me.
At least it was the word until Arkadiusz Milik popped up with a late goal for the hosts. The two big dangers are obviously Marek Hamsik and Dries Mertens, even I know that, but they were completely passive. Charlie pointed out to me that Mertens actually received the lowest average rating of anybody on the pitch, trust him to notice that. Swot.
You'll have worked out by now that I don't care about other managers. I don't have this misguided loyalty that Charlie does. Prior to this game I made sure to criticise Napoli for their perceived route-one style and afterwards responded to a question about rating Maurizio Sarri, my response was thusly; "I think Maurizio Sarri was obviously rattled by somebody actually expressing a frank opinion about him for a change and that showed in his side's performance, we outplayed them and I can't honestly say that I didn't expect to", with an additional; "Swivel on that, bellend."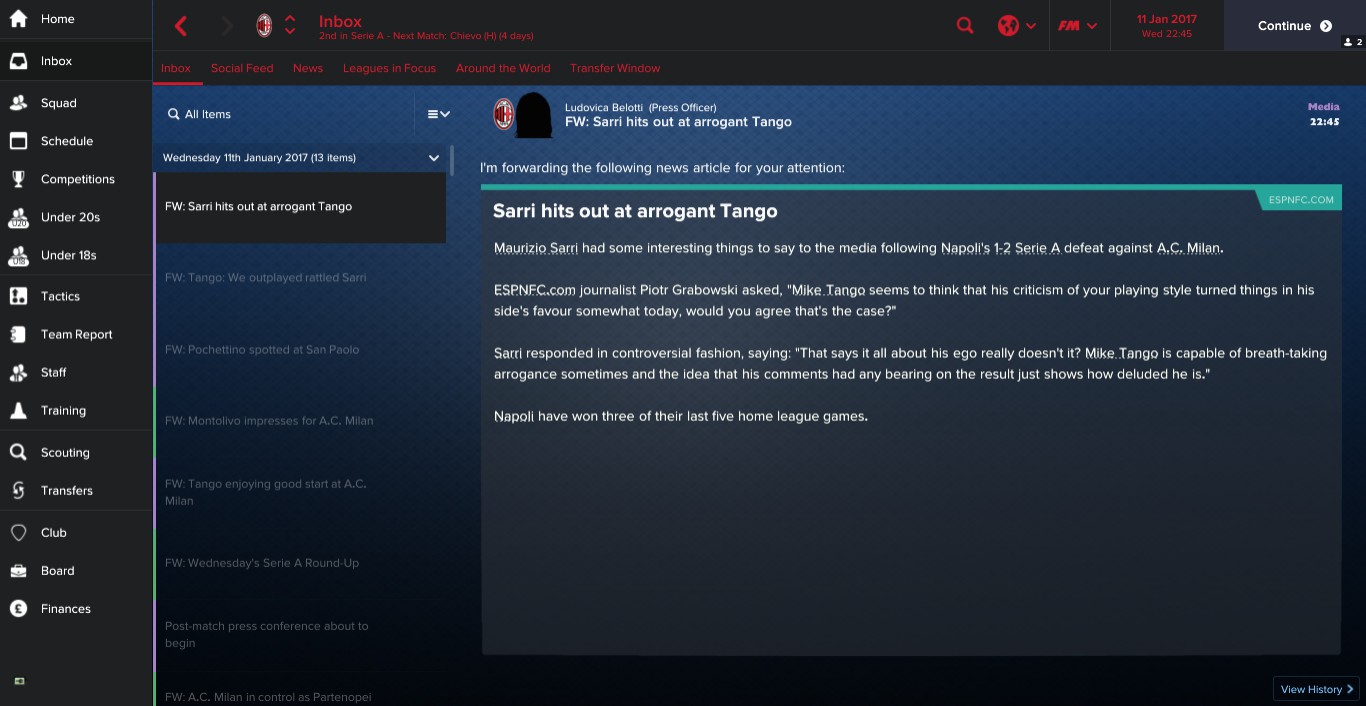 The ego has landed. Sweet.
CHARLIE: Freddie Ljungberg is the interim manager of Wolfsburg. I had no idea he is actually assistant manager currently. Well played Freddie, secretly I always preferred him to Robert Pires. Freddie tracked back.
We beat Juventus away, next up is Sassuolo away. Exactly the same formation seems like the way to go. Only change is Barbosa out, Éder in and the undroppable Candreva switches wings.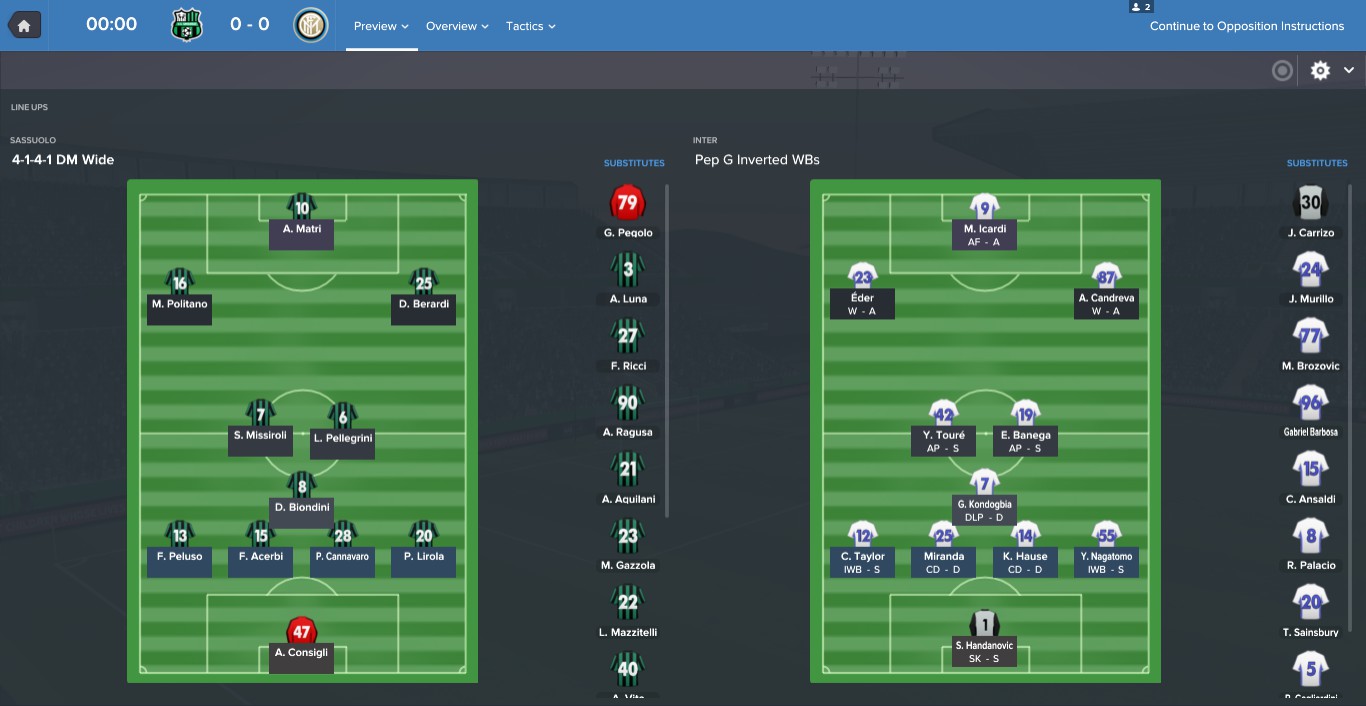 How is that playing the same tactics, same team instructions and pretty much the same players results in such a different outcome?
It's hard to explain especially when you beat Juventus one week and can only secure a draw against Sassuolo, no offence to Sassuolo. Mauro Icardi was utterly unremarkable again. Yaya has started well, linking up well with the likes of Ever Banega and Candreva so that's a positive. We did have 14 shots on target and 62% possession…in that sense, were we just unlucky?
I hark back to something I read many moons ago about the AI being smarter these days, watching you and figuring out weaknesses. They get the same data analyst report as I do on them as they do on me. I've been missing a trick here. I've done exactly the opposite of what I did against Juventus. They expected counter, defensive even, and I went control. I should have mixed it up against Sassuolo. Okay, lesson learned. That one is on me. Sorry chaps.
MIKE: Only a draw against Sassuolo means we can move back within a point of Charlie's Inter by the end of play. I call my most trusted lieutenants into a huddle. Wazza, Gigio, Roncrete, Montolivo and Deulofeu. I make sure they know exactly what's at stake here. By the end of the game, we could be within one point of Inter. ONE POINT, gentlemen. More than that, because Juve play later than us, we could be nine points clear of the Old Lady.
Due to a slight crisis at left-back and only the young Axel Campeol a fit specialist in that position, Stewart Downing has dropped back into the berth. That has worked out an absolute treat because Lucas Ocampos, on loan from Marseille, has been asking to be sent back to France and in a rash moment of madness, I stole his passport. I'll decide when you get sent back, pal.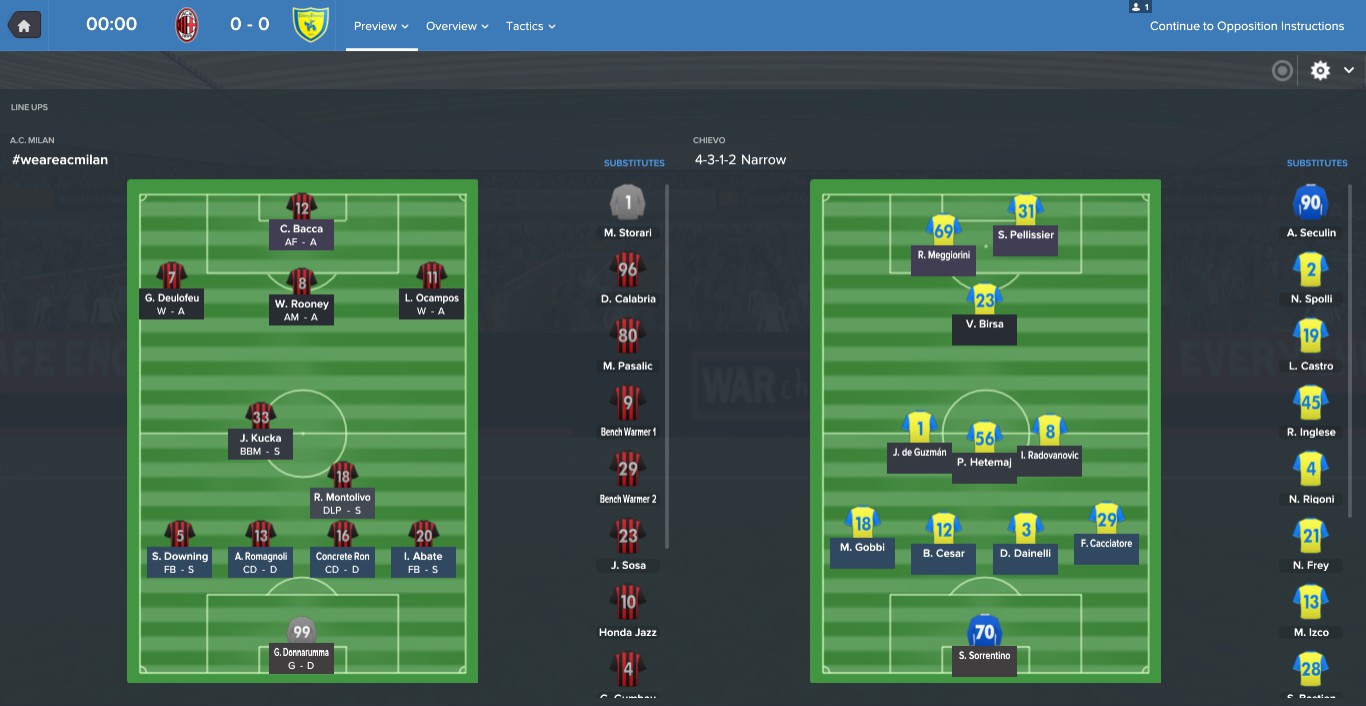 When Charlie claimed that his team were unlucky, I threw my head back and laughed. Suddenly I feel that Chievo have been unlucky. I don't like it when I concede a point of contention to anybody, let alone him or anybody in this game.
We had four shots on target and they resulted in four goals. Chievo had fourteen shots on target and got zip. The one hairy moment was Carlos Bacca's head injury but he'll only miss a week of action. I didn't want to be back on the phone to Didier Drogba, that's for certain. I can just picture him now sitting on a beach somewhere laughing at me for hours as I begged for him to return. It doesn't help that I'm in the midst of flogging Bench Warmer 1 (Lapadula) to West Ham. Slav can deal with the moody prick.
The important thing to remember is that we have almost bridged that gap. Despite the loss in the Milan Derby, we are now just a single point shy of our city rivals. Later in the day, Juventus can only toil to a 2 – 2 draw with Fiorentina as their bad run continues.
CHARLIE: Up next we have the Italian Cup first round and neither team should be overly concerned. Inter have Frotone from Serie B and AC Milan host Cagliari. In the interest of continuing our tussle in the league, here are the first round results…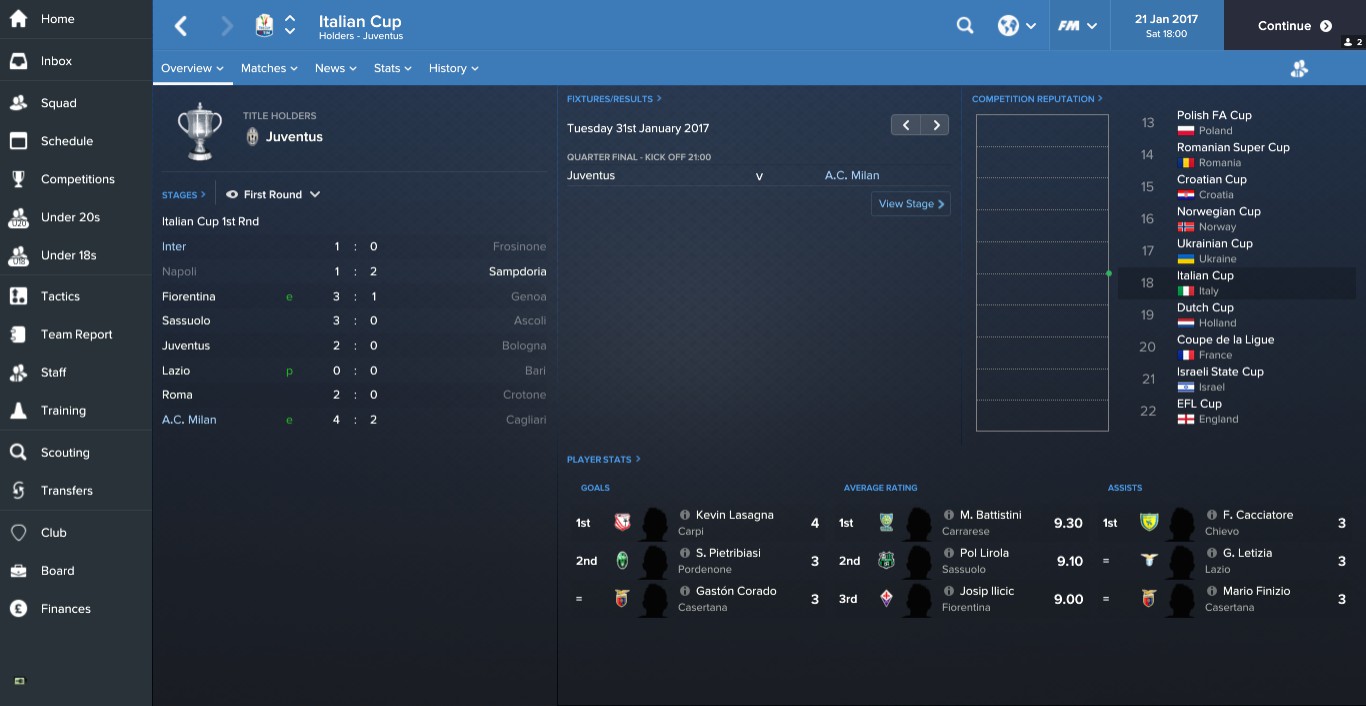 Inter defeated Frotone 1 – 0 in as safe a match as you're ever likely to see but AC Milan needed extra time to run out 4 – 2 victors over Cagliari, which is exactly what they didn't need considering their next game comes before ours. Interestingly, Arsenal have come in for Jeison Murillo. Their original offer was pretty much his value at £12.25 million but somehow I've managed to bid them up so they are putting £25 million down in hard cash, plus add-ons. For our third-choice central defender, that's ridiculous money to turn down.
MIKE: Following our extra time triumph, somehow we play again first. That's two games in three days. Lucky the stiffs played against Cagliari. Although Downing again scored, for somebody who cost less than £2 million that's already a fantastic return. Sometimes a player who you think might not be the quality you expect comes good and he's a prime example already.
We have Lazio away and right now, I'll confess, I'll take a draw.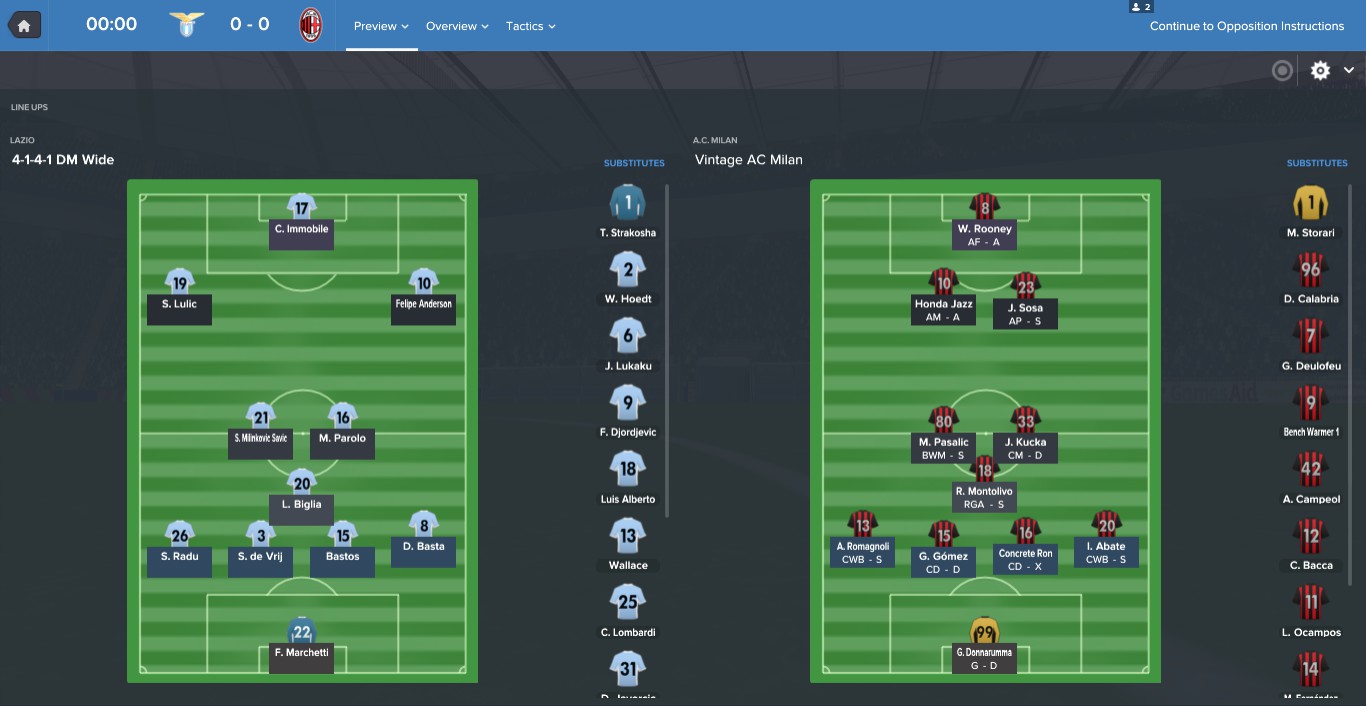 If I would have taken a draw, I'll definitely take a scrappy 1 – 0 win. A free-kick from Montolivo is cleared but it pops around from defence through midfield where Honda Jazz finds Rooney, and Wazza chips one over for Sosa to shoot underneath the goalkeeper.
The baton of pressure hands over to Inter Milan, especially because Juventus can only labour to a draw (FM's words, not mine).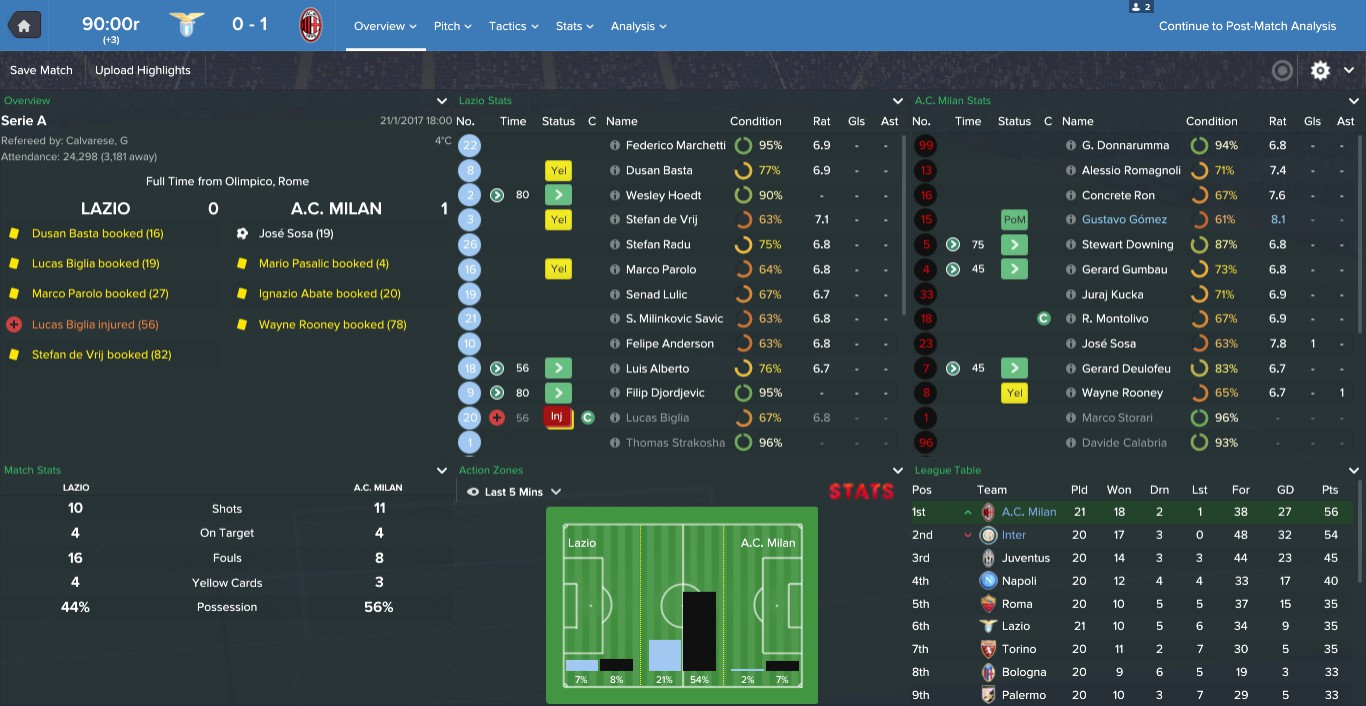 CHARLIE: We go into this one off the top but with Juventus only drawing, three good points would leave us eleven clear of Juve. That's a significant margin. Up until now, every game has been strained. The pressure has been on but a decent gap means a little bit more freedom to experiment, play different players or really go for it.
In the interest of keeping things unpredictable, I'm reverting to the 'Skewer' which has served us so well, but I've switched Yaya Touré back to the halfway line. When you look at it, it does resemble the AC Milan formation that Mike has been using all season. And don't think he hasn't been gloating about it.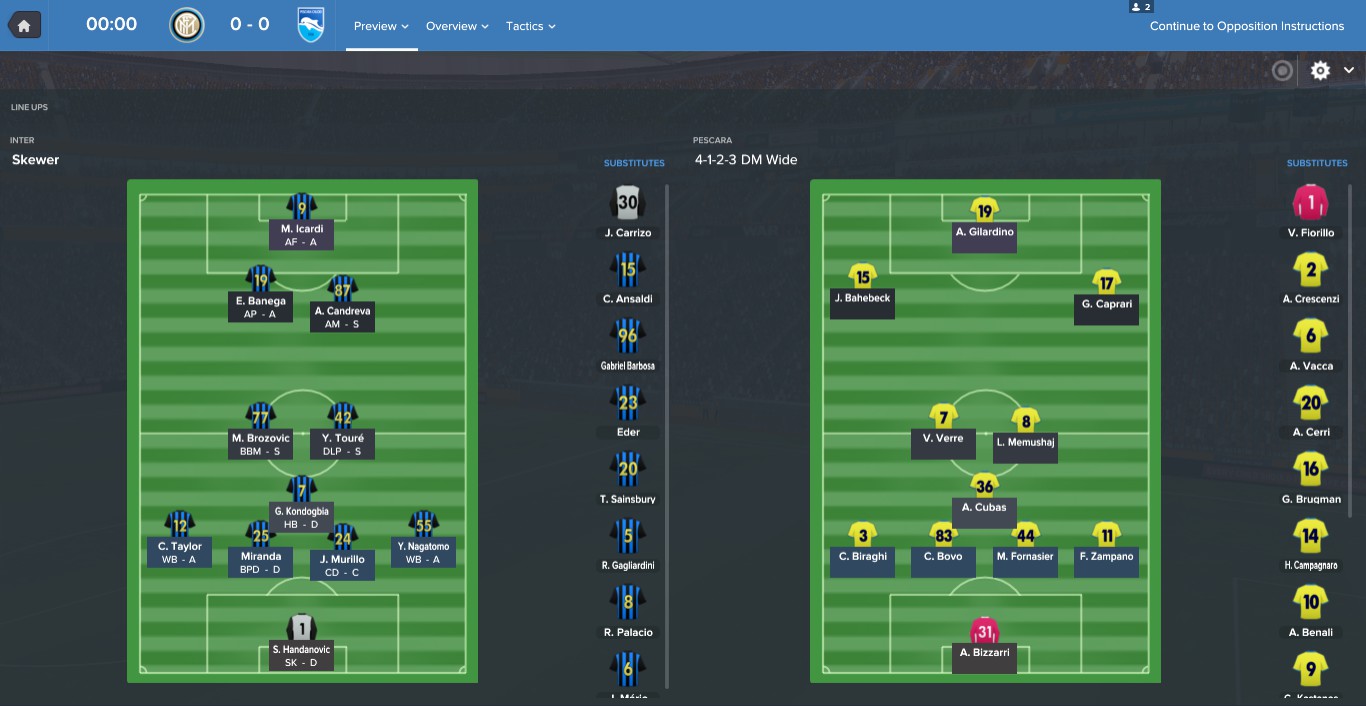 Charlie Taylor has been one of the success stories of the season. Plucked from Leeds United in the Championship, I've given him the stage to express himself despite his recent issues choosing not to represent Leeds. He went from hero to zero in my mind, I can't comprehend any professional footballer saying that they don't want to play. Even when a player is unwell or unfit, I believe they still want to play, we all do. Similarly, in this game, Taylor went from hero to zero.
He started so well with a goal, sometimes it's hard to see but the ball ricocheted between Yaya and Icardi before finding its way to Taylor and he lashed home. Six minutes later he commits a nondescript foul in the penalty box and Pescara are level. With less than 10 minutes to go and critically after a formation change to bring João Mário on for Yaya, a corner from Candreva sees Mário stab the winner.
Jeison Murillo has now departed the club for Arsenal in a lucrative deal. I may take some stick for this, leaving us short at the back, but Kortney Hause is the league's top-rated player and Miranda has hardly put a foot wrong all season. I do take some stick from the remaining squad members in the game, I was invited to another one of those team meetings so the players could share their opinion that we need strengthening in defence. I was already on it, but thanks for reminding me.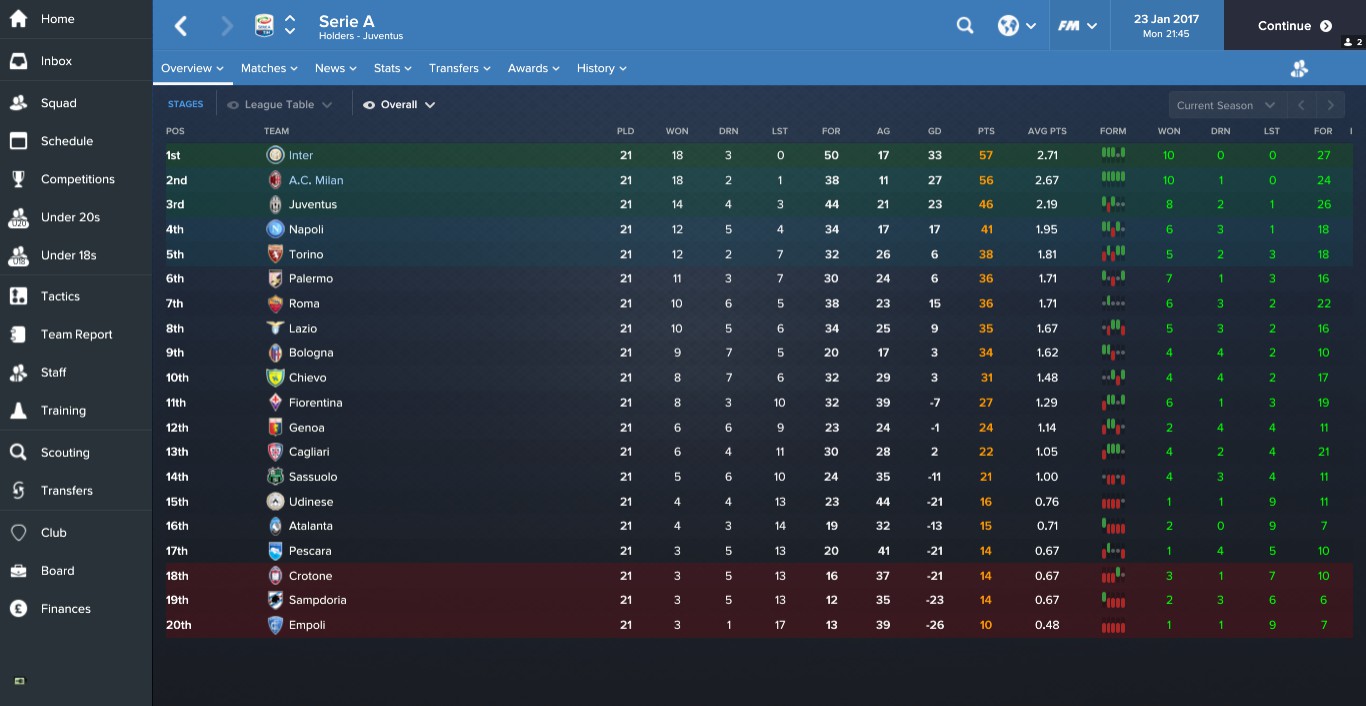 As is traditional now, Mauro Icardi is causing headaches again. Now he has submitted a transfer request. I cannot click reject fast enough.
Thank you for reading, join us on Twitter at @FM17Challenge, @CharlieTangoFM & @MikeTangoFM for exclusive comments, developments prior to episodes and reaction afterwards. Continued thanks to Chris and everyone at Tempo for the opportunity to share this with the readers.