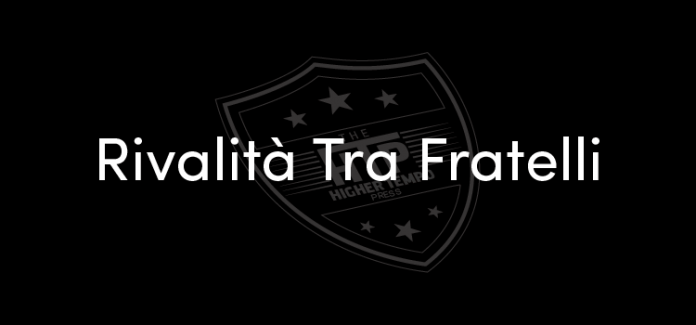 This is the story of two brothers, a modern-day Cain versus Abel if you will, based in the northern powerhouse Italian city of Milan. If you'd like to replicate this challenge, we're using the updated medium database with the following leagues: England (Premier League, Championship, League One & League Two), Italy (Serie A & Serie B), Spain (La Liga & Segunda División), France (Ligue 1 & Ligue 2) and Germany (Bundesliga & 2. Bundesliga).
Rivalità Tra Fratelli – #WeAreTheRivals, Episode 10
CHARLIE: Thanks to Murillo's departure to Arsenal, which it seems was at least part financed by the sale of Gabriel to Quanjian, I am in need of a new defender – much like our Milan rivals were. Mike plumped for 'Concrete' Ron Vlaar but he won't get resale value, which is what I'm looking for. That means a defender under 24, which isn't exactly a prime age for a centre-half. I put in a few bids for some recognisable names and some not, but the price for Roma's Antonio Rüdiger is eye watering at £129 million. He looks really good but there's no way anybody will pay that for a defender.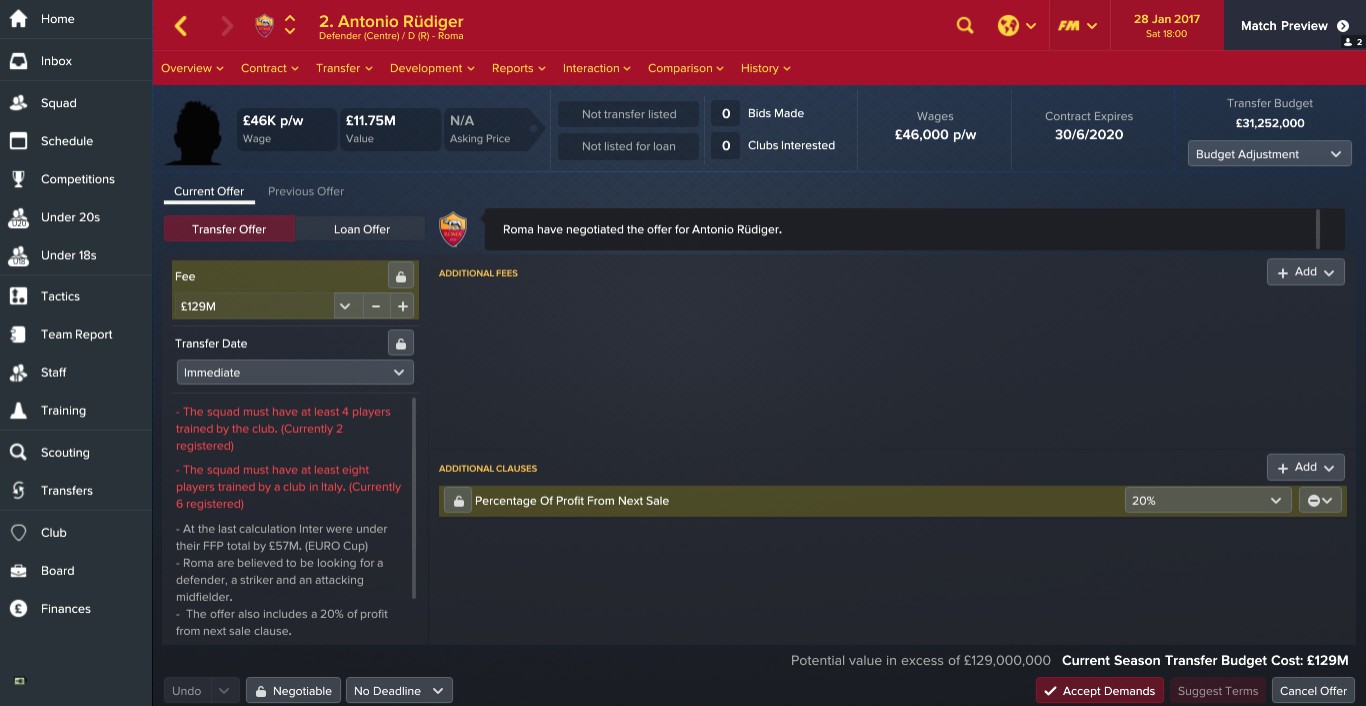 MIKE: AC Milan begin with a home banker against Palermo. To be fair, they are sixth. To be unfair, the #weareacmilan formation has caused crippling problems for every team we've used it against.
The game says that, of my starting lineup, Wazza has the worst rating in 6.88. That's two goals and two assists in five games Wazza Rooney. Keep up, FM.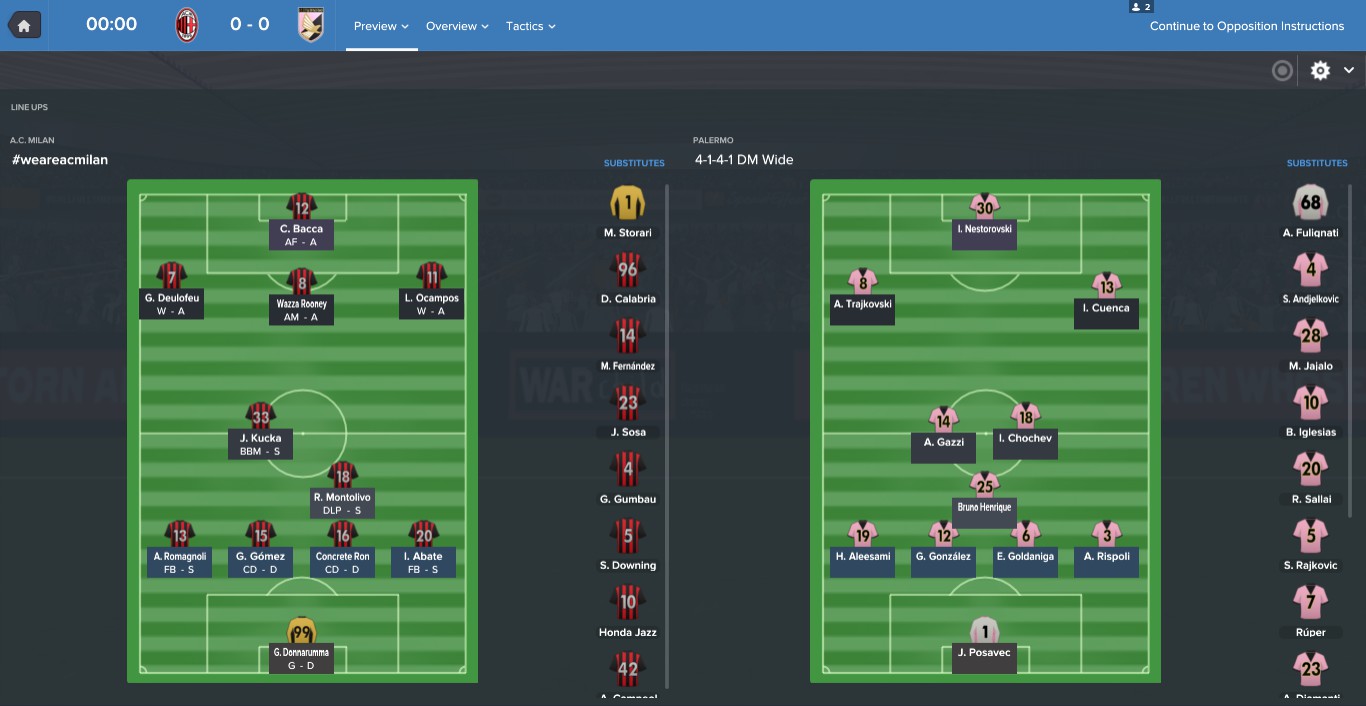 Carlos Bacca opens the scoring, Ocampus' cross headed down into the ground and the Palermo goalkeeper is left flapping. Some fans on social media were worried about the midfield when we sold Bonaventura and flogged Suso, but the likes of Deulofeu and Ocampus means they won't be missed. Trust me, I've got us this far without needing an underground bunker.
Into the second half and Wazza scores with a scintillating strike from outside the penalty area, worth the price of admission alone apparently. Bacca profits from confusion in the Palermo box from a corner to stab his second into the empty net before we slip into our Macintosh and protect what we have with Rooney off for Gumbau.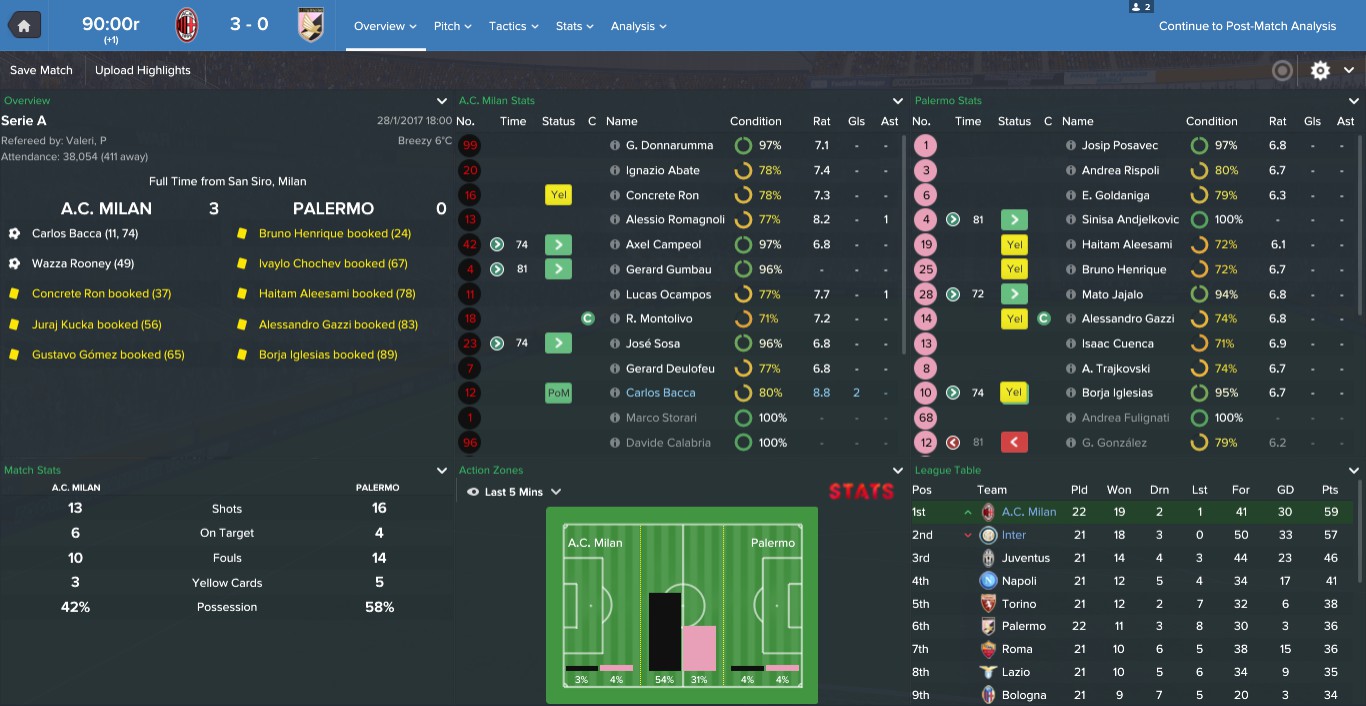 Tottenham's Pochettino is back in attendance to watch Carlos Bacca but I've sent old MoPo back to White Hart Lane with his tail between his legs. As I once told Mourinho when he invited me to a round of golf at St. Andrews in Scotland…"No way, Jose."
CHARLIE: With Miranda out and a new defender nowhere in sight yet, Kortney Hause and Trent Sainsbury are our two central defenders for the visit to Bologna. That's not…ideal.
Bologna are in tenth place in Serie A, who look to be a solid-yet-unspectacular side. They are missing midfielder Saphir Taïder and his replacement Rozzi looks a little shaky.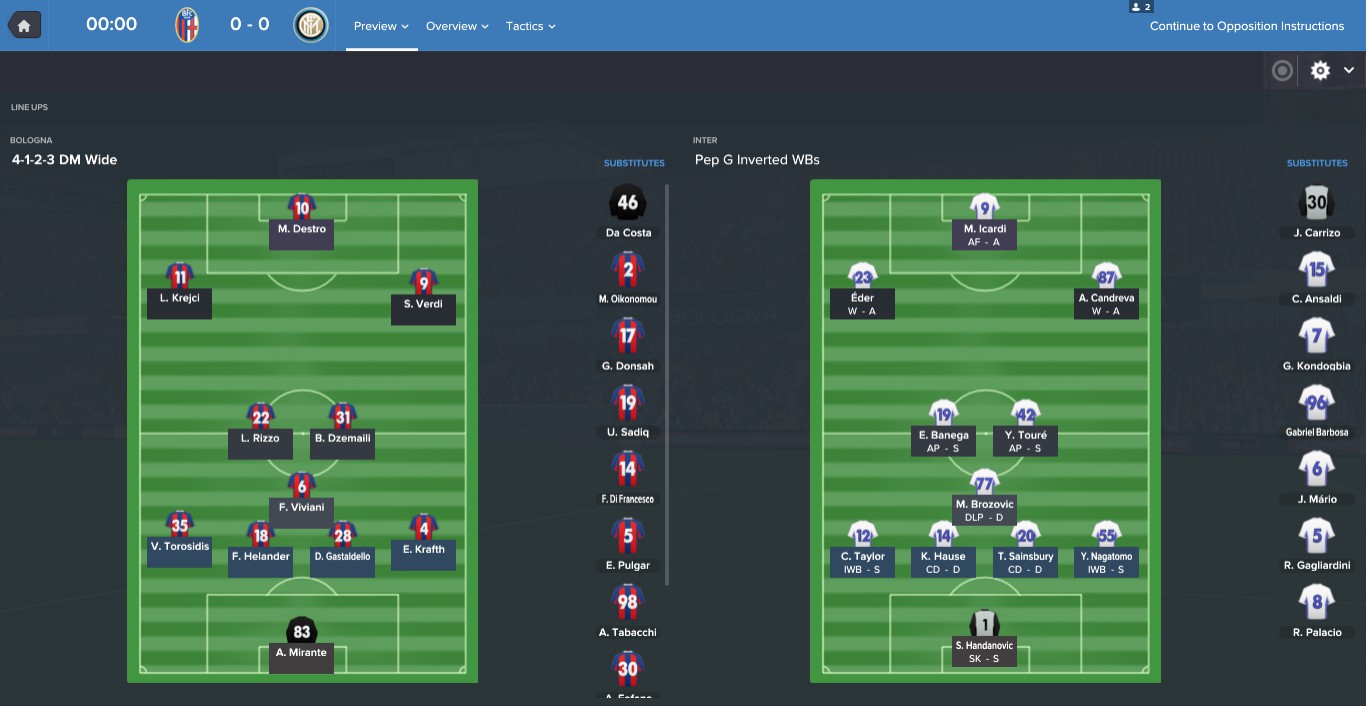 After an unspectacular first half, it's Bologna who break the deadlock just prior to the break. Krafth's long clearance falls on the head of Nagamoto, he simply passes back but it's far too weak and Destro runs onto it, getting there ahead of Handanovic to bundle in. Handanovic got into a muddle, coming out as soon as he realised the back pass wouldn't make it but then gave up on that and was left stranded. Icardi spares our blushes in the second half, beating the Bologna goalie after a beautifully lofted pass over the defence by Yaya and sending a header looping into the back of the net.
Just five minutes later Éder picks the ball up at a corner and arrows us into the lead, having completed the turnaround. We move back into top spot in the league despite some bad news as Nagamoto suffers broken ribs.
As we tick over to 31st January 2017, it's transfer deadline day. I am as free as a bird to conduct Harry Redknapp-style car window interviews or appear on the Italian Sky Sports News equivalent. I just have two deals in the pipeline, one is completed quickly with Wesley Hoedt arriving from Lazio for £18 million. Richer clubs intentionally and directly weakening their rivals has been the bedrock of Italian football for the last several decades after all.
MIKE: I feel somewhat strange and sullied. Having won the Super Cup by doing very little (win one game against a Juventus side who never left Doha airport) I've realised that the pressure on Charlie is growing by the day. The Italian Super Cup is being kept under lock and key at our end of the San Siro in a secure glass cabinet, I'm not even sure if I'm going to allow people on a stadium tour to cast their eyes on it. I'm even considering scouring the internet to see if I can order a miniature version to keep forever as a cruel reminder never to underestimate me again. I don't particularly care about the Italian Cup despite being one of the favourites. This has everything to do with already having won silverware and absolutely nothing to do with the fact our quarter-final opponents are a Juventus side keen on revenge…and sporting Gonzalo Higuain this time.
It is something occupying my mind in the small and dark hours. If I send out the apprentices and Juve thrash them, it might encourage them to kick on in the league. If I beat Juve and knock them out, it could galvanise them and force them to put all their domestic trophy eggs in Serie A. You can see why I've nervously been pacing back and forth on this for some time.
We don't normally do images for cup games, but I've got to show you this one. This is how the two teams finished the game.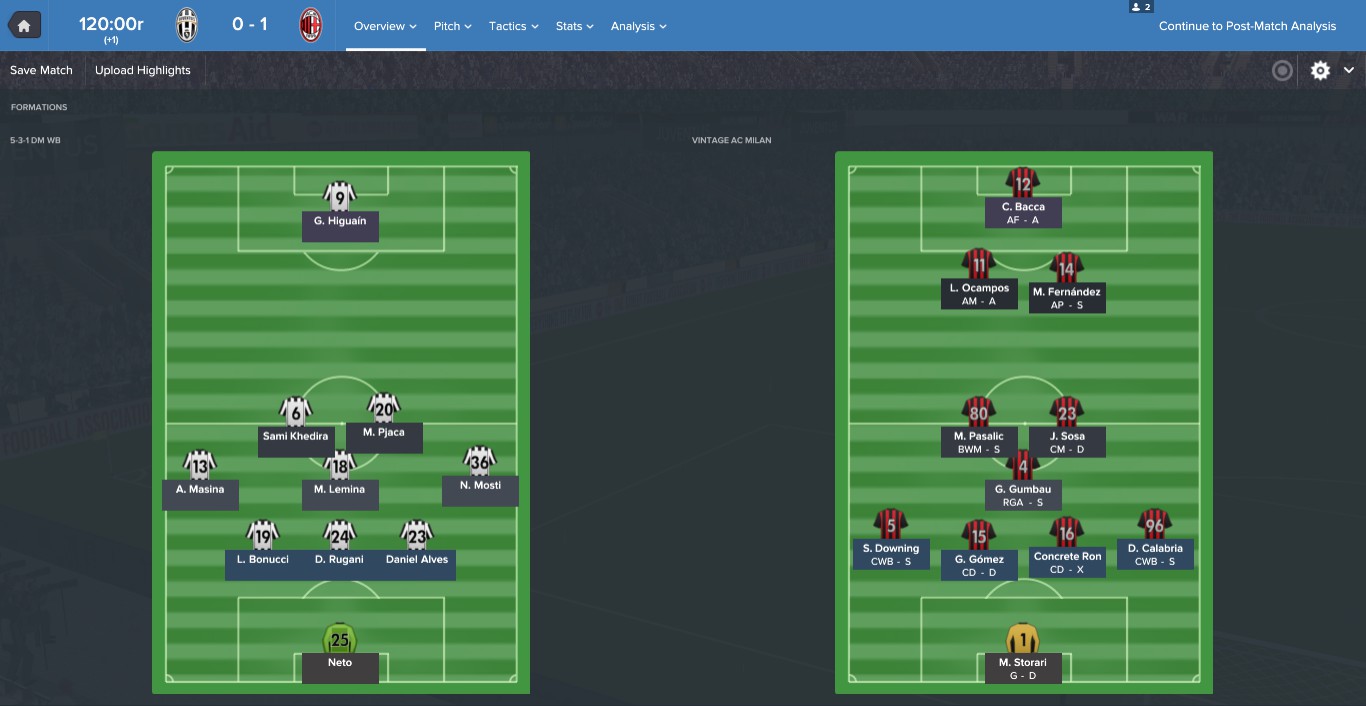 Even with the superstar of Higuain up front, Juventus couldn't break us down. I think it's safe to say neither manager wanted extra time but we got it thanks to Storari becoming a hero with a stop from Higuain's penalty. Juve went a man down from an injury, having made all three substitutions and we sniffed a chance. The plan before the game was to give Wazza Rooney and Bacca each a half up front, which of course turned into an extra thirty for Bacca. Luckily he was on hand in a mad scramble in the box to get the goal just as I'd already thrown on Ocampus at left-back with penalties in mind.
We march on into the semi-finals, which is unexpected to say the least.
CHARLIE: How does he do that? Seriously, I don't know how. Juventus have all these superstars but every time they've played Mike, he gets the better of them. It is doing my head in. I know we beat them 4-2 but that was a madcap game. His are close, tight and tactical. He shouldn't do that well against Juve, even when they are unluckily down to ten men.
There's just time to force through my last transfer before the window creaks shut, a £7.5m deal for Matthijs de Ligt from Ajax with future clauses. He was fantastic in Ajax's run to the Europa League final so I'm pleased to have got him.
The top three transfers in terms of spending are Bonaventura from AC to Tottenham for £44 million, Jason Murillo to Arsenal for £28 million and Wesley Hoedt from Lazio to Inter for £18 million. In fact, of the top ten transfers completed in January, eight were involving Milan clubs but only three were incomings.
Our Cup game is Fiorentina, away. I send out the second string and the second string turns out to be better than Fiorentina's first and half string. Fiorentina played their first choice midfield and half a defence, only Ever Banega and Charlie Taylor could call themselves first choices in our side. We demolished them 4-1 with inverted wing-backs with Éder and Rodrigo Palacio. De Ligt and Wesley Hoedt made their debuts and most importantly of all, it sets up another huge game…
I do have issues. Handanovic is back to remind me about my promise to strengthen the defence following the departure of Jeison Murillo to Arsenal. Excuse me? Hoedt and De Ligt??? This is ridiculous.
MIKE: As Charlie bends to player power and his decisions are questioned on a constant basis, AC Milan are motoring on nicely. If we beat Empoli, we'll move back to the head of the table and the omens are good.
Let's hand this one over to the in-game preview: Empoli have now suffered 14 straight league defeats and the relegation candidates find themselves in 20th place in the Serie A. Empoli have lost five of their last five home league games. Says it all really.
If we lose this, I'll quit AC Milan and apply for the Bari job, now available for suiters in Serie B.
My potential future in Serie B is spared by Wazza Rooney and Montolivo playing a one-two through the Empoli defence, only for the ball to find its way out to Abate rampaging on the overlap and he fires in a cross to the near post for Bacca to head us ahead on 22 minutes. The feat is repeated on the hour, at least the Abate to Bacca to goal part.
A glorious counter-attack led by Kuco and Bacca goes through Suso before Wazza hits a thunderbastard from the edge of the area, first time hit. That's what you get when you buy quality.
CHARLIE: AC Milan move to top of the league and we have a home fixture against Roma to earn it back. Having seen a bit of Roma recently against Genoa and AC Milan, they're obviously a quality side but are back in fifth and the two games they played against the Milan clubs earlier in the season left them with a 1-0 and 2-0 loss.
Mauro Icardi can only do 60 minutes apparently but we have Barbosa raring to go. At the back we have Miranda still on the injury list, meaning that Wesley Hoedt makes his league debut after considerable expense spent on his recruitment from Lazio. Based on our success, we're going back to the 'Skewer' with a control setting.
Success breeds success, or so I'm told. Sociologist Arnout de Rijt suggests that a lucky break can set in motion a success cascade. He's clearly never been to the San Siro for a visit of Radja Nainggolan, Luciano Spalletti and AS Roma.
It all begins in the worst fashion. From the kick-off we pour forward like ravenous dogs on the hunt, Icardi plays a lovely ball clipped around defender Manolas for João Mário to finish but just as we celebrate, the flag is raised. These jumped up officious bastards! He was level!
Okay, he may have been slightly offside but there was a spider's forearm in it. We get hit with the old one-two that is as much a trademark of FM games as penalties for no reason and those awful crosses to the near post. Dzeko is on the shoulder of Hause and times his run to absolute perfection, getting on the end of a through pass from Nainggolan to open the scoring and the Belgian adds a second two minutes later with a 20-yard screamer.
On half way Wesley Hoedt goes through the back of Dzeko like a dose of salt through a widowed woman and is brandished a straight red card. That was so bad it could have been worth two red cards and I wouldn't have batted an eyelid. It wasn't so much a car crash as a complete pile up of 36 cars on the M6. At half time I get the remaining players in and fire them up. My cursor hovers precariously over the team instruction, I proudly proclaim: "It's overload time". We're going for this, in a blaze of glory it could end up 4-0 but it'll be worth it to never say die, to never give up.
It ends 4 – 0.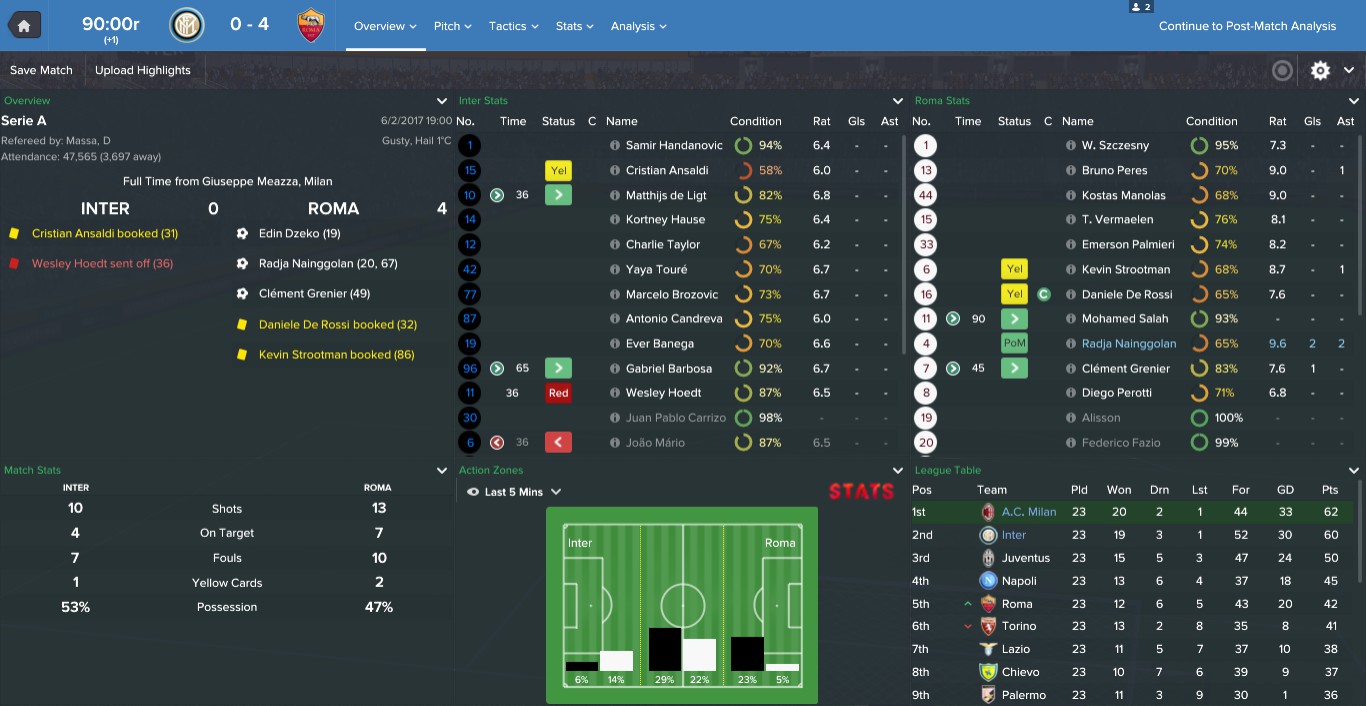 I'm so angry after the game I criticise the two-bob referee for disallowing Mário's effort before checking the replay. The Italian FA don't seem to take too kindly to that sort of behaviour.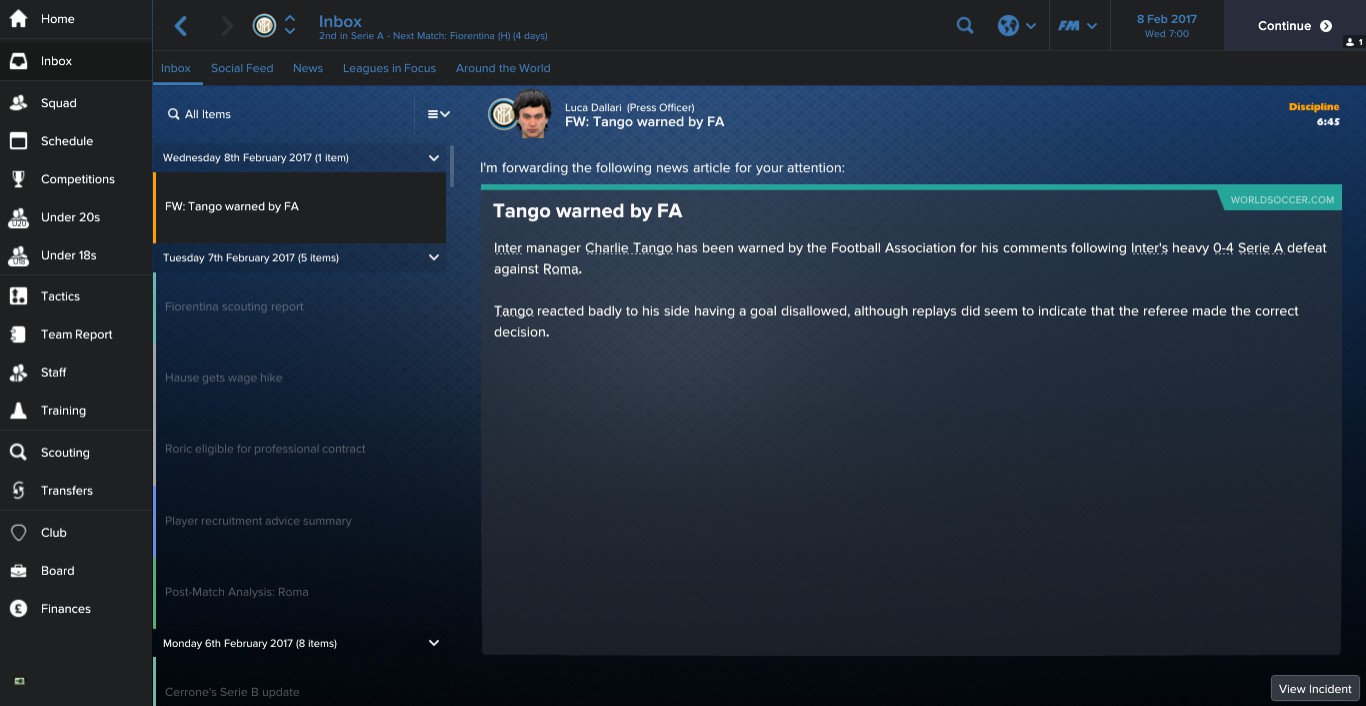 MIKE: How unfortunate. Inter Milan's first loss of the entire season and they were destroyed. It wasn't so much Agincourt as the Battle of Hastings. He did everything he could, swashbuckling and cavalier with his little comment that he'd 'just as soon spit in the face of the devil than shake his maker's hand' as if writing the title for a John Wayne movie. But it wasn't enough. Roma demolished them, time after time with waves of attack even before the sending off. Now Charlie only needs to hear the name Radja Nainggolan to break out in a cold sweat.
CHARLIE: While Mike has been chortling over my loss to Roma and I've been furiously checking the board confidence page. The news is not good – "Despite the positives, the fans are understandably extremely disappointed at Inter's heavy 0-4 Serie A defeat against Roma and hope you can make amends." The amends comes with the visit of Fiorentina, who were predicted by our media colleagues to be in seventh and find themselves in the mediocrity of eleventh place.
I'm left to second guess. Against Roma, I was cocky, arrogant even, and it didn't pay dividends. Our biggest win was using the Inverted Wing-Backs formation so I'm reverting back to @DistanceCovered's tactics, which was featured on the Tempo YouTube channel as narrated by the svelte author of Johnny Cooper's Championship Manager adventures; Chris Darwen. Fairly sure that's all the plugs I need to make. You and I both know that I'm stalling. I don't want to send the players out. It's only been one loss but any day spent with AC Milan at the summit and not us is a bad day.
The Viola are not the force of the past, although I'd argue that none of us are. The story of Angelo di Livio, staying with the team despite relegation and effectively bankruptcy, is something that warms all of our hearts as football fans. But today I am not a football fan. I am the manager of Inter Milan and I need this win.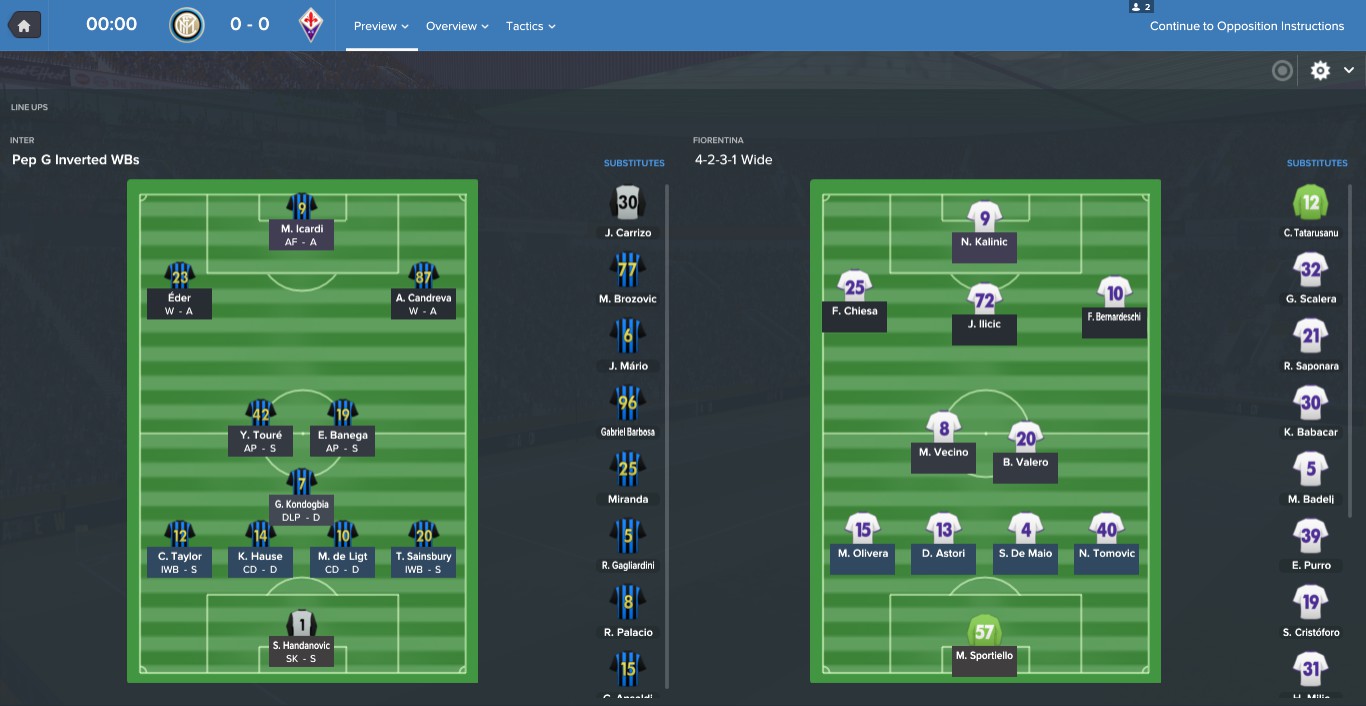 It wasn't just a win, it was redemption.
Candreva opens the scoring on 12 minutes with another beautiful free-kick, the type I've come to expect whenever we get a foul around the box. His 10th goal of the season was unstoppable, it bent so much at one point it looked to be going wide of the post but curled back around to find the postage stamp. Nothing is ever simple in life and thus it proved as Chiesa broke free, hitting an audacious effort from long range and it lobbed Handanovic to plop into the empty goal.
The score remains 1-1 for a very long time, long enough for all the doubts to come to the front of my mind and slap my forehead repeatedly. Finally, Candreva sends another dead-ball, this time a free-kick over and De Ligt gets his head to it, scoring an unlikely goal through a crowd of white Fiorentina shirts. Just as I contemplate and indeed calculate the probability of a 2-2 draw, Astori diverts a Candreva corner into his own goal.
The awesome Candreva continues to impress, laying our fourth goal on a plate for Icardi before Éder hits a powerful strike from the edge of the area to complete the rout.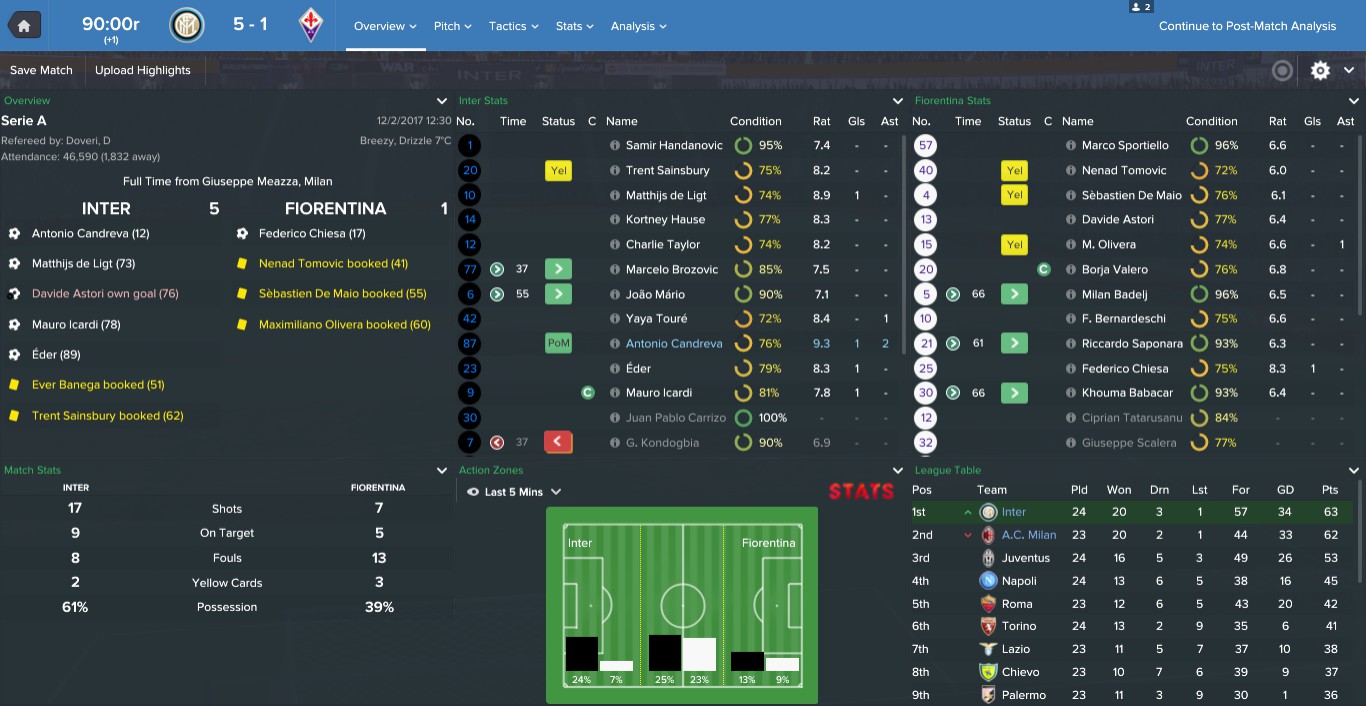 It was pretty much the perfect performance, undoubtedly an answer to the questions posed.
MIKE: Now I have the intangible choice. Do I attack at Roma in the knowledge that they just demolished Inter or sit back and risk being referred to as a 'Cautious Colin' forever at family gatherings and across the internet?
I'm not afraid. Call me a Cautious Colin all you like, we're sitting back on the counter. If nothing else I will learn from Charlie-boy's mistakes.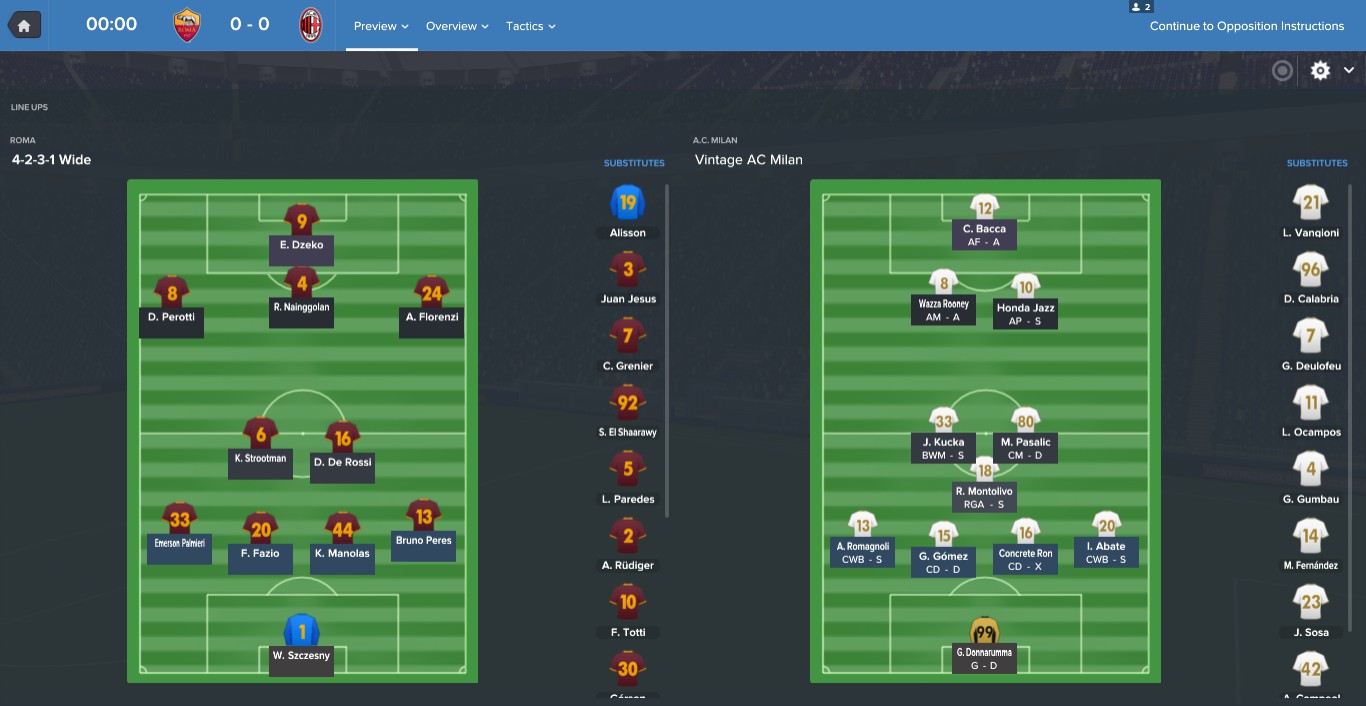 Radja Nainggolan is nothing short of bae.
With the score tied at 0-0 Nainggolan loses the ball to Pasalic and he chases after him like a heat-guided missile. Nainggolan dives in with a martial arts kick from behind and that's a definite red.
At half time we make changes, moving from the Vintage AC Milan formation which has served us so well to the new #weareacmilan tactic, introducing Deulofeu and Downing. What follows is another red, this one for De Rossi. Bacca picks up the ball from Wazza and he's got three Roma players around him. Fazio had followed the ball out to Rooney, meaning he is crucially out of position and De Rossi is filling in. Already on a yellow, he clips Bacca as our man looked to turn and he gets his marching orders.
The man advantage sees us rush forward in search of a goal and Downing has the ball from a throw-in. He chips a lovely flighted ball to fellow winger Deulofeu at the back post, who simply heads the ball towards the goal and Szczesny fumbles it behind the line. His fifth goal of the season and it is game over. There's even time late on for Grenier, a scorer against Inter, to fluff his lines and practically pass the ball to Donnarumma after a fine breakaway before Bacca hits the post.
That, ladies and gentlemen, is how it's done.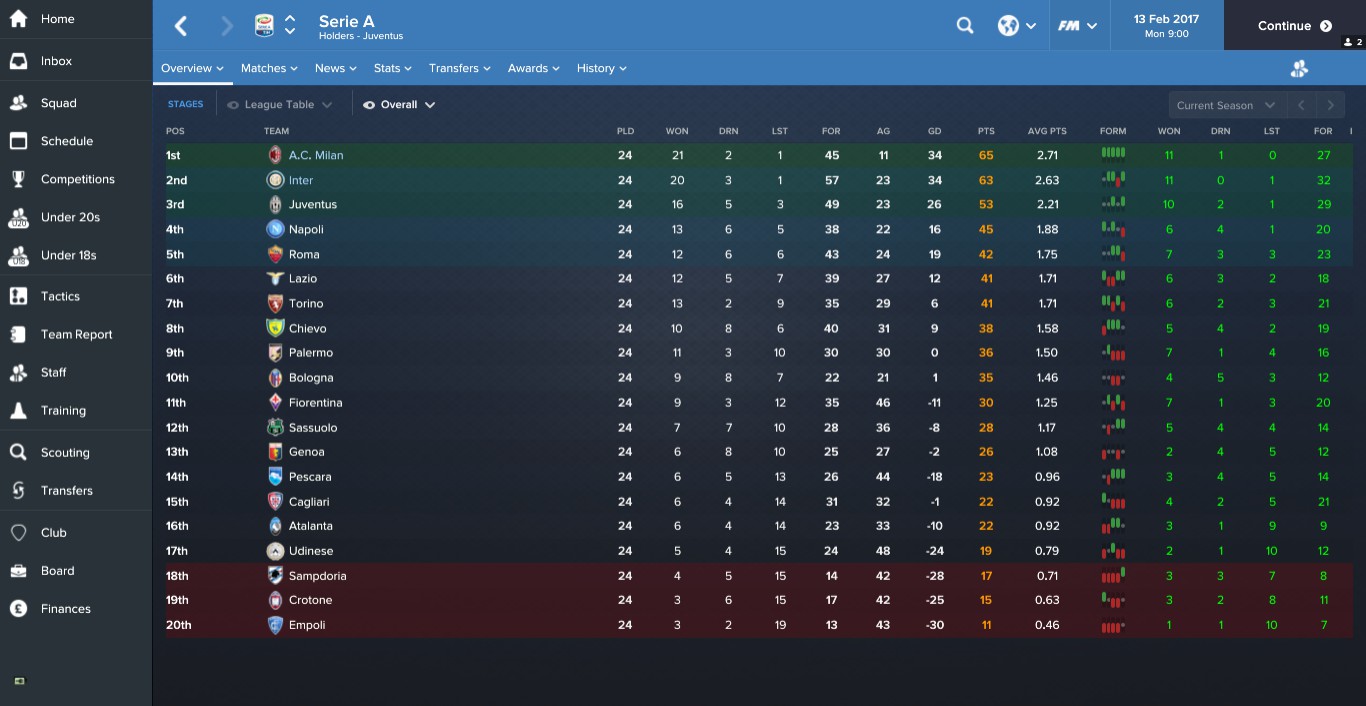 Thank you for reading, join us on Twitter at @FM17Challenge, @CharlieTangoFM & @MikeTangoFM for exclusive comments, developments prior to episodes and reaction afterwards. Continued thanks to Chris and everyone at Tempo for the opportunity to share this with the readers.