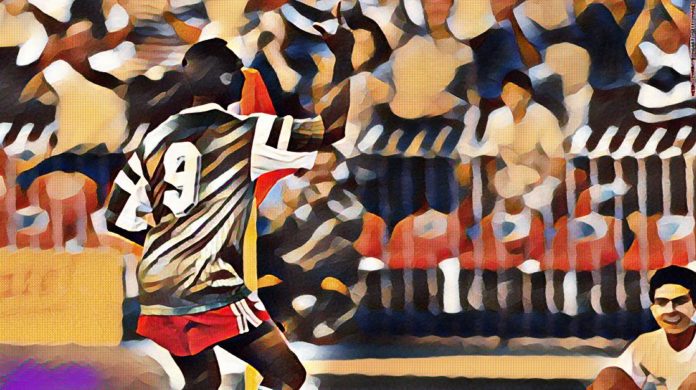 Welcome back to Cameroon where I, well my alter-ego Mark Monroe (I know, I don't know why I did that either), is having a whale of a time. Or, to be more Cameroon like, a lion of a time. No, that really doesn't work.
We last spoke after seven games and I have managed to get a day and a bit of playing time in since then. This series looks like it might take the shape of a daily ramble from me, going over what happened in the previous day's playing time – and I quite like the sound of that in my current need for a bit of distraction and focus.
As you might recall, after seven games we sat in a promising third place. It was already clear, hell we knew it before the season even kicked off, that Renaissance and Fovu Club were going to walk the division, the only doubt being which one would be champions.
Well, this is where we sit right now.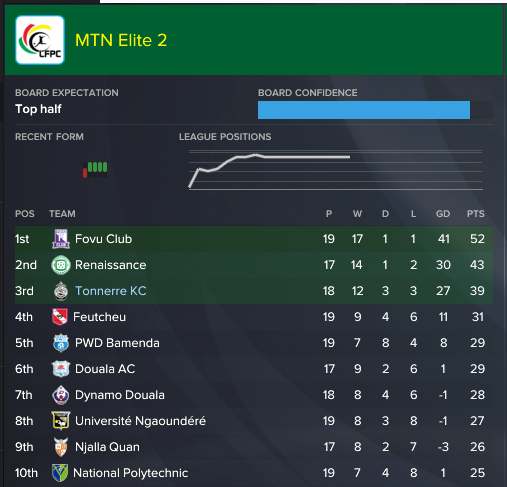 Yes, just past the half way point in the season and we are in serious bloody danger of getting promoted. You'd have thought I would sound happier about that, wouldn't you? Yeah, so would I. It occurred to me last night that getting promoted might actually be a curse. My squad will still be very, very young next season and we would 100% struggle in the top flight and be in a relegation battle. Another season in the Elite II might give us more time to grow, to mature, to get even better foundations in place. Sadly, or not, I don't think we will get that choice – we have an eight point lead and a game in hand, we'd do well to screw this up.
You see that team at the top, Fovu? Lost once all season. Plus 41 goal difference. Well, it would have been unbeaten all season and an even better goal difference if we hadn't walloped them 4-0. I could not believe my eyes. I mean, Fovu will challenge at the top of the Elite I next season I reckon, and we pissed all over them without breaking sweat. If you are expecting a tactical sermon on how to beat the unbeatable, look away now. We got lucky. We scored twice very early on the break, saw a great game in goal by Junior and managed to get two more late as they really threw the kitchen sink at us. But the game did mark the arrival of this lad…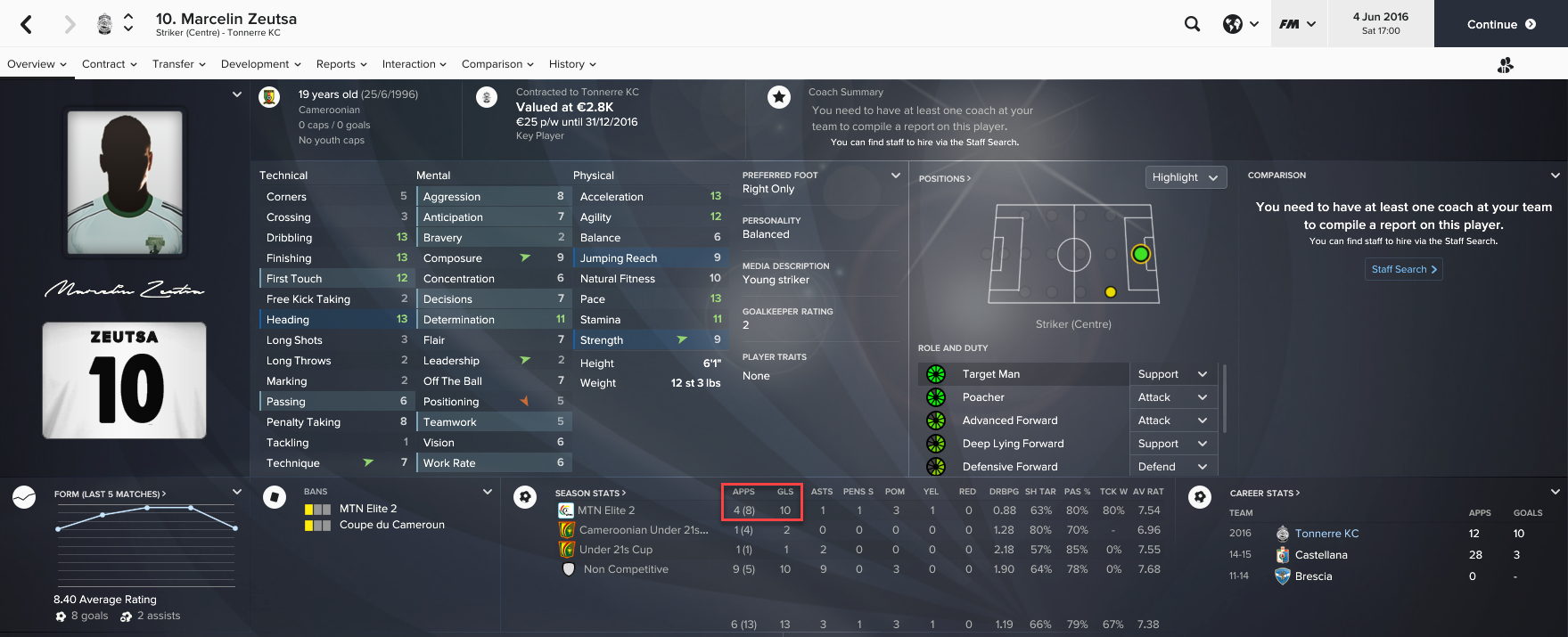 Marcelin had struggled to get into the team initially as Landry Nguene and Abdel Latif were banging in the goals, but Latif went through a three-game drought so I called in Marcy. Bang. A goal. Then back-to-back hat-tricks, including three against Fovu. Yeah, he'll do for now. It's like I said in the last post – we have five strikers at the club, all of whom seem to have the ability to score goals. The three that have been given a proper chance in the first team all have double figures, whereas Yacouba Mark and Frankie Dibida have scored 37 and 42 respectively already in the U21 and U18 sides. That's good going.
One of the good things about managing the U21 and U18 sides is that I can get a real feel for who is developing well. Basically, just because the lads that ended up in the first team squad after preseason started the season there, if they don't perform then they won't end the season there if one of the lads in the junior squads is doing well. And this is what happened for Patrice, below.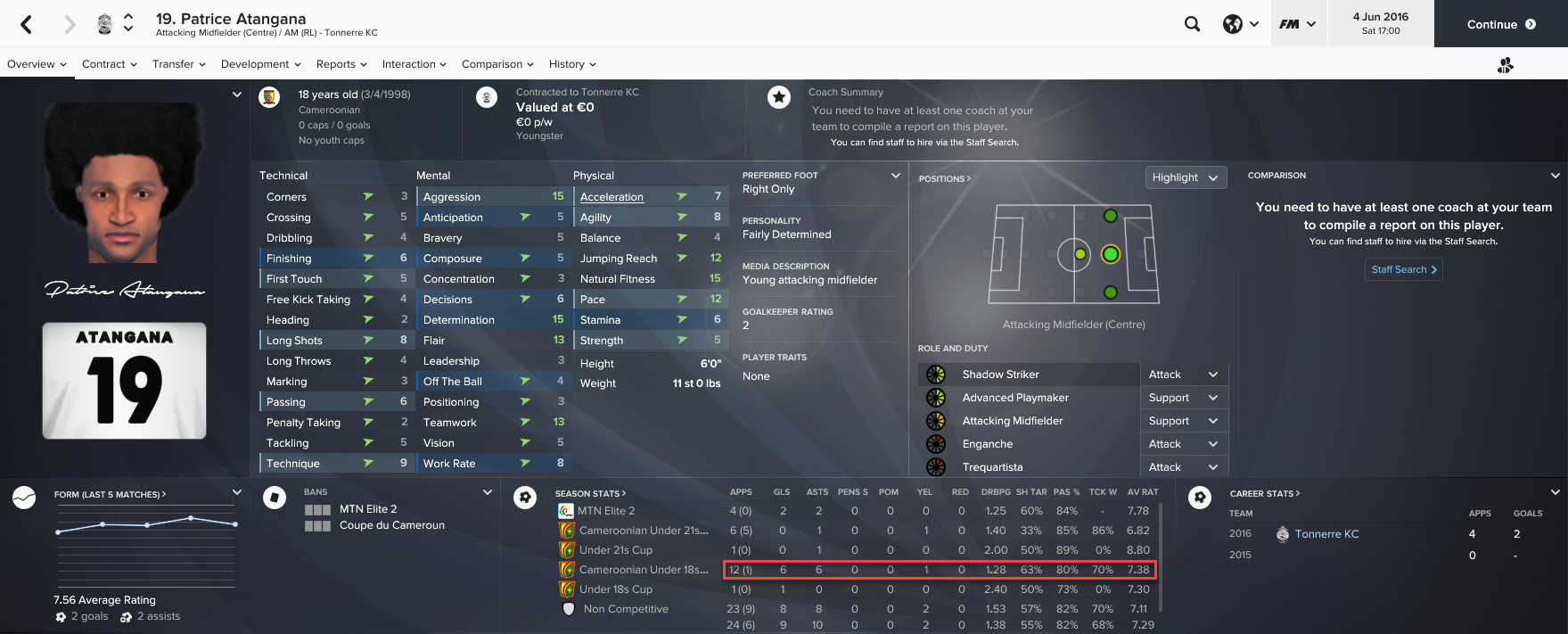 The two AM slots have been curious to me – whilst never really playing badly, the two lads in the first team weren't pulling up any trees, and Patrice's stats in the U18's were much better. Typically, Patrice was number 31 in the squad and I could only register 30 players at the start of the season for league football. So, I identified that I wanted to promote him about two months before the transfer window opened again and I could actually get him registered to play. Still, it was worth the wait. Two goals (really three, but one went down as an OG for some reason) in his first four games plus two assists is a decent start. Hopefully it will continue and it pleases me that my process is working.
Currently, the U21's sit a frustrating 7th in their league whilst the U18's are riding high in 2nd. By the quirk of the fixture generator, the U21 often seem to be the team that play after everyone else has, meaning that quite often most of the starting XI are well under par physically. This will no doubt change once we have our youth intake.
Financially we are on the up, as you can see.

I appear to have pushed the board as far as I can on the youth coaching side of things right now, and they are in no mood to improve any facilities. I, sorry Mark, has completed his C license and is working towards the B. It is good to see the board backing development in that way.
I'm enjoying running the club on my own to be honest, and I am very tempted to resist the urge to bring in more staff on the coaching side. It could be interesting to see if players do keep developing, whether we do get in a decent intake, whether players still remain pretty much uninjured without the usual jobs being filled. It certainly keeps costs down, that's for sure.
When the intake arrives, I will move a few of the lads out of the U18 squad to make way for the new boys – hopefully that will keep a few of them fresher. Assuming we have an intake of ten, that will mean about 40 players over three squads which means I won't have players starting a match at 59%.
Tonnerre KC have fourteen league matches left to play, as well as a cup match away at Renaissance (we can write that one off I feel). Can the team with the youngest group of players in the division surprise a few people and go up? Yeah, I am pretty sure we will. After all, I like winning promotion really. It's just trying to stay in the top flight I am not so keen on!
Back tomorrow. Toodle-pip.
#LeTKC