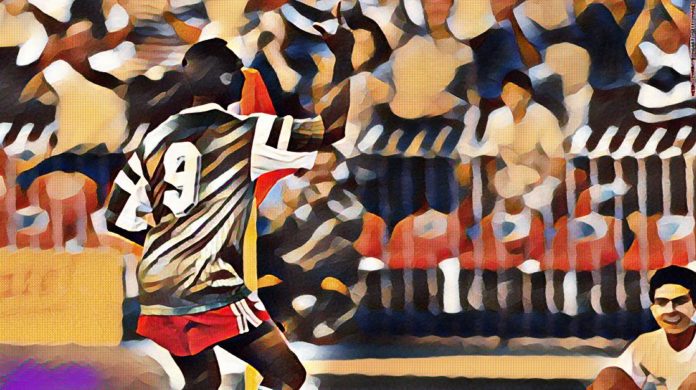 It turns out that the first seven games of the MTN Elite II have been rather good to us.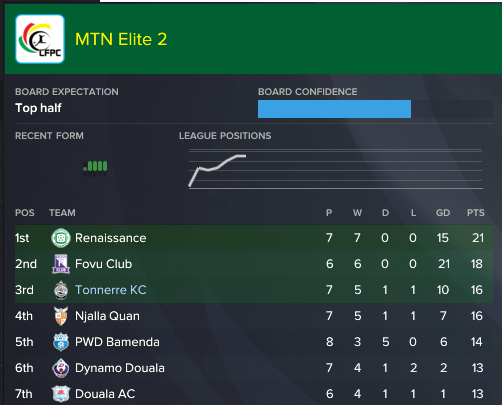 Considering Renaissance and Fovu Club are the clear favourites for the title, I am very pleased we have made such a good start – our one single defeat being on the opening day to Fovu.
The squad is settling down nicely.
Seven games is about enough to start forming some opinions. So far I have learned:
I am a fool for not having a look at 2x advanced forwards before – always running in behind, always giving the defence/midfield the option of putting it in the channel for them to run on to.
This works because (a) my strikers have half decent pace for this level and (b) most of the defenders they are facing maybe strong, but they are not massively mobile.
Stats can be deceiving. Take our two first choice full backs. On the left, Sohna has fewer key passes and one less assist than the right back, Tadjong. Yet, he completes more passes (10 more in fact) over 90 minutes. Yet, and now I am confused, he has an inferior pass completion % than Tadjong. And, just for shits and giggles, they have the same average rating. It is no wonder I do spend a lot of time managing by eye, than by data.
Stats can be great. Look at the first choice front two, who remind me of Dwight Yorke and Andrew Cole the way they link up at pace. 15 goals between them, nearly three shots on each on target per 90 minutes and both with accuracy above 65%. I like that, I like that a lot.
Using 2x advanced forwards, you might say that they become too detached in the build-up. Yes, that can be true, but then we do hit that channel ball quite a lot but we also have the two attacking midfielders sitting in front of the midfield two, so we do have people arriving in that pocket. The AM strata has delivered 5 assists so far, the CM strata 3 assists, the FB role 3 assists so it is good to see that the final pass is coming from different areas.
It can be quite hard work to keep up with all the rotation needed in the U21/U18 squads – especially when there is a fixture clash!
On that note, let's have a look at the U21 & U21 squad data combined.
Early days, obviously, but I am keeping a close on Mbondi's progress. The two AM's are pleasing me so far and the goals the back-up strikers are scoring are insane, so it is good to know we have cover there as well. The U21's sit 5th in their league and the U18's sit 3rd. So far, so good.
In terms of training, I am doing everything as I am the only member of staff at the club bar my Chief Scout.
We are set-up in my usual way – fitness/low and then each player on an individual training scheme. When it is a young player, I always choose the player role that touches the most attributes, regardless of what role they actually play in a match – a good example would be I will always train a young DM or CM as a roaming playmaker as it covers everything, and then I add in tackling as well. I am sure some of the FM gods would disagree, but I have noticed over many, many hours of playing that I get far less injuries and players improve their attributes by having this training set-up.
Scouting wise – well, the Chief Scout is covering Cameroon but, realistically, he is only there so I have someone to do some targeted scouting when the time comes. Unless we lose people in the next transfer window, which is unlikely, he will really come into play when I start to analyse some stats towards the end of the season and identify young targets that have already been playing or identify young targets who are likely to be released by bigger clubs. However, the squad has a nice balance of players right now that need time to mature, so I will not be making too many external signings – time and investment is going into the youth coaching set-up.
Seven matches in and I am happy. However, we have another twenty-seven league games to go, so being third now means very little indeed. It's going to be a long season of development for us at Tonnerre.
#LeTKC #Thunder #Frightening