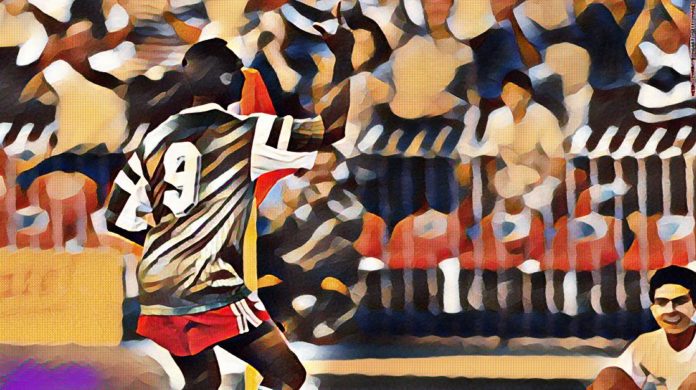 Dear readers. I deliberated massively about whether committing this journey to paper, and I have decided that I shall. The last week has been an incredibly testing time since our best buddy, Ronnie Dog Austin, passed away suddenly last Saturday night. For those of you that have seen my brief moment in FM history – the 'We are the Managers' video for FM a couple of years ago, that was Ronnie in the video doing a far better job of doing what the directors wanted than I managed at any point.
Why am I telling you this? I am not really sure, but I know there will be many, many people out there who have loved an animal probably more than they love many of the humans in their life. For me, Ronnie was my best bud. He was my work companion as he would often sit with me as I write, or do something FM related. Jess took loads of pictures of me, on my laptop as always, with Ronnie by my side – normally sleeping, admittedly – and, quite honestly, it has been almost impossible to really get into anything in the last week or so.
Those of you that might have read the piece I wrote in Alex Stewart's FM Anthology 'The Men Who Stare At Goals' will know that I've been on a bit of a journey of self-discovery over the last decade, no matter how much of a knob that makes me sound. Ronnie was part of that for the last two or so years, and it is no coincidence that my life, both at home and in work, has moved at the speed of light since he joined the team. I only hope that things continue their upward path now that he is no longer by my side, but I would imagine they will as he taught me more about myself in that short moment in time than I have learned in the previous 36 years. Ronnie was an absolute dude.
Anyway, the more clued up of you will have noticed that 'Boys of Borussia' seems to have come to an end. The file is still there, but with getting sacked by Dortmund II the save immediately felt like I was just repeating the journey that started in Bilbao. The point of Dortmund was to stay there, to achieve there, to get the top job. I was never meant to leave. I managed to keep Hamburg up, but I had no excitement about the new season so, despite winning the first game, I resigned. Things are paused at that point, but I cannot see me returning.
So, on to today. I did start this journey a week or so ago, but aborted it after the events of last Saturday. I wasn't going to blog about it, I was going to do updates in Slack but right now I need the discipline and commitment of blogging. I'll warn you now, don't join this journey expecting it to last forever, I am merely using it as a way of distraction right now – I might bail out. I repeat, I might bail out. But, whilst I am here I am going to fucking well enjoy it.
Tonnerre KC. Ever heard of them? Of course you haven't. I could just copy and paste everything from Wikipedia for you, but actually Wiki knows very little about this club. So I will try and give you a flavour right now. Roger Milla started his career here. Georges Weah started his career here. Rigobert Song started his career here. Jean Makoun II started his career here. Thomas N'Kono, the finest African keeper ever, started his career here. But, where is here? We are in the city of Yaounde, Cameroon. We are in the second tier of Cameroon football. We are very much in the depths of African football.
You must know at least one of those ex-players. For me, Roger Milla was almost as much Italia 90 as Paul Gascoigne's tears. I was what, 12, at the time? It was the first World Cup I really obsessed over. I remember bits of Euro 88, very little of Mexico 86 and the League Cup Final in 1986 is probably my first real memory of watching a game. I only started playing the game myself in 1988 I think, as a nine-year-old goalkeeper, so I was quite late to the sport. But Milla made a total impact on me, his dances in the corner after scoring. That Cameroon side were colourful, passionate and were led by their allegedly 38-year-old front man. As for Georges Weah, AC Milan legend. What a player he was. I could not believe that I found Tonnerre as a club to manage, in a second tier. When their youth system has brought through two of the finest African players ever, you can only plan to manage this club one way – youth, youth and youth. But I shall come on to that.
Tonnerre have fallen on hard times. How is a little unclear to me, due to the lack of credibly information out there. In fact, we are in the process of interviewing the club to find out a little more, so watch for that. But, they were relegated from the top flight last season. These guys are former African Cup winners, so the pedigree is there – I'd probably liken them to a Leeds United in terms of club size languishing, they certainly deserve to be right at the top of the tree once more.
How am I going to do this? What are my plans? Well, as I said, I have no idea how deep this save will go – I mean, if I were you I'd go away and come back again if I make it to Part X! Seriously though, this club does excite me – now, open honesty here (I know, right?) I have got quite a way through the first season once already since last Saturday got hold of me. I have restarted the save today, but I do have the benefit of some inside knowledge which I am going to try to not use too much to my advantage. I know that Renaissance and Fovu Club will be strong, very strong. I know that if I recruit well this time then Tonnerre have a decent shout of getting the 3rd promotion spot. I know that I may as well not even bother trying to recruit any other member of staff other than a scout as we do not have a wage budget to attract anyone. I know that we get a decent crowd in, around 4200, and that means we should be financially quite stable after one season. I know that I am very excited about having another go at this.
Tactically I have an idea. I've been reading a bit about the old Brazilian style box, and I feel that if I modify the Nagelsmann tactic Lee Scott created for me on uMAXit then I could get a defensively stable but dynamic in the attacking phase system going.
Recruitment wise, I know I only have a goalkeeper so the squad needs fitting out immediately. A scout maybe impossible to recruit immediately, so I will be going in blind on most things – which is very fun. As I want this to be about the DNA of Tonnerre KC, and to quote their Facebook page "We're Building the Future" I am going to set a rule that every player I sign must be U20 (20-year-olds are allowed) and African. I know that I can sign the vast majority of the players that will interest me on €1 appearance fees, which is hilarious, so I plan to recruit three squads FAST. I am going to manage the first team, the U21 and the U18 squad simultaneously to build the club completely in my image.
Financially, as I said I think we will be strong. We should, by my early projections, have around €250k in the bank by the end of the first season regardless of where we finish, so my aim at all times will be to get that reinvested in our youth set-up. I want us producing our own as quickly as possible.
Longer term aims are pretty obvious, this I could cut and paste – get promoted, consolidate in the Elite 1, push for continental football ASAP, start selling players to Europe, win stuff. One thing that I have got as a target is to see that screen that says "top developers of talent into the Cameroon national team" rate Tonnerre KC as the number one.
What else is there to cover at this point? Not a great deal I think. I'll probably be back tomorrow with a little more about the club, the players that are coming in on trial and how I am going about turning theory into practice.
#TKCFoot