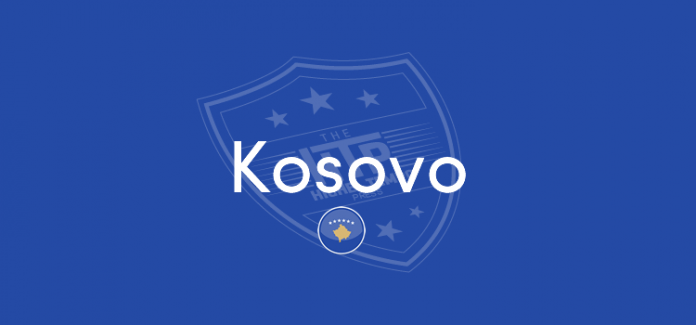 The aim remains to Konquer Kosovo, last season we completed a Superliga and Superkupa e Kosoves double. The one trophy that has eluded me thus far is my aim this season: Kupa e Kosoves.
Transfers
We released Ryo Kato, Kaan Kanak and Petrit Nika out of our own choice, feeling they were not up to the standard of the incoming players. Sadly, we couldn't keep hold of American starlets Ian Taylor and Kevin Piers – Taylor demanded a move and was sold to AFC Astra for £34k and Piers left at the end of his contract after refusing an extension.
We were very active with our incoming transfers, signing 7 players. Defenders: Mahamadou Lame, Nikola Braunovic, Ronaldo Rudovic and Kosovan international Ilir Berisha came in alongside midfielders: Kehinde Olakunle and Tahir Ajradini. Temur Xakimov, an Uzbekistan international, was the final signing of the summer. In January the defence was bolstered further by the signing of ex-Ghana full back Daniel Opare.
Pre-Season
We had now cemented our place as the top side in Kosovo and were expected to win the league by both the board and the media. The board also demanded a Kupe e Kosovo final.
Superkupa e Kosoves
The season got off to a winning start in a Superkupa tie against the thorn in my side, Besa (P). They took us to extra time but we were able to record the 3-2 victory and lift our second successive Superkupa title.
Raiffeisen Superliga
We couldn't match our two previous seasons and finished in 2nd place. Of the 8 games we lost, two of those were to eventual champions (and damn annoying rivals) Besa(P).
Kupa e Kosoves
We looked very comfortable in our run to the final of the Kupa e Kosoves, scoring 16 goals in 5 games and conceding only 4.

The final is a match that will irritate me for some time to come. Just as we looked to complete our trophy set Besa(P) came crashing back. Ferronikeli took a 2-0 lead into half time before falling back to 2-2 at the end of the first 90 minutes. As we pushed for an extra time winner Besa(P) hit through a Henor Neziri hat trick to seal a 5-2 victory.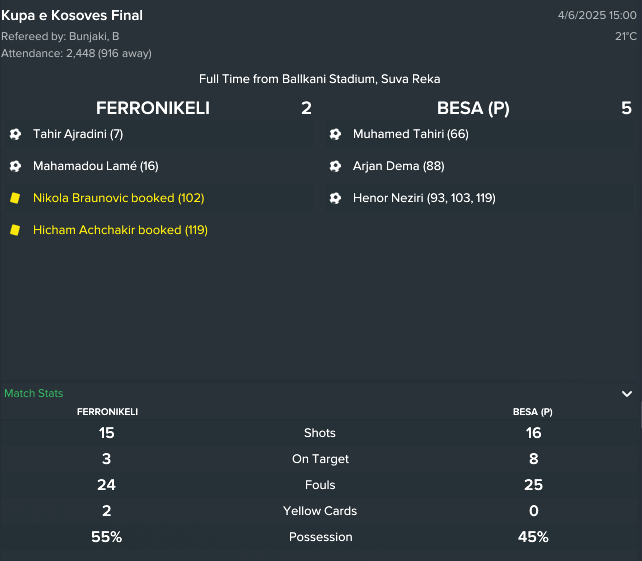 Star Performers
Despite our poor finish to the season I still feel we played very well for the most part.
Mentor Asllani was again the top performer with an average rating of 7.87 from 31 games, scoring 9 goals and assisting in 20.
Petar Ivanov was by far our highest goalscorer, surpassing his records form last season. Ivanov managed 42 goals in just 37 appearances.
While Asllani racked up the most assists, there is an honourable mention for new signing Tahir Ajradini who grabbed himself 18 assists alongside his 11 goals in 37 appearances.
And now…
Post season we were informed that a consortium was ready to approach the board with a view to a takeover bid for Ferronikeli. On the day our pre-season was due to begin we were advised the takeover had been completed. Despite the success I had brought to the club over the past 3 seasons it appeared my position was not entirely safe under the new regime.
A few weeks later the new chairman informed me that they would be letting my keep my job.

For me the bridges had already been burnt and I have taken my ball and gone home, resigning from my position after three seasons.

I end this spell of my club career with two Raiffeisen Superliga titles and two Superkupa e Kosoves medals in three seasons and my name forever etched into the history of KF Ferronikeli.