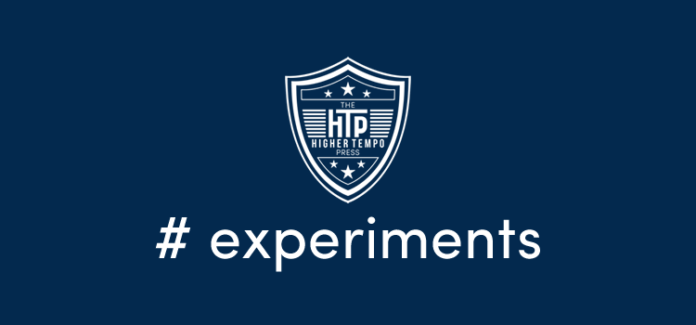 In the second part of our look into the future careers of the England U20 World Cup winning side, we will look at the remaining players. From the first part (https://www.thehighertempopress.com/2017/06/englands-u20-world-cup-winners-develop/) we saw that none had featured for the England senior side but some had gone on to have successful International careers elsewhere. At club level, there was no standout achievements with most players bouncing between the Championship and the Premier League.
Let's look at the remaining players' careers up to 2028 According to FM.
Ainsley Maitland-Niles


The majority of his early career has been spent in the Championship. After several loan seasons, he moved permanently to Brentford in 2019 for £2.4m. He spent four seasons there playing 122 times before moving north to Blackburn for £2m. He spent two and a half seasons at Ewood Park before a £1.2m January transfer to Villa. That season he played just four games but was promoted to the Premier League. After just 15 appearances at the top level, Villa were relegated and Maitland-Niles was released, joining League 1 Blackpool on a free. He has made no international appearances at any level.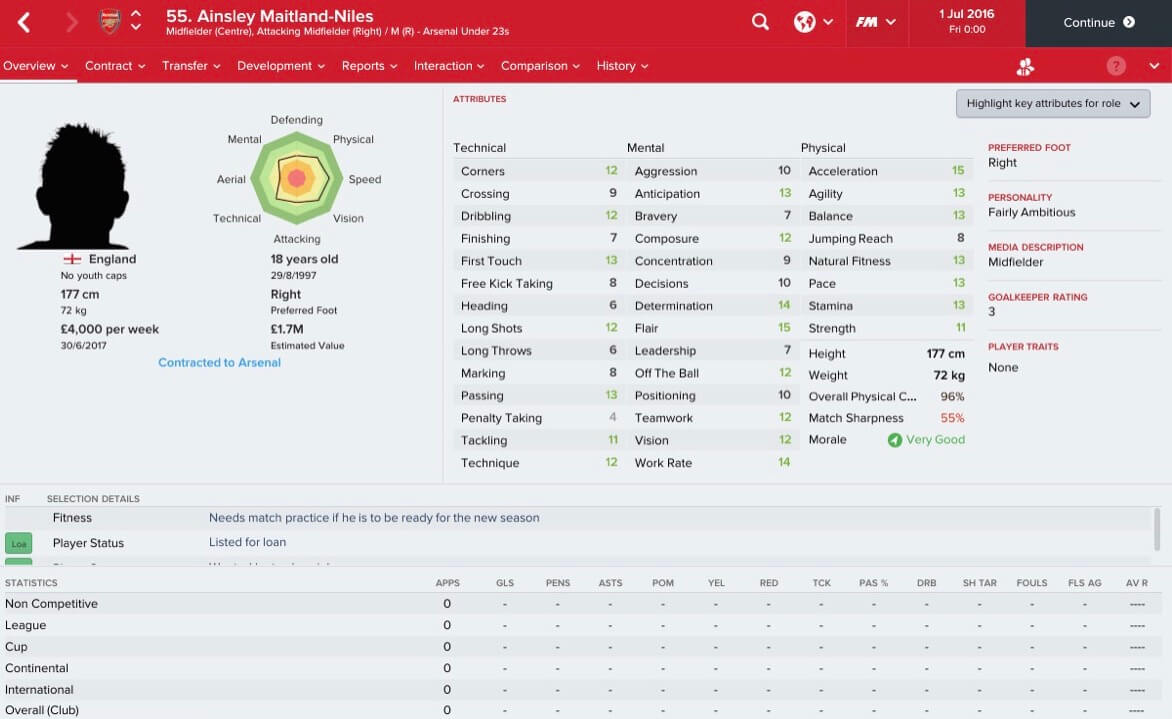 Maitland-Niles saw a regression in many of his attributes over the time. Dribbling, technique and off the ball dropped along with pace and acceleration. First touch and determination increased but nothing rose or dropped by a large amount.
Sheyi Ojo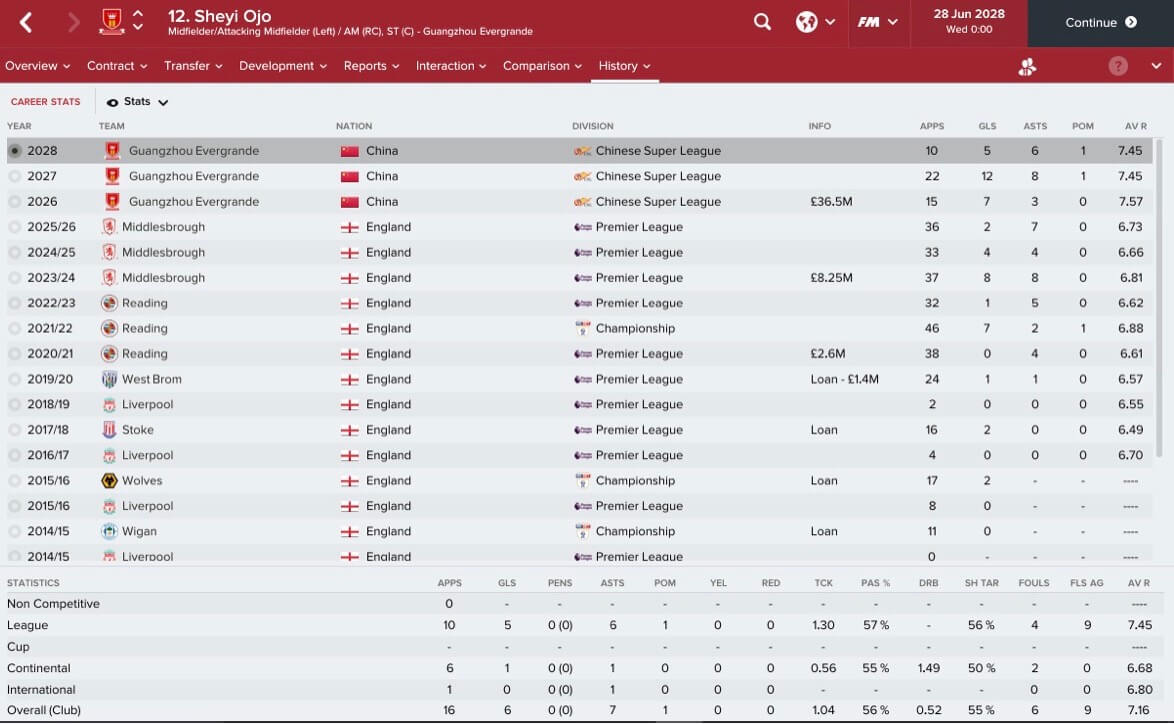 Was part of the U20 World Cup squad for England in 2017 finishing third. Ojo was also part of the Euro U21 winning side in 2019 with England. During that time his club career did not get started. In those first seven seasons, he played just 46 games at the top level with either Liverpool or on loan. In 2020/21 Ojo was transferred to Premier League side Reading for £2.6m but they were relegated. The following season Reading were promoted again and Ojo moved to Middlesbrough for £8.25m. He was part of the African Cup of Nations winning Nigeria side in 2023. In 2026 he moved to China and Guangzhou Evergrande for £36.5m and had an average rating of 7.5 over three seasons. Ojo and Nigeria won their second AfCON in 2027.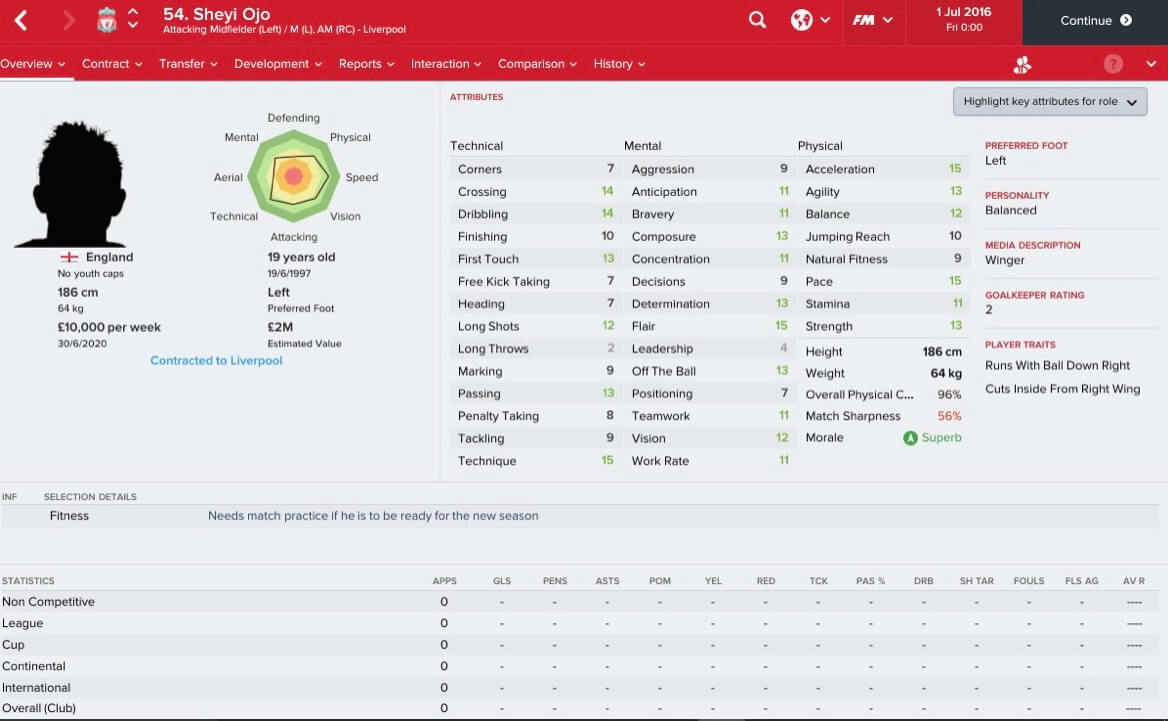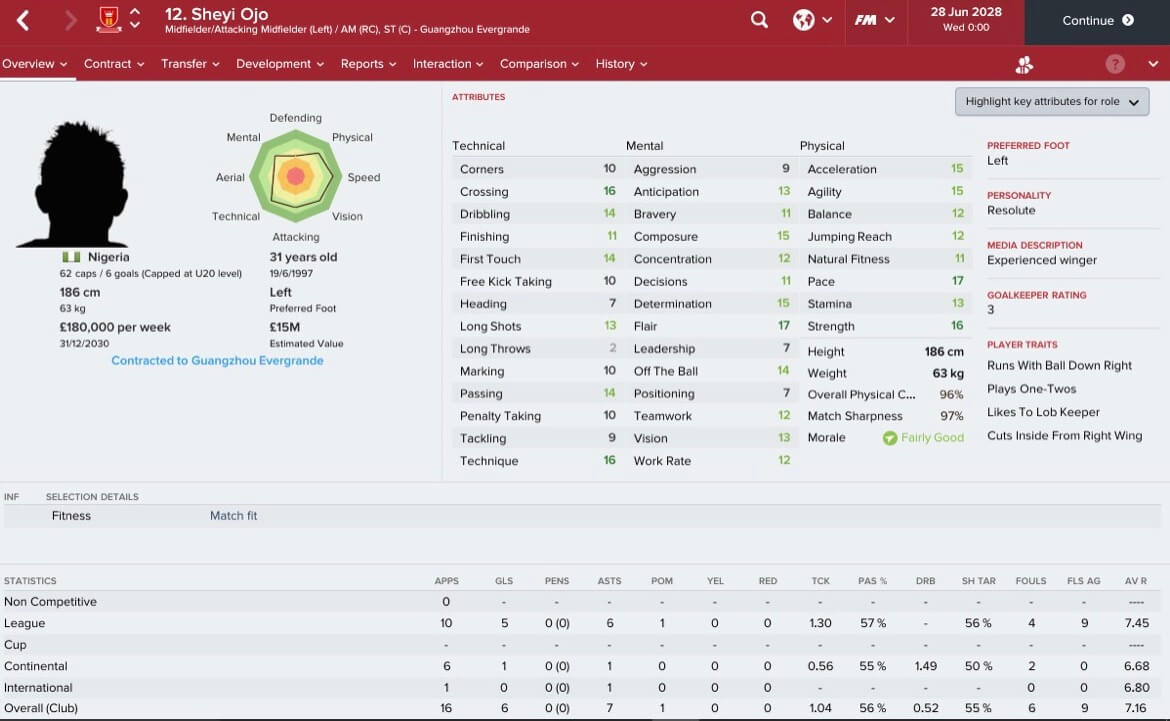 Ojo developed to add ST(C) as a position and it was reflected in an increase in his finishing, composure and off the ball movement. All of his physical stats either increased or maintained over the time also.
Joshua Onomah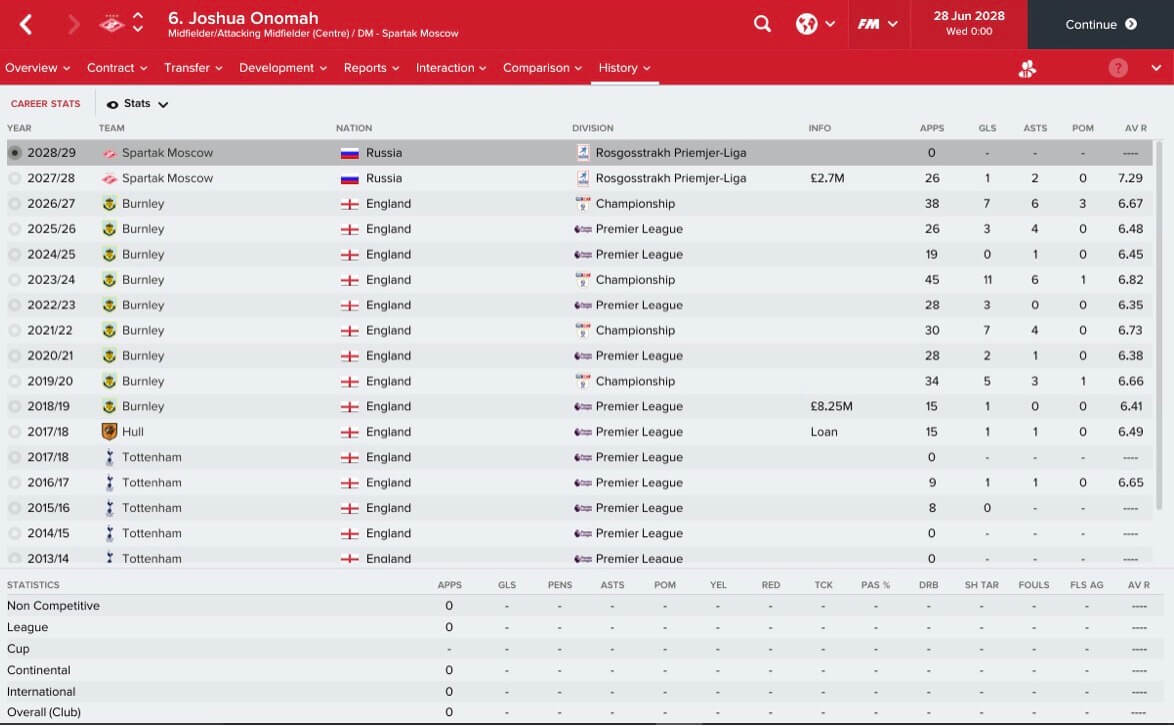 After playing a handful of games for Spurs and a loan season at Hull Onomah moved to Burnley for £8.25m. He went on to play 263 games for them scoring 38 goals as they yoyoed between the Championship and the Premier League. In 2027 he moved to Spartak Moscow for £2.7m. Onomah has made 40 senior appearances for Nigeria and won the 2027 African Cup of Nations with Ojo.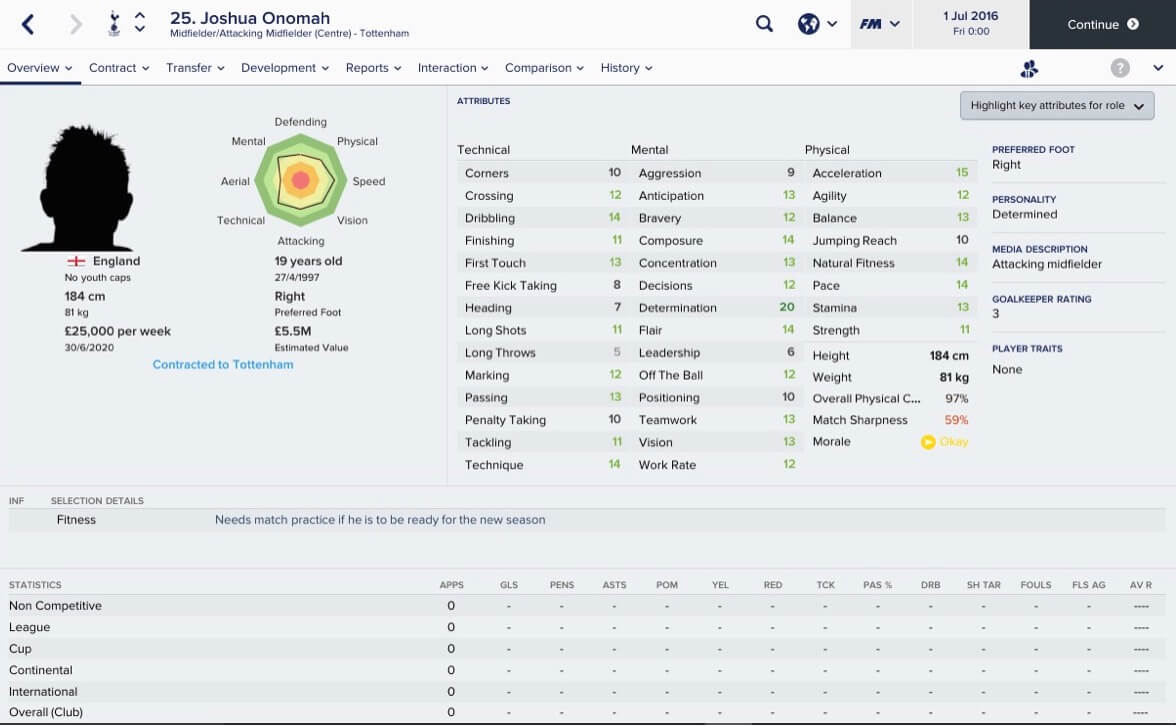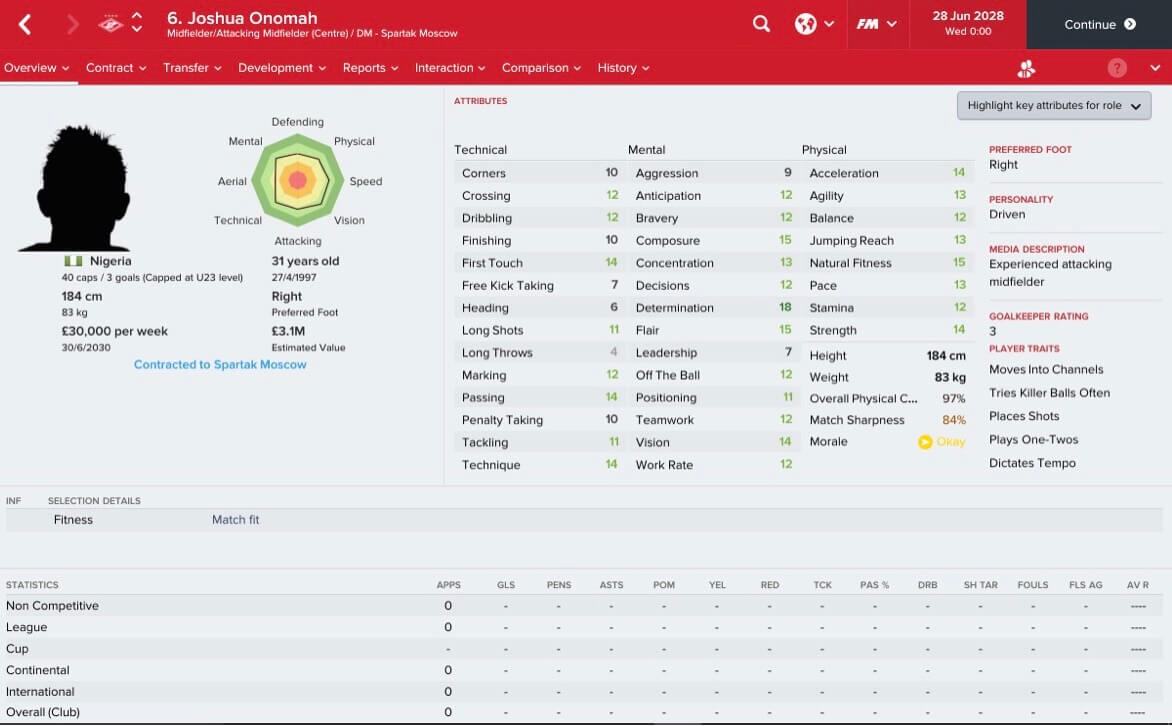 There were a lot of small changes to Onomah's attributes. He is now more creative with better vision and passing but saw a loss in dribbling and pace. Onomah also learned five player traits over his career including dictates Tempo, places shots and tries killer balls.
Lewis Cook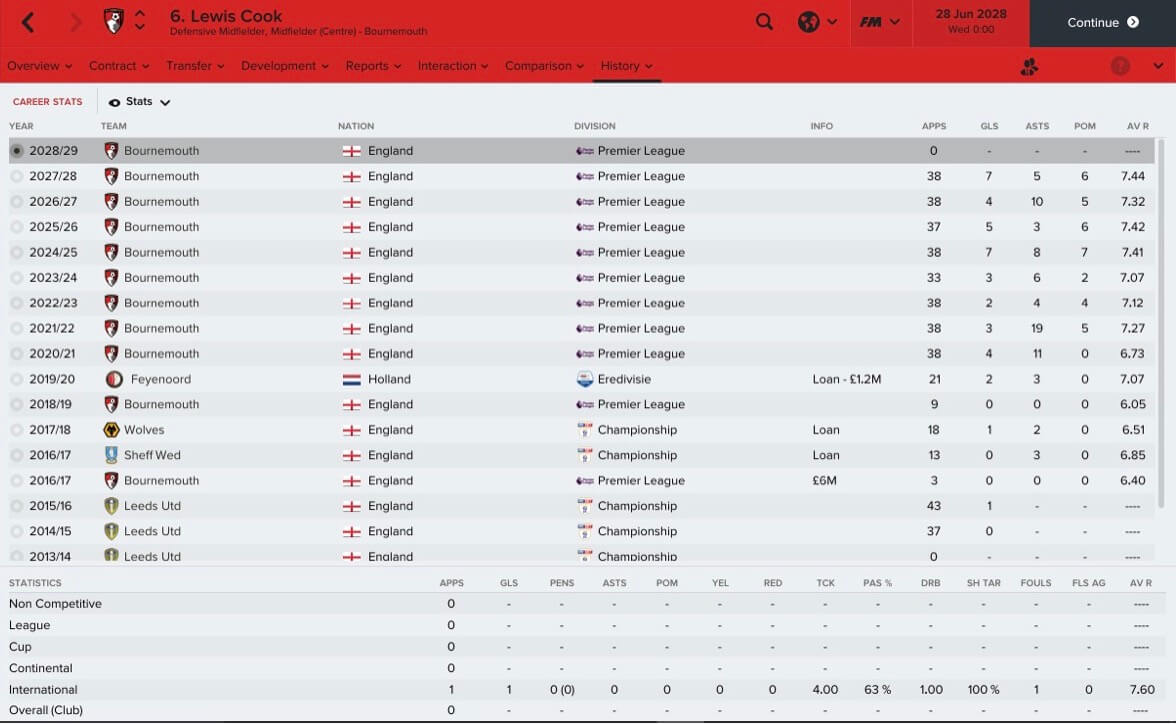 Cook has arguably had the most successful career of his real-life teammates. After two loan seasons in the Championship and one with Feyenoord he returned to Bournemouth to play in almost every game they had in the Premier League. Playing 307 times with an average rating of 7.22 makes him a top player in the league. Cook is the only senior England international of the players tested making 69 appearances and finishing 4th at the 2022 World Cup.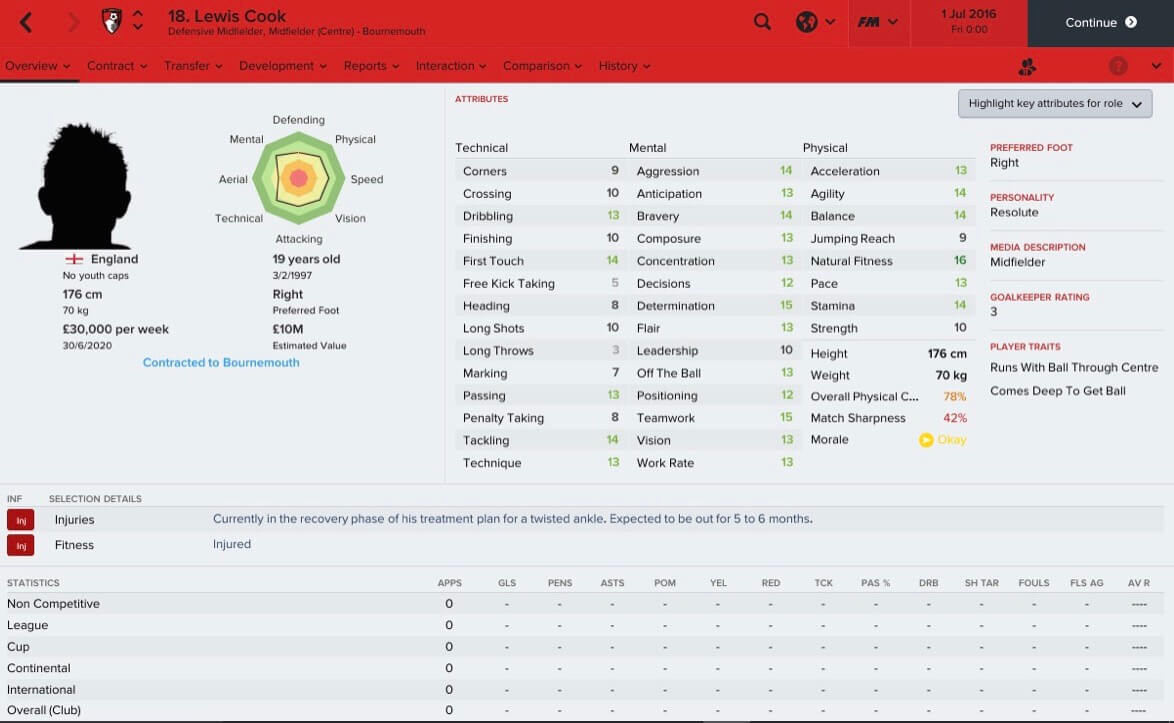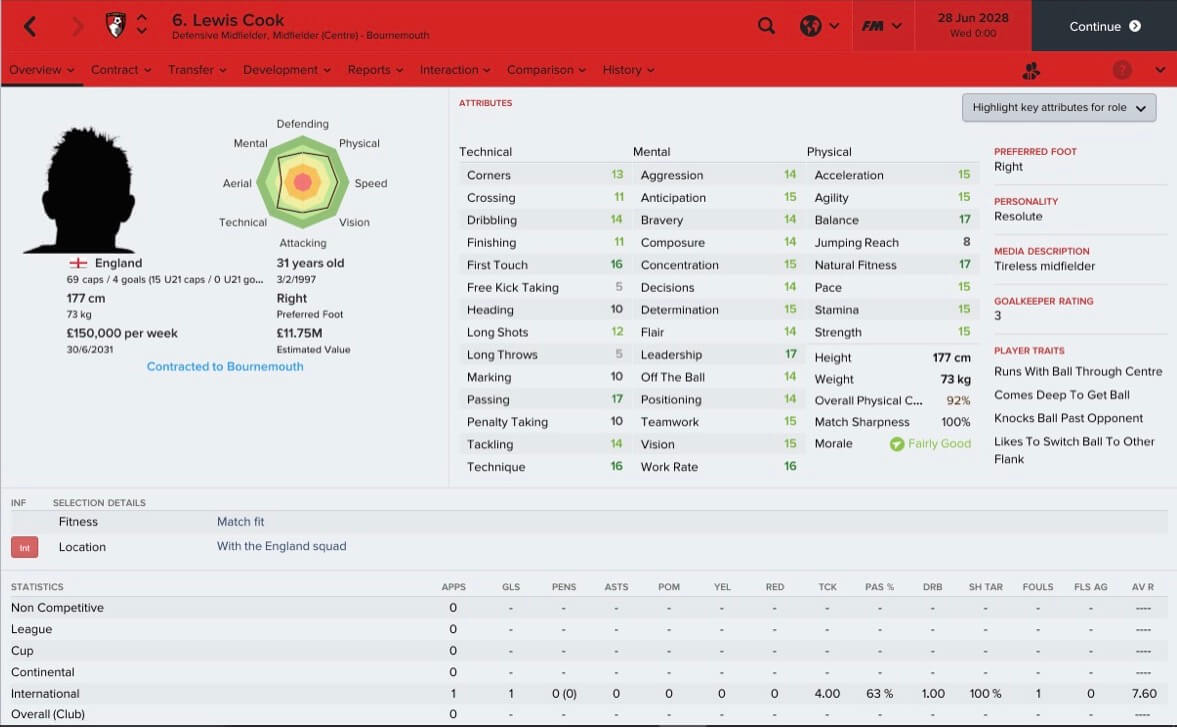 Cook saw a big increase (+4) in his passing attribute. This paired with increases in technique and long shots has turned him into a well-rounded midfielder. He now has very good mental attributes but has also not seen a reduction in physicals.
Dominic Calvert-Lewin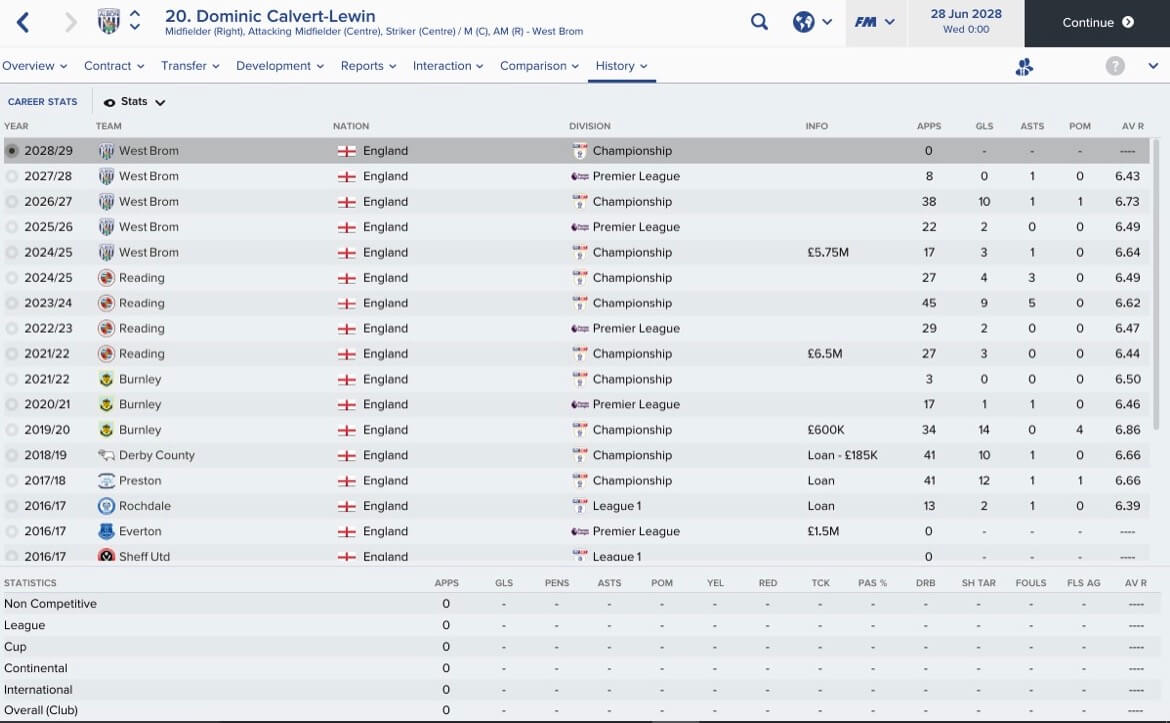 In his first full season, Calvert-Lewin was relegated from the Championship whilst on loan at Preston. He returned on loan to the Championship the following season with Derby scoring 10 in 41 games. A £600k move to Burnley, linking up with Onomah, followed and he scored 14 in 34 as they won promotion. He only scored once in his 17 games the following season as they were relegated but he was transferred to Reading for £6.5m. He was now teammates with Ojo as they won promotion, only to go straight back spending two more seasons in the Championship with Reading. He scored just 18 goals in four seasons before signing for West Brom in 2024/25 for £5.76m, once again winning promotion that season. Two more years spent bouncing between the Premier League and the Championship followed. He did not make a senior appearance for England and played just 76 games at the top level.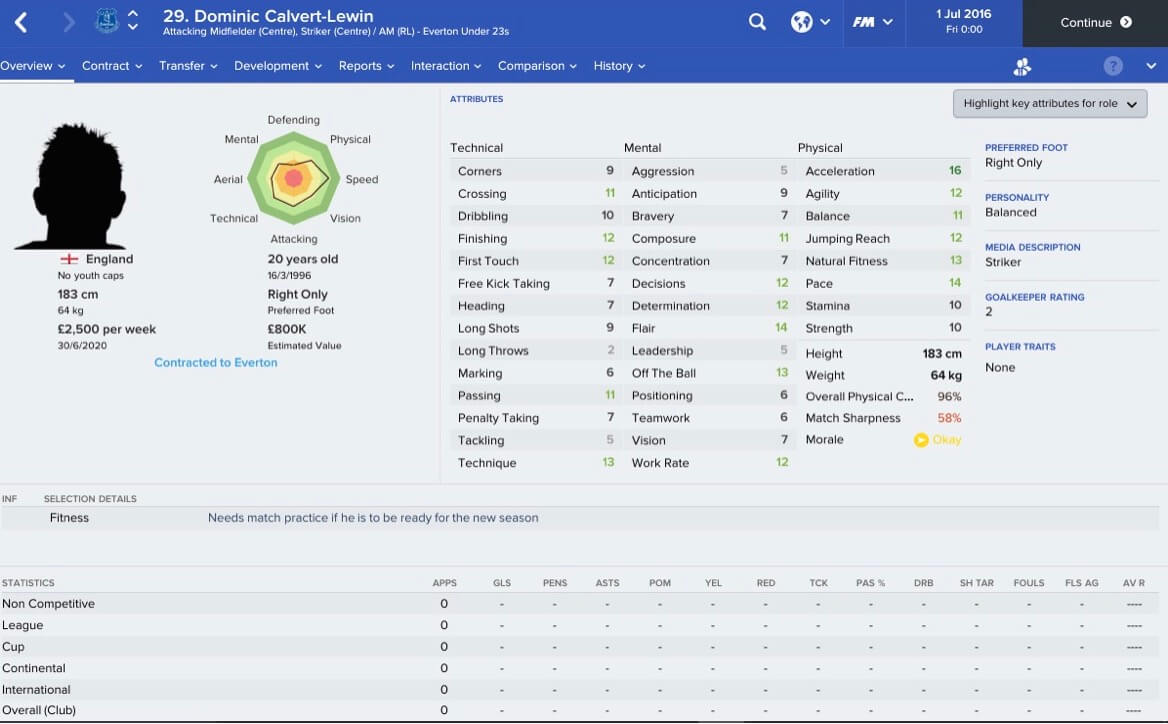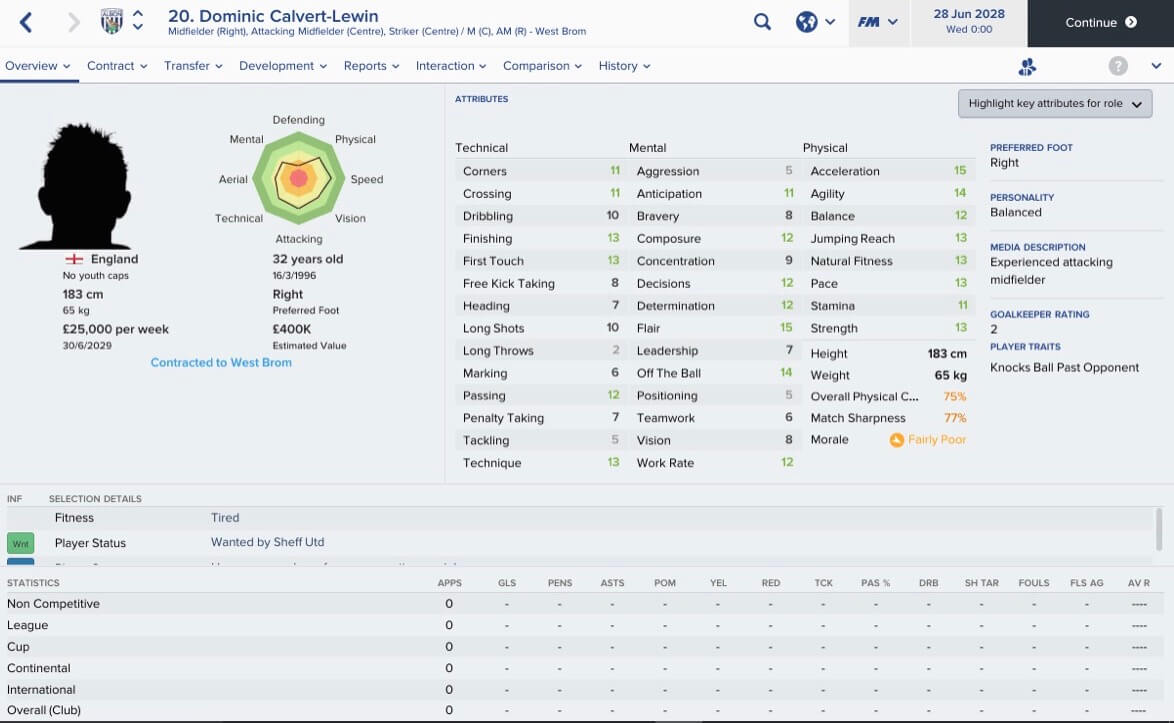 Over the experiment, Calvert-Lewin's speed attributes saw a reduction but his strength and jumping improved. Finishing, first touch and passing all improved by a single point and he became more creative.
Adalberto Peñaranda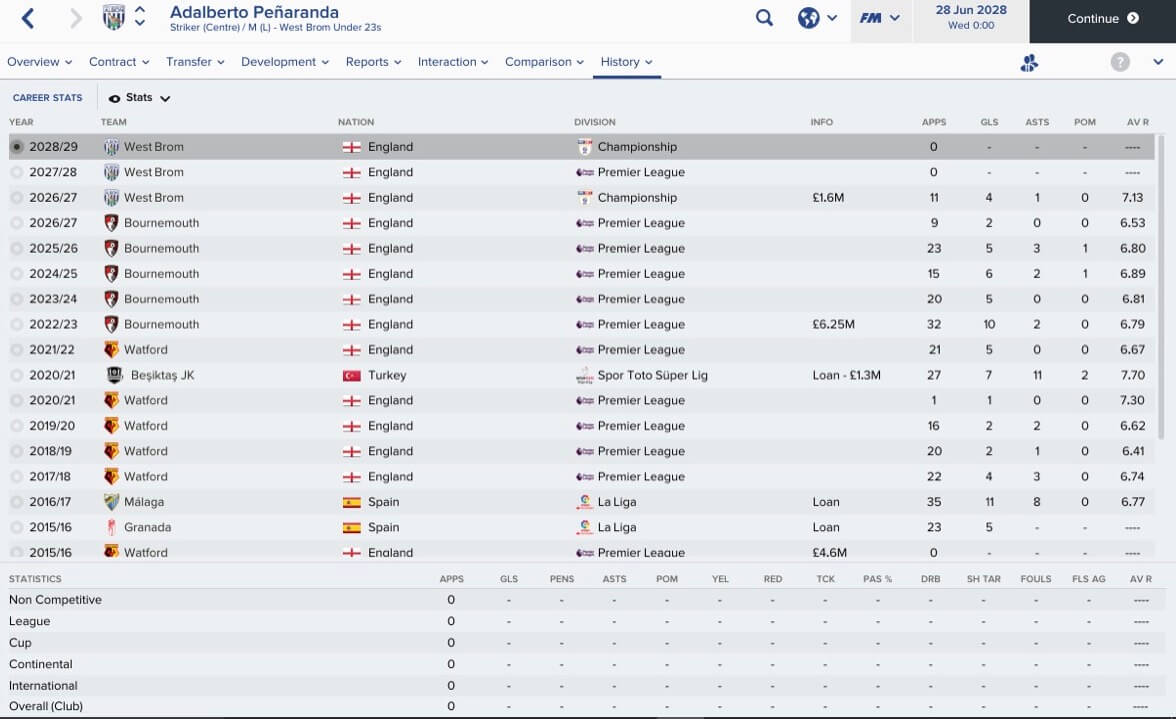 The Venezuelan striker was also in the database so let's see how he progressed over the time. After a season on loan at Malaga in La Liga scoring 11 in 35 Peñaranda returned to Watford playing 58 Premier League games before a loan move to Besiktas. He returned to Watford before joining Lewis Cook at Bournemouth for £6.25m in 2022. He spent four and a half seasons on the south coast before moving to West Brom but played only 11 games in two seasons and is now in the U23s. He was part of the Venezuela side to finish third in the 2019 Copa America.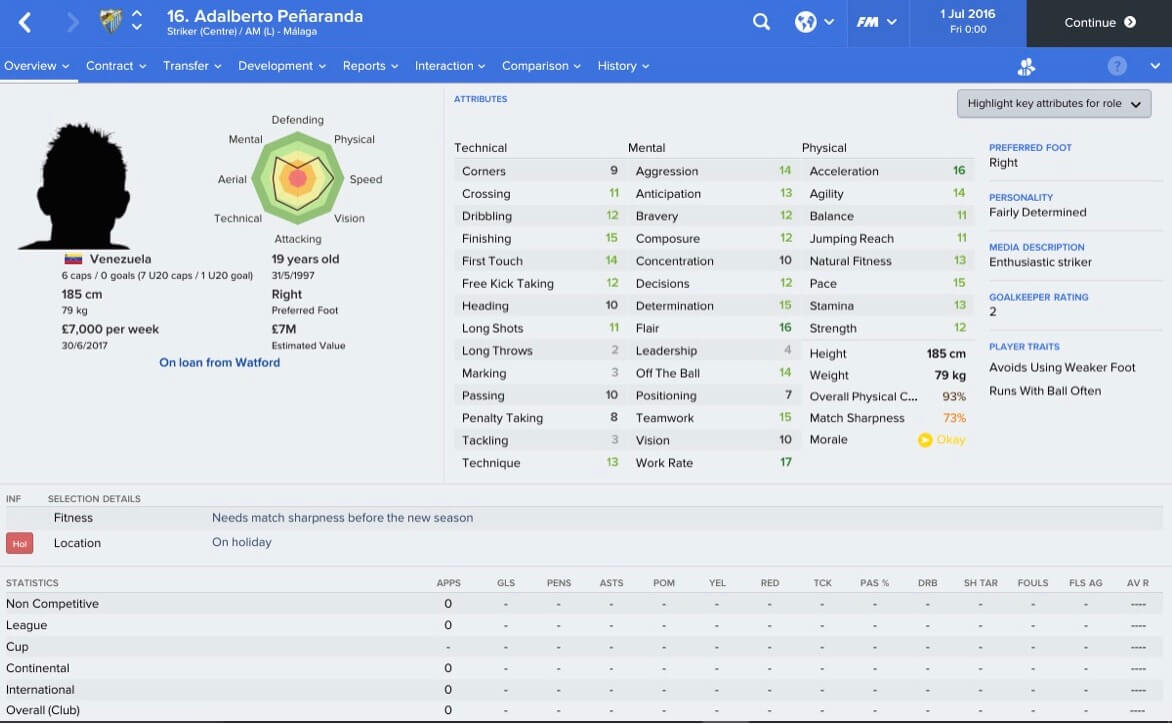 There was no change in finishing value but an increase in concentration and composure would help him as a striker. He has lost a lot of speed over the years though as pace (-3) and acceleration (-3) dropped. His penalty taking did not improve in the game reducing from 8 to 7.
That concludes our look at some of the stars of the U20 World Cup and how their careers might go According to FM. I have no doubt that all the players above will see an increase for FM18 and we can hope that some of them do in fact go on to become world beaters. For now though it seems that few make it to the highest level. Only Lewis Cook played for England reaching a World Cup Semi-Final before losing. Five players represented other nations, two winning major honours in the shape of the AfCON with Nigeria. The only other notable achievements were numerous promotions from the Championship but many were relegated again soon after.