Believe or not, not everyone on The Higher Tempo is actually any good at the game. Take me for example. My save over on my own blog has spanned five seasons – it took me three just to get promoted and I got instantly relegated then couldn't bounce right back up. During that time, I've dropped points in games I should never have dropped points in and frustrated myself beyond belief.
Seem familiar to you? Well, there is a very simple way to almost get a head start on the AI. I should stress that this is in no way foolproof (nothing truly is in Football Manager after all) and that it relies on a lot of common sense and thinking.
I would also stress that you have a tactic in mind with a few (I'm talking 4/5 maximum) basic team instructions because you may need to add or take away on a game to game basis.
My head start on the AI then? My data analyst.
Data Analysts?
Yeah.
Ever since the game came out, I've ignored them especially because all I thought it was was just some pretty new graphic they'd spent months working on. Instead, it's a treasure trove of information if you know what to look for.
But what exactly should you look for?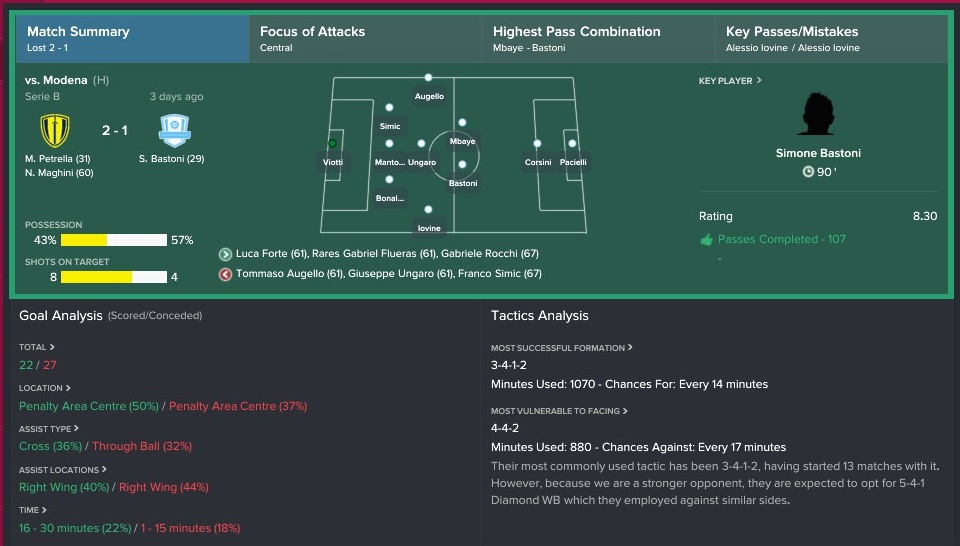 This is the screen you find yourself facing when you see it for the first time. Nicely presented and whatnot telling us a basic amount of information including what basic system they play. That's very simple stuff.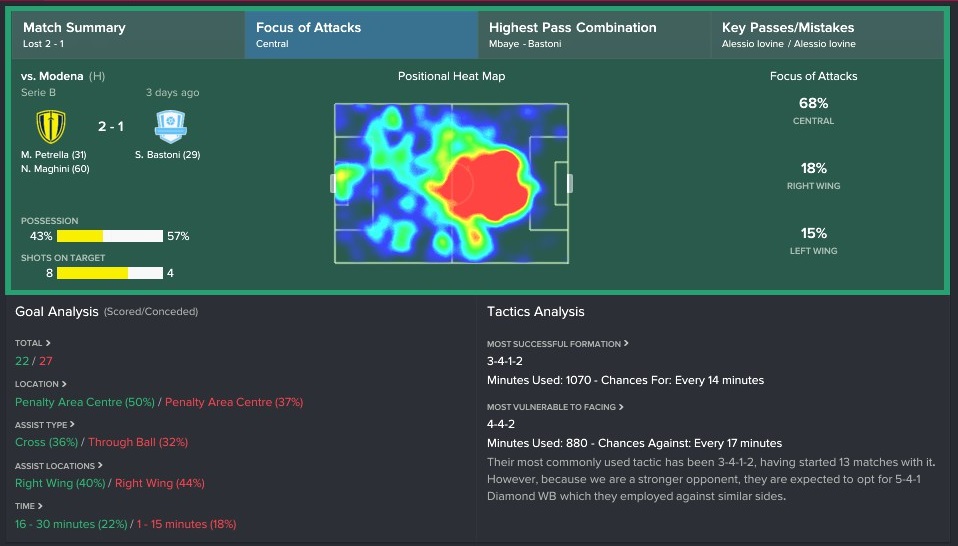 The focus of attacks tab will give you a basic overview of where your opponent loves to focus their attacks. Again, very basic information.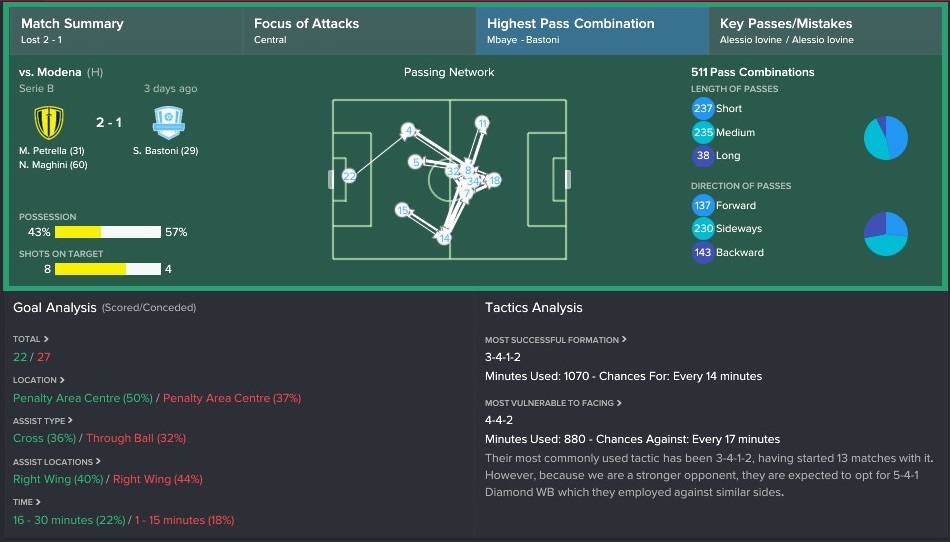 My favourite tab is this – the pass combinations tab. It gives you an idea of how they want to play when in possession and, crucially, how their system actually sees them line up during the game. We'll come to this in detail later on.
The final tab is one I still ignore because it really only tells you who is error prone and who is key to their attacks. However, rather than focus on individuals, I prefer to focus on the bigger picture.
So, how do I use this information? Well, to explain, I'll use an example.
Data In Action
This example is from an early season game against Frosinone. They've been a mid-table Serie B side throughout the five or so seasons of this save with a couple of flirtations with the play-offs here and there.
Also, as a reference point for you to understand any changes I've made, I play a 4-3-3 with a flat midfield three. My standard midfield three is a Deep-Lying Playmaker on support on the left; a Centre Midfielder on defend in the middle and a Box-to-Box Midfielder on the right. In front of them is an Inside Forward on the left, a Winger on the right and an Advanced Forward up top all on attack duties. I also have 4 basic team instructions that never change – Push Higher Up, Use Offside Trap, Close Down More and Higher Tempo.
So, let's see what data I've been given…
Pre-Match Report
This is the report I was presented with.
Immediately what I see is their narrow 4-3-3 formation could cause issues for our two centre backs based on numbers. Luckily, that isn't too much of an issue as I play my full backs as Wing Backs on defend.
The next thing I notice is that their lack of natural width is something we can exploit especially if they love to play it down the middle (which the assist and goal locations indicate) and if their full backs love to push on, something we will see in the pass combo tab.
The next port of call is to take a quick glance at the heat map.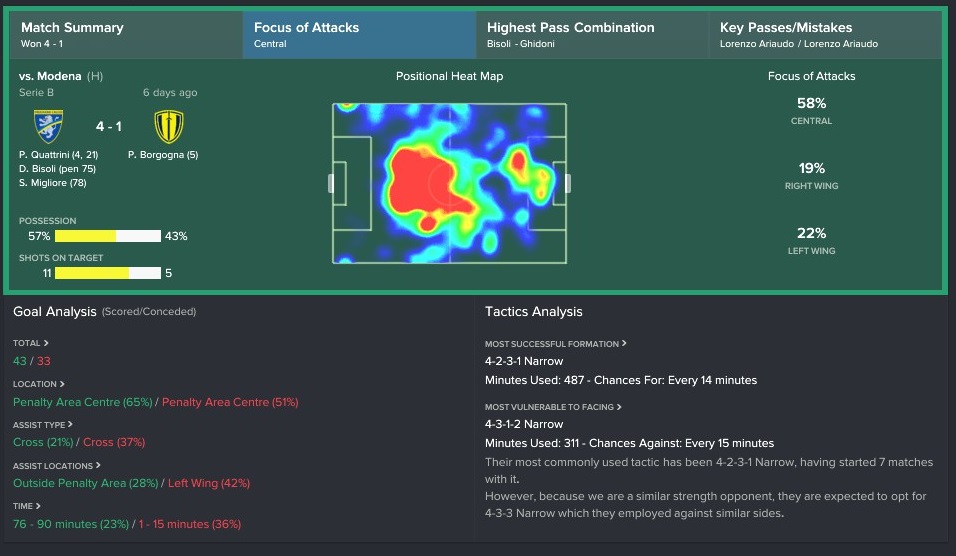 As I suspected, a lot of their play comes down the middle but when they go wide, they do tend to look left more often to their wing back Kragl who is one of their better players. It's starting to look like the wings may be the place to exploit but it all depends on the pass combo tab.
The final piece of the jigsaw confirms what I expected. The attacking three and midfield three play very tightly together with the full backs very pushed on to offer an out ball if necessary. What's curious is that their defensive pairing sits very deep to collect the ball which is something which can be beneficial.
Additionally, you can also look at the key men's attributes for extra information such as whether their striker is a pacey menace or a giant bruiser or whether their full back can defend or not. Also, I'd suggest looking at the opposition manager's profile for an idea of their play and pressing styles and adapt if need be from there.
Using Your Data
The big thing is to know what you need to do with the data you're given. It goes without saying that if you get information that their striker likes to run in behind because he's quick and plays high up the pitch then it's a bad idea to get someone like Per Mertesacker to play high.
For this example, I know that Frosinone like to play very narrow with only their full backs giving natural width. Therefore, the first port of call is to add to the core team instructions.
Fairly self-explanatory to exploit the flanks with the amount of space we can get there but no looking for overlap may surprise some. I'm not looking for overloads on the flank as we could get caught out by a striker drifting out and drawing out our centre backs. The clear ball to flanks option is one that allows us to, if executed well, catch them on the break from set pieces etc. With our wide men set to attack duties, they rarely if ever defend so to clear the ball out to them makes sense as they will be ready to collect and drive into the open space. My final tactical switch to exploit the flanks was to change my Inside Forward on the left to a Winger to ensure that he will always stay wide and stretch the play for us.
What I also banked on for this game was that Frosinone would struggle with service to their front men with our high press, high line and offside trap combo. That means that their deep centre backs would be more likely to just heave it than risk conceding possession in a dangerous area. It should also suffocate their creative attacking and midfield players from getting any foothold in the game.
The Result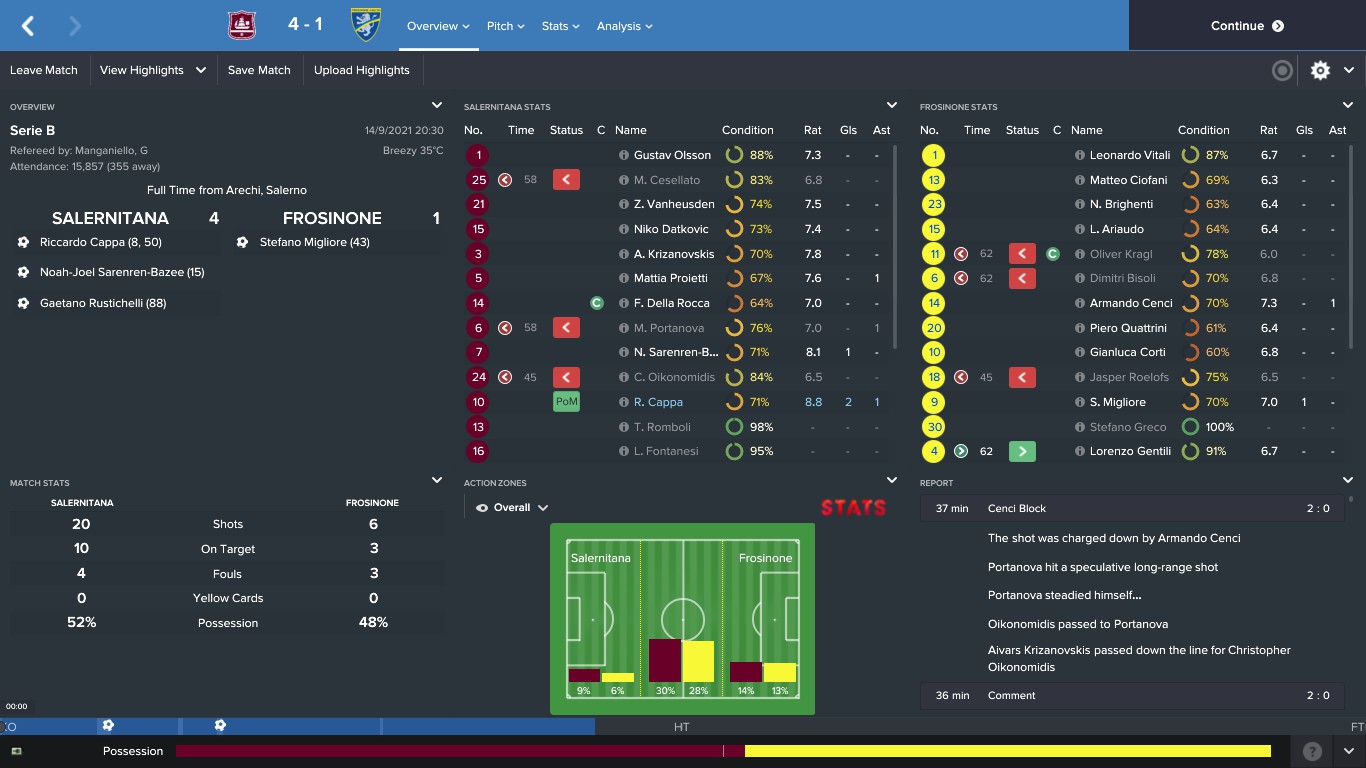 A cracking performance built on absolute domination from the wings. As you can see from our post-match analysis below we were all over the pitch.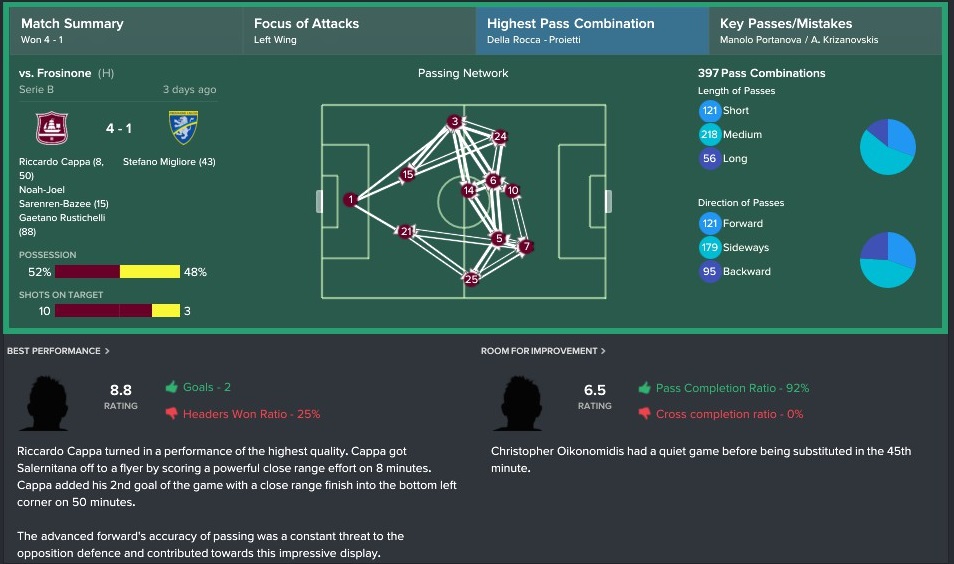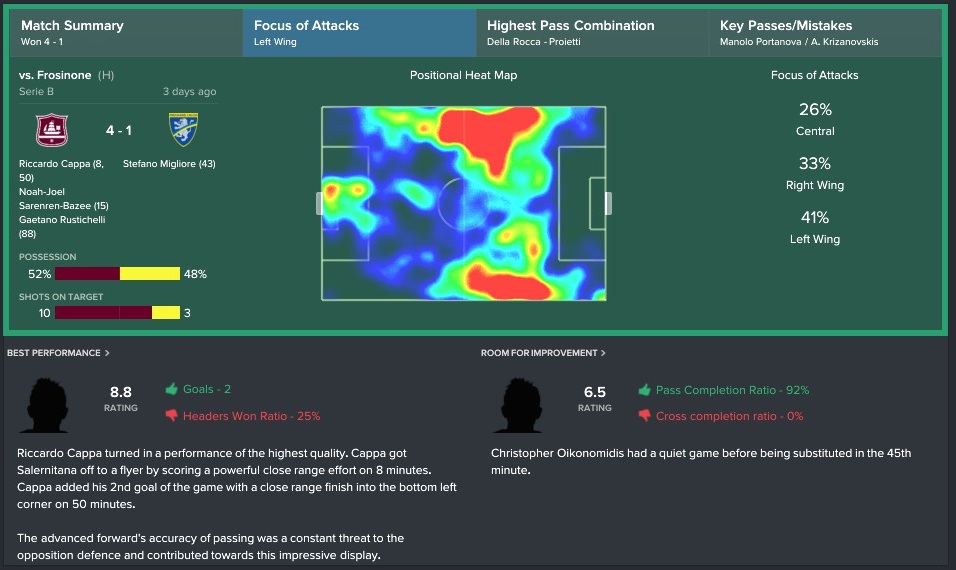 As you can see, we stretched poor Frosinone all over the park then picked them off. Two of the goals came from very good wing play as well which was pleasing.
One little change I made in-game was to turn Manolo Portanova (number 6 in the passing combo graphic) from a Deep-Lying to an Advanced Playmaker (still on support). My thinking was that Frosinone don't use a defensive midfielder and their centre backs sit deep so there is space to be exploited in front of them.
Another little tidbit is that while our pre-match report said Frosinone would play a narrow 4-3-3, they actually used a narrow 4-2-3-1. Now this isn't a huge issue but you must remember that the data analyst isn't always 100% accurate and you can't take his word as gospel.
Conclusion
While the information you get pre-match from your data analyst isn't always absolutely spot-on, it's still a good guide to how your opponent is going to play and where you can exploit them.
This isn't a fool-proof method but it's one that is straightforward enough that, even if you hate tactics and stats like I do, you can still play tactically and enjoy the game.