THE OBJECTIVE: TO MANAGE MY HOME TOWN CLUB, DOVER ATHLETIC, IN THE NATIONAL LEAGUE. DOVER HAVE NEVER PLAYED LEAGUE FOOTBALL. I AM GOING TO TRY AND CHANGE THAT.
December.
Driving into the training ground this morning and the first Christmas song is played on the radio. Wham's Last Xmas, blaring out of my car as I pull up into the car park. Already waiting with clipboard in hand, is a 6ft 4 monster of a Norwegian. Brede is pacing the car park, tapping his watch as I secure my handbrake. " Its 9.01, gaffer," says Hangeland. Indeed it is, Brede, indeed it is. I like this man, his attention to detail is off the scale. "Boss, I have taken the liberty of checking out our next opponents, Dagenham and Redbridge." Or as I called them earlier in the season, the giants of East London. They absolutely dominated us in the air last time out.
The social media boards have been going crazy. Plenty of praise for the boys after the mauling of Sutton. But wherever there is praise, there is also criticism. You clearly can't please everyone. Brede wanted the boys in for training the following day, I decided that they should be given a day off.

Ricky Miller was cleared fit to return to action after missing out on the 1-0 win over Sutton. I decide to leave the top scorer on the bench as we have plenty of big games to come over the remainder of the calendar. Lafayette partners Moses up top and runs absolute riot. 4-0 up at half time is enough for me to rest a few legs and make some changes. Youngster Ollie Cole scores with his first touch. A cracking 5-1 win to cement our place at the top of the table.
Mr Chairman has been on his travels. A business meeting abroad means that our monthly meeting was temporarily adjourned till the early part of the month. November's progress clearly pleasing the top brass. The board of directors is delighted with my performance. Jammy Dodgers all round! The finances are sliding into a position in which there is a slight concern, but with our league position exceeding expectations, more people should come through the turnstiles. Fingers crossed anyway, heaven forbid we have to start selling to stay afloat.
Despite missing out on the fairy tale of the FA Cup, we head to Essex to play a playoff against chasing Braintree, in the First Round of the FA Trophy. Miller is brought back into the starting eleven and is unplayable. Four assists in a 9-1 (nine) rout. Yep, nine, spelled out like the old vidiprinter to show that it is actually real. No goals but plenty of work rate for his team. Lafayette, bagging another hat-trick, Ollie Cole again nicking a goal for himself, this lad will be banging on the door soon for a start. Top of the league and through in the cup, a decent start to the festive season.
Next up was a tough trip to Forest Green. Their chairman has been throwing money around like confetti, in an attempt to get his team promoted. Forest Green made us sweat for a point in which Connor Essam saved us with a last minute header from a corner. Forest Green were sitting in third, so I was delighted not to drop any points to our rivals. With my mood in full festive swing, a few of the boys approach me and ask if they can have Xmas day off. Now with a local derby at home to Maidstone the following day the answer should have been no, but due to recent performances, I decided to grant them their wish. Happy Xmas boys!
No rest for me and Brede mind, the whirring of the fax machine on the 24th December disturbs our opposition briefing meeting. Seven of the boys have been chosen in the non-league team of the week. Amazing stuff.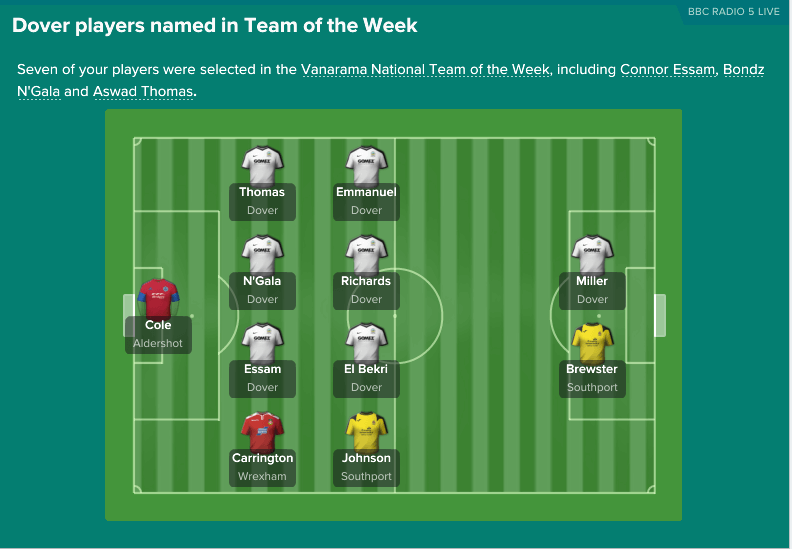 We looked like a drunk staggering through town, looking for a lock in. Twice we led against Maidstone and twice we gave away a sloppy goal, first on half time and again on full time. We now need a new tea tray as I snapped it across the table and launched it towards the kit man. The boys were told in no uncertain terms that New Years Eve plans can all be cancelled as we travel to Maidstone the following day. Even Brede hides in the corner as I continue to give the boys the hairdryer treatment. Miller, who else? Getting both goals for us.
Two draws to end the month and Lincoln City were quick to capitalise as we slip into second. Not the end of the world. New Year's resolution, make sure we get a new tea tray, and some Febreze, stinks in the changing room now.