Welcome back! It warms my heart to see how Tempo has grown since I started this save. You may recall last summer we went on an epic journey, in not only qualifying for the 2002 World Cup but reaching the final, only to be toppled by Italy. Clearly not familiar with the phrase "quit whilst you're ahead" we then set off the campaign to reach Euro 2004. So in this update, I'll take you through the latest on Scotland's Euro 2004 qualifying campaign, which encompasses a friendly with Switzerland before a rather more important clash with Poland at Hampden Park. 63 days, 2 fixtures, 3 points…1 pointless friendly. The International calendar could have done with some refining back in the days of Championship Manager 01/02, it makes trying to blog a qualifying campaign a very drawn out experience.
Anyway, you might recall that in March we had 2 qualifiers and we came away with a total of 1 point…and that was away in Azerbaijan. It was the worst performance on my reign so far, which I can only put down to Spain knocking the stuffing out of us 4 days earlier. Their goalkeeper got the perfect 10 rating, which makes a 3-0 defeat very difficult to take. So difficult it nearly resulted in us losing in Baku, which is not part of the qualification blueprint. We're still second, and I suppose you could say it's still in our hands with Spain to visit Hampden in October.

With Poland in 3rd, it is vital that we beat them in June and that will cement our position in the playoffs at least. So we'll use the Switzerland game to find a plan B. Goal-scoring has been an issue, Stephen McPhee has 12 in 19 at International level, which is great but he's leading the line at 21 and it's a big ask, considering he has to play 40+ Championship games for Port Vale too. Kiegan Parker has 27 goals for St Johnstone, who sit 3rd in the SPL, so he's a useful ally, but beyond that Burchill, McCann, and Winters haven't shown themselves to be International quality. We'll give them a chance in the friendly.
There'll also be a debut for this chap at left back, as his Middlesbrough colleague Jim Paterson is injured
Middlesbrough are mid-table in the Premier League so for them to have a couple of players performing at a high level is encouraging.
The team I settle on for the visit of the Swiss includes three debutants in McQuilken, Jamie Langfield, and Craig Easton, where the most capped player has 14 appearances (Wilkie & Anderson). Paul Rudden is the captain.
For what it's worth, here's the Swiss team. It is the polar opposite of ours, brimming with experience.
We're 1-0 down at the break, Langfield spilling La Placa's initial header and the man from Mons tapping in the rebound. Robbie Winters has an equaliser chalked off for offside and Lee Wilkie is the best player on the park by a distance, read into that what you will. Switzerland also bizarrely subbed their keeper after 15 minutes, for no apparent reason. I decide to stick with the same team for 10 minutes or so just to see if we can get back on terms.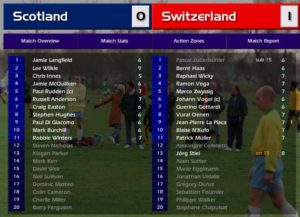 Sadly, things got a lot worse before they got any better. Langfield was hopelessly out of position for the second goal on the hour mark and that lead to a raft of changes, none of which seemed to improve us. The Swiss ran out 3-0 winners and I'm more than a little concerned.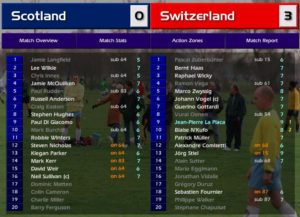 What have I actually learned from this? Really just that certain players aren't ready yet. None of the front 6 took their chance to impress, the second centre-half situation is still a conundrum and I have more questions than answers. Is the blip becoming a crisis?
We're dealt a further below just before naming the squad for the Poland game. Mark Kerr (who you may recall I have now met) is ruled out for 3 months with a torn calf muscle sustained playing in the Champions League semi-finals for Roma, a competition they go on to win without my midfield maestro. Robbie Winters is also out, which is less of a blow. The experienced Dougie Freedman is in the squad, whilst Jim Paterson is back in for Kerr.
I'm giving young Stephen Hughes the nod to replace Kerr, whilst McGuire is in alongside Wilkie. It's more or less my usual team but obviously weakened by Kerr's absence.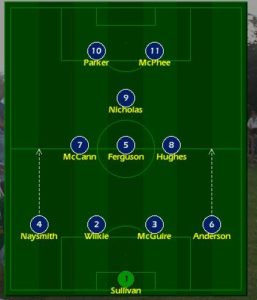 We hammered Poland back in September, but we were on a massive high and taking on all comers. We're a lot more fragile going into this one.
An early goal is always good news for a team lacking in confidence, and obviously, I am particularly pleased when it's Stephen Hughes who comes up with it. It just gets better and better though, and we go in at half time 3 to the good.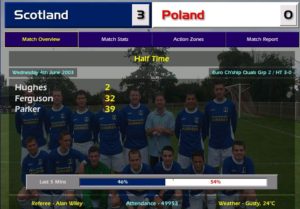 Question marks over letting an Englishman referee the game, but so far so good.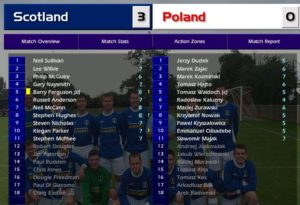 The second half was a non-event, I was even able to withdraw a couple of players without fear of it all going wrong.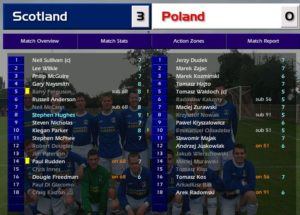 Spain beat Azerbaijan by the same score line, and Northern Ireland brush aside Malta to become our closest challengers for 2nd

We got to Belfast next, on August 30th, in another pivotal game. They beat Spain there and we all know that famous Windsor Park atmosphere can inspire the men in green. There are 5 players on the cusp of a ban, but I'm happy for them to go hell for leather in Belfast as we have Malta at home 4 days later, who with the greatest of respect, I could play a weakened side to protect people for the Spain game.
We're also in a much safer position in the all-important 2nd place table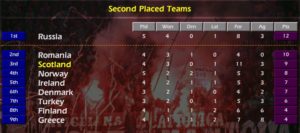 So as we have finally got our first win of 2003 under our belts (in June…) all that's left for me to do is to ask you to wish Mark Kerr well, as the race is on to be fit for the August qualifier in Belfast. To the oxygen tent!