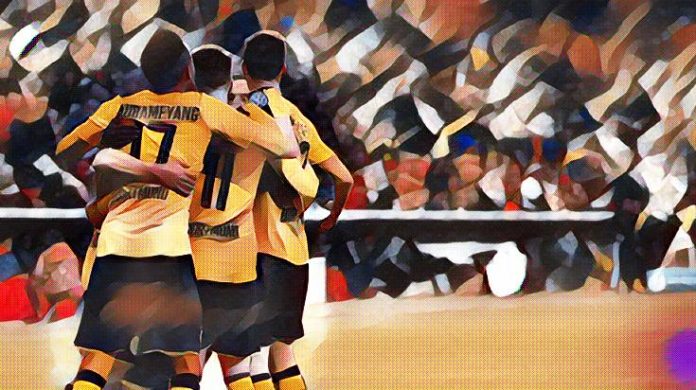 So, er, yeah. Hamburg. The job I always wanted, right? It's been a dream of mine to represent Hamburg, I have supported them since I was a boy and Kevin Keegan took his perm to Germany. Who do you think I am, Robbie Keane? I have no connection to this club, I am still spinning from the fact that I was sacked from Dortmund II. Did I mention we did a season unbeaten?
Catch up on all the previous episodes of BoB here!
Still, no point moaning about it now. I have to get my career back on track. There's not many that get sacked in the 3rd tier and then get a top flight job, so I must have done something right at some point. Don't forget, I started off with a mere National C license too, just like in the real world. So, yeah. I deserve this shot.
Dortmund II fired me because they thought I couldn't cope with a relegation battle. Hamburg brought me in to save them. Logic in football at large, as ever.
So – nine games to stop Hamburg going down. I took over in 15th place, two points off the relegation playoff spot and four points above an actual relegation place. However, the team as you would expect were bereft of form and confidence.
This was my run in. Nine games.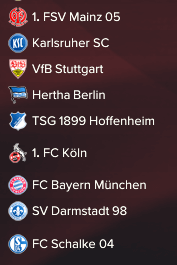 How was I going to approach this? The #ArgSt17 would be too high risk – one defeat and the players would possibly collapse and I didn't really have the squad for it. Keep it tight and grind some points that way? Not a chance. If in doubt, smash it forward, get men up there and attack the shit out of the opposition!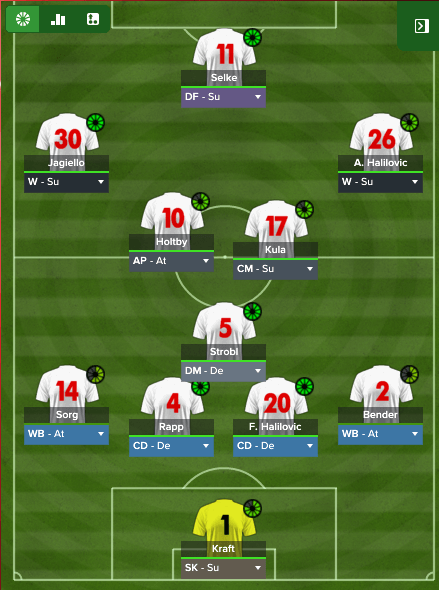 I figured our best hope was to outscore the opposition and, if we failed, at least we'd go down having a go and entertaining the fans.

Hey, I did say we'd go for it. Unbeaten, goals galore and all against sides at the top end of the table. This Bundesliga stuff is easy, no? I think the first win was vital, as it was exactly as I imagined it would be. Frenetic, chances, mistakes, goals. Luckily, Davie Selke scored his first goal in fifteen, which gave me confidence that the top scorer might turn up in for the run in. However, the promising start far from guaranteed safety as all the teams around me picked up points too.

Yeah, things change fast in football. Believe it or not, we led in both those games we lost. Maybe if we'd shut up shop? Who knows. The point with Hoffenheim was disappointing, as they were the team still marginally above us. Fortunately, the form of the sides below fell away so we weren't too damaged. Three games to save ourselves, and next up were Bayern.

The way we've been going, a 1-0 defeat to them is a win in my book. Results went our way and it meant that a win in the next game would keep us up. I found myself starting to care…

I'll admit to leaping off the sofa when the late, late winner went in. It was a moment to behold, a stunning left footed drive. Safe. We are safe. Get in. I guess this means I need to start rebuilding now…
Actually, one more game.

We played in the full party spirit, and over the course of 90 minutes I went from wanting to replace the entire squad, switch the #ArgSt17 next season and rebuild the club to thinking that these boys might just have a bit in them if managed well. Schalke needed a win to get into Europe, so they hardly rolled up in their flip flops.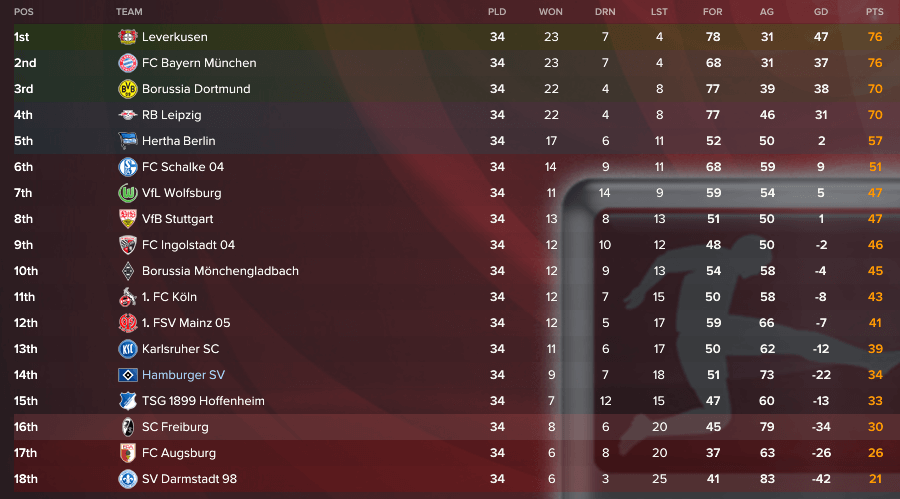 In the end we were very safe, I don't know what all the fuss was about! A minus 22 goal difference is not something I am used to though. Hell, I am not used to ending a season this far down a table, what am I saying? The last two matches showed spirit, and it might be that this squad is better than I first thought.
It was quite exciting at the top, as you can see. Leverkusen managed to hold on and claim the title, and Tommy T led Dortmund to 3rd.
Dortmund II's relegation battle went to the final day.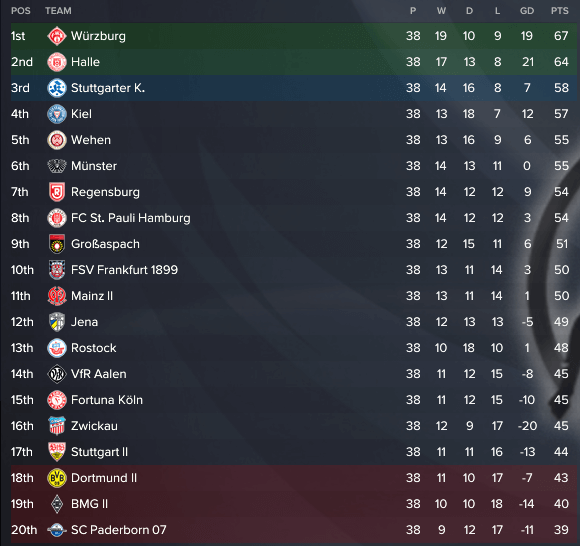 Amazingly, none of my current first team squad are out of contract this summer.
Considering we have a II's side, a youth side and a 3rd and 4th XI, I will need to spend a lot of time looking at the entire playing staff and deciding a plan of action.
Right now, I am leaning towards minimal change. Nine games at the end of a season, under pressure, doesn't tell me much truth. It does tell me who has character when needed, but I cannot get a real feel for how someone might do over the course of a full season when you come in like that.
With Jagiello heading back to Atletico, I do need a new left winger if I play the same way. That's hardly an extensive recruitment list! Mind you, I am not really used to being able to actually buy players, so it is probably wise I ease my way in slowly.
I'm already setting targets in my mind – I am thinking top half minimum next season, though a run at Europe would be nice. Plus, I get to play in the cup!
OK Hamburg, you are growing on me…