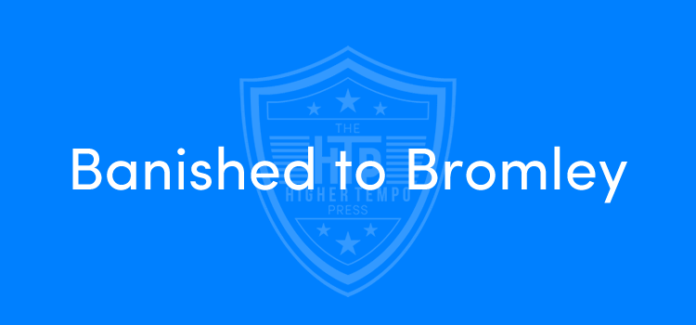 We start this episode with a F.A. Cup 4th Qualifying Round draw before our next home game against Woking, the team we were eventually drawn to play in 2 weeks' time. But today we face them in the National League in a bid to extend the winning run to 4 games. 20 minutes into the game everything was looking on track as Elford-Alliyu grabbed his 3rd goal in 4 games with an instinctive half volley on the edge of the box. However, failing to kill games off came back to haunt us again as Woking's Gozie Ugwu reacted first to volley home a cross to score his 10th goal of the season and seeing the match end in a draw dropping us down to 8th place and Woking to 9th. However, the draw wasn't all bad as it meant that we equalled our 6 game unbeaten run from earlier in the season also picking up 3 wins and 3 draws like last time.
Next up was 3rd placed Lincoln City who would prove to be a difficult proposition to finally reach that 7 game unbeaten mark. Ben May was making his 3rd straight start next to Elford-Alliyu as a target man and I was hoping he could repay my faith but unfortunately that wasn't the case. Centre backs Ben Chorley and Jack Holland had good games making 27 and 24 interceptions respectively but 2 lapses in concentration allowed Lincoln to cut the unbeaten run to 6 again with two quick fire goals. Luckily though with other results going in our favour we only dropped down 1 place to 9th.
Another piece a good news dropped in my inbox after the game as after starting a few games Louis Dennis the inside forward has finally come around and decided to stay at the club.
However, with the signing of Torres finances at the club have started to drop off a tad with the player earning £850 a week, the second highest at the club. Looking around the squad for some deadwood I found some in a young Jordan Higgs who has a worth of £18.75K which could really help us out at the moment seeing as he's yet to make an appearance for the squad.
There was even more bad news which this time was a bit more familiar as Tobi Sho-Silva picked up another injury. Playing in under 23's games he was beginning to pick up some match sharpness but according to assistant manager Mark Hammond a heavy challenge which caused the striker to damage his spine leaving him out of action for 7-8 months. On the brightside though as his treatment with the physios won't cost a penny in a period that I'll be trying to balance the books.
But now it's time for the first F.A. Cup game of the season against Woking. Much to my frustration the first half didn't go to plan at all, with goalkeeper Flitney keeping us in the game with 2-3 great saves before the deadlock was finally broken from a corner just before half time. For the first time in this save I decided to opt for a bit of a tactical change, moving away from the usual attacking 4-4-2 and adopting Hammond's 4-1-2-3, dropping Lee Minshull in front of the back four and giving Torres a rest for Thomas O'Connor who thrived once on the pitch, registering an assist for Elford-Alliyu instantly for his 7th goal of the season. Even though the new formation was working well we fell behind to yet another Ugwu goal, though this time it was from a free kick which arrowed into the top corner and knocked us up of the cup.
So without a winning in this episode I'll be looking to embrace the new tactics to see how they fare in recent weeks.