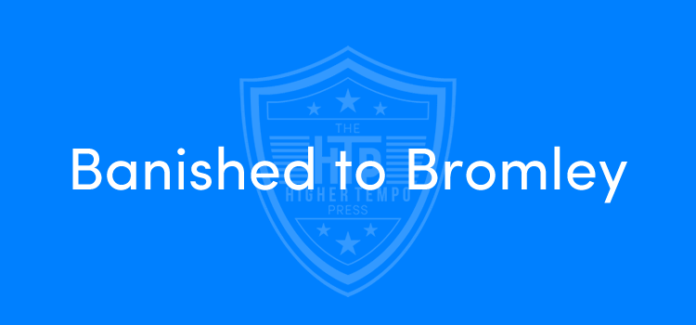 Today we take Bromley to Gloucestershire, where in real life I live during Uni times, to play a 7th placed Forest Green Rovers. Going into the match we were only two points off them so a win could help catapult our season into a top half finishing one.
After impressing against Maidstone new signing Sergio Torres made his way back into a starting side which has hardly been fiddled with so far. Starting to get integrated with the team it showed that Torres was making an impact, with him always being available for the ball it made it much easier for the side to retain possession and this was exemplified in the only goal of the game. The result of an 11 pass move which saw Torres make 4 of the passes before Bradley Goldberg laid the ball off to Elford-Alliyu just outside the box who curved a shot from range into the top corner to make it 1-0 with his 4th goal of the season for his new club. Thankfully today we were able to hold onto the lead despite a late barrage of pressure from the home team ensuring we moved up to 9th place, leapfrogging Forest Green in the process.
As a result of not really rotating a side who hasn't done much wrong, it was made clear to me in the run in to the next game against Dagenham & Redbridge that one player, in particular, wasn't happy about his lack of game time. That player being winger Louis Dennis, a player who usually comes on a sub. Being asked about whether he would start soon seemed to be a bit of a stupid question to come my way to which I replied "he'll have to earn his place" but I guess I could give him a chance soon.
However, this week wasn't Dennis' chance to start as I looked to build some momentum on the previous game. So Torres started in midfield again as well as Turgott and Martin staying out on the wings. It wasn't too long before the deadlock was broken by Elford-Alliyu and what a signing he is proving to be on a free transfer netting his 5th of the season. The goal came from a corner which found him on the edge of the box where he blasted a half-volley home with ease. Goldberg almost made it two about 10 minutes later but failed to make the most of a one on one situation with the keeper as skewered his shot wide. Other than that chance nothing else really happened in the match other than us controlling the lead along with Dennis coming on a bit earlier than usual to keep him happy.
Moving into October now and I was met with another pleasant surprise in my inbox, a message saying that Lateef Elford-Alliyu came third in the Vanarama National League goal of the month award for his goal against Forest Green.
In other news, we also had our first game of the month to play against Southport where we could stretch our record to three wins in a row. The game saw me make a few changes to the side as I brought in Louis Dennis to the starting 11 alongside striker Ben May, which I almost instantly regretted as I watched from the sidelines as May had a penalty saved inside the first few minutes. Unfortunately, Elford-Alliyu couldn't replicate his recent form in front of goal but Ben May did redeem himself later in the match. After some time knocking the ball about the striker laid the ball off for an onrushing Torres who lashed the ball into the top corner from about 25 yards to make it 3 1-0 wins in a row and put us in 6th place… George Graham who…?
The three-game win streak wasn't the only positive of the episode as there was an unexpected player making his competitive debut for the club. Passed fit to play 45 minutes in the week Tobi Sho-Silva came on for a 15-minute cameo at the end of the game to get some match sharpness before he can start games.