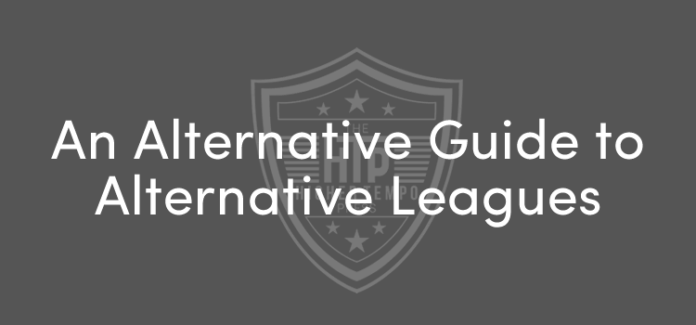 We move up further north in the Americas as I introduce you to Mexican football and the Liga MX in Football Manager. The Liga MX is a very competitive league with a lot more resources than South America. The league has 18 teams and is also divided into two parts. The eight best teams from the opening stage play against each other in a seeded playoff system. Ultimately, the winner of these playoffs wins the opening stage. The same goes for the closing stage, where the winner gets decided via a league-based playoff system.
Relegation is also a bit different in Mexico as it will be decided via an average point system. If you have the lowest amount of points over the last 3 seasons or last 6 stages, you will get relegated to the second division. It may sound a bit confusing but it will all be clear ones you get going. If you still have any doubts about the setup or your chances for continental football you can always check out the 'rules' page. This can easily be found under the 'overview' section.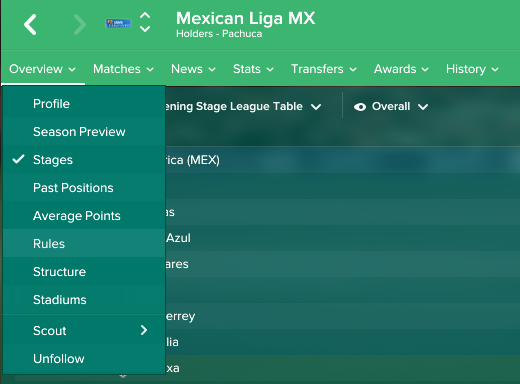 NACL
The winners of these playoffs will qualify for the North American version of the Champions league, the NACL. This competition is mainly dominated by Mexican sides and when you get past the group stage you will most likely face a side from either the MLS or the Liga MX. There's a nice price for winning the NACL: Qualification for the World Cup for Clubs. Who wouldn't like to play or even beat a European giant in the final?
The Mexican-born rule
The Mexican football federation has implemented a rule to improve the quality of home-grown talent. There need to be at least 8 Mexican-born players in your match squad. The new registration rule will make a distinction between players who are born in Mexico and naturalised Mexicans. It only takes two years to get a Mexican passport and because of that the clubs could sign more foreigners after those two years. However, these players will now still be counted as a foreigner.
I've lined up 4 tips for to help you out with this rule
Using your youth setup will be more important than ever before. 8 Mexican –born players may not seem a lot, but you will have to start some of them in your starting XI. There is a U18 side, a U20 side and a 'B' team. You need to make sure that none of them is playing on a level that's too low for their capabilities. Playing them against better teams will help them improve their stats and make them ready for the first team.
These Mexican-born players have a lot of value. Especially if they are wanted by other sides from the Liga MX. There's a lot of demand for high-quality Mexican-Born players as other teams will also need to select these 8 players. Make sure you don't sell them for peanuts!
Use them! You need to expose the talented players to first team football and the Mexican Cup or the NACL are perfect competitions to do so. The group stage in the NACL is a fairly easy one as you will most likely face teams from smaller countries like Jamaica, El Salvador or Honduras. A perfect opportunity to rotate the side and use some of these youngsters!
You can always loan them out if you think one of your players is ready for some Liga MX football. Some of the smaller sides will be happy to take one of your youngsters if it helps them towards the registration rule. It also works the other way around. If you are one of those smaller clubs and are struggling to find some quality Mexican-Born players, check out the big teams! There is a big chance that someone from Tigres, America or even Guadalajara will fit your criteria!
Foreigners
Managing in Mexico isn't only about training and selecting Mexican-born players. There is plenty of space for some foreigners. However, you must make sure these foreigners really add something and are better than some of the Mexican players in your squad. Also, I can highly recommend checking your youth setup first before you send your scouts to Argentina or Brazil.
But if you do send them…
Take a look in Colombia! Colombia has a lot of talent and player prices aren't as high as they are in Brazil or Argentina. There can be found some real bargains over there, especially if you are a bit further in your save. Uruguay, Paraguay, Peru or Ecuador are also really good nations, especially for newgens.
I can also highly recommend to scout the continental competitions, mainly the Copa Libertadores. The best players in the South American continent face each other in this tournament, the perfect competition to find your next star!
Recommendations
Chivas (Guadalajara)
Just like Bilbao from Spain, Chivas also have their own unique policy as they are allowed to only sign and field Mexican players. They are one of the better sides in the country and are always after the best Mexican players. They've got excellent training facilities and extensive youth recruitment. This will help you with their policy as they heavily focus on their youth. Could be an interesting team if you are looking for a club and country save!
Club America
America has a fierce rivalry with Chivas and have never been relegated to the second division. They are not only one of the strongest sides in the country but also the most hated one. The Estadio Azteca can hold up to 87.000 fans, who wouldn't want to manage there? They have got some great players already and can immediately challenge for the title. There is pressure, though. Have you got the skills to please the fans and bring them the much wanted silverware?
FC Juarez
FC Juarez starts out in the 2nd tier and are based in Ciudad de Juarez, just below the US-border. Ciudad de Juarez is the centre of drug trafficking and the former murder capital of the world, averaging almost 10 homicides a day in 2010. The club has helped the city and their people a lot since 2010 but the drug war is still going on. Can you bring the people of Juarez hope to live on? Hope for a better life? Dominating with FC Juarez would be quite the story!.
To sum it all up Mexico is a very enjoyable nation to manage in. The league is competitive, there is a chance for continental silverware and there are some really talented players. Take a look at some of the teams and players and see what interests you. I can assure you one thing, you will love it in Mexico!