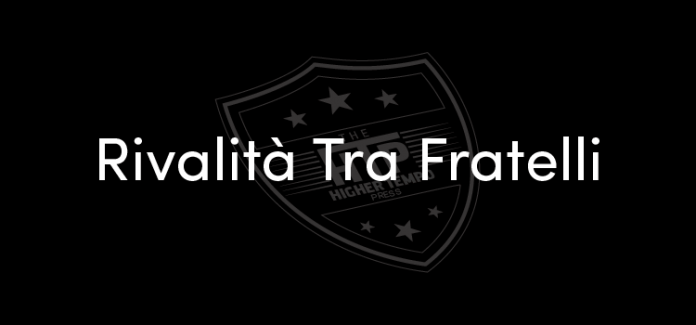 This is the story of two brothers, a modern-day Cain versus Abel if you will, based in the northern powerhouse Italian city of Milan. If you'd like to replicate this challenge, we're using the updated medium database with the following leagues: England (Premier League, Championship, League One & League Two), Italy (Serie A & Serie B), Spain (La Liga & Segunda División), France (Ligue 1 & Ligue 2) and Germany (Bundesliga & 2. Bundesliga).
Rivalità Tra Fratelli – #WeAreTheRivals, Episode 12
MIKE: You may recall that several episodes ago, Charlie Tango was awarded a brand new spanking shiny contract with Inter Milan. It was a two-year extension until 2019 with a basic wage of £38,000. Impressive you might think, considering that he hasn't actually won anything yet with the Nerazzurri. You may also recall that my wonder kid Gigi Donnarumma reminded the AC Milan board in the last instalment that I was rather deserving. I don't want to get all phallic-symbolism about this, but the fact remains that mine is bigger.
Thank you to Messrs Li and Berlusconi for a new contract which is longer and better paid than my rival. £49,000 a week and it'll last until 2020. Add that to the silverware I've already claimed and we can all see who is winning this challenge. I celebrate by offering Honda Jazz a new one-year deal.
That's all before we even glance at the league table. Charlie is floundering here. We can even secure a place in the next season's Europa League with a win over nineteenth place Crotone. It's not exactly a milestone worth celebrating but I want it. I want it like a ginger needs shade in this heat. The last time we played these boys destined for Serie B, they played a very defensive 3-4-3 and we won 2 – 0 thanks to the Dogs of War. Seems appropriate to use it again with a few big names rested. Montolivo, Rooney and Romagnoli can have a rest.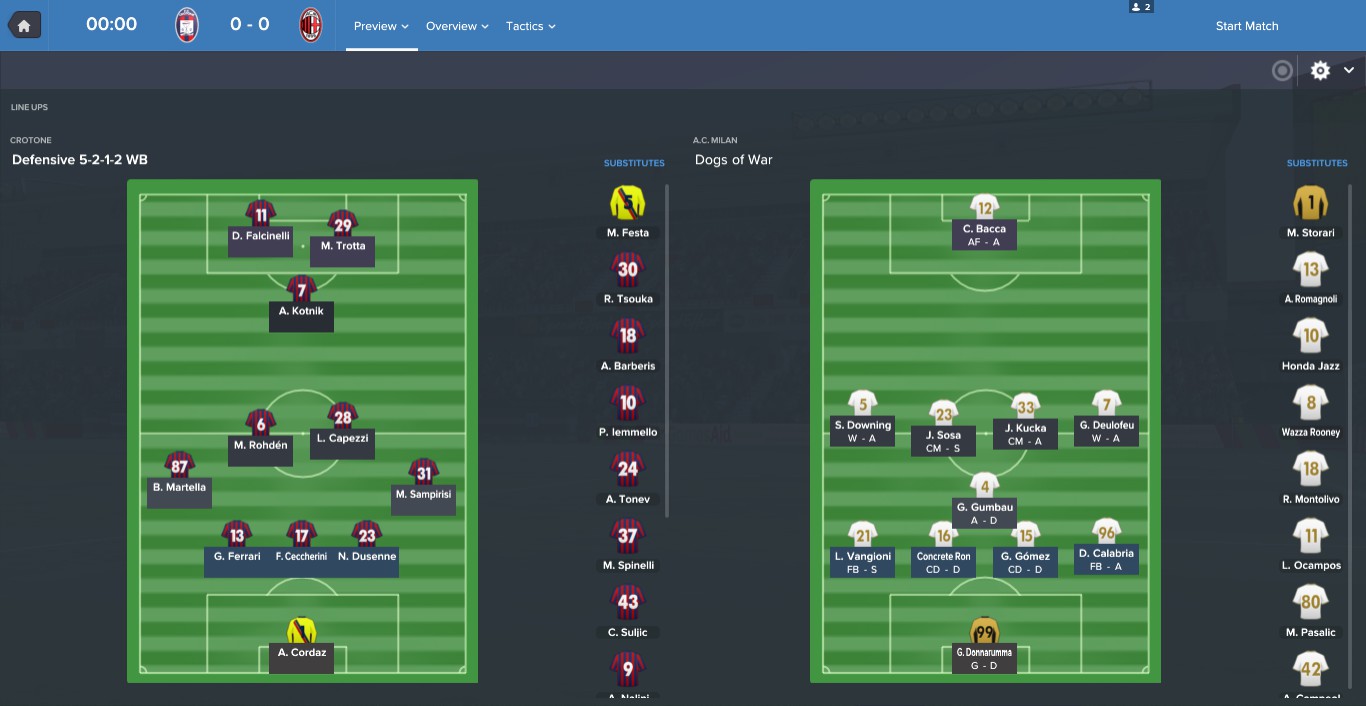 Crotone's defensive 5-2-1-2 (WB) is unexpected but no matter, we should have this in the bag. I shall compensate with an increased attacking philosophy.
The first half sees seven cautions. SEVEN. Five for Crotone, two for us. Luckily one of those bookings is for Sampirisi as he concedes a penalty by fouling Concrete Ron in the box at a free-kick. Bacca stutter steps in his run up before placing the ball just above the goalkeeper's left glove.
At half time I withdraw Sosa, one of the cautioned players and would you believe it that the one I left on the pitch, Concrete Ron himself, gets himself bloody sent off. Ocampus is on a one-man mission to prove that I should be starting him and goes on three mazy runs in succession, the third results in a delicate chip to the far post and it sneaks in. 2 – 0 becomes 2 – 1 as Crotone get a goal back, slack marking by sub Romagnoli. I expected better when I sacrificed Kucka for him.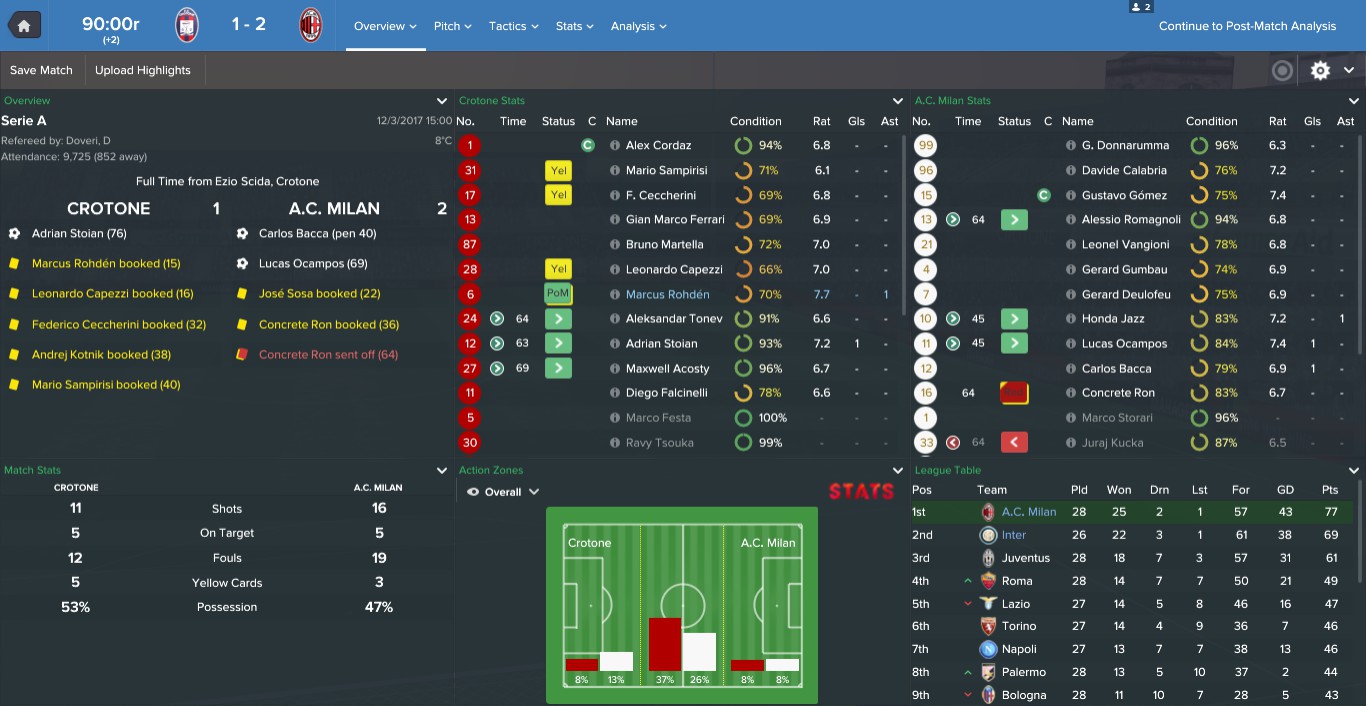 CHARLIE: AC Milan have now won 13 games in succession in Serie A. I really do need them to start slipping up while winning all of my own games but it's not happening. I am more than a little pleased that AC's next task is to welcome Juventus but looking at the table the Old Lady are eight points behind me having played two more fixtures.
With one eye on West Ham in the second leg of the Europa League, Miranda takes a game off and De Ligt replaces him. I've gone back to the Skewer formation but with the possibility of introducing our inverted wing-backs should things go awry. The other dilemma is Icardi. What do I do with him? I genuinely don't know if it's better to drop him and give Barbosa a game or persist until he cracks in a hat-trick. He can stay in but only for 45 minutes so he's fresh for the Thames Ironworks.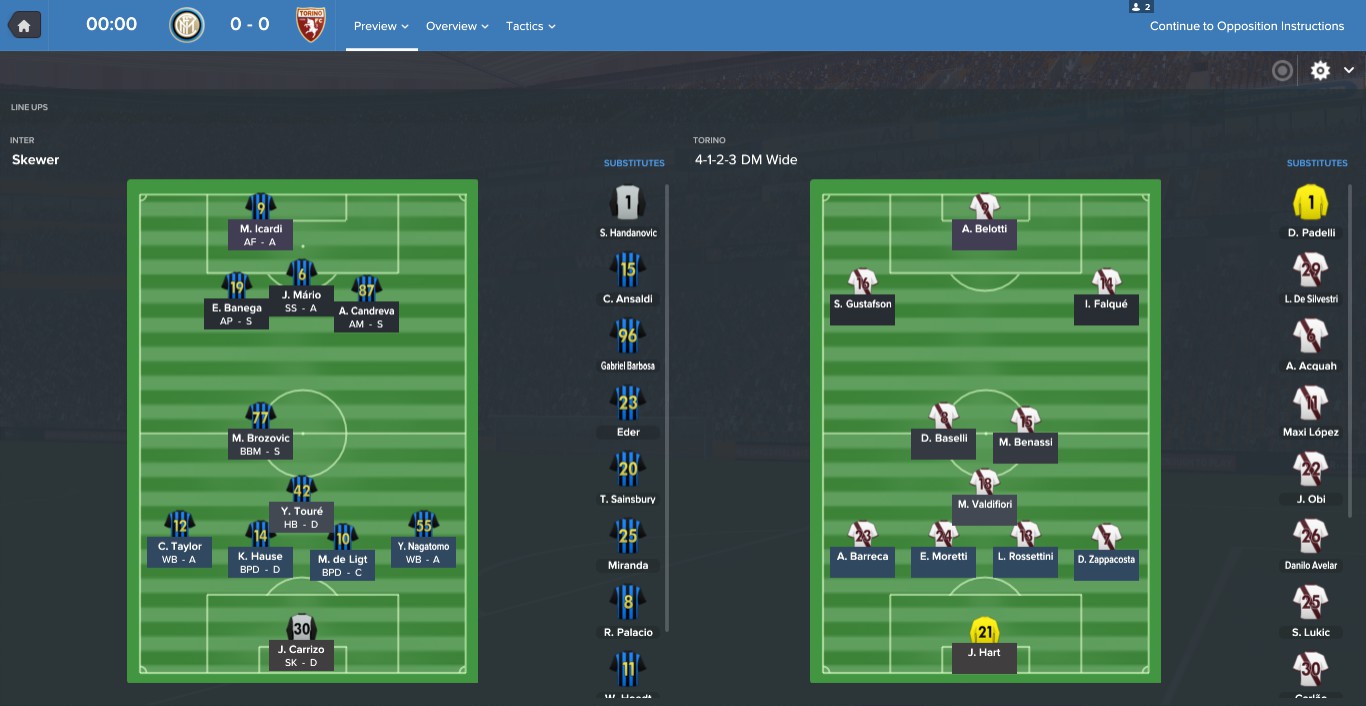 A Joe Hart mistake, dropping the ball at a corner sees Charlie Taylor smash the ball home. We have another red card as Iago Falqué picked up two niggly bookings for Torino within three minutes of each other in the first half.
From there Charlie Taylor pops up in an advanced position, which he shouldn't have been in, to hit a long range goal and there was a first appearance of the season for Ollie Watkins, who we signed in the January transfer window and sent back on loan to Exeter before he picked up a dislocated shoulder. He's now only just fit and raring to go.
I know what you're thinking, that was all overwhelmingly positive. Where's the negative? Icardi was complete dog turd again and remained firmly in the changing room at half-time. He really is becoming a problem, as is Ever Banega who just won't react positively to any of my team talks.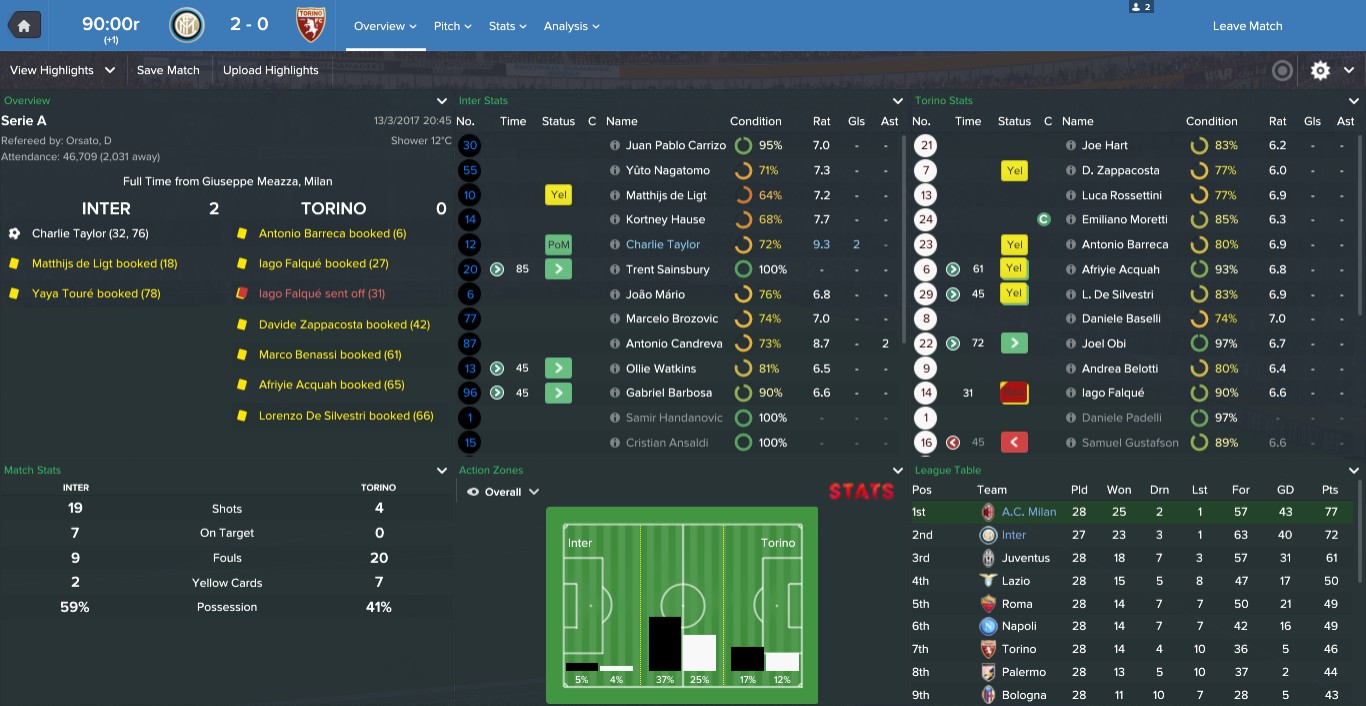 I just want to highlight Iago Falqué's career having looked into him. He trained at Barcelona, played for Barcelona B, went to Juventus and despite being only 27 has signed for no less than 11 clubs including Tottenham, Southampton and Roma. He's only made 180 appearances though but looks to be a regular with Torino this season. That's some career. All those great players he shared a dressing room with. All that is interrupted by a chortle from over my shoulder. "Allegri sacked."
And he's right, poor Massimiliano Allegri has been cruelly sacked by Juventus with the club in third place. Not fourth, fifth or sixth… THIRD. Unbelievable, Jeff. I did note that following our Torino win they are equidistant away from both us in second and Lazio in fourth, 11 points the difference. It's further 5 to AC Milan at the top.
Mike is irked. Not because he has some loyalty to the man (his feelings on other managers are well known), but because he'd rather play a struggling team under an insecure manager than a highly motivated team with something to prove to whoever Allegri's replacement is.
Juventus isn't the only big job on the market either. Napoli have dispensed with Maurizio Sarri, Paul Clement didn't last at Swansea and a certain Luis Enrique is now signing on at the labour exchange following dismissal at the Barcelona. The job at the Camp Nou is tempting if nothing else to see if I get an interview.
With our Europa League exploits continuing, I am afforded the Football Manager equivalent of cricket's following on. We welcome Slav's West Ham United and the big decision has been made, Mauro Icardi is officially dropped. Kondogbia returns to defensive midfield to stiffen things up and Yaya Touré moves forward into an attacking midfield role that in real life he probably can't do anymore but in the game, he certainly can.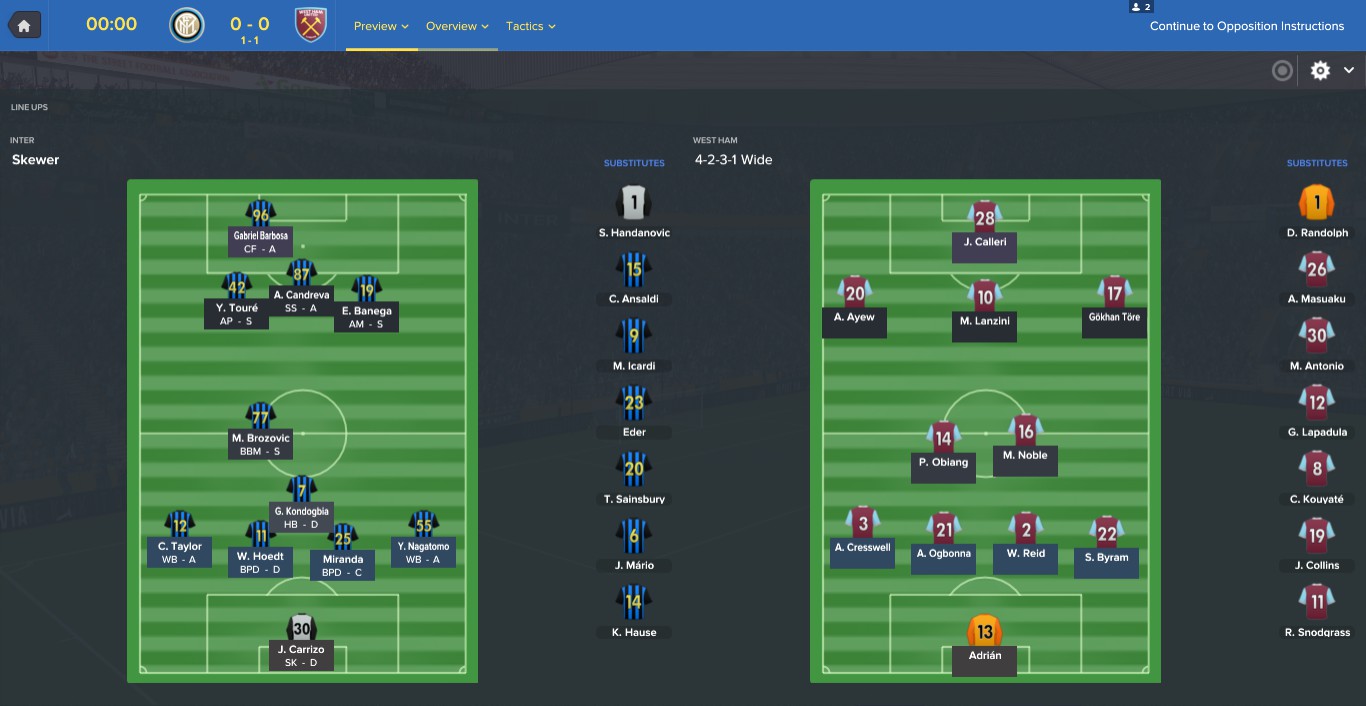 11 minutes and 28 seconds. That's the length of time it takes to confirm that Inter Milan will take their place in the next round of the Europa League.
Gabriel Barbosa, Icardi's replacement, opens the scoring after Candreva's through ball looks to be diverted back to the goalkeeper by Byrom thanks to pressure by Winston Reid but Barbosa is quicker than the ball, latches onto it and pokes it beyond Adrian. 1 minute and 25 seconds on the clock.
With the ball out on the left wing, Charlie Taylor plays in Barbosa, who gets his head down and motors to the byline. He crosses back for Yaya Touré to perform some sort of limb-defying starfish move to volley home. 5 minutes and 21 seconds on the clock.
Candreva steps up to a free-kick outside the area and as he has done so many times, just lofts it over the wall into the top corner. Wall didn't jump. Should have jumped. 11 minutes and 26 seconds on the clock.
Nothing else matters after that in a game dearth of West Ham highlights. It's all well and good transfer listing Andy Carroll and only having Michail Antonio on the bench but in hindsight, Slav could have used them. I keep getting told we concede more goals from crosses than anywhere else.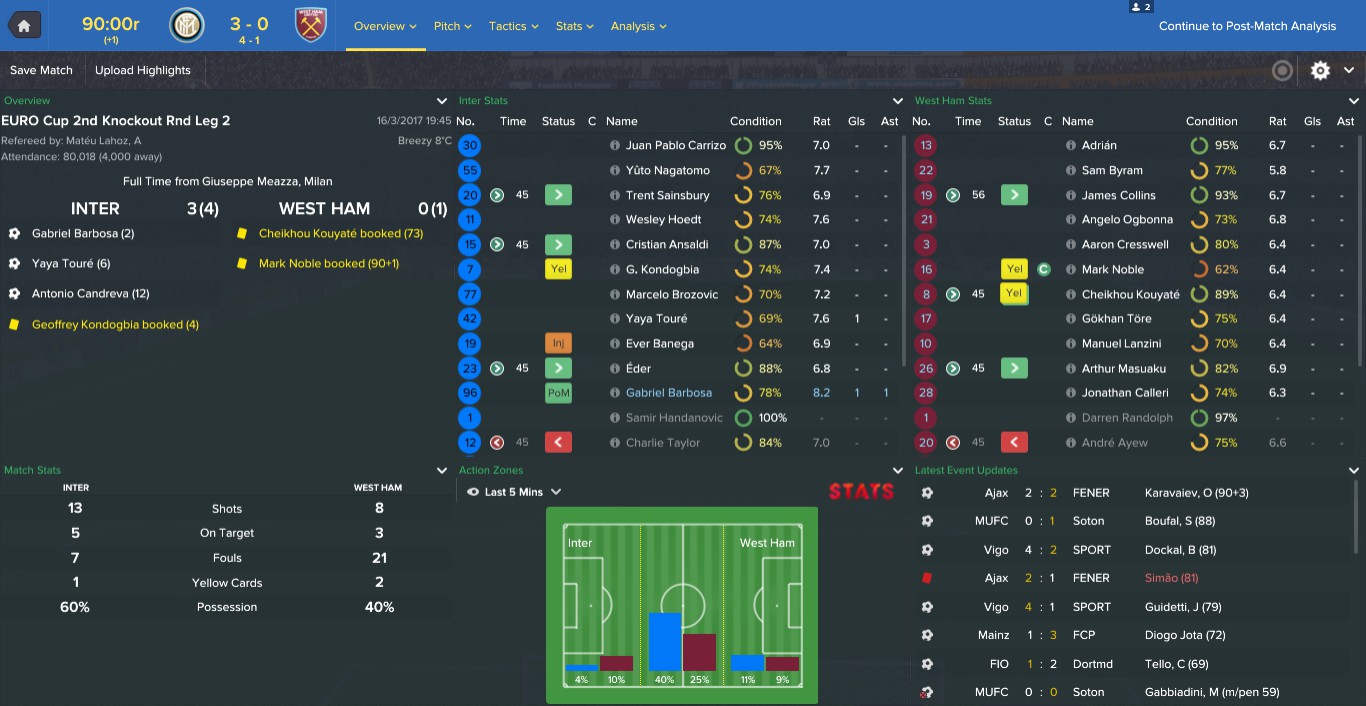 In terms of the draw for the quarter-final, I'd rather avoid Manchester United, Dortmund and Monaco. Ideally, I'll take Vigo or Bilbao. Who do we get? Celta Vigo. That'll ding-dang-do for me, as Mike is saying with alarming regularity.
MIKE: Somewhat worryingly the two Saturday fixtures result in four red cards. Only Roma managed to avoid the indignity of losing a man but even they could only draw with Cagliari. Juventus have interviewed Lucien Favre from Nice and out of work Guiseppe Iachini for their vacant job. Not exactly Mancini or Carlo Ancelotti, is it?
I'm cheered by news that I could break two AC Milan records. The number of wins stands at 28, we're currently on 25, and the number of points is 82, we have 77.
I'm getting this in here because the wisdom of FM has the kick-off time for AC Milan vs. Juventus at 20:45, meaning Inter play AGAIN before we do. Am I even still a Football Manager? Am I? One thing I should point out is that Charlie has actually applied for the Barcelona job. I doubt he'll confess that and he's been looking sheepish hoping that I don't notice. I have noticed. I notice everything. Except for the kick-off time before just this moment but alas… everything else.
CHARLIE: Chievo probably don't warrant the 'Classic José' formation on a counter attacking mentality but with points important, discretion may be the better part of valour at least until half time.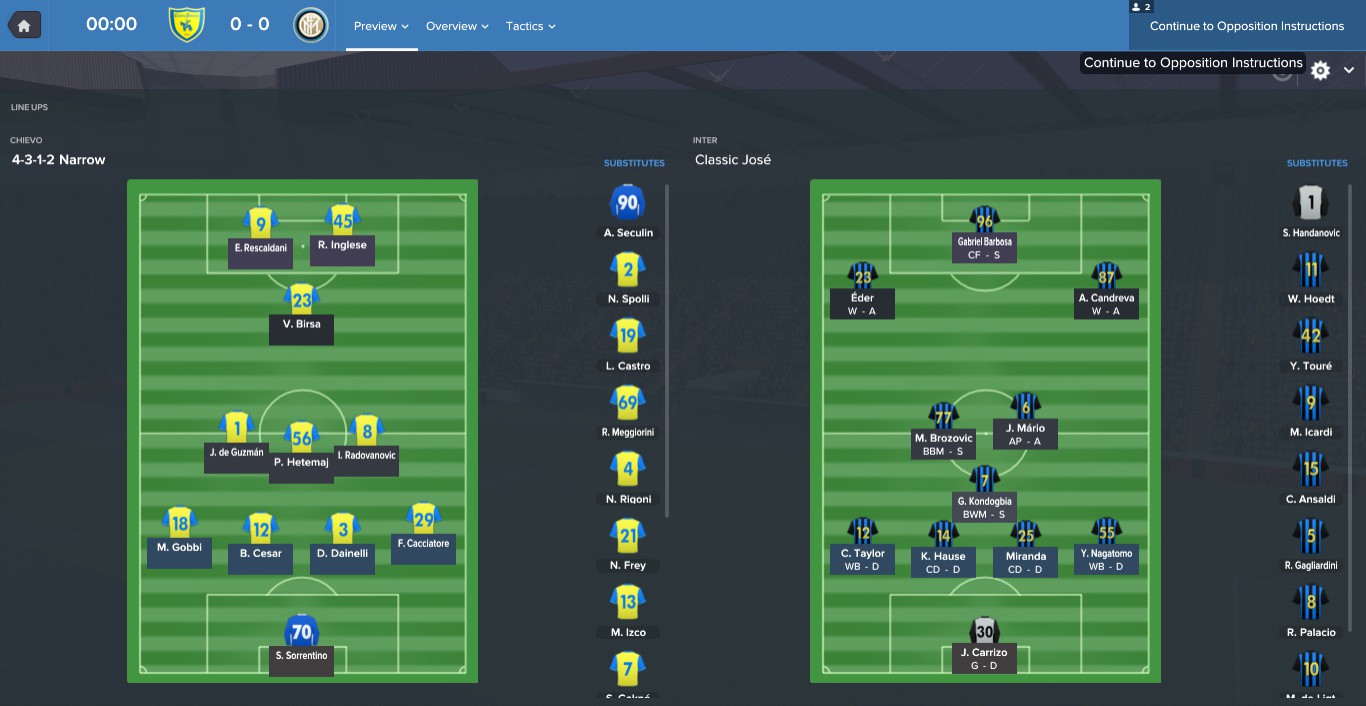 I don't know what happened there. I have been sitting open-mouthed for the entire game. It tops the 4 – 2 over Juventus as the maddest game of the season.
Cacciatore opens the scoring for Chievo and well done him, that was the first sign that things had gone awry. Barbosa equalised on 24 minutes, then Chievo get back into the lead straight from kick-off. I really am starting to cross into Mike territory of hate for kick-off highlights. We equalise again, Kondogbia this time. Just as I prepare to make my switch at half time to something more positive, Chievo bloody score. That bastard Roberto Inglese finds himself free of our defenders.
Yaya Touré comes on as a sub at the break, along with the experienced Palacio. Yaya doesn't let me down. He steps up to bring us level almost immediately. Obviously, we'll go on and claim all three points. Obviously, Ezequiel Rescaldani misread his script and pops Chievo back into the lead. We need a scruffy goal from Candreva, not a trademark free-kick this time, his 13th of the season to ensure we share the spoils.
One point gained, two points lost.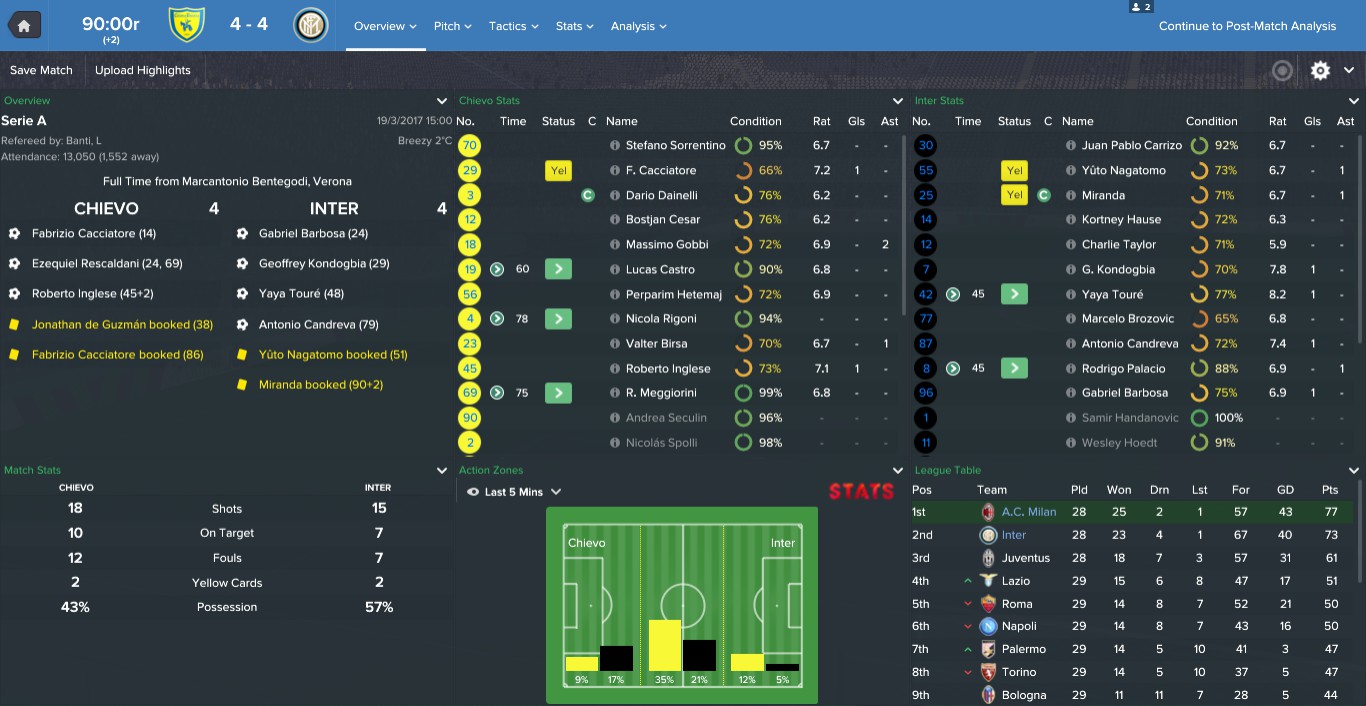 MIKE: In cricket, this game is referred to as a 'free hit'. We are four points clear of our city rivals and a whopping sixteen ahead of Juventus. Even if they win, thirteen is too much to make up with less than ten games remaining. No way am I going to lose five of those.
Wayne Rooney returns, as does Honda Jazz and Concrete Ron is suspended. I've got my feet up, whatever happens, nothing will be a problem.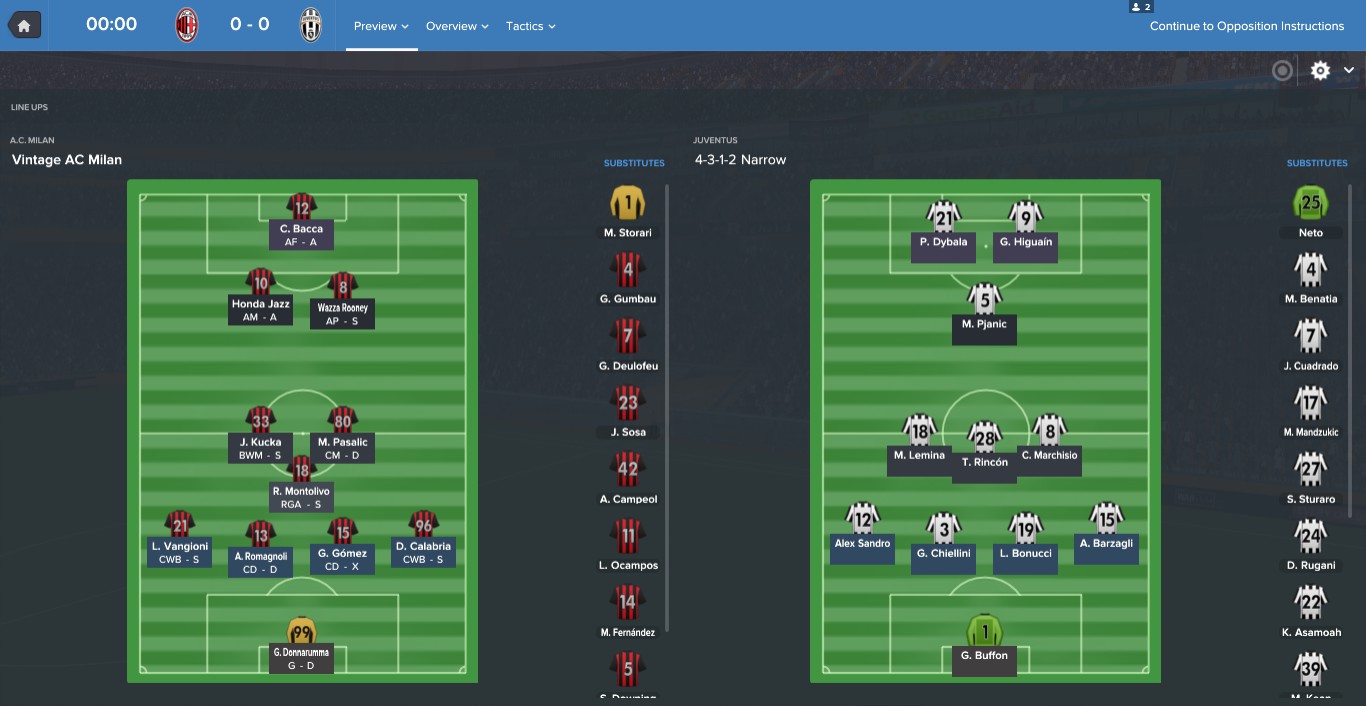 Thank goodness Juventus haven't yet appointed a new manager because there wasn't much to write home about on their end. Higuain does what Higuain does best and scores a tap-in after just 50 seconds, but Juventus have scored far too early. I know it, Charlie knows it and Wazza knows it. My feet do not leave the desk. There is no concern. I merely grab myself a can and crack open a cold one. It's Iron Bru but I think the point was made.
Pasalic brings us back into the game with a deflection from a hopeful strike and then Wayne Rooney scores the pick of the goals, stand and deliver on the edge of the area. A swivel and a little nudge of the ball gets him a yard of space. England's record goalscorer strikes low to Buffon's left, beating him. In the game, Buffon can't get into the Italy squad and it's rare to see him beaten at the near post.
I quite enjoy this style of management. I might even get a straw for my can from the girders. As an added bonus…
CHARLIE: As Mike celebrates Champion's League qualification and a budget of £20 million he wants to splash on Dimitri Payet (listed at £33 million so no chance) I do have a small victory of my own as Handanovic has withdrawn his protest at the lack of squad depth. Unlike my rival manager, I don't prolong grudges to the detriment of my team like he has done leaving Bacca with no viable replacement in the case of injury or fitness concerns. Handanovic will return between the sticks for our next fixture. (Ed: Or at least he would be had he not picked up a twisted knee.)
Interestingly, certainly for me, it seems the Juventus board have not been paying attention to @Brian_Gendo's superb YouTube videos, they have appointed Marcelino as their new boss. In Brian's video Marcelino tanked at Valencia, so it'll be fun to see how he does at Juve.
MIKE: We are one away from history. One win. It's not so much if as when now.
Wayne Rooney's goal against Juventus doesn't make it to the top three of March's goal of the month, although Inter had second (Candreva) and third (Yaya). Scandalous. None were worthy of beating Wazza's stand and deliver strike. Before we hit the second leg of our Italian Cup semi-final, each of us plays a league fixture. Ours is against Sassuolo, Romagnoli is suspended due to the totting up of yellow cards so Concrete Ron waltzes back into my team. Except, of course, he doesn't waltz. He doesn't know how to. He barges through the doorframe, headbutting it over and tramples on the broken shards of wood.
I want this over and done quickly so I can rest players. I'll be unleashing the Dogs of War on Sassuolo, with the intention of killing them off before half time.
They were not killed off before half-time, they weren't even slightly wounded. Not a thimble of blood to speak of. They were in front, as it happens.
A tepid and almost reluctant display sees Defrel put Sassuolo ahead, I hold my nerve taking off both Bacca and Deulofeu at half time before it takes Wazza Rooney in the 89th minute to salvage a point.
Bacca and Deulofeu better play bloody well against Inter because if that was a wasted pair of substitutions then I will be royally apoplectic.
CHARLIE: That was exactly what we needed, AC Milan dropping points in games they should be winning.
Icardi does not return to the starting eleven, my nerve holds as Gabriel Barbosa continues with Ansaldi coming in for Nagamoto. Having seen Mike make changes, I expect I'll do the same as we welcome Lazio to the San Siro. Ideally, I'd like to have another look at the strikerless formation or the 4-4-1-1 we tried in Europe but I suspect that Lazio are not the team to test that against.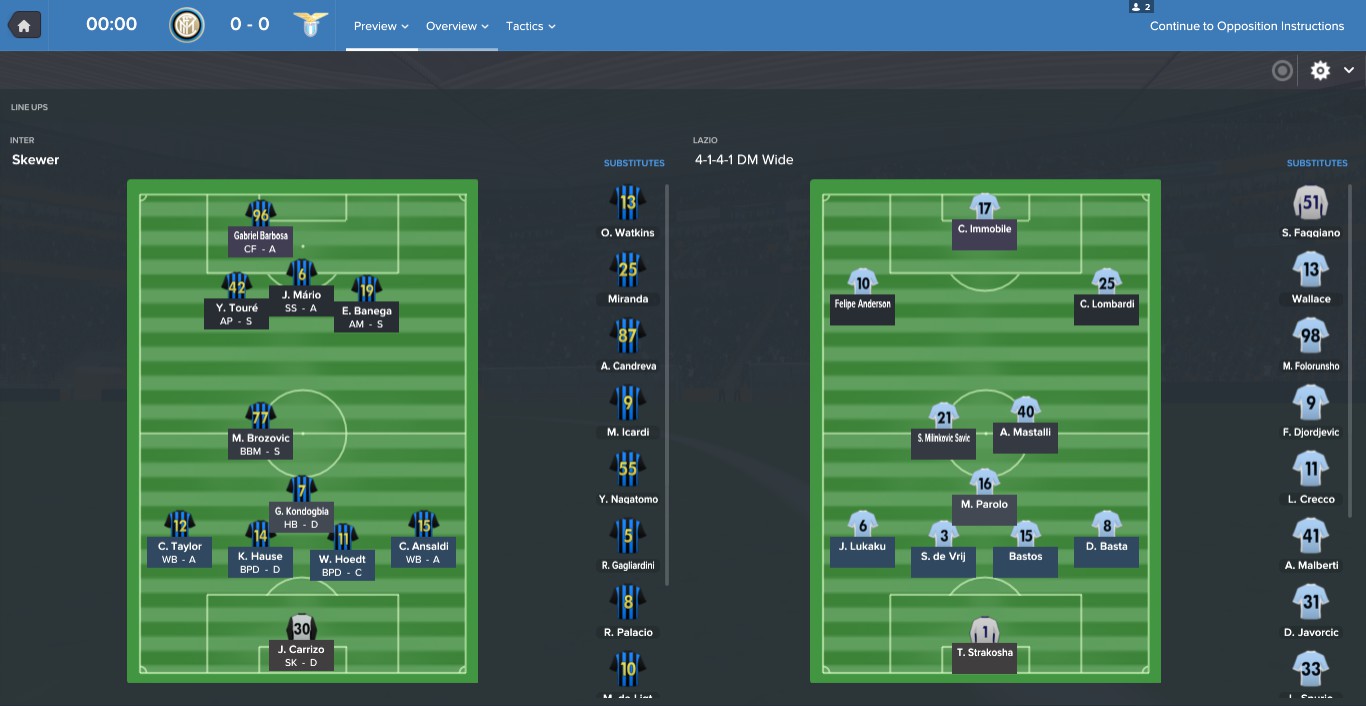 Turns out Lazio ARE the team to experiment against. After a safe 1 – 0 lead going into half-time thanks to a goal from the sharpshooting Barbosa, I switched to the strikerless tactic we used originally in one of the early European group games.
The result was quite startling. Quickly we score two pretty similar goals, Ever Banega runs onto a through pass and knocks it past a defender before shooting, João Mário does exactly the same just on the other side of the goalie. For João Mário's second, there are five attackers in the area. Five! Felipe Anderson gets one back before Ollie Watkins assists Brozovic.
I don't like strikerless tactics, I personally think it's a cheat and something match engine on FM18 needs to eradicate. But I can't deny this particular strikerless tactic might just work.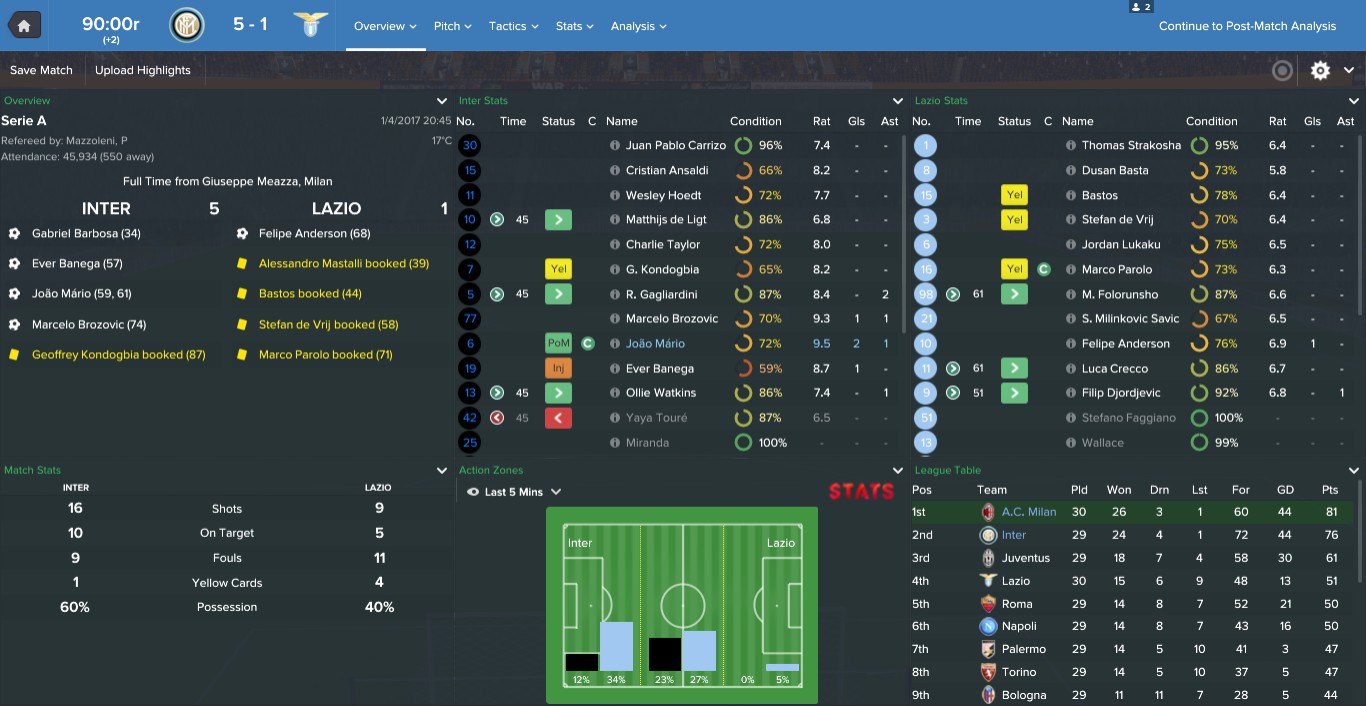 And with that, we've at least secured our place in next year's Europa League. That's not too shabby, is it?
MIKE: The last game of this episode, I'm told, is the second leg of the Italian Cup semi. Tactically, I'm wavering. Dogs of War only achieved that 1 – 1 draw with Sassuolo but #weareacmilan will be far too adventurous. Vintage AC Milan is all fine and well to keep it tight but we need a win here, we need goals.
With the memory of what I did to get the best out of Deulofeu, I'm trying the same with Wazza Rooney and Sosa, who has the best rating of the last five games. Those two sit in behind Carlos Bacca with Deulofeu and Downing running on from midfield. The two full backs are on defending to keep the shape.
CHARLIE: Strikerless. That's the way to go. A 4 – 1 scoreline against Lazio is enough to convince me along with Mauro Icardi's struggles. Not saying a lot this time, this matters.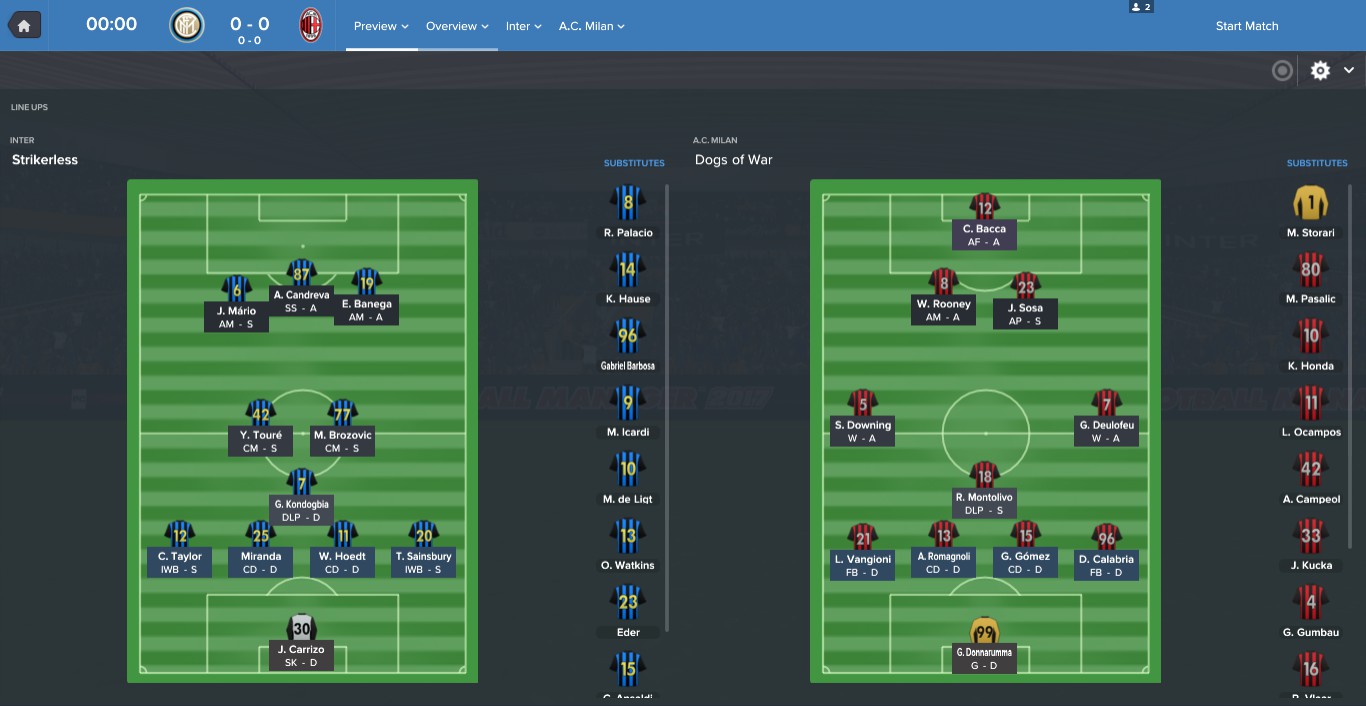 MIKE: I tried everything, I tried absolutely everything.
Candreva scored within five minutes, I wasn't overly worried. We always needed an away goal so one for Inter didn't matter. Then Brozovic scored two minutes later. I got worried very quickly.
I switched us to our Vintage formation. That led to Candreva scoring two in four minutes just after 30 minutes. Second half I went for it, #weareacmilan all the way… right up until Yaya scored on 63 minutes. I went asymmetrical, overloading one flank… nothing. Worse than nothing, João Mário added a sixth from the opposite side.
This is what humiliation feels like. It feels like somebody has taken a blunt sewing needle and shoved it through my upper ear. Did I change too much? Did the players get confused? Or secretly do they harbour discontent for my methods?
This is my… our… first loss since 28th November 2016 when we also lost to Inter, 2 – 1.
Words fail me.
CHARLIE: I don't know what to say. Inter Milan 6 AC Milan 0. An aggregate score of 6 – 0. Six. Nil. Six Nil. I feel… liberated. After chasing Mike's AC for what seems to be a very long time, this is the feeling I have been longing for.
I will upload the goals to YouTube to share them via the Twitter accounts.
This is our turning point. This is our Halifax moment (not the football team). From now on, we are on an upwards trajectory towards the trifecta of the Europa League, Italian Cup and Serie A.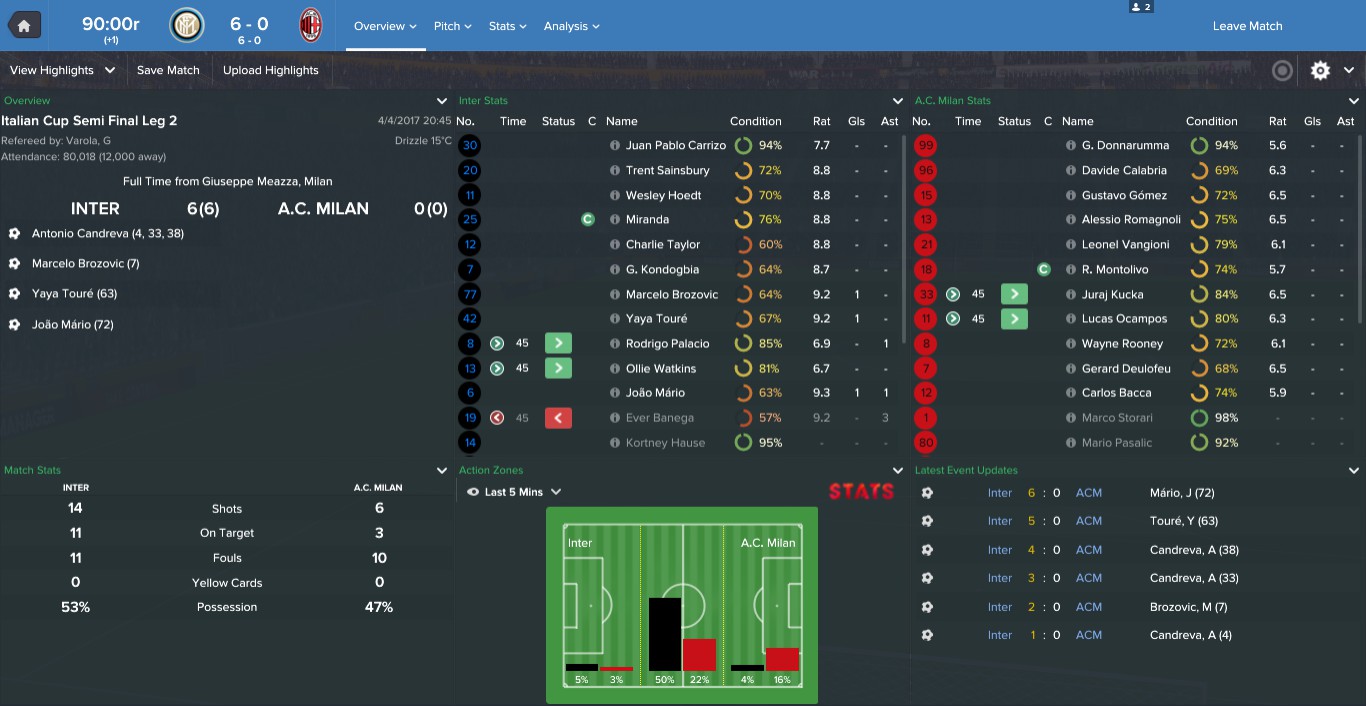 MIKE: I must win the league. The league will be mine.
Thank you for reading, join us on Twitter at @FM17Challenge, @CharlieTangoFM & @MikeTangoFM for exclusive comments, developments prior to episodes and reaction afterwards. Continued thanks to Chris and everyone at Tempo for the opportunity to share this with the readers.