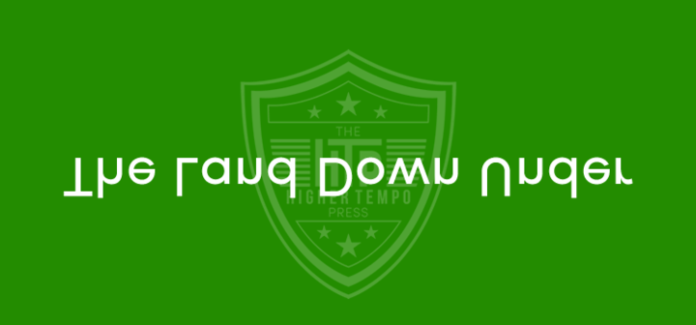 G'day, mate! We've returned once again to the Central Coast and the Mariners for another update.
As I said in the previous post it was a toss-up on whether or not I'd do transfers at the end of January or an update nearer to the end of the season first. I've opted for the former. What were the odds on that? Not even online betting could have told you!
Previously, I came to realise that some teams don't have the ability to play like Pep G's Manchester City, as much as that stinks to say. In my quest to learn about different tactical approaches to the game, I'm looking at a strikerless tactic that's a lot more structured than Guido's usual fluid strikerless tactics. It's been a night and day difference in how our team performs since we're now more structured and players have specific orders now on what they can and can't do and a lot less room to decide on their own, which is a strength for a weaker team like mine.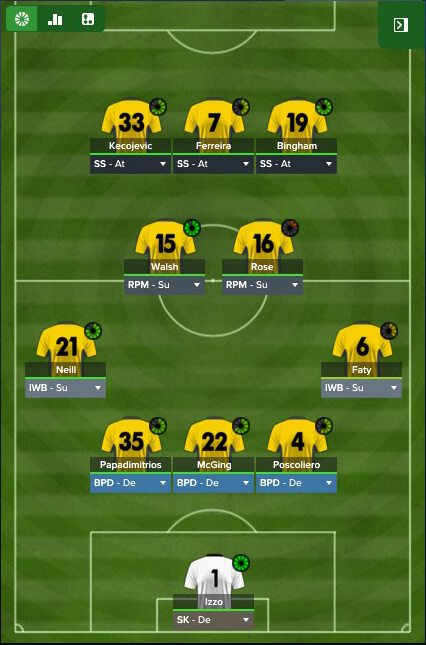 This is the new line-up we're using. Many positions I previously thought important are gone, and we're playing with a back three and two forward inverted wingbacks, which is interesting to me. It does make for some good pressure in the middle to have the wingbacks cut in with the RPMs and the shadow strikers, which has led to some good defensive moves and counter attacks.
You might have noticed we have a new name in the starting eleven that wasn't there before. Needless to say, this big change in tactical direction means that some new players needed to come in and old ones had to go. I've been using a lot of the same players, with Michael Neill and Jacques Faty moving forward and still being just as good in their duties as wingbacks under the new tactic, and Liam Walsh and Liam Rose doing just as well in midfield in the new roles. Each of the central midfielders has been getting specific training to become more competent as a roaming playmaker, and they are doing admirably despite the lack of inherent skill to the roles.
Shadow Strikers are a straight forward role, so no special training is needed, though I did need to look at bringing in people and retraining people to fill it, as it was a slot not used in the previous tactic.
Since starting with the new tactic, we have brought in three people and have moved out another several.
I'll do the outs first since those are easier. We were maxed out on the 23 players we could have on the team, so Pain, Powell, and O'Donovan have left the club because the winger and striker roles are surpluses to the requirements of this tactic. Rodrigo Alvim never really got on with the team and was an older backup option that I wasn't going to invest time in, so when he wanted to leave I just cancelled his registration and paid him off. Tavares was a great defensive midfielder, but also an ageing surplus.
On the ins, we bring in Nikolas Tsattalios as a wingback. He hasn't gone out yet with the team, but he's an option if Neill is unable to take the position himself.
Andy Kecojevic joins us on a free as well to take a role as one of the natural shadow strikers I wanted to be brought into the team, and he's making moves already, with a goal and several assists under his belt already. Doing as well as he is, I'm sure he could have a place here for some time. He's also being given the training needed to work as a roaming playmaker so that I can rotate him between the slots as needed.
The Central Coast Mariners have a partnership with Everton, so I've been receiving regular loan reports from them, which is what lead to this last major January transfer. Kieran Dowell will join us for the remainder of the season to be an option for one of the three shadow striker roles and as a potential roaming playmaker. Everton have done pretty solid with him from the looks of it, so he should be a good capture, I'd hope. He won't start with us for a couple of matches because he was dealing with a minor injury when I tossed Everton our loan offer, but the transfer and registration windows were ending, so I needed him on the books as soon as I could so I wouldn't lose the chance for him to join us.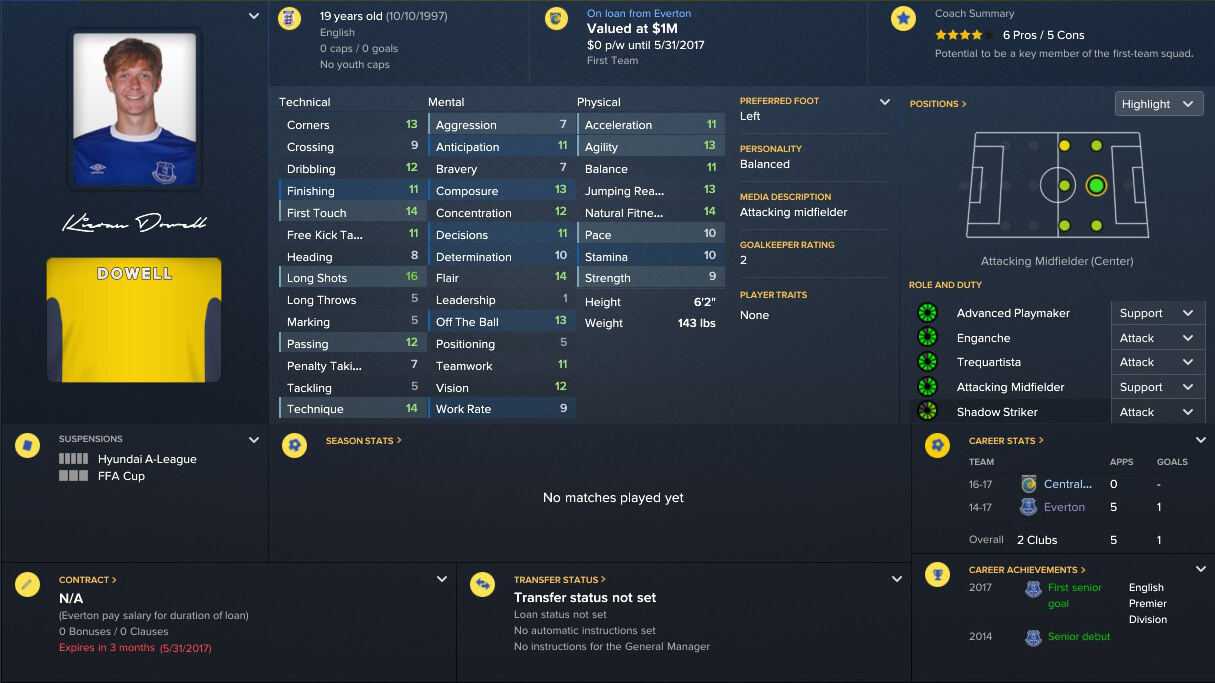 As for our fixtures, we've only had four since it's been a month since the last update, but they've been solid. Three wins and a draw to give us ten matches unbeaten.

TheDuke knows what to do when it comes to this strikerless tactic, and it's lead to some good results, including a win against Perth Glory! They've not been doing so great in the league, but they have always tossed us around so it was nice to invite them to Gosford and kick them around a bit in return.
The Sydney FC match was a highlight as well, notably because Graham Arnold is acting like a bit of a git and always slagging me in the press. I'm from America and those were fightin' words, so I told the lads to wait until I had Arnold distracted with a Mexican standoff and then slip one in the net while the Sky Blues were staring at me being a crazy Texan. Worked like a charm, since we got in three goals by the end!
Where does all of this leave us in the league?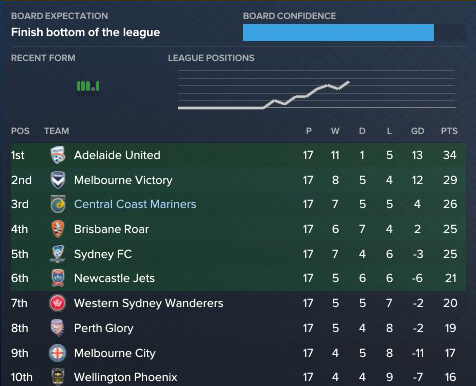 With all of our games in hand taken care of, we're sitting third in the league with 26 points! Phenomenal! We're only a point off from two other teams, and we've been doing a lot of fluctuating back and forth between places as we solidified our points tally, but it's still been a gradual climb, so that's nothing to complain about.
There are 27 regular season matches, so with ten to go we're now in the home stretch and looking to solidify a playoff spot. We're eight points behind Adelaide United, who are yet to give up their top position this season. I'm still only hoping to merely have a playoff spot, but it's entirely within our reach to stretch out and snag that top spot and defeat the defending champions of the A-League in what would be sure to be a major upset!
After these ten matches are wrapped up I'll return to cover the end of the regular season, and following that I'll go over the Finals Series once again and cover our playoff run and the end of season, assuming we don't bottle it at the last minute.