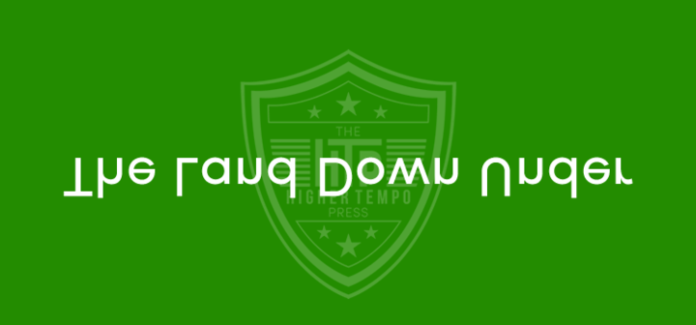 G'day, mate! Welcome back to Gosford, New South Wales and the Central Coast Mariners! I tried my best to think up some creative storytelling like some of the others do, but alas, I am not as great of a writer as they are. Are you ready to check up on our progress in the Australian A-League?
I had a rough start to the season, I'm not going to lie. We opened up the season with many losses and the occasional draw before I came to a realisation – as cool as it would be to hijack someone else's tactic and think CCM could play like Pep G's side, the fact of the matter is we're not of the quality of a Pep G team.
Let's take a glance back at our match schedule starting from where we left off at the Perth Glory season opener, and we'll go over what went wrong and what changed.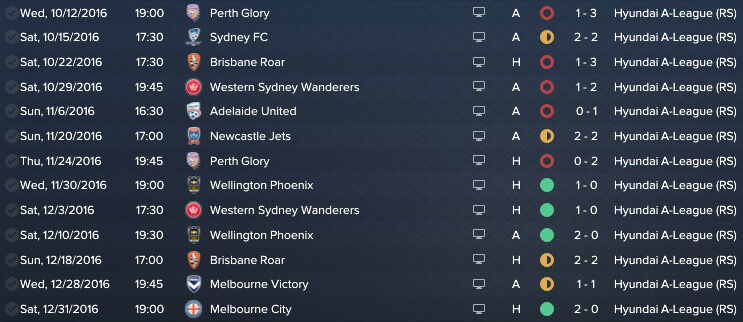 We started our preseason off against semi-professional and amateur sides as confidence builders, which lead me to become complacent and think that my not-so-thought-out decision to use such a free-flowing tactic was going to be alright in the A-League with my current set-up. That backfired.
While we dominated possession, we do not have the wonderful wingers or solid strikers needed to pop the ball into the box for a nicely delivered goal on a consistent basis, despite the high possession and shots on goal. Our team as a whole was not of the quality needed to allow so many players to just fluidly move around in a controlling, aggressive manner.
Mr Charlesworth was perfectly fine with our team sitting in last, so even seven matches into the season, he was fine with our situation. Well, I wasn't and something needed to change.
With a couple of days of rest between the third straight loss to Perth Glory and the Wellington Phoenix match, I made a switch in tactics. We're still playing with inverted wingbacks because they are pretty cool to watch and are tactically interesting, but we have some other broad changes. We're playing with them in a more forward manner with three central defenders, we've got two roaming playmakers up in the midfield, and three shadow strikers for a highly structured, containing strikerless play.
It's TheDuke's tactic from FM-Base, not my own design. I found it on accident when I was looking for general advice on tactics. I wanted to try something that played a bit more on the defensive side, but I needed to do some research on making tactics. A big fan of Guido's strikerless tactics, I have dabbled a bit myself to no success and was interested in anything strikerless. However, I have not seen a highly structured and containing one before, and I wanted to try something a bit different and see if a more structured and defensive approach would work. I had to give it a try.
When I was making the initial sales pitch to Chris Darwen, I mentioned in passing that I had a slight interest in strikerless tactics due to his success with the Argentine Strikerless. I want to experiment with different things further down the road and try my hand at creating my own strikerless tactic. This is something a little bit different for me to look at and analyse in my own quest to see if I can someday have an Australian Str-oi-kah-less (read that in your crappiest Steve Irwin accent) of my own design.
The most important thing about the tactic, as least as far as I care at the moment, is that it appears to be working soundly. Having the players given very clear instructions on what they can and can not do and getting them set for more structured play has been working a lot better for our team than allowing them free-flowing creative freedom. I wouldn't be shocked if someone better than me at Football Manager realised that long before I did, to be honest. But, I never said I was a successful manager, I just said I was an American head coach!
With this abrupt change in direction, we will, of course, need to look at some new signings. It's December 31, 2016, as I write this post. The summer transfer window will open in five days, and we will be looking around for depth in new positions and trying to move off surplus players, of which we've got a couple.
The strikers will, of course, be on their way out as soon as I can move them. Wingers are surplus to this tactic, and we've got our fair share on the books who weren't getting play time even under the Pep G tactic.
We're going to need depth to the WB/L and WB/R positions, though I'm retraining my young Storm Roux and Michael Neill to play in a forward inverted wingback position and Jacques Faty can already play that role. We just need to create depth at that position and have reasonably decent players to fill it.
We're going to need some good roaming playmakers, as well. None of the central midfielders I have are beyond ineffectual at the role, though they're doing well enough at the moment and are being given specific training to develop competency in the role.
Lastly, we're going to need some shadow strikers. We've only got a few central attacking midfielders, with no substitution depth, meaning I've been moving winger Connor Pain or a striker into that slot when I needed a reserve to sub in. Players are cross-training into the role, as with the other positions, but with the transfer window almost on us and more matches to play we're going to need to see what we can do to get a more immediate fix in place to the depth issue.
Now that I've said what I had to say on the tactical issue, let's take a look at the league table going into 2017.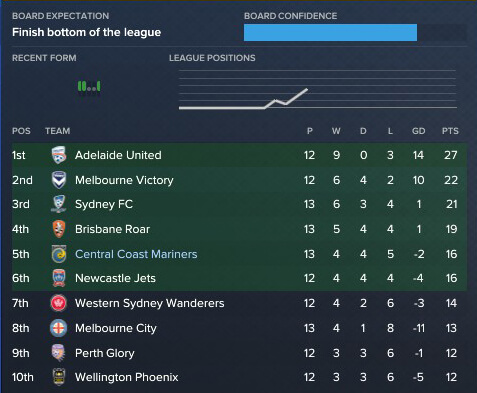 We have moved from bottom of the table to fifth place on goal difference. I don't think the win is realistic, though it's not impossible and anything could happen. I'm happy to take a mid-table place and finish in a position to build the squad over the summer to improve more. It's more of a surprise than anything that I made it so far up the table in a handful of matches. I was at the bottom of the table with two points when I finally hit my win streak, so I wasn't thinking I'd touch a playoff spot by the new year, even with a change in tactics.
As a minor point of interest, Melbourne City was predicted by the game and the media to finish in second, but are horribly underperforming. In fact, they were in last when the manager was fired after the Melbourne Victory match! Michael Valkanis was the first A-League manager to be canned in the save. The team hasn't been doing well at all, which must be a disappointment, seeing how they are funded by the same parent company that holds Manchester City.
It's actually not that odd as it seems for a team to either horribly overperform or underperform in the A-League on FM. With the salary caps imposed upon both the A-League and the American MLS, there's a parity in pay created that means one team can't ridiculously overspend on a winning side. This means other teams are able to work their way up to being able to compete with the other teams in the league, which I find to be more exciting than seeing the same couple of teams near the top each year.
The next update may or may not cover the summer transfer window specifically. It depends on how many players ultimately move in and out of the team and what I feel like at the moment.
There will definitely be something within the next twelve matches or so as we approach the end of the season. I'll go over what has happened in 2017 up to that point, and we'll look at what it could potentially look like if we hold onto our playoff spot coming to the end of the regular season.
I'm feeling optimistic, but just to be safe, let's cross our fingers that the good run of form can stick around for a while…