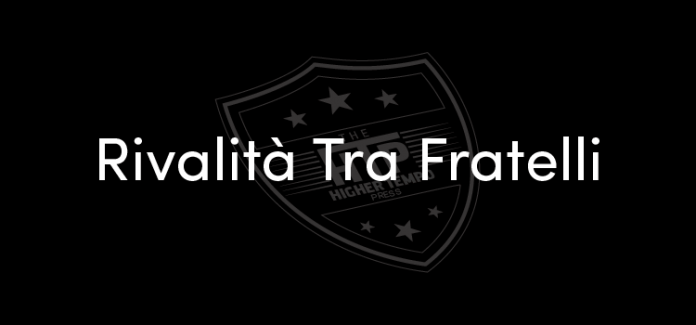 This is the story of two brothers, a modern-day Cain versus Abel if you will, based in the northern powerhouse Italian city of Milan. If you'd like to replicate this challenge, we're using the updated medium database with the following leagues: England (Premier League, Championship, League One & League Two), Italy (Serie A & Serie B), Spain (La Liga & Segunda División), France (Ligue 1 & Ligue 2) and Germany (Bundesliga & 2. Bundesliga).
Rivalità Tra Fratelli – #WeAreTheRivals, Episode 11
CHARLIE: Thankfully there is the Europa League first leg against Zenit to distract me from Chelsea fan polls indicating they want to sign Mauro Icardi and various squad members beginning to agree with Handanovic that we lack squad depth. Our Under 20's manager Stefano Vecchi is offered the Bari job, I'm happy to wish him the best of luck as he considers the offer.
De Ligt is ineligible having appeared for Ajax already in Europe this season so Hoedt makes an early return to the first team with Miranda only recommend for 60 minutes of action. Considering I'm being complained about for lack of options; Carrizo, Ansaldi, Brozovic and Barbosa all come in for a 4 – 1 triumph.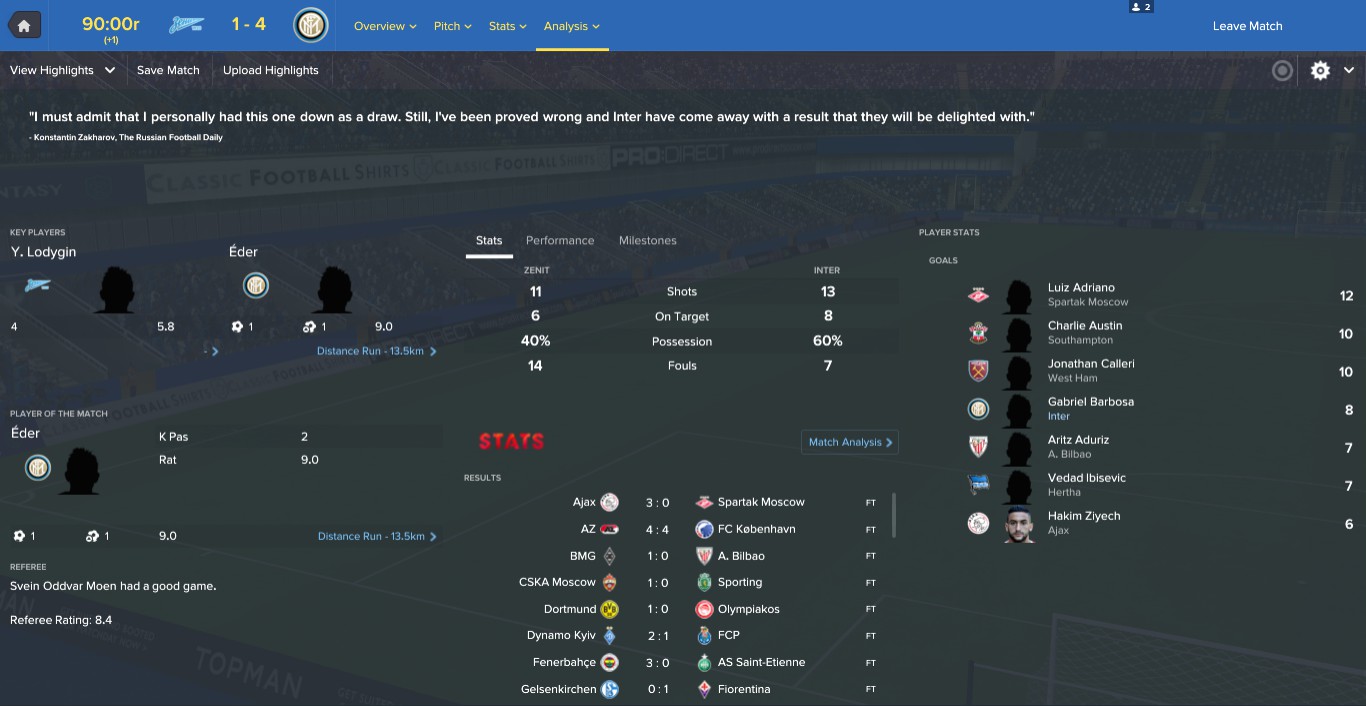 MIKE: You should know by now, I have no loyalty to any other manager.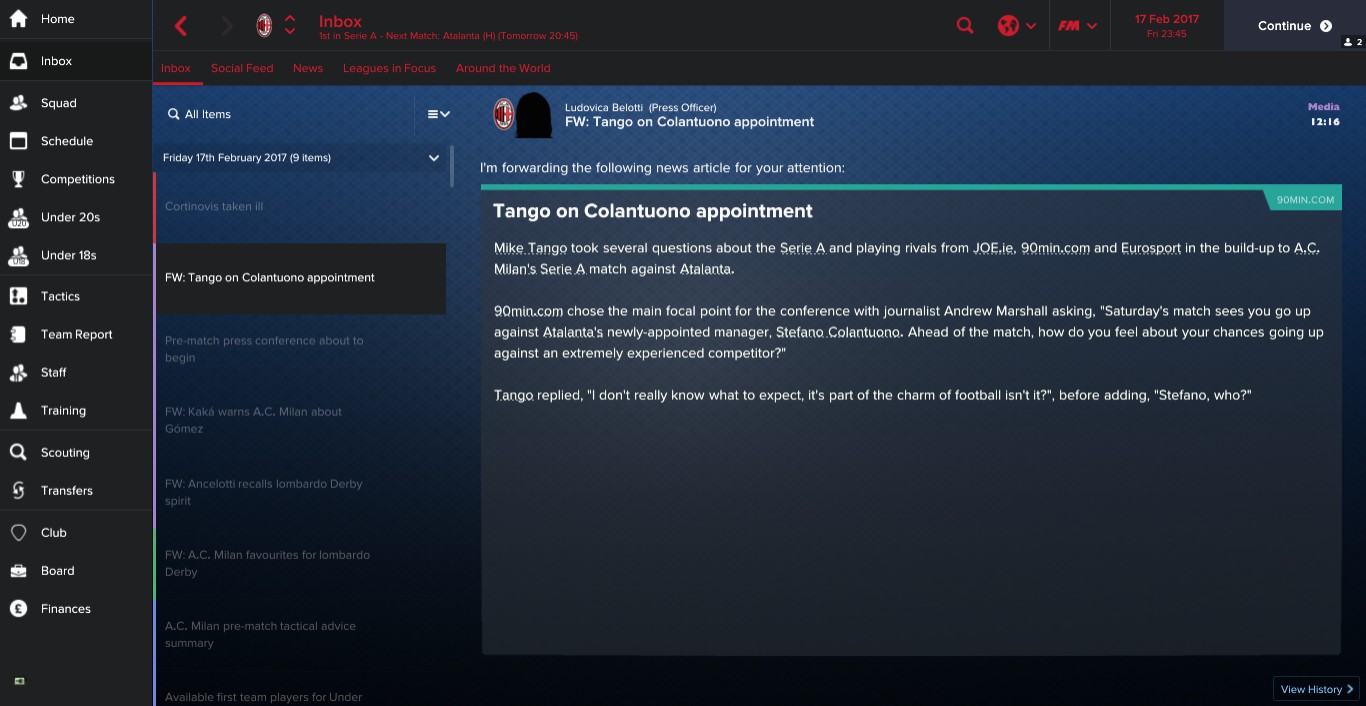 Thanks to the Thursday-Sunday schedule of the Europa League, AC Milan play first this weekend with the opportunity to move all of five points clear of the blue-and-black half of city. We start the game pretty much as we ended against Roma with Ocampos and Deulofeu prowling the wings like hungry lions.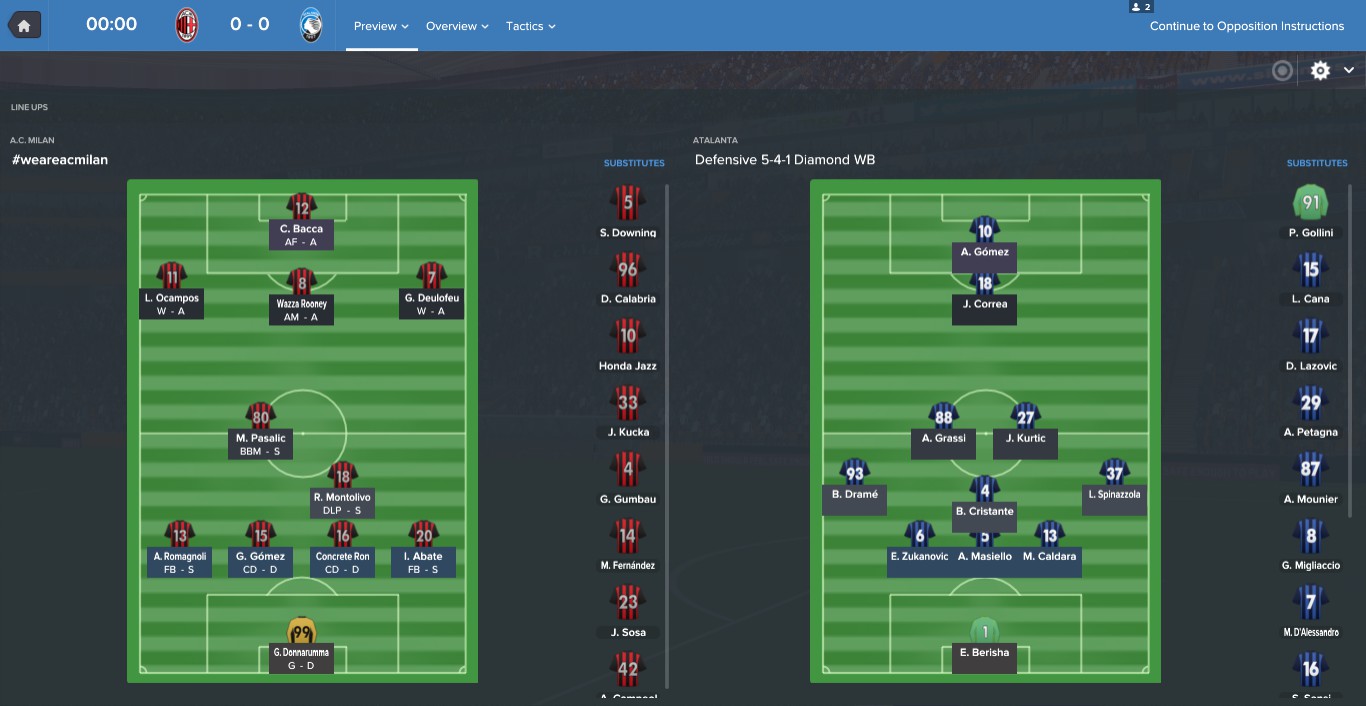 I get accused of smugness every now and again but right now, it's well-earned smugness. Deulofeu starts the game as he means to go on with a goal on 3 minutes as we make a flying start, which is added to as he turns provider for Rooney before half time, then Ocampos heads in from another Deulofeu cross.
The game ends 4 – 1 with Atalanta registering a consolation header from a tight angle at a corner to draw them level at the time and the game ended with an own goal for Ervin Zukanovic.
I'm more miffed that while Deulofeu has rightfully earned Player of the Day honours, the Serie A write up dedicates more inches to Boukary Dramé getting his first goal for Atalanta, described as the highlight of the match. Not having that.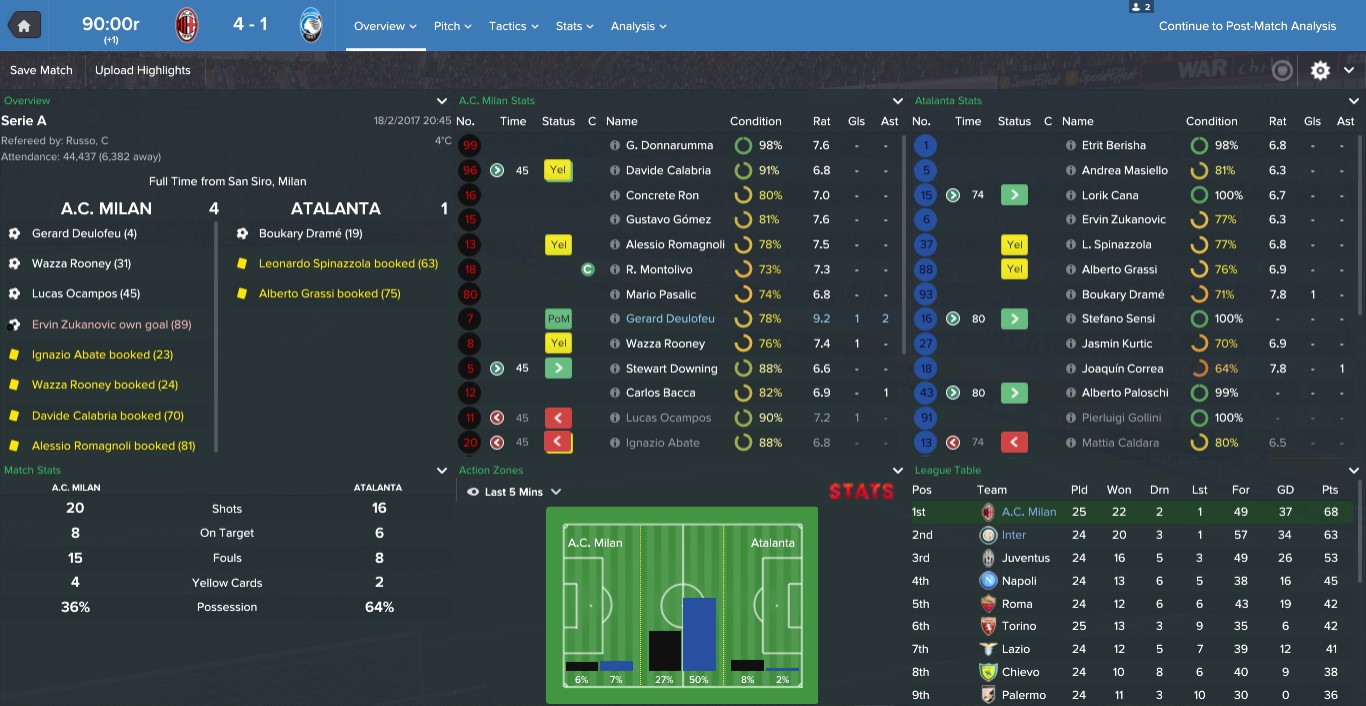 CHARLIE: Having made changes against Zenit and winning by an identical scoreline to that of AC Milan in their game against Atalanta, we have Genoa in a match not even delayed until Sunday…we play Monday. I'd just like to compliment the Italian FA on helping us out there. Or maybe it was the television company.
Miranda is back fit again, the physio says no more than 60 minutes but having worked with him since July, I'm confident he'd want to stay on. Matthijs de Ligt has shown himself to be flexible, he starts at right-back with Asian Player of the Year Nagatomo not ready for selection. Yaya Touré is rested for the second game in succession as we switch to the 'Classic José' which served us so well early on in the season away from the San Siro.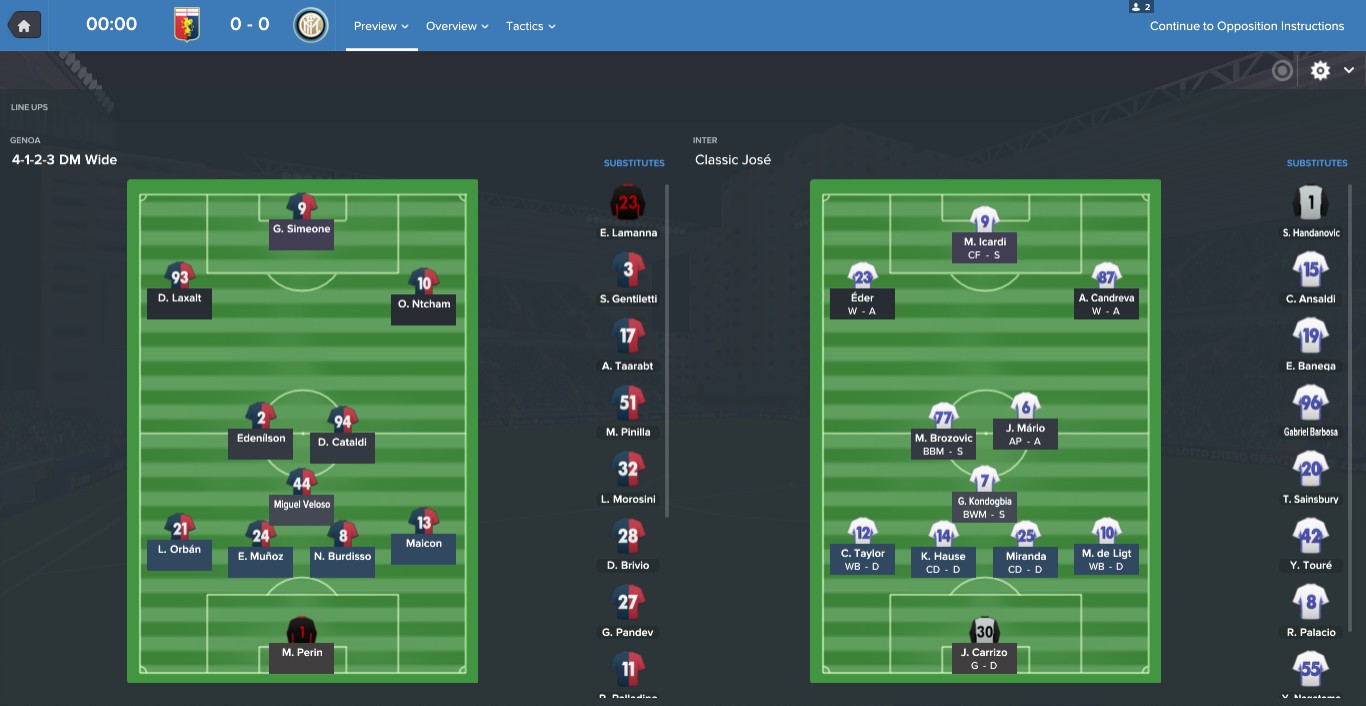 Oh, I forgot to say…I've dropped Handanovic. Carizzo has the shirt and will remain there for the foreseeable. He was hardly called into action as we run out 3 – 0 victors. Goals for Eder, Icardi and Barbosa before De Ligt was fouled in the penalty box, Icardi then missed the pen.
For once, everything (aside from the missed penalty) went exactly to plan. Mauro Icardi especially now has twenty goals for the season, for a player with his head turned by Manchester City that's not bad going.
I've mentioned it before, we got another red card as part of this series as this time Lucas Orbán got his marching orders. It does seem we are besieged by reds.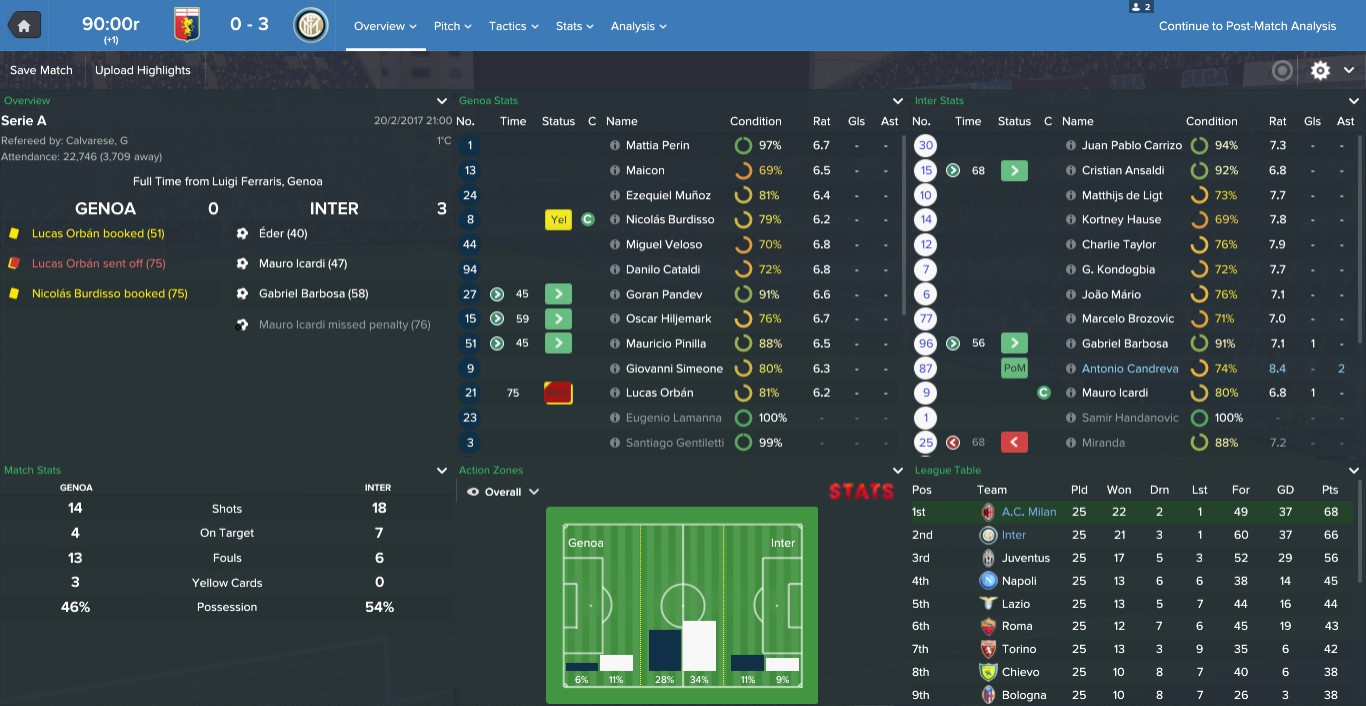 We then sit together to watch Inter progress through to the next round of the Europa League with a 1 – 1 home draw against Zenit, which wasn't spectacular, but got the job done. Some of our unsung heroes such as Trent Sainsbury and Rodrigo Palacio played, our goal was scored by Gabriel Barbosa, who now has nine goals in Europe.
MIKE: I was forced to sit through Inter Milan and Zenit, which turned out to be the most turgid 1 – 1 draw I've ever seen between. It ensured that Inter progress to the second knockout round but seriously there were two highlights all match and Charlie had two kids in the defence that even he had never heard of. I then had to sit through the draw, which he has never done before this save and Inter ended up with West Ham. At least that might be a little bit more interesting than the doldrums of Zenit.
Following what has become known as the 'Zenit debacle', which has resulted in my refusal to ever watch an Inter game again, AC Milan play Sampdoria before we have another Milan Derby in the first leg of the Italian Cup Semi-Final.
I get a phone call late at night. It's Wazza. Turns out he was injured kicking a ball in training and has only just realised. He's touch and go for that first leg against Inter. Let's just get through Sampdoria without any other injuries.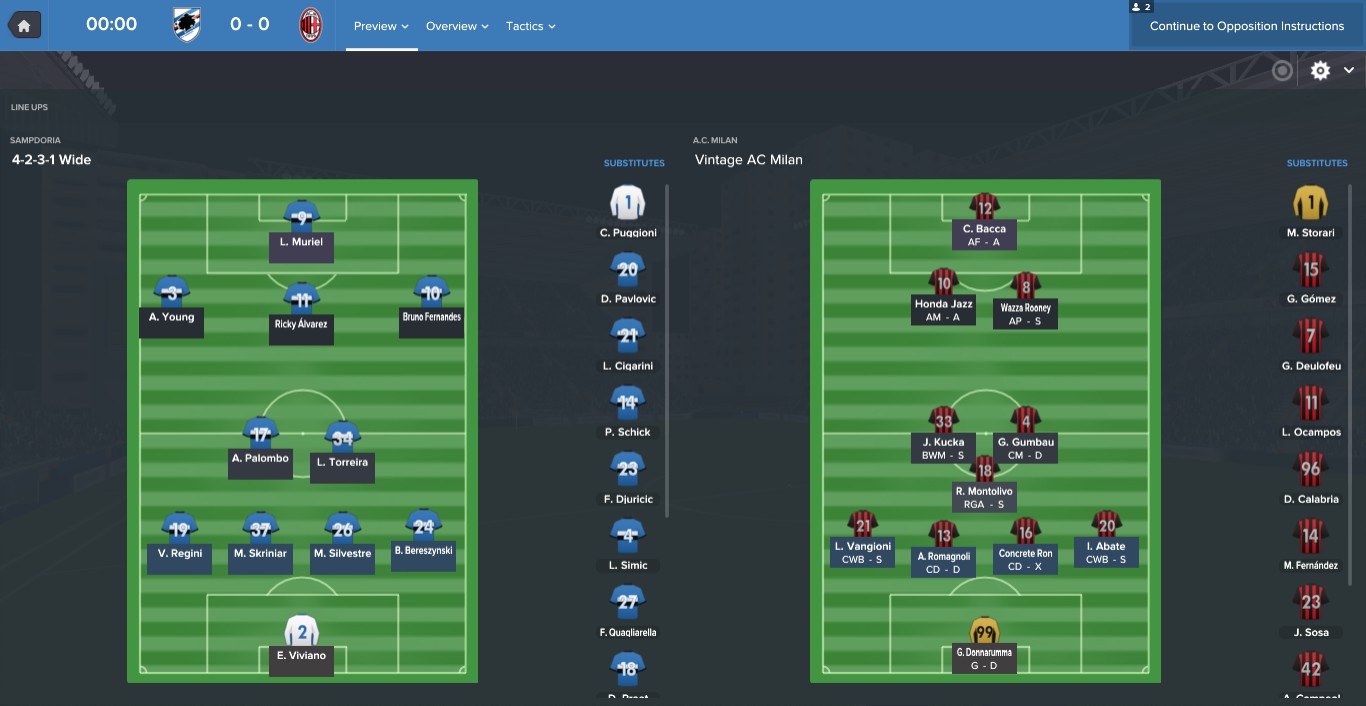 The eagled-eyed amongst you will have noticed that I made a slight error with my team selection. Okay, so I forgot to take Wazza out of the team and that's my bad. In my defence, I was bored rigid by Inter vs. Zenit so it's hardly my fault.
As it turned out, Rooney's presence was distracted from first by the disappointment of an injury to Abate and the sending off of a player I've always admired, Angelo Palombo, and then a goal by Carlos Bacca just before half-time sees us walking down a path to victory.
Bacca adds to his tally, that's thirteen now for a player who was out for four months, before Skriniar contributes to the effort with an own goal and Kucka scores his first of the campaign. Great credit to Bruno Fernandes from Sampdoria, his reply was a stunning effort from outside the penalty area that would be worthy of a place in the Tempo Goal of the Week competition.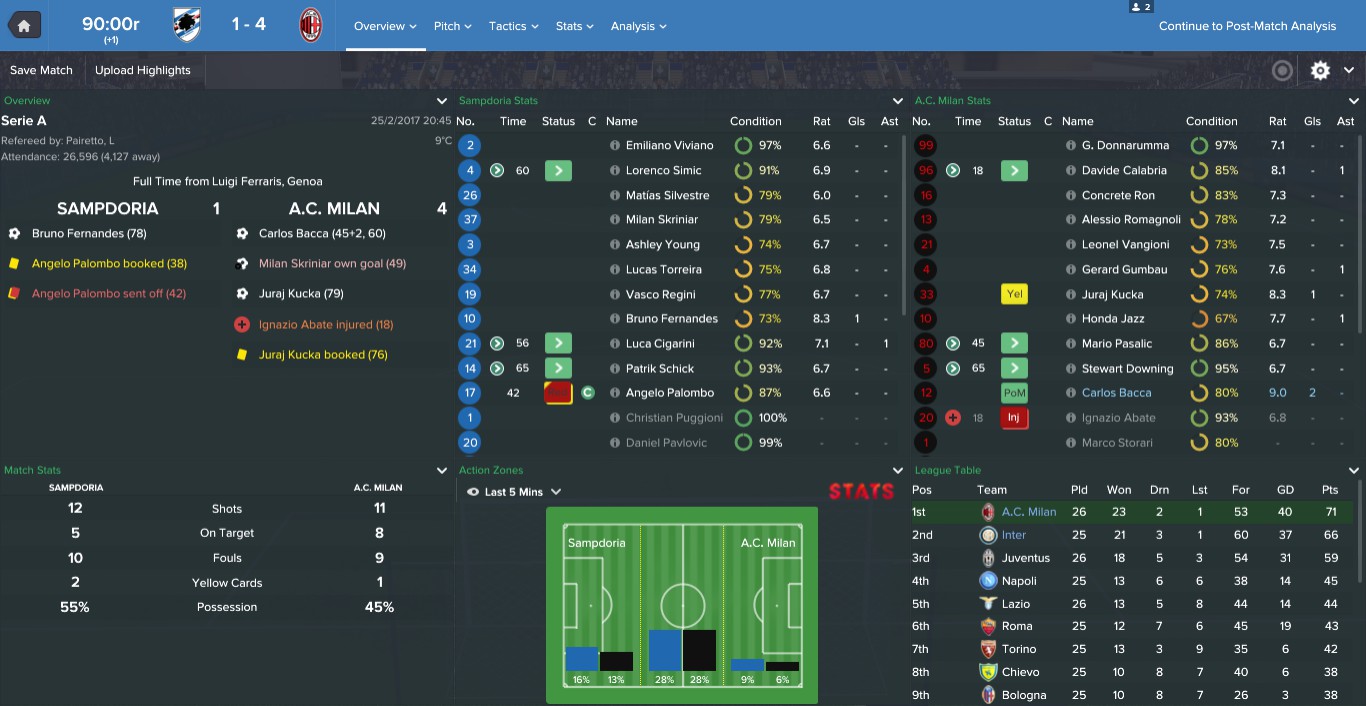 CHARLIE: Our next fixture is the first leg of an Italian Cup semi-final between the two Milan clubs. Mike has been kidding on that he's prepared to play the under 20's because he already has the Super Cup but I'm not buying it.
The last time we played each other, the first Milan Derby of the season, there was around a week-long build up to it both at Tango Towers and on Tempo with the special preview edition but this time there's no waiting, we're straight into it. I happen to think that plays to Mike's strengths, while I'm more of a pragmatist, his impulsive style has proved unquestionably successful.
My preparations are somewhat distracted by the arrival of our three-legged cat, Derek, who has kidney problems and a variety of other ailments meaning he's permanently hopped up on a lethal combination of steroids and antibiotics bursting in to demand food wielding a rolling pin as a makeshift baseball bat and threatening to etch the words 'Derek Woz 'Ere 2k17' into my back with his claws.
Why the anecdote? Because Mike has decided to take 20 minutes changing his tactics since he's just realised that Wayne Rooney is unavailable and he's tinkering with bringing back the Dogs of War, ditching the #weareacmilan formation which he really wanted to use because it got close to the formation Roma used against us when Radja N-nope… can't do it. When 'he' tore us to shreds. I know what he was thinking, that Rooney would do the same.
MIKE: I don't know how seriously clubs of our stature take the Italian Cup, I suspect that there's often a mix of first team players and reserves/U20's but considering Juventus won it this year with a full-strength side… maybe I don't know anything.
Looking at the lineups, so much for playing a second string. Apparently Charlie has paid far too much attention to my tactics already, so I won't go into the specifics. As we hit the team talk I just don't want to screw this up, I do expect nothing less than a win to keep our good run going but I think that may be piling pressure on the boys.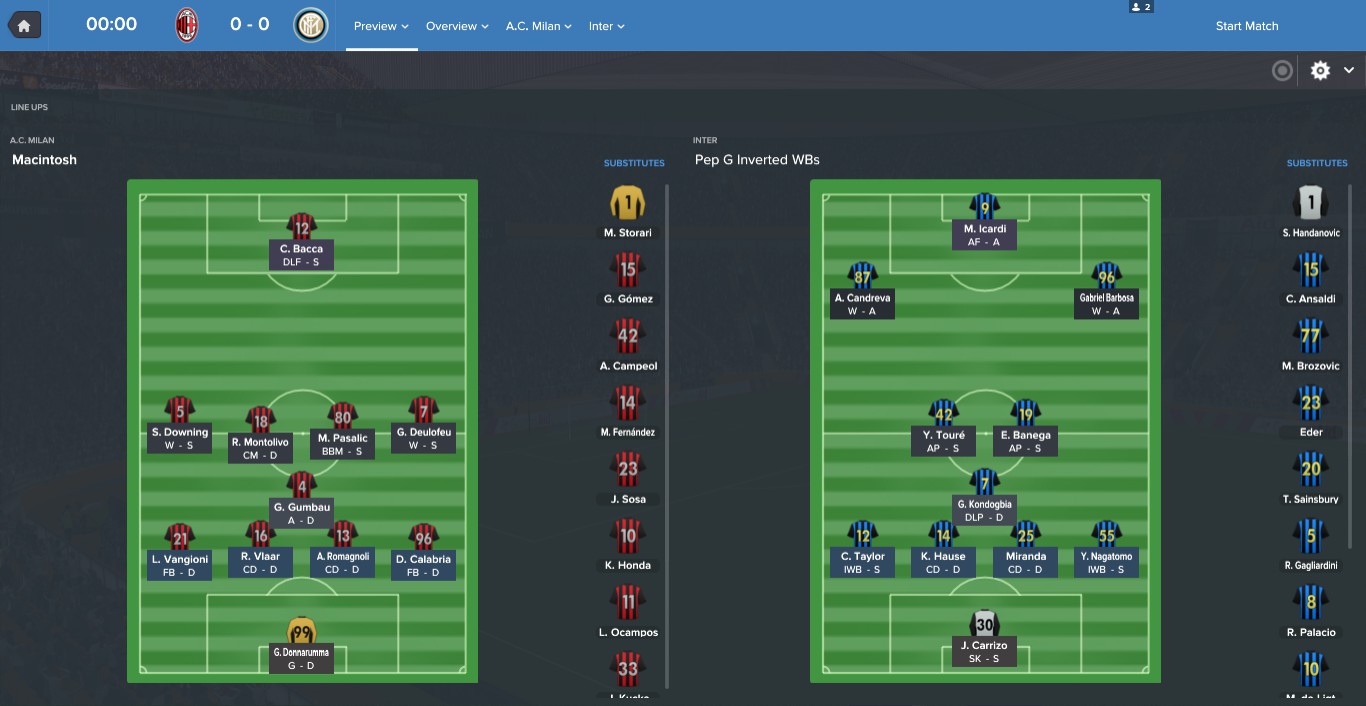 CHARLIE: So Mike wasn't messing about with Dogs of War, if he was, he's scrapped that in favour of his Macintosh formation. That's the first time this whole season he's even considered starting with his defensive 4-1-4-1, which was designed to see games out in a winning position and maintain a lead.
I'm already on Control, should I go more attacking? I don't know, I just don't know. I'll just step on my soapbox for a moment. There is a regular tactical error that many Football Managers make. Teams using 'defensive' tactics still try to score. They still try to attack. They're just a bit more picky (I'm ignoring the autocorrect suggestion of pickier here). 'Defensive' is not strictly speaking a defensive tactic.
I'd also just like to highlight this as not exactly playing the game in the spirit it was intended.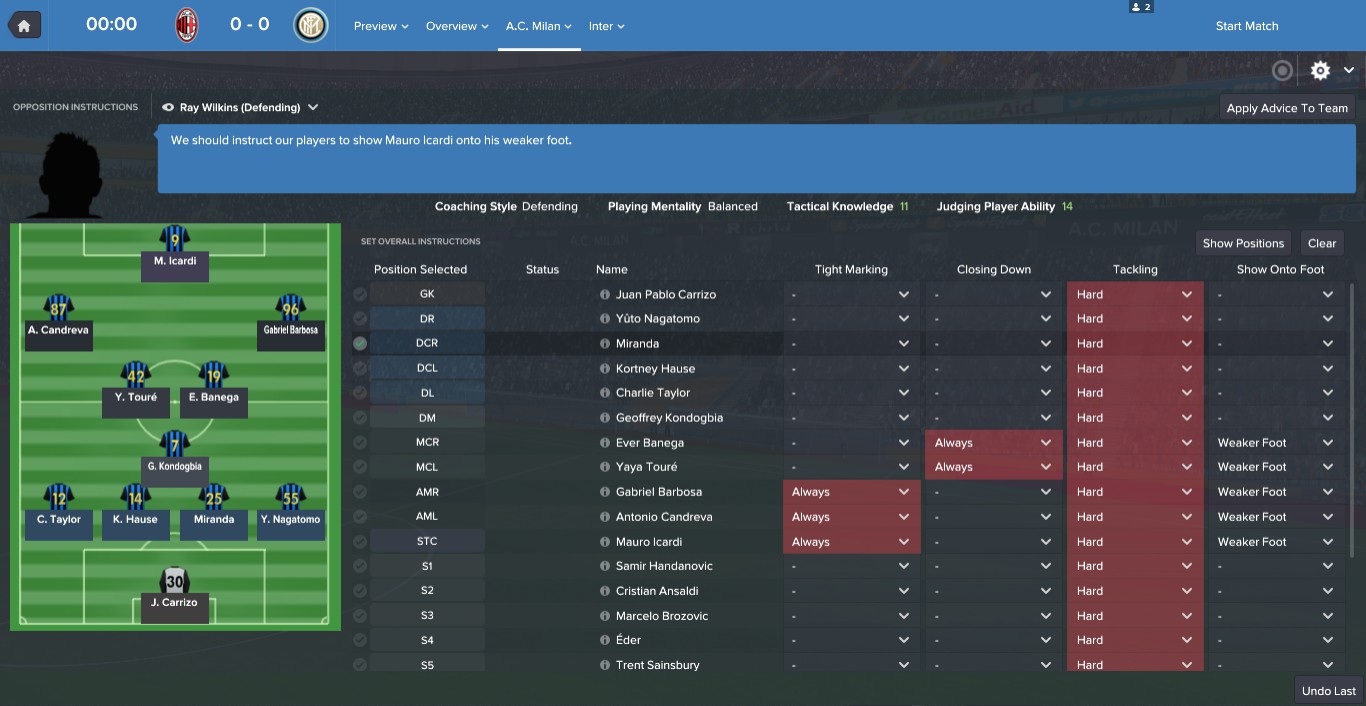 MIKE: This is the thing, you tell the players and give them all the advice in the world on the training pitch and they just go out and do whatever they like anyway. I've set them up to keep it tight, take a 0 – 0 and we can be expressive in the second leg.
That all seems to be working like a metronome, right up until the sodding moment when Romagnoli commits a foul in the penalty area and Inter are awarded a pen. How to you legislate for Romagnoli being a complete tool and compromising everything?
CHARLIE: If this were Monopoly, Donnarumma would be a walking Get Out Of Jail Free card. Mauro Icardi steps up to dispatch the penalty with what we all assume will be aplomb, only to see the 'keeper stand his ground and save it. I'm especially jealous considering my own goalkeeper issues with Handanovic turning on me and Juan Pablo Carrizo doesn't exactly scream first choice. It is hard to put into words how far Icardi has come from the early days of the season when he literally had the world at his feet.
MIKE: The game ends 0 – 0, which is exactly what I was after. It's all down to the second leg and that, I'm told, will end Episode 12 so that's something to look forward to.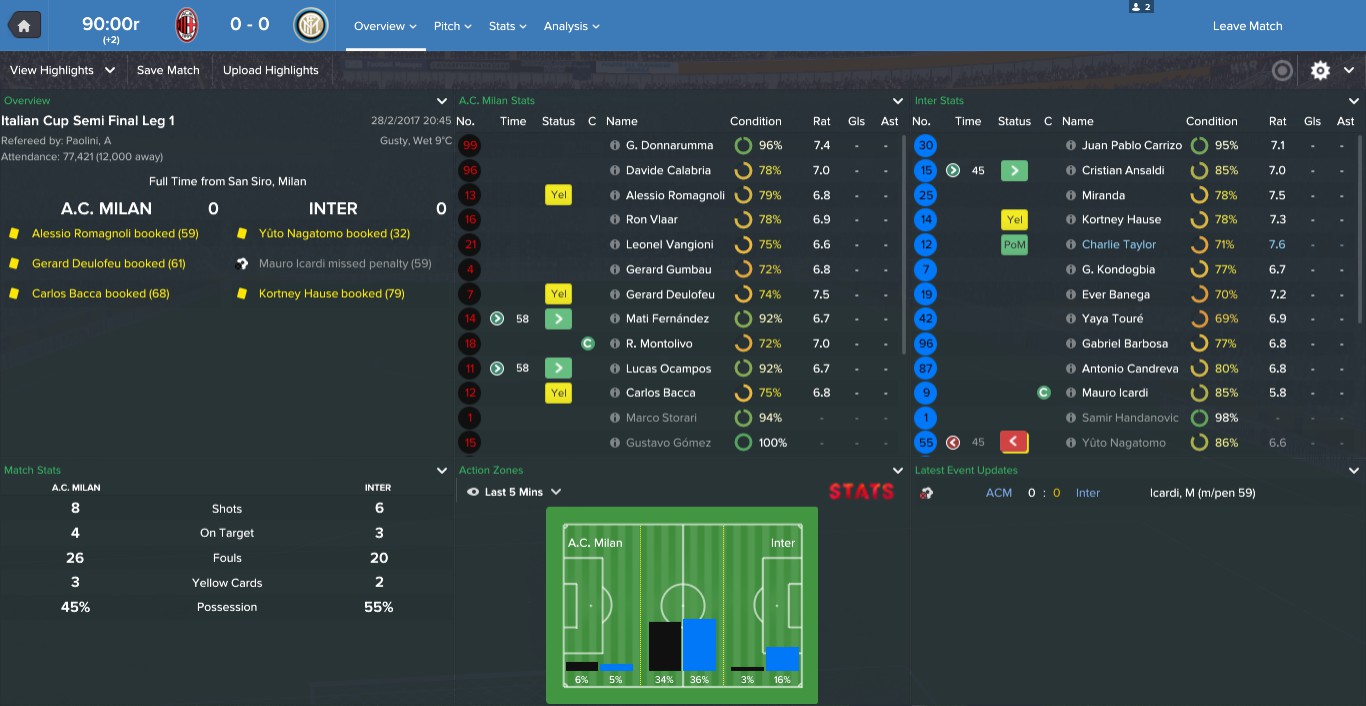 CHARLIE: In all the confusion, we have a game in hand on our AC Milan rivals. I don't know exactly when that was. I'm more interested in the opposition – Napoli. Predicted to come fourth by our friends in the media, they currently occupy fifth. I happened to catch @brian_gendo's take on Andrea Pirlo taking over at both Juventus and AC Milan, ignoring Pirlo's actual results, Napoli finished top of Serie A in both attempts.
As much as that concerns me, I am cheered by their recent form. Two wins in their last ten featuring losses at the San Paulo (where we visit) by Sampdoria and Pescara. In fact, it's no wins in their last five although they have drawn two of those.
In terms of our season, we really need the win. Mike's AC Milan are stretching away at the top on 71 points and we sit second with 66. Juventus are back in third on 59. The Italian Cup and Europa League are a nice distraction but this is our bread-and-butter.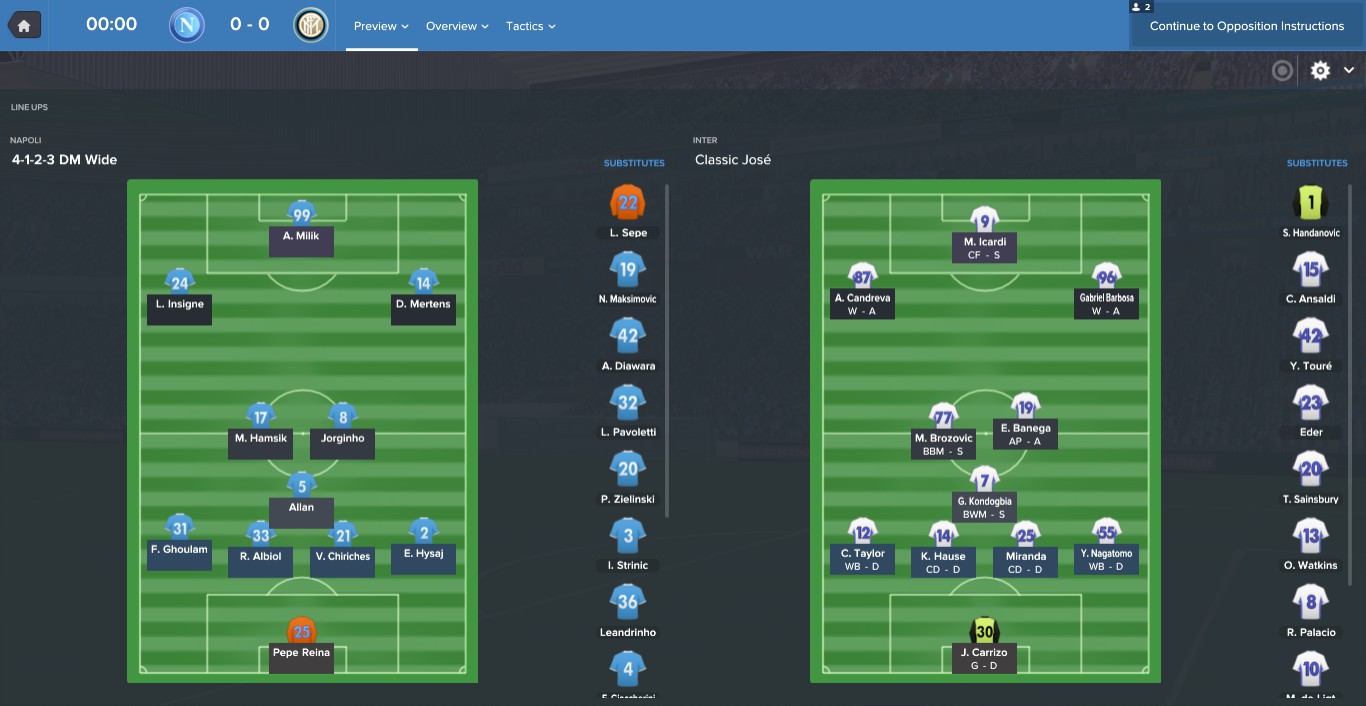 What we get is a game of few highlights, which seems to happen when the pressure is cranked up. I looked away from the screen for a moment, only half-caught the Inter goal but it was enough to immediately recognise a Candreva goal. From the outside of the box, curling into the top corner. It's his trademark.
With Juventus only able to draw at Palermo earlier in the day, it's been highly successful. Being two points behind AC Milan is a good place to be, I just need to maintain that.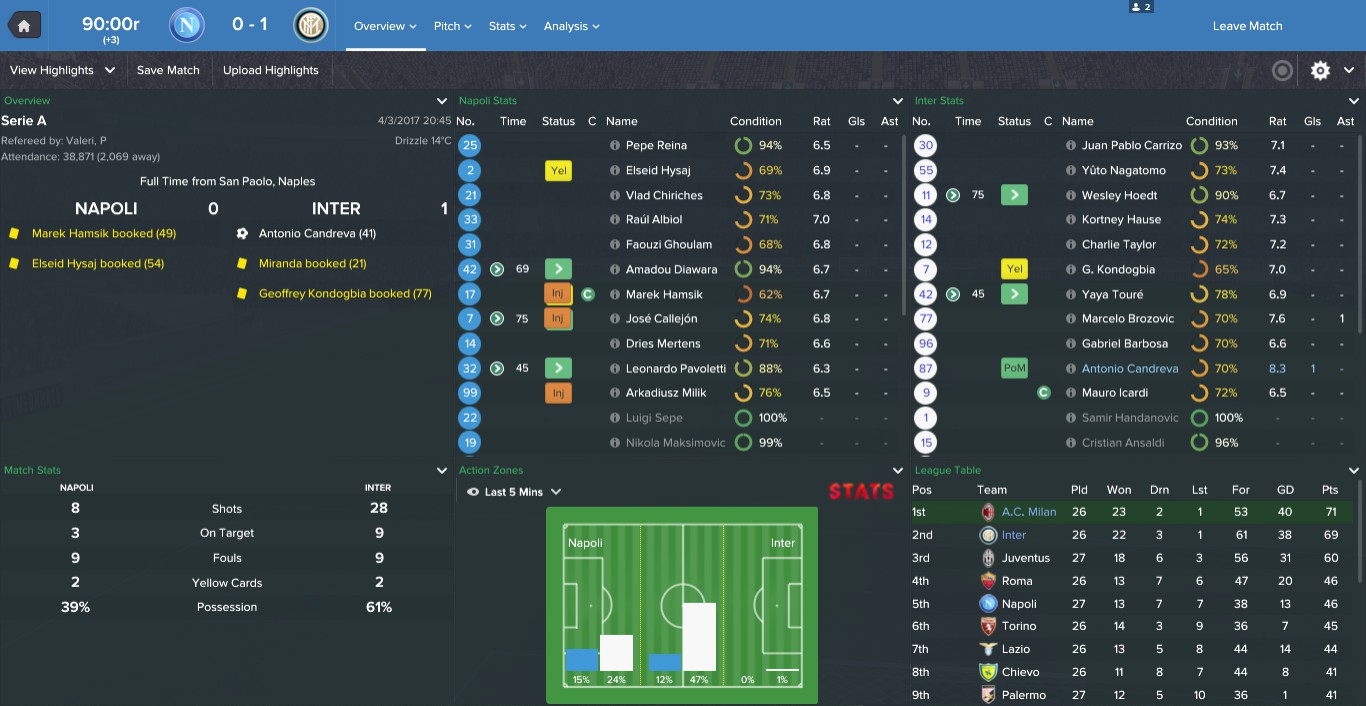 MIKE: I was about to conduct a rant on the fickle nature of our fans but Aliciah deserves credit for this admission. She's won the day. Enjoy your moment.

The other semi-final first leg, pitting Sassuolo vs. Lazio, also ended 0 – 0 so all to play for. Hold the phone, it seems Napoli have sacked Maurizio Sarri after they lost to Charlie's Inter. Roberto Mancini appears the favourite. It won't shock you to know that I don't like him. I don't like anybody. Except Sam Allardyce. And Neil Warnock.
No Macintosh for our game against Udinese, who are simply appalling. Back in comes the #weareacmilan formation and Wazza Rooney returns. Youngster Axel Campeol signed a professional contract this week so he gets a start to celebrate. I'm not normally sentimental but he's never let me down yet.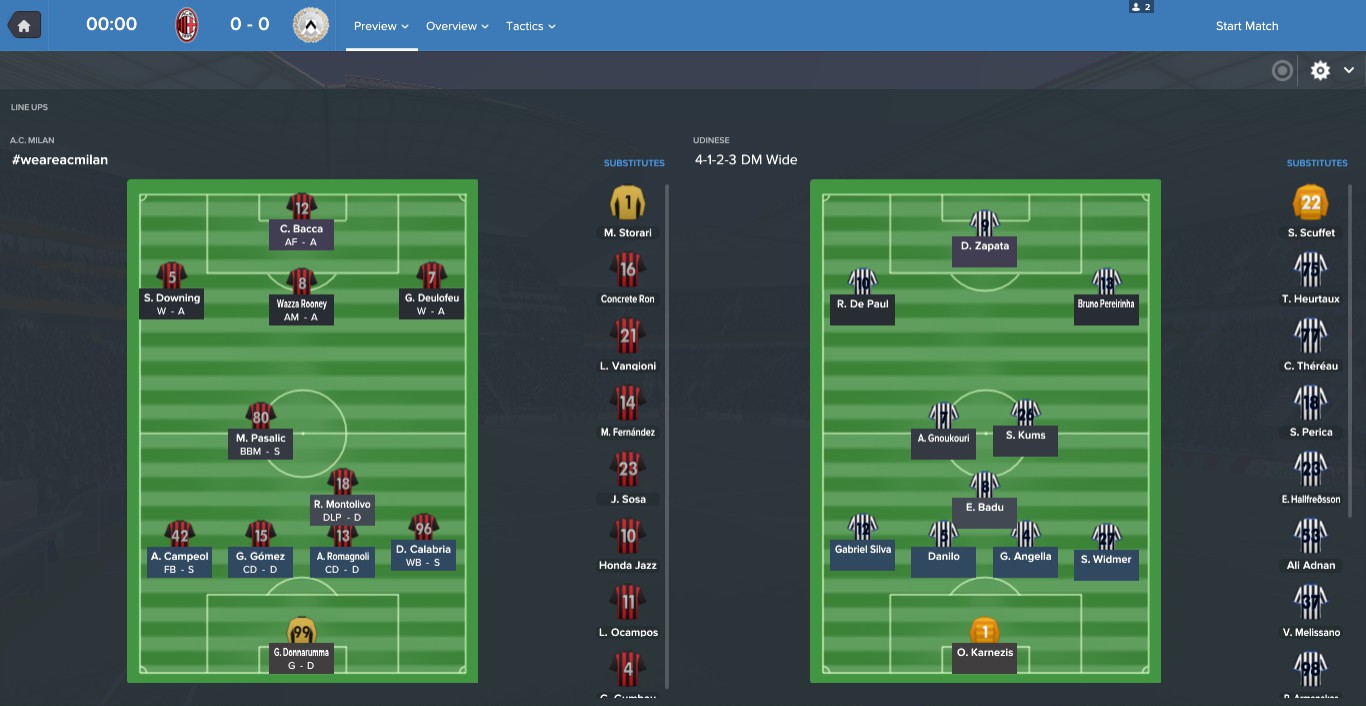 He may have picked up a booking but he still hasn't let me down. A clean sheet gives us the platform to move five points clear once more.
I take a bit of flak around here only discovering the #weareacmilan formula but we're now getting the best out of Deulofeu. It's him that opens the scoring thanks to Downing with a neat lay off before Bacca ends proceedings with the ball loose inside the penalty area.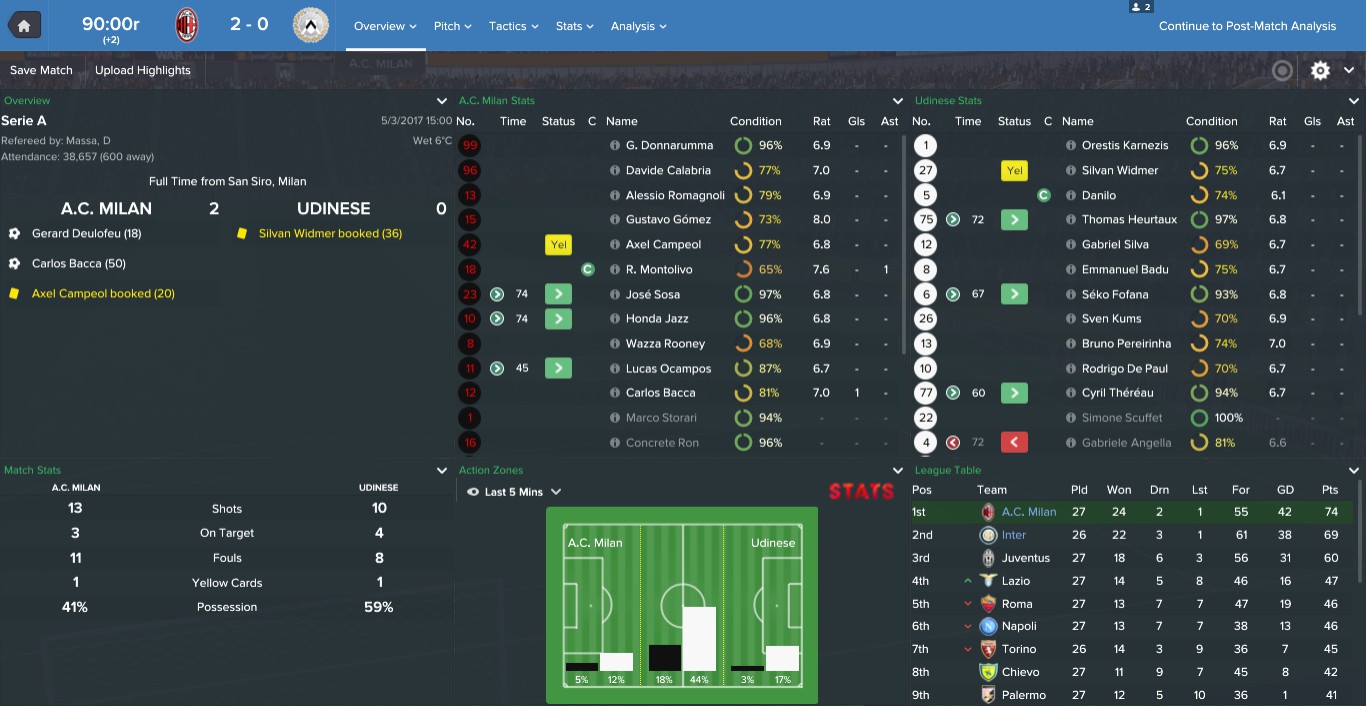 You may remember that Charlie was offered a new contract and I haven't been yet. It seems I'm not the only one that has that in mind.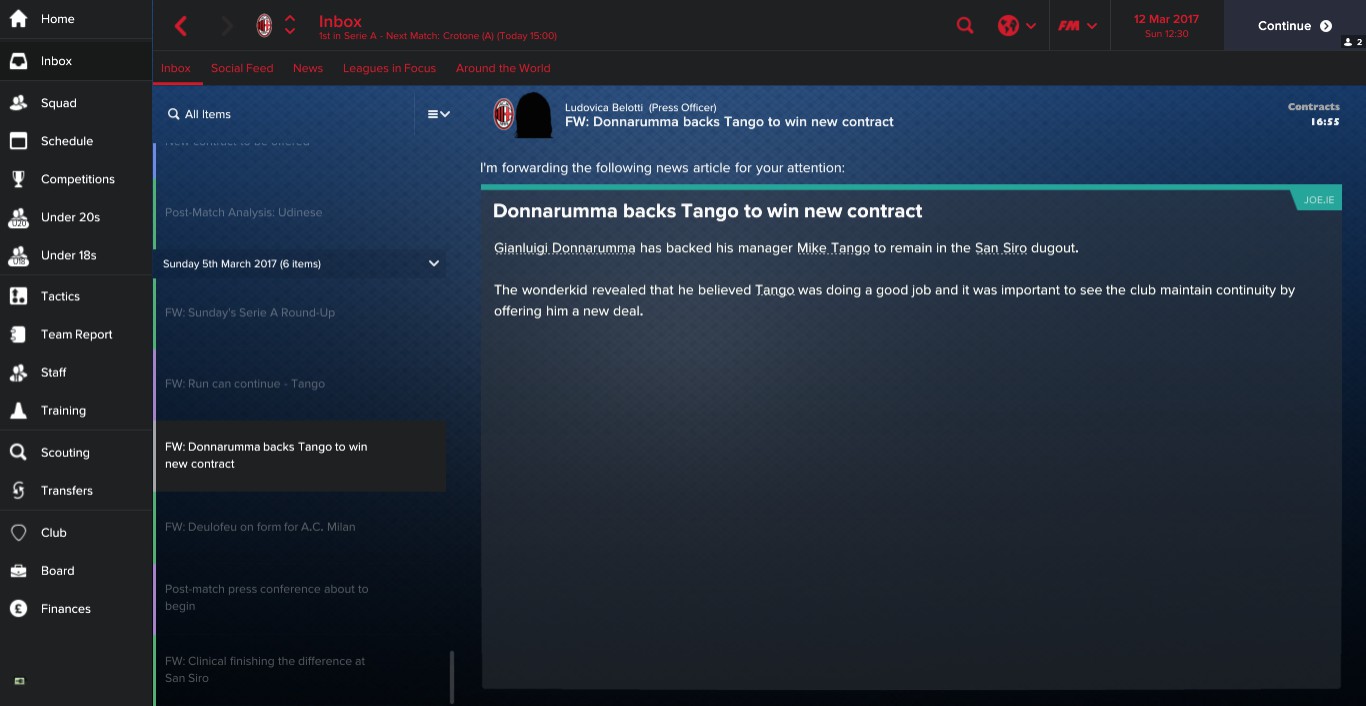 CHARLIE: Last action of the episode is an honour for Inter but not in Italy, in fact, we are off to the London Stadium for a Europa League second knockout round first leg tie.
Let's take a look at West Ham. Still managed by Slaven Bilic, they are eleventh in the Premier League with a recent record of one win in six… although that did come against Roma… and they won 3 – 0.  In terms of transfers, they have let Diafra Sakho go on loan to Celtic and Andy Carroll is following the Ballotelli route of redemption in a small French team by joining Stade Rennes on loan.
Interestingly they have signed Gianluca Lapadula from AC Milan, better known to Rivalità Tra Fratelli readers as Bench Warmer 1. I asked Mike for an assessment, he uttered a single word that is unrepeatable at the best of times, never mind on such a fine website as Tempo. My team selection is nothing special, my main concern is whether to play Icardi. He has been utter tripe over the last few games. Playing him would almost be punishment but he needs to play himself back into form.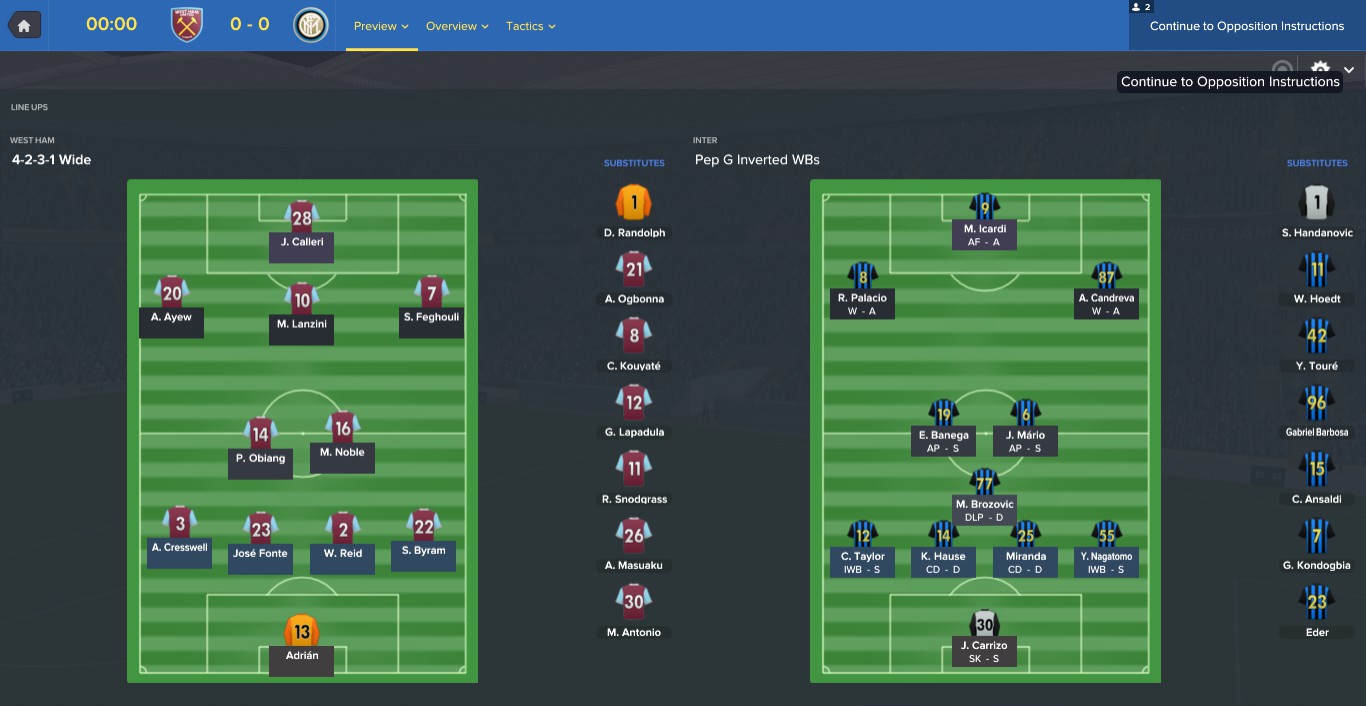 That was horribly uncomfortable. I was tempted to follow Mike's suit and go defensive with our Padlock formation to just grind out a 0 – 0 draw but I was overcome with a mixture of worry and English pride. For the first time, either of us returns to Blighty, I can't go and park the bus despite Mike's encouragement to do exactly that.
This is Thursday night, it's BT Sport, Glenn Hoddle and Owen Hargreaves probably on commentary. I've got to have a go. Pep G's Inverted Wingbacks system works an absolute treat… for 22 minutes. After that, West Ham came back into the game. From then on it was an exercise in clinging onto our lead.
We couldn't quite accomplish it, Sofiane Feghouli equalised for the Hammers on 84 minutes with a shot into the postage stamp from outside the box. But it's a lead and an away goal, one we'll bring back to the San Siro for the second leg.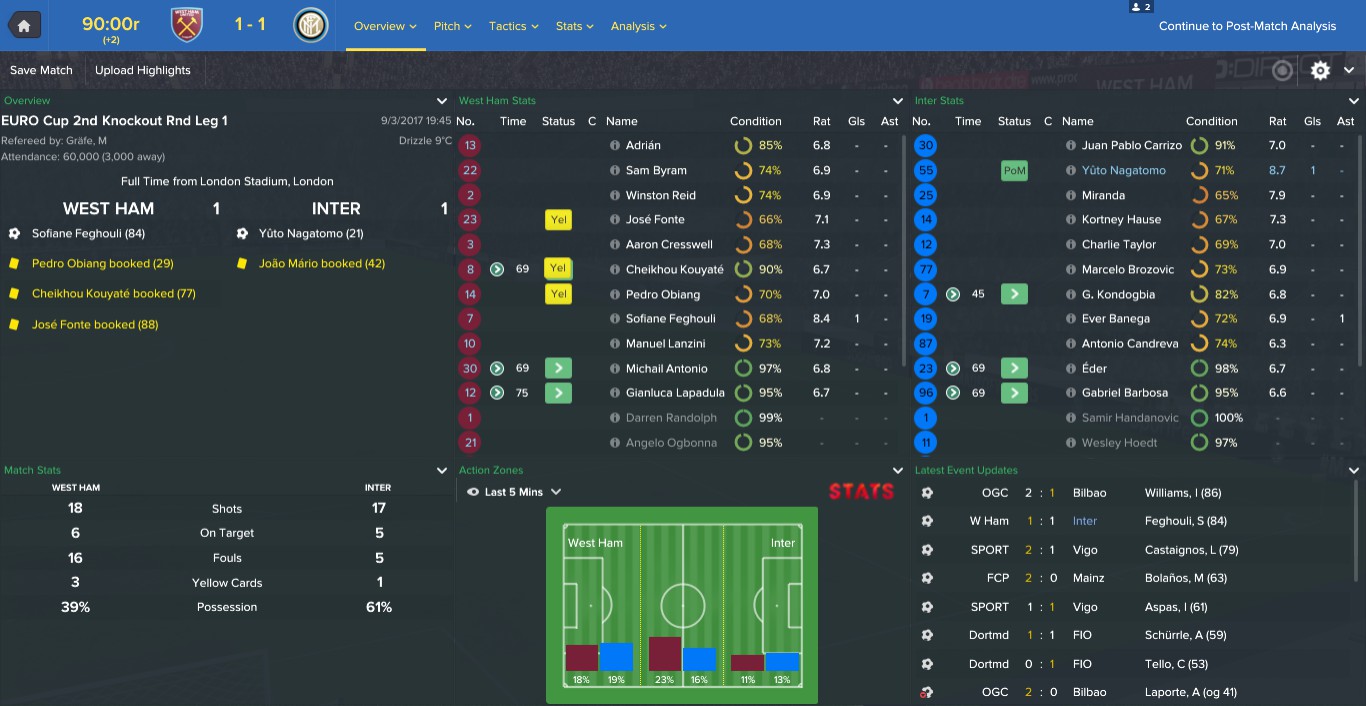 The table makes interesting reading. AC Milan, somehow, have only conceded 13 goals all season in the league and take a look at Empoli's record of 22 losses. That's just ridiculous.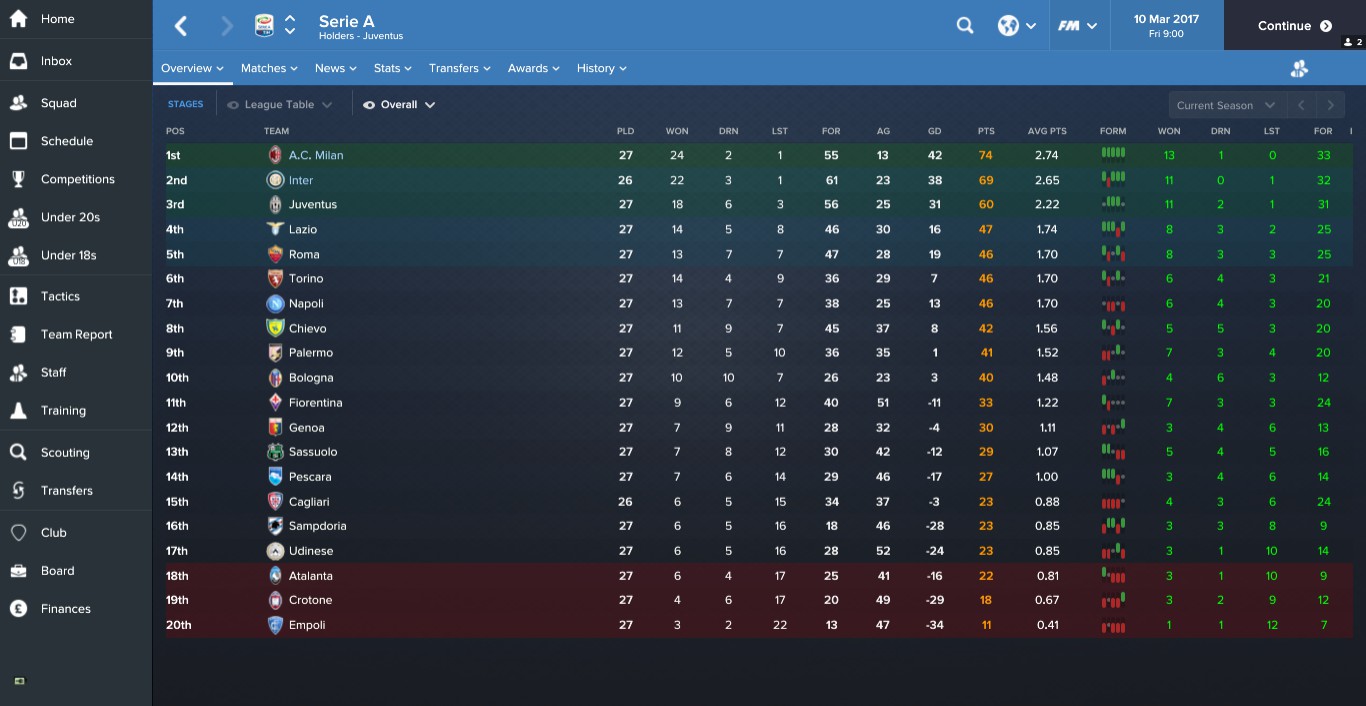 Thank you for reading, join us on Twitter at @FM17Challenge, @CharlieTangoFM & @MikeTangoFM for exclusive comments, developments prior to episodes and reaction afterwards. Continued thanks to Chris and everyone at Tempo for the opportunity to share this with the readers.