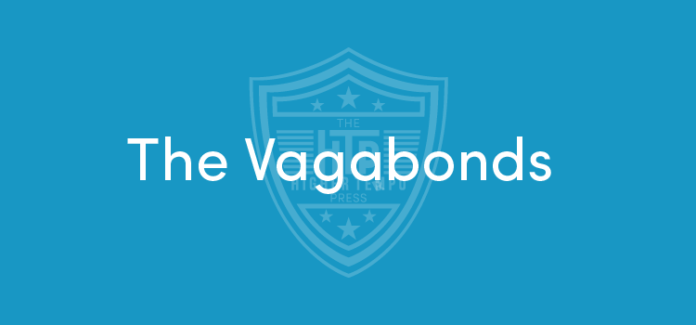 So here we are! Squad sorted. System sorted. Now it's time to see if literally any of it actually works.
Naturally, in what is hopefully not a portent of things to come, we lose our opening league game against Accrington Stanley (who are they?). The game itself isn't too bad and we play well enough but their goal in the 65th minute goes unanswered. We go on to win our next game beating Port Vale 2-0 at Teville Gate in the second round of the EFL Cup. We get Newcastle away in the next round which is a bugger of a draw. We'd be lucky to get anything out of them at home but I'm incredibly pessimistic about our chances at St. James Park.
Accrington result duly shaken off we record our first league win against Crawley, running out 2-0 winners at Teville Gate. That's followed up with a 1-0 win over Cambridge. Unfortunately Ryan Nyambe, our first choice right back, strains his knee ligaments and he's now out injured for two months which is a bit of a blow. He's been excellent thus far. Namesake Ryan McLaughlin is an able deputy however so we're covered.
Vaclav Kadlec finally gets his first goal for the club in an excellent 4-1 victory away at Cheltenham. He bags his second and third in the same game which is nice to see. First goals, first hat-trick.It's this game that I begin to see the system really start to come together. Movement is excellent, passing is crisp and finishing is clinical.
Now, I'm slightly ashamed to admit it but I don't care about the cups at this stage. It's unlikely we're going to win either of them. Plus, the first team needs a rest. With that in mind I decide to send the reserves, hereafter known as 'The Lambs', to St. James Park for the game against Newcastle, hereafter known as 'The Slaughter'. It isn't pretty and finishes 3-0. I feel kind of bad about it. As a manager I should be trying to win everything there is to win but, honestly, my priority is the league.
We need some money coming in so I persuade the board to let us link up with an affiliate. Out of the options presented I pick Manchester City. They provide £93k, the most on offer, and I'm keen to see who we can loan from their youth teams.

We're also lacking in the scouting department, staffed as it is by Russ Wilcox making him, by default, our Chief Scout. George Rooney is duly hired along with Pat Holland and Colin Dobson. Rooney, with his delicious 16 for JA, is sent out to look for first teamers and backups. Holland, with his equally delicious 16 for PA, is sent to look for future stars we can pilfer and Dobson is sent with him. They can split the petrol. They're all sent on their merry way with instructions to not send me any paperwork unless those four Club DNA attributes of Determination, Work Rate, First Touch and Passing are good.
We ease past Sunderland's U23's in the ridiculous farce that is the Checkatrade Trophy. I wish there was an option to object to participating on grounds of it being one of the dumbest ideas ever to be had by the Football League but alas not. Our only option then is to go on, win it, flog the trophy on Ebay and give the proceeds to a local charity. That'd be an ace feature for FM18 if anyone from SI is reading this by the way.
At the end of August we're sitting in 2nd place behind Accrington and I narrowly miss out on the Manager of the Month award. To Mike Newell. The Accrington manager. Already ruing that opening day loss.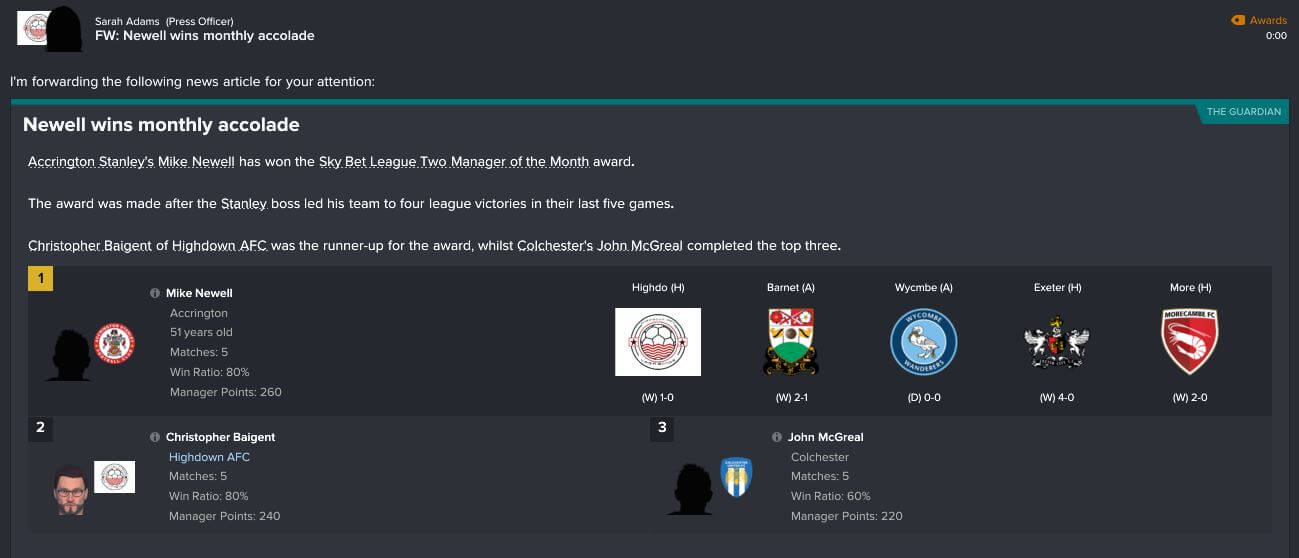 It's all about the league in September. We've got five fixtures ahead of us with three of them on the road; it could be a tricky month. Thankfully because we have five internationals in and around our starting 11 we're given the option to postpone a game which I gleefully accept. This gives us eleven days to recharge before heading away to Morecambe.
Of course all the extended rest serves to do is break up our momentum and we end up in one of the most tedious 0-0 draws I've ever sat through against Morecambe. It's a game the bookies had us down to absolutely smash but when you have twelve shots and only one of them ends up hitting the target it's quite clearly not going to be your day.
Thankfully we perk up against Crewe and record a 2-0 victory away from home. The best goal of the game comes from Jai Quitongo; the goal itself is alright but the pass from Robbie Patten in the buildup is just brilliant. A proper cross-field pinger that Quitongo takes under control before slotting the ball past Ben Garratt's near side.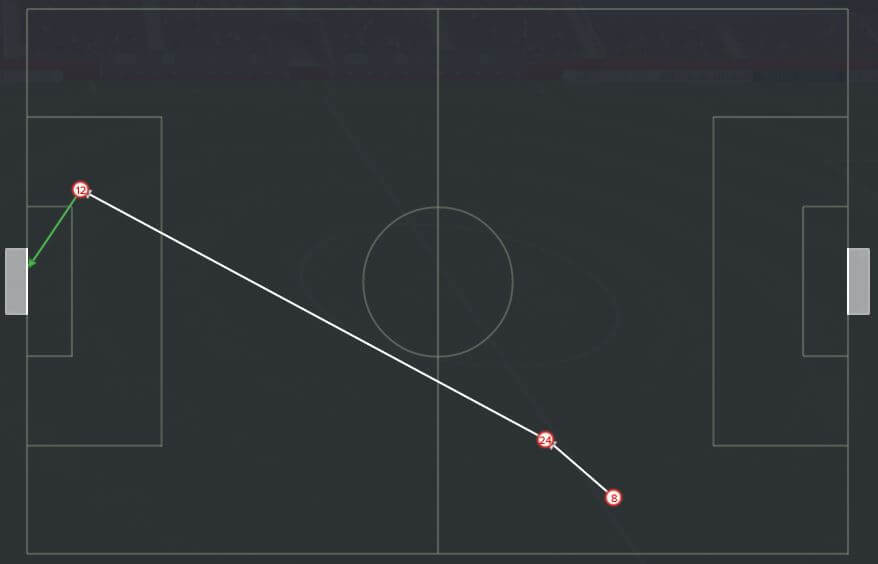 The result takes us top and sees our unbeaten run extended to six games. In other news Accrington are beaten by a late goal taking them down to sixth. Suck on that, Stanley. Next up are Newport County at Teville Gate. Could be a tough fixture; they're coming off the back of an incredible 6-2 win over Barnet. They take the lead in the 24th minute from a well struck free kick. From there the game descends into something more like a gladiatorial spectacle from the Roman Empire. Tackles and cards everywhere including, just before halftime, a red for Newport after a vicious two footed lunge on Kadlec. At halftime the lads get the Hairdryer. We're still pretty bloody terrible though. We win a penalty in the 70th minute to equalise before we finally find our passing game in the 92nd minute and Jai Quitongo runs onto a perfect through ball to snatch us all three points. Entirely undeserved but that's football and we're still top so I'll take it.
The midway point of September is where one of the negative parts of CaC comes into play: unhappy players whining about gametime. It's a problem in the main game as well of course but with CaC you get no control over the squad status of the players you pick. This has resulted in us having 15 'Key Players' and 3 'First Team' players. It's a bit of a pain in the backside. The starting eleven have gelled well so there's little rotation, except for fitness and injuries of course, and this lack of rotation is causing the complaining. I can't have unhappy players bringing down the dressing room though so I'll be making some changes in the next few fixtures.
One of the players complaining is Liam Mandeville and with Kadlec actually dropping off in form the last couple of games it's time for young Liam to step up away at Luton. We're a goal down within three minutes thanks to Robbie Patten bundling someone over in the box. Nailed on penalty. Just before halftime we get a penalty of our own. Enter Liam 'My Surname Sounds Like Mandible' Mandeville.

Young Liam puts us in front in the 79th minute but some shocking defending five minutes later puts Luton level and it finishes 2-2. Unfortunate but Mandeville has definitely earned his place in the starting lineup for the last game in September, at home to 9th place Carlisle.
It's a game we should win. We really should. We don't. It's one of those FM games. Several clear cut chances, an opposition goalkeeper in fine form and a contentious penalty duly missed by Mandeville who seemed determined to make sure I regretted my decision to include him. Bastard. The only positive is that Carlisle were worse. A nil-nil draw was agonisingly the fairest result.
Couple of concerns going into October primary among them that Kadlec is going through a shocking run of form. Hopefully he can find his scoring boots again as we seem to be really poor when he's off form.
Disappointing to finish out the month with two draws but we're just about hanging on at the top largely by virtue of the chasing pack being shit and that is fine by me.