If you've been following my posts then you'll be aware that I have swanned off to manage in the Kosovan Superliga. Managing in strange territories can sometimes be quite daunting but I have a method that I use to help myself acclimatise to the local surroundings as quickly as possible.
If you haven't yet caught up on my Kosovo League story you can find the first two instalments here: Season One and Season Two.
How Does The League Compare?
A good starting point is the see how the League stands in the Competition Reputation rankings. This will give you a quick overview as to how much more or less desirable your league will seem to players from the leagues around you.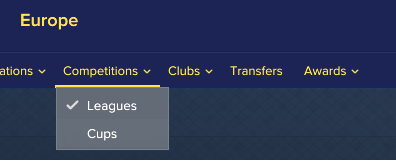 Learn The Competition Rules
Simply go to the League landing page and select 'Rules' from the 'Overview' dropdown menu.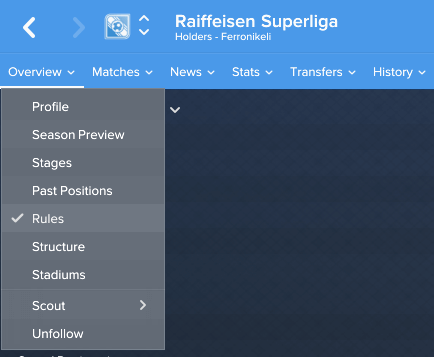 It's always worthwhile to learn about any restrictions the league places upon your matchday squads. It can be a massive disappointment when you sign a multitude of hot Brazilian talent to then learn that you can only squeeze 4 of them into your matchday squad at a time.
Another clever idea is to look at the section that gives you details on any nations that are treated as Non-Foreign: in this case, Albania. This can allow you to beef up your squad with non-domestic talent that will not affect your Foreigner count.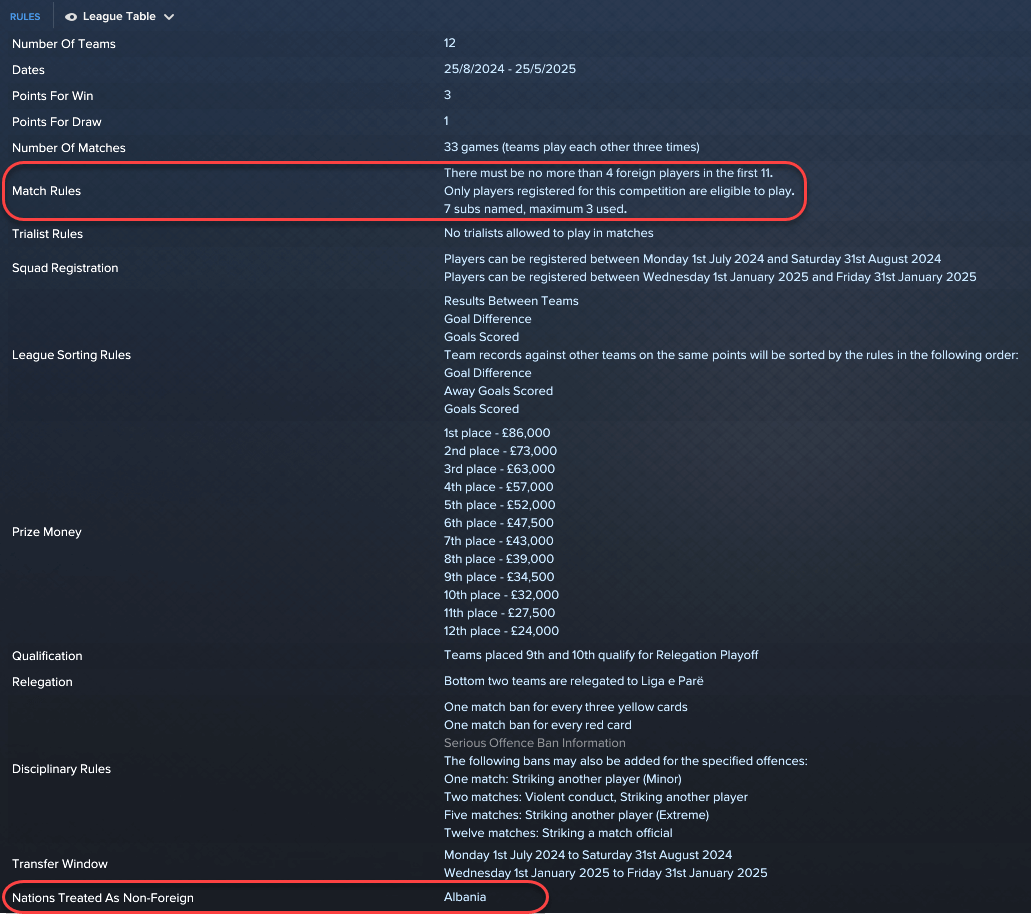 Assess Your Scouting Network
Smaller profile leagues will generally not have the facilities and means to scout very far from home. Assess your club's scouting reach and become aware of the areas you can concentrate your resources on. Naturally, over time you will hope that your scouting range will expand as your club/league grows.
Compare Your Squad With The League Standard
You need to assess how well your club matches up with those across the league in technical, mental and physical attributes. You can access this screen from the 'Team Report' section and selecting the 'Comparison' option from the top toolbar.

A quick glance can give a simplified view of areas you may need to concentrate on when conducting your transfer business. Also, should you not have the funds to improve your team then this screen can help mould what style of play you will adopt: if you have a squad which falls behind in terms of their Work Rate, Team Work and Fitness then you may opt against deploying an intensive pressing style of play.
Familiarise Yourself With The Opposition
Combined with your Team Report > Comparison you should also look to have a scout assigned to provide Opposition Reports
You might even find it useful to ask one of your more proficient scouts to conduct full team reports on each team in the league before the season starts – done by going to a team's landing screen and selecting the 'Team Reports' dropdown. This way you can determine which teams you can be more adventurous against or which matches you might have to set out with a defensive mindset.

The media aren't always right but their 'Season Preview' can help give you an indication of the big hitters in your league – via the Competition screen simply select 'Overview' and 'Season Preview'.
And if all else fails…
Simply put on a dodgy accent ala Schteve McClaren.
Are there any routines you follow when moving to a new league? Leave me a comment below and I'd be glad to read them!