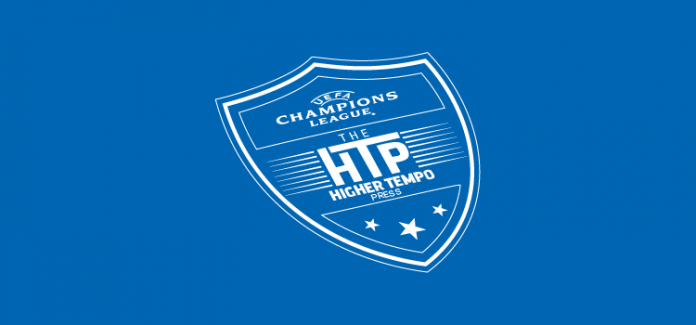 Champions League Semi Final (Sponsored by The Higher Tempo Press)
ChrisHatton (Juventus) vs Slatham19 (Bayern Munich)
Tactics
ChrisHatton:
I decided to take a risk and play the same formation and team as I did in the first leg with a 4-1-4-1. The midfield should keep relatively tight to the defence, whilst hopefully having enough on the counter to spring some surprises on obviously a tough Bayern side. The wingers remain the weakest aspect of the team though, what I'd give for Coman back from my opponent! Hopefully, after managing to keep Messi, Suarez and Neymar quiet in the quarter final we can repeat the feat against Bayern.
Slatham19:  
Seeing how Juventus lined up last time I need to come prepared to nullify the attacking options they have on offer against us, thankfully Bayern are a very adaptable team with utility players all over the place which works to our advantage.
If Juve do play with the 4-1-4-1 I need to make sure the defensive midfielder doesn't get any time on the ball, he is a good defensive option for them but without a man in attacking midfield, he will have too much space to dictate their attacking play.
So, we change to a 4-4-1-1 formation bringing in Muller for the first time to operate in the shadow striker role mainly to work alongside the false nine Lewandowski but also to remove an attacking threat from Juve.
Robben and Ribery drop deeper but they are still asked to bomb forward at every opportunity to spread the play and create gaps for the two forwards to take advantage of, Alonso and Vidal retain their places, Alonso the key playmaker and Vidal to cover every inch of the pitch in a box to box midfielder role.
The back five stays the same, after only conceding one goal against a very strong real side they deserve to keep their spots, no changes to the roles either, keeping all four together keeping a tight unit and not letting that pesky Dybala near the goal.
Seeing how Juventus lined up last time I need to come prepared to nullify the attacking options they have on offer against us, thankfully Bayern are a very adaptable team with utility players all over the place and which works to our advantage.
1st Leg
ChrisHatton:
The first leg was pretty much all Bayern, our midfield couldn't find an outlet and that left Dybala isolated up top by himself meaning we created very little. Luckily though we found ourselves going into half-time 0-0 courtesy of some resilient Italian defending and some heroics from Buffon.
I decided to risk it and make no changes for the second half, hoping that we can hold on until full-time and deny Bayern the crucial away they goal they're craving.
The chances of that happening declined when Alves got himself sent off for a rash challenge, we'd set out not to concede the away goal and that still remained the priority so we went full defensive mode, switching to a 5 at the back formation, leaving us with a light midfield for the last 30 minutes of the match.
Heartbreak occurred not long after when some poor defending left Costa to slot past Buffon. We were unlucky to concede after some ridiculous saves from Buffon, but ended up losing the first leg 1-0
Slatham19:
Juventus started the match with the formation I was hoping they would play and we used that to our advantage, a dominant first half saw Bayern have twenty-three shots on goal to the Italian giants lonesome one, but the game stayed 0-0. Juventus played to their strength and put men behind the ball and let us have much of the possession, this did however, mean a lot of our shots were from long range.
The second half stayed the same with Bayern dominating possession and shots on goal. Then Dani Alves picked up a red card and Juventus were forced to change their tactics to an even more defensive looking shape, putting every man, bar Dybala, behind the ball, it seemed to have worked until late on when Douglas Costa found himself in space to slide it past the in-form Buffon. 1-0 Bayern.
And that is how it ended Bayern finishing with 63% possession and forty shots on goal and only the one goal to show for it, Juventus defended magnificently and Buffon had a magical evening in Munich.
1st Leg: Juventus 0 – 1 Bayern (Costa 62')
2nd Leg
ChrisHatton:
Since we conceded that crucial away goal in the first leg, it meant I had to alter my tactics, so I swapped to a 4-2-3-1 with Dybala behind Mandzukic. We squandered a few first-half chances and couldn't open the scoring, going into half-time drawing 0-0.
An increase in tempo had the opposite effect to what I wanted, allowing Bayern to grow into the game more, culminating in a goal for Bayern early in the second half.
A glimmer of hope emerged when Pjanic sublimely finished a one on one past Neuer, but sadly we couldn't get the equaliser that would see us through. A well-deserved win for Bayern in the end and congratulations to Slatham19!
Slatham19:
I knew taking a one-goal lead into the second leg wasn't enough and I was thinking that Juventus might go a bit more attacking to claw themselves back into the tie. What I wasn't expecting was them to play a 4-2-3-1, I kept my team the same hoping that we can make use of the space in the middle of the park with Alonso and Vidal.
Juventus came out of the tracks quicker than us and we were caught on the break a couple of times before we found our feet and started to attack ourselves, thankfully, Juve didn't score during that time and we started to dominate the play a bit more.
Then came the opening goal, Robben's deflected effort rebounding back to him and with a curling left footed shot, he tucked it past Buffon. Never let Robben onto his left foot! We were now feeling confident, holding a two-goal lead meant we could relax more and enjoy the last forty minutes of the game.
We relaxed too much though as a complacent back line left a massive hole in the middle for Pjanic to run through and smash past Neuer to level it up on the night, we still had our lead overall but it looked like it wouldn't last long with the Italians tasting blood.
Thankfully, we held on, a number of chances either way went begging in the final moments of the game, but the match ended 1-1 and Bayern are through to the Champions League final to meet the mighty Atletico Madrid, god help us!
2nd Leg: Bayern 1-1 Juventus (Robben 50', Pjanic 72')
Juventus win 2-1 on aggregate and meet Atletico Madrid in the final!