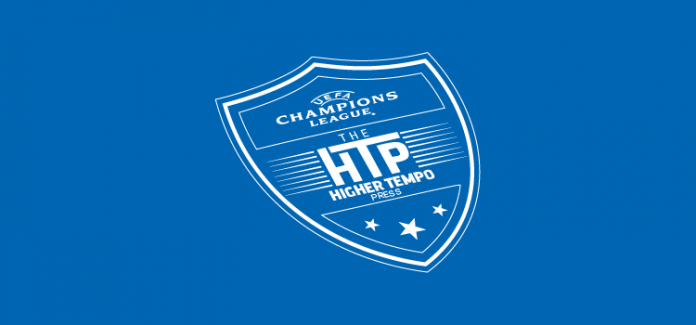 Champions League Semi Final (Sponsored by The Higher Tempo Press)
Reids (Dortmund) vs TheMetodoFM (Atletico Madrid)
The Tactics
Reids tactics:
After my triumph against a very solid and talented Monaco side in the quarter-final, I was drawn against a different kettle of fish with Atletico Madrid. Whilst Monaco have the ability to attack with recklessness, Atletico like to shut up shop and counter. Whether or not they'll do that under TheMetodoFM's management is a question I needed to ask myself. Looking through his plans for the previous game I noticed one thing – all his plans lacked wingers. Therefore I devised the following plan:
The plan being that Dembele and Reus cause havoc attacking down the flanks, with the 2 wing-backs in support to hopefully further the panic. Bender is set to halfback so should drop into defence when needed (covering the wing-backs if they're caught out of position) then moving back into midfield where he'll join Weigl and Guerriero which should provide us with decent options in the middle.
TheMetodoFM's Tactics:
After having beaten Leicester, I was obviously happy with the result, but not really satisfied about our style of football. It is in this optic that I dismissed the tactics that I had prepared for the Quarter Final and I decided to use the exact same tactic I use in my current long-term save with Falkirk in Scotland, a simple but effective 4-1-4-1. The idea is simple, play like a Dutch 4-3-3 while attacking, with the Wide-Midfielder cutting inside and the Fullbacks overlapping, while the Striker and the Central-Midfielder point the box. Also, facing fast Wingers like Pulisic, Dembélé or Reus, having the WM close to the FB gives us a more solid defence on the flanks.
1st Leg
Reids:
We reach the loading screen and up pops TheMetodoFM's lineup – he's playing with wingers. Bugger. Despite that, I stuck with the plan, much to my disdain as the first half was not one for purists with the match one of the most boring I think I've ever witnessed on FM. Neither team really created much or took control of the game (bar Koke hitting the bar in the first half). The second half didn't start off much better so I decided to make a radical change as seen below:
As I said…radical! The reasoning behind it was that Aubameyang was simply getting bullied by the 2 Atletico centre-backs who were having a blinder, so I decided to stretch them by playing another striker. To compensate for the lack of width I moved Piszczek into a more attacking wing-back role as Felipe Luis hadn't been venturing too far forward for Atletico.
We started to carve a few more chances but were undone when Gaitan broke free down Piszczek's side (with Piszczek in no man's land), that ended up with Carrasco scoring late on. In hindsight not sure why I took that gamble in the home leg, silly decision and now we're up against it for the 2nd leg!
TheMetodoFM:
In the first leg we started well, not that we dominated, but Torres had a couple of chances and we were building up nicely. Koke even hit the post in the 30th minute. Moving on though, the game turned into a nervous affair with both sides alternating good build-up but poor finishing. I opted then to put Griezmann and his speed and technique up-front at half-time by taking Torres out and letting Gaitan take the left WM spot.
Nothing really changed and the match went on with the same false rhythm as before. Well, until 81' when Gaitan pierced the left flank, crossed to Griezmann who set Carrasco for the goal. We managed to score the crucial away goal without conceding and we looked very solid in defence, with Godin and Savic looking untouchable.
1st Leg: Dortmund 0 – 1 Atletico Madrid (Carrasco – 81)
2nd Leg
Reids:
Conceding the away goal without any goals in our favour means we have to alter the strategy for the second leg. So I reverted back to the formation that I used in the quarter final:
The plan was a disaster and we found ourselves 3-0 down after just 30 minutes on the clock. The centre-back pairing of Godin and Savic just nullified any attack we could muster, and now 4-0 down on aggregate with an hour to play it's time to take some desperate measures.
Instantly we began to get back into the game, with Schurrle netting from a Dembele cross. Right on the stroke of half-time, we're awarded a penalty, the game could potentially depend on this moment. Up steps Reus, he hits it straight down the middle and Oblak saves. Typical. The second half starts and we're creating plenty of chances but just lack the finish. Atletico change their formation and start to get back into the game netting twice more from Saul and Carrasco before Aubameyang pulls back a consolation late in the game. Congrats to TheMetodoFM!
TheMetodoFM:
One little but crucial change in my tactic for the second leg, the structure is the same but Griezmann is pushed back into the AM strata playing like a Shadow-Striker. This is because I had noticed in the first leg that Dortmund defence had problems facing through balls behind the defence, and with Griezmann's pace and the passing capacity of Saul and Koke this set-up seemed the best to exploit this weakness.
The plan seemed to work well from the early minutes and Gaitan scored a golazo with a 30m screamer. Griezmann increased the lead at the 10' and 30' with two great goals. We were 3-0 up and it wasn't even half-time. But strangely, Dortmund started to play better and reduced the gap at the 41' with Schurrle. A few minutes later a penalty was awarded and the match could have taken a downturn for us if it wasn't for a magnificent save from Oblak. In the second half Dortmund had a more attacking profile, but once again our defence was untouchable. Filipe Luis didn't let a fly pass his way and Savic and Godin were bossing inside the box. At this point, I decided to revert to a 4-1-4-1 with a Striker as I felt I needed someone capable of keeping the ball higher up the pitch. Torres came in for Gaitan and Griezmann took the left WM spot. Two counters and almost identical goals were scored by Saul and Carrasco in the 74th and 83rd minutes, both assisted by Griezmann gave us a sure qualification. Aubameyang's goal at the end of the match came too late.
Very happy with the qualification, I think I've managed to play by the strength of Atletico, keeping a tight defence and producing some quick counters using the pace and skills of Carrasco, Gaitan and most of all Griezmann. The Frenchman made two goals and three assists over both legs, a Ballon d'Or performance.
2nd Leg: Atletico Madrid 4 – 2 Dortmund (Gaitan 3, Griezmann 10' 30, Saul 74, Carrasco 83 / Schurrle 41, Aubameyang 86)
Atletico win 5-2 on aggregate!