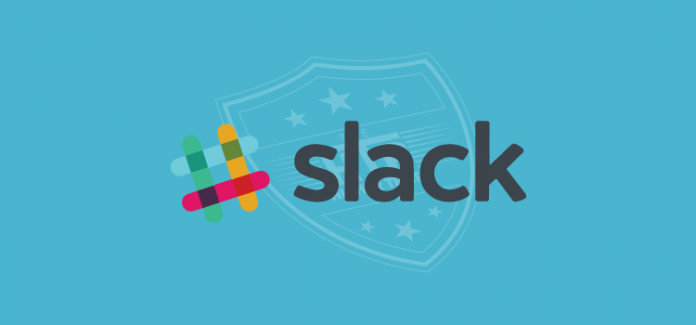 Ello boys and girls. How you doing? Are you well? Good! And yes, I'm doing well thanks! It's getting towards the summer, with the longer nights and hot weather. Festival season is coming, I'm going on holiday, and can't wait for BBQ's each weekend.
Oh, what's that? Shut up and get on with the Slack FC update…?
…Well since you asked so nicely…
October 2016
1st October 2016

A nice big headline to get you interested. The FA Cup game against Harrow is coming up. Heskey is happy with the draw and is confident of a win, and so he should be! All 23 players are available to pick from.
The confidence is justified. Slack FC are victorious over Harrow by 3 goals to 1. Severin Lambiel and Regista get on the scoresheet, with the third coming from an own goal.
Samo is left on the bench again by Heskey and throws a tantrum. His mum comes to collect him from the ground in her Nissan Micra.
Malteasers are passed around as a victory treat by Heskey. The club is drawn against Dagenham and Redbridge in the next round.
7th October 2016 – Kinna, Oliver Jensen and Chris Eadie all feature for their respective U21 international teams. Kinna plays well as Croatia beat Romania 4-0, Jensen and his compatriots struggle as they lose 2-0 at home to Germany, whilst Eadie played in a 2-0 win for Northern Ireland over Israel.
8th October 2016 – Back to the league now, and Slack FC have found an inspirational midfielder in Danny. The Australian player picked up 2 goals and a 9.40 rating as Slack FC smashed Gosport 4-0, with Stuart Reid getting another double. Weirdly, midfielder Angel Bastardo starts at right back – Heskey showing that he's got the flair for the unorthodox
After the game, Reid visits the orthodontist's office to get braces to match his emerging talent to score 2 goals every game.
Heskey opts to put three unknown youngster on the bench in the form of Edward Green, Kieran McQueen and Tony Clifford as a plague of chicken pox hits the team the night before the big game.
9th October 2016 – It's not chicken pox that everyone's got…
It's a hangover! Some of the more "experienced" lads in the squad become bad influences on the weaker players as a number of them mention headaches and bright blue drinks. It emerges that the squad have been out drinking whilst under age, with bottles of WKD, Smirnoff Ice and Bacardi Breezer being discovered in a bush near the Slack FC stadium. Alcopops are banned from the training facility by Heskey, whom orders assistant manager Chris Kiwomya to keep an eye on the boys.
11th October 2016 – I'd love to have been a fly on the wall for this one. A shock 2-0 defeat at the hands of Welling United sends the Slack fans home in a bad mood.
One thing to note is that Cosmo finally made his debut for the club – that officially makes him a bad omen. HEATHEN!
The coaches think that Cosmo, Severin Lambiel, Regista and Marc Bowen could use a rest – the culprits from the alcopop scandal are revealed!
13th October 2016 – Ewan Beattie rejects the offer of a professional contract with Slack FC, as the tables start to turn on Heskey. Beattie has yet to feature in a game under Heskey's management, and the Scot is looking to make a move away as soon as he can.
15th October 2016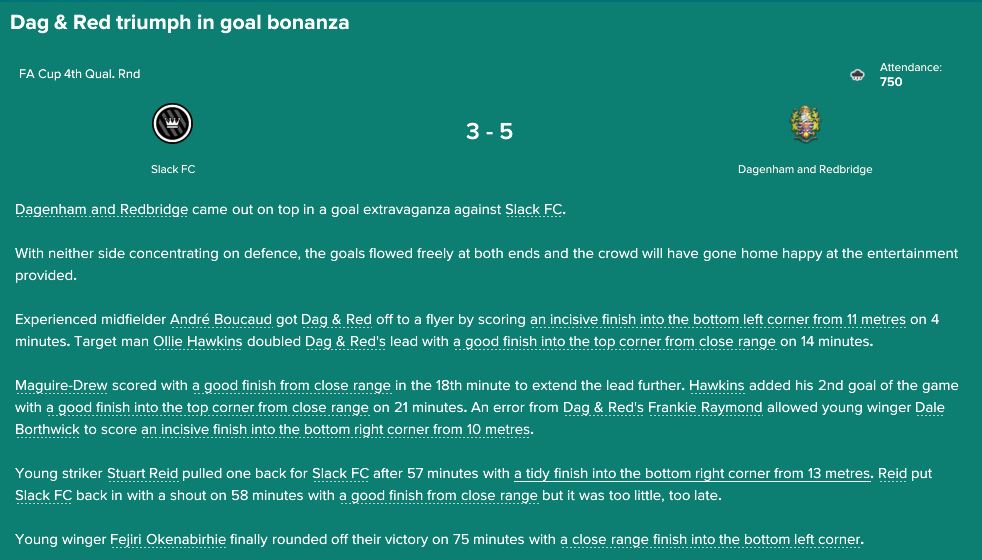 Another poor defensive performance from Slack FC, making it 2 defeats in a row with Cosmo in the team (sorry mate). Reid gets another brace, but it's not enough as the Slackers let slip 5 goals at home. Awful stuff.
Even worse news for Heskey is coming…
18th October 2016

Slack FC draw 0-0 at away at Oxford City, but the big story is that top scorer Stuart Reid is now out for a substantial period of the season after dislocating his shoulder. Additionally, barnet and Oliver Jensen also pick up small knocks against Oxford, putting them out of action for 11-14 days and 2-3 days respectively. Jensen is currently suffering a goal drought having gone eight hours without a goal. Heskey takes away his PS4 and orders him to put more effort in on the training pitch.
22nd October 2016 – Slack FC hammer Hemel Hempstead by a humongous 4-1 scoreline. Danny pulled the strings today, picking up another two gaols from midfield. He now has 7 for the season. Lambiel also found himself back on the scoresheet, with Pichichi taking advantage of Reid's absence and staking a claim for first team football.
24th October 2016 – The club draws Bridgwater Town in the Third Qualifying Round of the FA Trophy. Come on boys, we can win this one!
25th October 2016

It's another victory for the boys by their favourite scoreline. A 4-1 home win against Chelmsford City is just what the doctor(Poods) ordered. Bastardo has the best game of his career in a Slack FC shirt by scoring two goals, Regista and Pichichi getting the others.
This game was also important as EWAN BEATTIE FINALLY MADE HIS DEBUT for Slack FC. This leaves sub goalkeeper (again, sorry mate) DrPoods as the only lad to not make his debut yet for the club. All of the lads console the poor keeper, but Heskey takes no notice.
29th October 2016 – It's all a little inconsistent for the fans now. Slack draw 1-1 at home to Eastbourne Boro. In fairness, our opponents were second at the time of the match, but even still it's more points dropped.  Lambiel gets another goal for Slack, whilst both Beattie and Eadie continue in the starting line up.
Regista is notably missing from this fixture. No wonder they drew.
31st October 2016 – Halloween Havoc for Slack FC as Severin Lambiel is injured for 4-5 weeks with an abdominal strain.
November 2016
1st November 2016 – South American lads Bastardo and Regista feature in the National League South Team of the Week!
2nd November 2016 – 12 players have been called up to their international sides. Keysi Rensie, Daniel Gear, Marc Bowen, Kinna, Regista, Samo, Cosmo, Ewan Beattie, Chris Eadie, DrPoods (despite never playing a professional match), Danny and Angel Bastardo will all feature in the next few games.
12th November 2016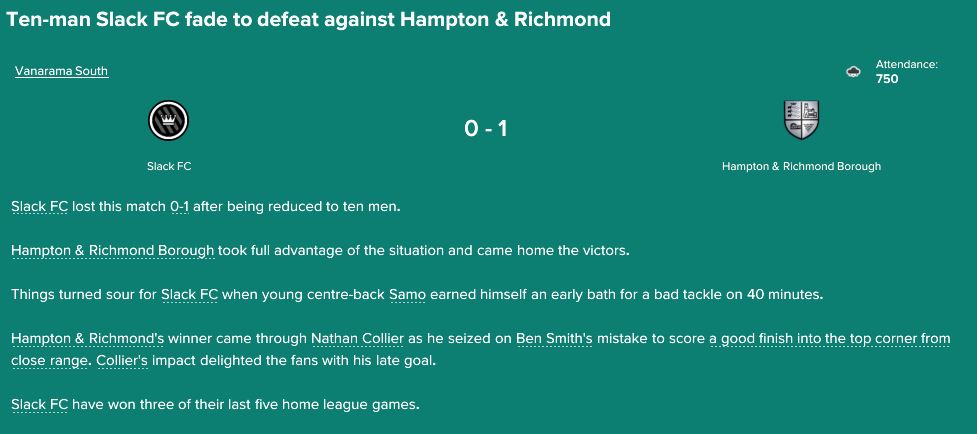 Dammit, Samo!!! He's banned for one game. Heskey takes away his iPhone for the week. More bad news for Heskey as midfielder Adam Pengelly is out for 4-5 weeks with a sprained ankle sustained in the match against Hampton and Richmond Borough.
19th November 2016 – Away win for Slack, and it's Pichichi stealing the limelight here. The English type Poke-player picked up his first Slack FC and career hat trick as his goals help his side beat Whitehawk 4-2. Pichichi is in a good spell of form at the moment – that's gotta mean he gets injured soon right?
24th November – Severin Lambiel is back in light training.
26th November
Who says that we can't batter anyone like a fine piece of cod? It's 5, 6, 7, 8 for Slack FC are through to the next round of the FA Trophy after demolishing Bridgewater Town 8-1!! Severin Lambiel, just back from the treatment table, picked up four goals in a dominating display for Heskey's side. Regista also performed well, scoring twice from the spot and picking up two assists. Pichichi and Dale Borthwick finished the scoring. Although most of the plaudits have gone to the forwards, the defence should also get some credit, with the skipper Kinna picking up a 9.0 rating.
That being said, it's only Bridgewater Town (my apologies to the good folk of Bridgewater)
This is the biggest win in the club's short history. They play Torquay in the next round.
30th November 2016 – A few injuries to report on…
Angel Bastardo is out for 3-4 weeks with a groin strain picked up in training.
Ewan Beattie is out for 2-3 months with torn ankle ligaments picked up in training.
Regista's got man flu. He's said to be thinking about retirement.
December 2016
2nd December 2016 – Assistant Manager Chris Kiwomya has singled out Daniel Gear for his training performances. Apparently he's improved considerably as a footballer.
3rd December 2016 – It's another big win for Slack! Six different goalscorers for the boys as they triumph over Truro 5-1. Joe Timms, Lambiel, Danny, Regista and Borthwick all adding to their tallies for the season. barnet, unfortunately, put the ball past Slack keeper Ben Smith to ruin the day. Idiot.
Lambiel is up to 13 goals for the season, and is definitely picking up the slack (had to) after Reid's injury. Who needs Stuart Reid?!
6th December 2016 – Daniel Gear, Cosmo (quietly having a good season), Regista, Borthwick, Danny and Lambiel all feature in the team of the week. Heskey certainly has his favourites.
7th December 2016 – Adam Pengelly and Stuart Reid are back in full training!
Emile Heskey is planning the club Christmas party. He's hired Pat Sharp, Dave Benson-Phillips, Katy Hill and Neil Buchanan to provide the entertainment.
10th December 2016 – It's raining goals for Slack! They are through to the 2nd round of the FA Trophy proper as they beat Torquay United by 6 goals to 1. Pengelly returns to the side in midfield ahead of Joe Timms for this one, but it's Regista that takes the plaudits as he takes his tally up to 8 for the campaign. Look at the defensive performance though – 8.0+ ratings for everyone! Cosmo, Kinna, barnet and Gear really cementing their places in the side now – it's hard for Heskey to replace anyone!
Boreham Wood await in the Third Round.
17th December 2016 – The next league game against Hungerford is called off due to a waterlogged pitch.
Rumour has it that 90's legends Five have been booked for the Christmas party by the chairman.
20th December 2016 – Angel Bastardo returns to first team training following a groin strain. DrPoods has cut his hand, but that doesn't matter as he's not playing anyway…
22nd December 2016 – The Slack FC Christmas do goes ahead with no issues whatsoever. Curfew is 10pm though, and some players were almost late in handing their permission slips. Everyone drinks plenty of Vimto, gorges on Party Rings, and Five make everyone get down with their awesome set.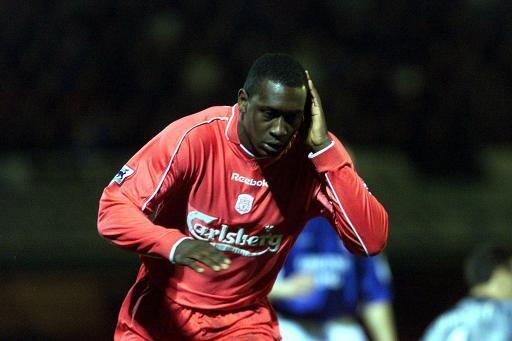 Heskey gets on the DJ decks after the live acts, and tells the lads he's got a present for them, and they'll find out on Boxing Day…
26th December 2016 – WE HAVE OUR FIRST SIGNING FOR SLACK FC!
Heskey's present comes in the form of a new signing! Oddly enough, despite the great form of Ben Smith, and his reliable deputy DrPoods, Slack FC manager Emile Heskey has decided that the squad needs a new goalkeeper. 35 year old Nathan Vaughan becomes the first incoming transfer for the Slackers – remember this when the story finishes.
31st December 2016 – It's another away win for Slack FC, keeping them firmly at the top of the National League South. Regista leads the way as Slack beat Wealdstone Town 3-1. Lambiel also gets on the scoresheet again with a brace. But the main news from this game is that DRPOODS HAS MADE HIS DEBUT as Ben Smith came off with a small injury just 10 minutes in to the match.
January 2017
2nd January 2017 – A new year comes with plenty of cheers. Slack FC beat Ebbsfleet 3-0 at home to keep the pace up at the top of the league. This was a dominating performance from the Slack lads, with goals from Davey, Pichichi and Cosmo! Danny also picked up a hat trick of assists.This win puts Slack 2nd, two points off of top spot, but with 3 games in hand Heskey and hsis team are in the driving seat.
3rd January 2017 – Davey, barnet, Cosmo, regista, Danny, Keysi Rensie, Reid and Pichichi make the Team of the Week!
6th January 2017 – It's a boring 1-1 draw for Slack as they can't take their chances against Hungerford. Slack found themselves behind, with Joe Timms sparing their blushes just after the half time interval. Daniel Gear has a good game at the back, and has made 26 appearances for the team so far.
8th January 2017 – It's rumoured that Heskey is in the loan market for a winger, and has his sights set on Swindon Town's out of favour player John Goddard.
In a much changed line up, the boys get back to winning ways as they beat St Albans 2-1. It's a big game for Oliver Jensen, as he ends a run of 11 games without a goal by scoring the winner. Lawrence Davey has an excellent game in defence, and celebrates by signing a pre contract deal.
Chris Eadie, Davey, Regista and Danny all make the next Team of the Week.
9th January 2017

Goddard will have to compete with Keysi Rensie, Regista and Dale Borthwick for the winger spots it seems. He makes his debut immediately as Slack pick up another away win, this time 3-1 at Bishop's Stortford. Regista puts in a man of the match performance, but Dale Borthwick picks up a double and barnet gets a rare goal. Slack are now top of the league, 2 points ahead of Eastbourne Boro with an all important game in hand.
It's turning in to a bit of a two horse race now…

14th  January 2017 – Time to turn to the FA Trophy now, and Slack progress to the next round! It's back to back 3-1 wins for the Slackers, with Reid, Pichichi and Kinna all netting as Boreham Wood are brushed aside. John Goddard keeps his place in the side.
Harlow await in the Third Round of the FA Trophy.
15th January 2017 – Eadie, Regista, barnet, Goddard and Pichichi all feature in the Team of the Week!
16th January 2017 – Some gossip has filtered through the interwebs…

Pichichi is not the only player to attract attention from other clubs, as most of the team are being scouted right now.
20th January 2017 – Reading manager Jaap Stam is asked about Slack FC player Stuart Reid as there is talk of linking Reid with a move to the Royals.
Stam is quoted as saying "I would love to make him part of the team and we are working towards that end".
21st January 2017 – Nottingham Forest, Huddersfield Town, West Bromwich Albion and Ipswich Town have made offers for a Slack FC player…
22nd January 2017 – It's a new record for Slack FC! If you've noticed, we're on an  unbeaten run right now, and it's been extended to 12 games due to the 1-1 draw with Weston-Super-Mare. Pichichi keeps up his good run of form, scoring 24 seconds in to the match!
23rd January 2017 – Daniel Gear, Kinna and Pichichi are all named in the Team of the Week
24th January 2017 – The unbeaten run has extended to 13 games! It's a superb away win at Concord Rangers as Slack comfortably win 3-0. Borthwick, Pichichi and Reid all add to their tallies for the season, but Joe Timms gets the plaudits with a superb display from midfield in a much changed team.
Slack sit top of the National League South, 6 points ahead of Eastbourne Boro in 2nd.
27th January 2017 – THE FIRST SLACK FC PLAYER HAS BEEN SOLD.
Aaaaaaaaaand that's where I'm gonna end the update…
…Why? Because I can.
This covers almost four months which is one more than I normally would do. Yes it's a long one, but I wanted to build up towards the end of the transfer window, and it didn't make sense to finish the update at December 2016. We're starting to see some players attract attention from both in England and abroad, and with the 31st January 2017 literally days away, expect to see some major transfer activity in the next update.
I hope you enjoyed this Slack FC story update, and I really appreciate all the comments and views that the posts are getting. If you are enjoying the story, then follow me on Twitter (@registafm) to be the first to know when new updates are coming out. Next time, we're gonna be heading through to April, where the season may well draw to a close. Who will leave Slack FC, and who will stay to fight it out for the National League South title? All will be revealed soon.
Until then guys and girls, enjoy the great weather and Be Champions.