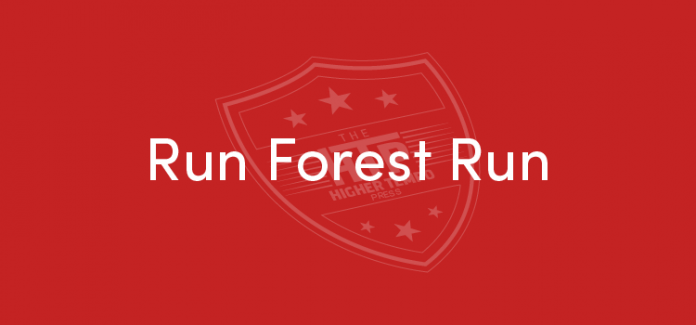 Happy New Year everybody! Let's hope 2017 will bring Nottingham Forest much joy and success. To show him I really do enjoy having him around, I give my assistant David Byrne a grilled cheese maker which burns the name CLOUGH into his bread. You know what? I think I'll give everyone such an apparatus. Except for Lord Bendtner, who's off to Bologna. Fare-thee-well you lazy bastard! Another departure is a bit more dramatic. As expected, club topscorer Assombalonga has been selected for the DR Congo squad. He'll be off to Gabon for three weeks come January 15th.
Luckily, Matty Fryatt is back on his feet so he'll get the chance to earn himself a contract renewal in the coming weeks. But with Vellios unhappy because of his (lack of) playing time, I do consider bringing in another striker on loan. Furthermore, Swansea put in a non-negotiable offer for Assombalonga worth £11,000,000, but with only £6,000,000 up front. The other £5,000,000 we get in 12 months, after 50 games and when The Swans win the FA Cup. I decide to risk an unhappy Assombalonga and refuse the offer. Besides, Bournemouth, Watford and Borussia Mönchengladbach are also interested. Elsewhere, Wolves come in with a low bid for Matt Mills, which I reject and several clubs want to take the very talented Matty Cash on loan. Considering he only made six appearances thus far, I accept. He really needs some playing time.
In the meantime, we face Barnsley. Indeed, the same side that ended our unbeaten run back in November. So we have a bone to pick with The Tykes. After agreeing a contract with us back in November, Tyias Browning finally joins us. The former Everton defender will slot right in next to Mills, who replaces the tired Hobbs. Due to fixture congestion, I have to be a little creative in my team selection but I am confident of getting a result today.
I have a feeling Barnsley is turning into that opponent. You know what I mean. That one team you just can seem to beat, no matter how hard you try. We were certainly the better side, but after Mills fouled White in the penalty area and Adam Armstrong converted the penalty kick there wasn't much fun to be had at the City Ground. Things got worse when O'Hara put in a tackle you only see in kung fu movies and got his marching orders. With ten men remaining, we were not able to break through the tight Barnsley defence. This is very annoying.
There's some good news after this defeat, however. 24 year-old Austrian midfielder Konstantin Kerschbaumer has agreed to join my setup at Forest from Brentford for £400,000. He has all the right attributes to perform very well as an enganche and has the right mental attributes too (bravery 12, determination 16 and work rate 13). Finally some competition for Lansbury.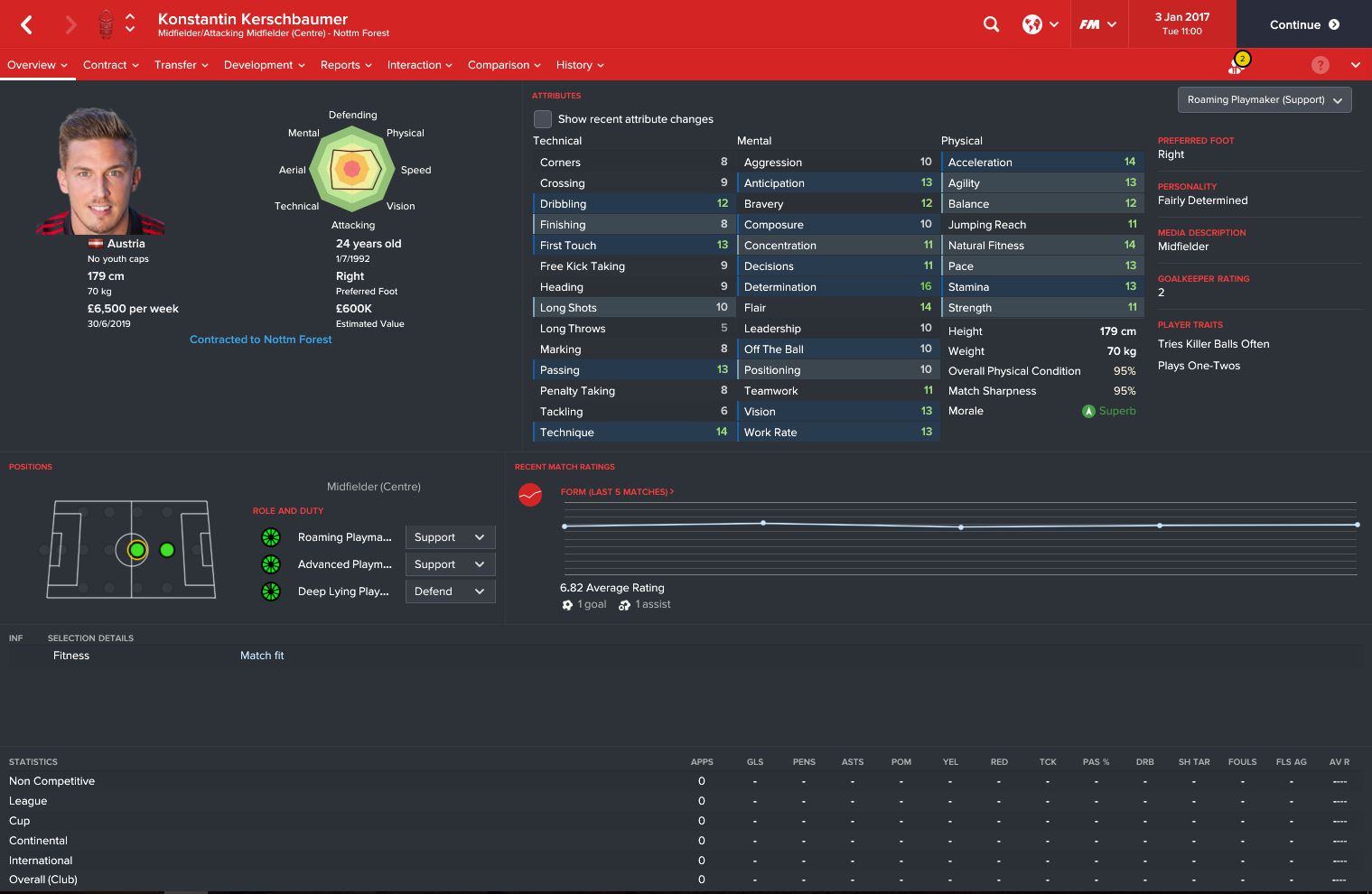 The third new face around the City Ground this transfer window is 19 year-old striker Dominic Solanke, who joins us on loan from Chelsea. He lacks the necessary mental qualities, but he is only a short term replacement for African Cup of Nations participant Assombalonga.
Next up is a 3th Round FA Cup fixture against my (fictional) home town club Middlesbrough. The Riversiders are 17th on goal difference only and have lost 11 out of 20 games. This smells like… like… like… an upset. I put Kerschbaumer and Browning in the starting lineup and give them a chance to impress me. Since this is a cup tie, reserve goalie Henderson will also be making a start.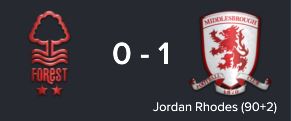 Either we are a bottom half Premier League side or Middlesbrough a decent Championship side, because there was nothing in between us today. We matched them on every square of the field and showed we are no pushovers. The 'Boro tactic of using two defensive midfielders stumped our attacking moves, but on the other side Browning and Hobbs kept a very closed shop. It was only a last minute cross by Stuani which landed on the head of Rhodes that knocked us out. But the FA Cup is not a priority for me this season. I want promotion playoffs and will not let a cup run stand in my way.
After signing three players this transfer window, I decided it was also time for a small clear out. The talented Matty Cash didn't get the playing time he needs, and so hopefully will be able to get weekly football on loan at Scottish outfit Hibernian. With the arrival of Browning, Damien Perquis was even lower on the pecking order. That meant after only 4 appearances, the Polish Frenchman and his £6,000 per week pay check leaves for Zaglebie Lubin. The other player who is on his way out is Greek striker Apo… Aposte… euh… that Vellios guy. He has been complaining that is 6.67 average rating should merit a starting place in my lineup. I disagree. But after he complains to the media about it, he finds himself on the transfer list. PAOK Saloniki from his native Greece picks him up for a cool £1,000,000.
The biggest loss this transfer windows is Chris Cohen, however. He has torn his knee ligaments and is out for 2-3 months. He has been a vital part of my team and one of its best performers with a 7.12 average rating in 25 matches. Ben Osborn will take his place during the very important game against Giggs' Birmingham City. They are one point behind us in 7th place and a win here would put his firmly in the promotion playoffs positions. They have suffered two 0-3 losses in a row, so this is the perfect time to strike.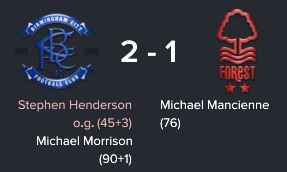 In hindsight, it was the perfect time to strike of Birmingham City. After Stojkovic stubbed his little pinky, Henderson came on and during what seemed to be a harmless situation, he actually managed to put the ball into his own net. Mancienne's goal seemed to undo the damage done by the Irishman, but Michael Morrison put in a last minute header to sent us out of the top six. And we were just getting comfortable there. It seems to be that after a short period of relatively nice matches, the slump has returned.
Therefore, I decide to return to the 4-1-2-3 DM posession based system, with one small adjustment. I change the DM to a defensive midfielder and the MCL to a deep lying playmaker on support. That way, my midfield will keep its shape better than with a ball-winning midfielder running all over the place. Furthermore, Assombalonga packs his bags and heads for Gabon. Maybe that's for the better. He hasn't scored in ages and has been putting everyone down with his low morale. Some time away from the City Ground might be just the thing he needs. At the same time, Vellios agrees terms with PAOK and so he's also out of here.
This gives me a bit of room in both the transfer as the wage budget, so I decide to scour the transfer listed players to look for an inside forward. Remember when I said at the start of the season that I wanted Assombalonga to play on the left side as inside forward? Well, that didn't go so well. So returning to the 4-1-2-3 DM means I'll have to search for a new inside forward, considering I don't trust Licá, Carayol or Dumitru to do the job.
We face 19th placed Bristol City, who has somehow clawed its way out of the relegation zone. My newish midfield will consist of Lansbury, Osborn and… Vaughan. I believe his innate wisdom and experience will provide extra stability at the back. The fact he hasn't played since November 26th means he might be a bit rusty. But I trust you, David. You are the son I never had, mainly because I would have been about -4 when I would have become father and that's just a bit weird, even by UK standards.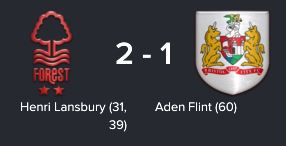 This win is like a breath of fresh air. It's like when you have a cold and suddenly one nostril opens. Henri Lansbury was magnificent, freed from the shackles of the more static enganche role and able to attack the opponent's penalty area from midfield. Without a ball winning midfielder my midfield kept its shape and was able to neutralize Bristol City's star player Lee Tomlin. Even The Robins' goal, out of a corner, did not bring us out of balance. And to make matters even better, the win has led us back into the top six and hopefully out of the slump.
Just a few days after that excellent result against Bristol City, we are on the road to Leeds, where Leeds United awaits. Last time we've met they were victorious. Since then they have been languishing in no man's land and currently sit at 11th place. We have to be especially careful around Stuart Dallas, who has 8 goals and 3 assists behind his name. Meanwhile, Carayol has suffered a torn hamstring so he'll be out for 3 months. Licá is his replacement. Other than that, we go unchanged in comparison with the game against Bristol City.
Blast! This really was a match with two very different halves. The first half was dominated by us and we had a deserved lead at half time. But in the second 45 mins, everything fell apart. We were under unrelenting Leeds pressure and couldn't cope with it. And things weren't helped when Henderson made an own goal AGAIN. Lucky for us, Stojkovic is fit again and will be ready to play. But now, the damage has been done and we're out of promotion playoff places.
Just when my quest for an inside forward seemed to have a fruitless end, my scouting department put 23 year old Scotsman Jamie Walker on my radar. He has the required mental skills and is an important part of a very good playing Hearts side, who are 2nd in the Scottish Premiership. Plus, he has an average rating of 7.03 and has contributed 6 goals (2 goals, 4 assists) in 16 matches. So with only hours to go until the transfer deadline, I snap him up in a way Harry Redknapp would be proud of.

Transfer deadline day sees us taking on Rotherham, whose relegation is already almost a certainty with 8 points from safety. They have lost 20 in 28 matches, which is a feat in and of itself. Last time we met, we hammered them 0-6 at their own ground and I expect nothing else on our own turf. I decide to change turns around a bit, because there were a few players who let me down at the Leeds game. Henderson, Vaughan, Dumitru, Mancienne, and Fox all have been less than impressive and will be replaced by Stojkovic, Williams, Browning, Kerschbaumer, and Pinillos. I put Lansbury on the left wing as inside forward and Kerschbaumer on attacking central midfielder duty. I have a less than happy reunion with my star striker Assombalonga, who has rejoined us after DR Congo failed to make it out of the group stages of the African Cup of Nations. His morale is still fairly poor, so he'll take his place on the bench for now. This will be a very special match for Napoli loanee Dumitru. He will be joining Rotherham in presumably the League One next season. It's just a shame he'll be on the bench.
This match is a fine example of breaking down a parked bus. It will probably be studied by generations to come. Where other civilizations have left us with the works of Aristotle, Confucius, and A-ha, this will be the legacy of the Nottinghamshire civilization when Trump and Kim Jong-Un wipe us out and aliens will come to study us many years into the future. It's the familiar scenario. We've been the better side but thanks to some ultra defensive tactics, it's still 0-0. So I decide to play a little bit more fluid, fairly wide and put Assombalonga in for the failing Fryatt. These simple changes turned a dour match into a goals galore with Assombalonga (for the first time in 11 matches!), Lansbury, Kerschbaumer, and Licá all taking the opportunity to put one past Lee Camp.
And so we end January 2017 7th in the table, one point from promotion playoff places. Our form has been a bit disappointing with only two wins from a possible five. Especially the losses against Birmingham City and Barnsley will continue to sting for a while. But I'm quietly confident. We have strengthened ourselves and got rid of some of the fringe players. I have a feeling February will be our month.