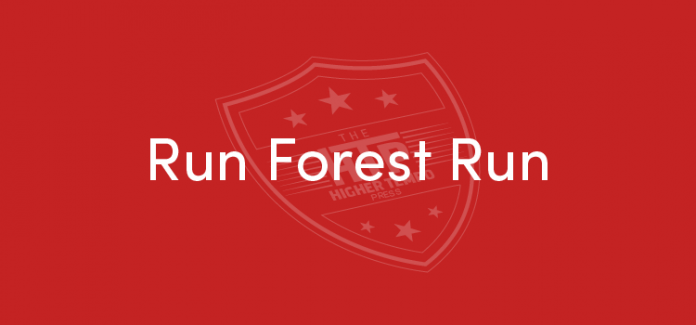 With 15 games played, we're at one third of the season, a nice time to review how it has been going until now. Out of these 15 games, we won 10, drew 3 and lost only twice. We haven't tasted the bitter taste of defeat since August 27th, when Leeds United bested us at the City Ground. That means we are unbeaten for 10 matches, an incredible result. I honestly hoped to end this season at mid table, and although this is still possible, they can't take away the points we have won thus far.
We hopefully resume our unbeaten run at home against fifth placed QPR. This is a good opportunity to enlarge the gap between us and the Londoners. They have a very capable squad and will pose a real challenge for us. Because of Dumitru's performance last time against Reading, I decide to give him a chance in the starting lineup. I stick him on the left as an inside forward. Osborn will sit this one out, for now.
After we have wasted a few good chances, we finally get off the mark at the 32nd min. A free kick by Fox is flicked on by Dumitru into the feet of Mancienne, who puts it past 'keeper Alex Smithies from close range. Some players who have played for the other team in the past, choose not to celebrate at this point. But Mancienne doesn't care. His two seasons at QPR are instantly forgotten when he sprints across the field to celebrate his 2nd goal of the season. Only 8 minutes have been played when Dumitru is sent deep by a beautiful Assombalonga pass and fouled by James Perch within the penalty area. Given our penalty record, this is by no means a done deal and Assombalonga shows what poor penalty takers we are. This is rapidly becoming an issue. The second half has just begun when Stojkovic makes a fantastic save to deny Idrissa Sylla the equaliser. A few minutes after this chance goes begging, we strike. Hobbs plays a wonderful pass to Dumitru, who puts it wide to allow Assombalonga to score his 10th of the season with a simple tap in. Wonderful stuff. We are not yet done celebrating when Fox takes down Tjaronn Chery in our penalty area to give The R's a chance to pull one back. Chery shows himself to be a better penalty taker than our entire team and puts it away: 2-1. Assombalonga's 11th of the season puts a dent in the Londoners' hope, however, when he finds the net after a clinical counter attack. But in the 78th minute, disaster strikes again. This time it's Lichaj who can't keep his hands of Chery and another peanlty is given. Stojkovic does not let himself be fooled twice and saves the penalty kick. And so it remains 3-1 after a very exciting and eventful game.
The result sees us return to the 2nd place with a two point gap between us and Norwich City. Our rivals Derby County are still at the top, however, with a four point lead. The victory against QPR is followed by another international break. Fourteen days without matches. A period to work on ball control with the lads and pray Assombalonga doesn't get injured while on duty with DR Congo. Meanwhile, Chairman Fawaz Al-Hasawi thinks its prudent to lower the percentage of transfer revenue retained from player sales to 30%. This depressing message is followed by huge news:


So, to sum up the events following the takeover. The Lithuanian businessman Roman Romanov has paid £19,750,000 to buy the club. He immediately turns it into a public limited company, which raises £4,200,000 in extra funds. Director Abdulaziz Al-Hasawi follows his brother Fawaz out the door and is replaced by a guy named Luke Newman. The end of the takeover saga also ends the transfer embargo. And last but not least: Romanov offers me a new contract which will (hopefully) keep me at the club until at least June 2019. Unfortunately, no extra transfer funds are made available, but I did not expect Romanov to be an Abramovich or Sheikh Mansour. I just want him to keep me on and learn from the mistakes he made at Hearts.
The lifting of the transfer embargo does allow me to finally spend some of that Bendtner money that has been sitting in the bank. I turn my attention to transfer listed Everton youngster Tyias Browning, a very talented 22 year old defender who can play in both the centre and on the right. With the right values for determination, work rate and bravery (all 13), he will fit right in. Best of all, Everton only wants £550,000 for him, which means he is criminally undervalued.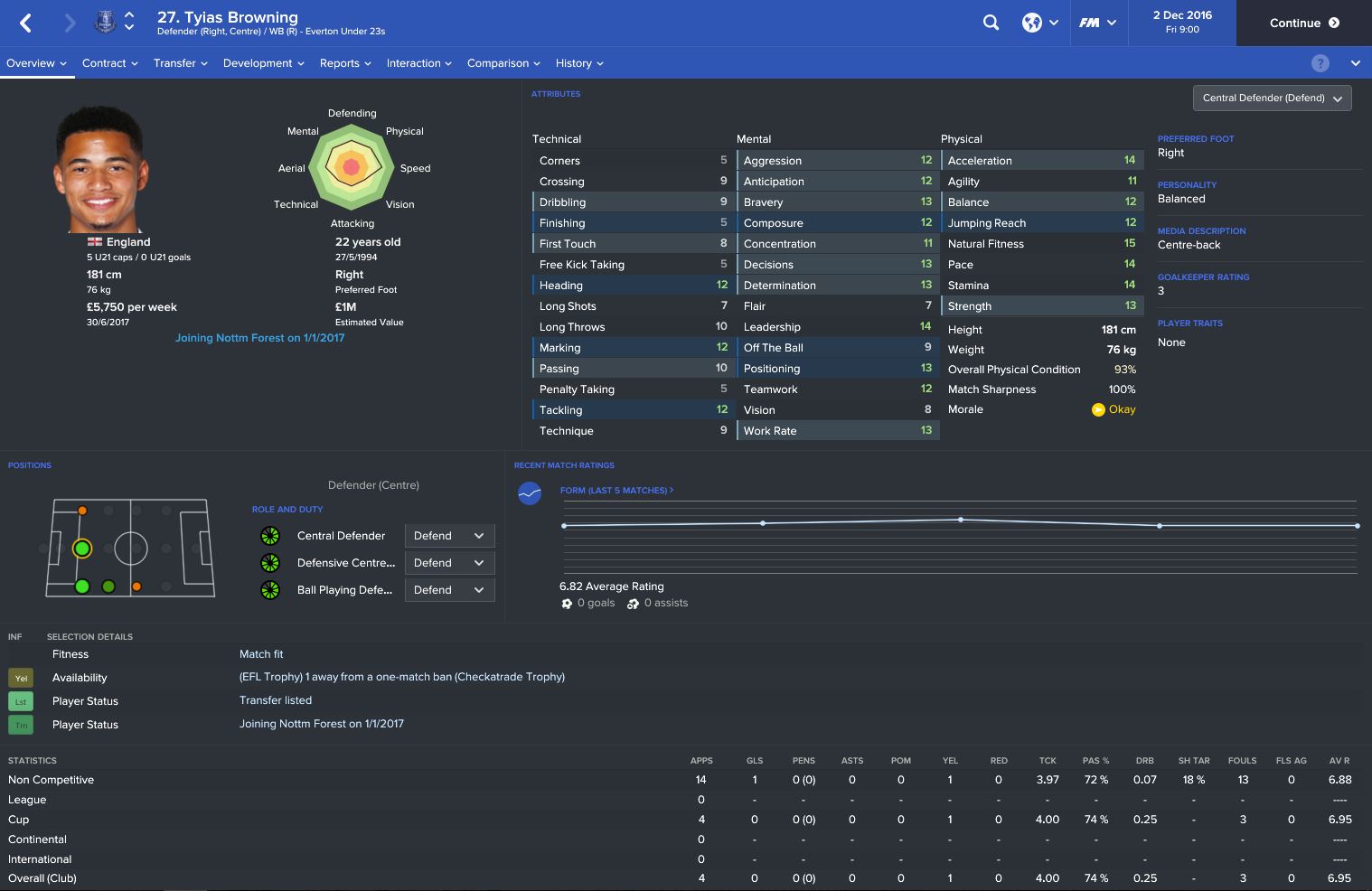 But in between all this board room drama, there are still matches to play. Next up are Ipswich Town, who are 9th in the table. They are without key players Luke Chambers, Christophe Berra, and Brett Pitman, so that would make it a little bit easier for us. Our squad is almost injury free, with only Matty Fryatt still on the sidelines. O'Hara, Carayol and Vaughan are still without match fitness however, but I'm confident we can add a 12th game to our unbeaten run.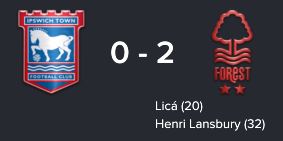 It takes all but 20 mins for us to be 0-1 up. A Lansbury cross lands on the head of Licá, and the Portuguese winger scores his second of the season by heading the ball past 'keeper Bartosz Bialkowski. A lovely one-two between Lansbury and Assombalonga makes it 0-2. These two have recently really acquired an understanding and some of their combinations are just beautiful to watch. It is Lansbury's 6th goal of the season. With a comfortable 0-2 lead at half time, I choose to give Mills and Pinillos some game time. The second half elapses without a lot of chances either way and we leave Portman Road with the full three points.
With Newcastle United, Norwich City and QPR all drawing their games, I have reinforced my 2nd place. There's now a 4 point gap between me and the 3rd placed Magpies. Derby continue to win however, so they are still 4 points clear at the top. Meanwhile, Browning accepts our contract offer and will become the first player I have paid a transfer fee for. His arrival means bad news for Damien Perquis, who I place on the transfer list. The Franco-Polish defender has made only 4 appearances this season and lacks the quality to compete with Mills, Mancienne or Hobbs for a first team place.
The last match of November is a trip to Oakwell, where 12th placed Barnsley resides. They have just ended a four losses in a row slump with an impressive 5-2 win against Wigan Athletic. Manager Paul Heckingbottom has some very good players, including Conor Hourihane and Adam Hammill. Meanwhile, we'll have to get three points without Fox (injured) and Cohen (suspended). Their places will be filled by Pinillos and Osborn respectively.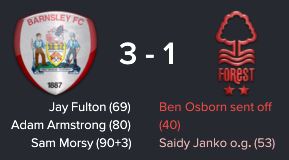 The match is pretty much balanced until Osborn receives his second yellow card after 40 mins of play. That is not very smart considering he's lost his place as left winger and will now be competing with Chris Cohen, my captain. This will not help, Ben. After that, Barnsley pile on the pressure. In the top right corner I see a result which is very welcome: Norwich City is 3-0 up against Derby County. If we win today, we are just one point from 1st place. But that is not going to be easy with ten men. At half time it's still 0-0 and I tell the lads that we can still get a result here. The recovered Carayol comes in for Dumitru. It is definitely one of the most ugly goals in Championship history when Saidy Janko puts the ball in his own net in the 53rd min. A Lansbury corner hits Hourihane somewhere in the crotch area, the ball bounces of 'keeper Davies into the feet of Hobbs, who hits the ball in a way that it would have missed the goal, but Janko is there at the post to put it past his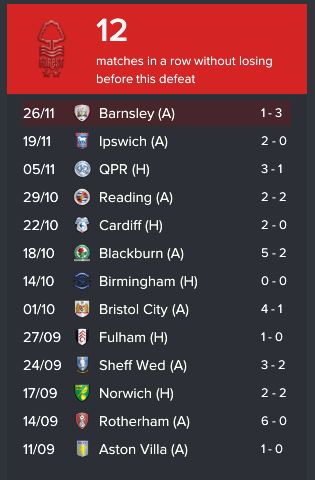 own goalie. This goal is not going to be on the DVD, that's for sure. After this lucky goal, we go defensive. The wingers are turned into defensive wingers and Vaughan makes his comeback after many months of injury. But it is not enough. Sam Winnall is let loose in our penalty area, he puts it wide to Jay Fulton and he equalises. After that, it all falls apart. It's the very talented Adam Armstrong who is send deep and puts it past Stojkovic from 20 metres out. A volley by Sam Morsy puts the last nail on the coffin of our unbeaten run. We've lost. Lost! That's a feeling we haven't felt for a long time…
And so we end November on a sad note. The gap between Derby and us remains four points, but the gap between us and Newcastle United and Norwich City has shrunk to a narrow buttcrack of just the single point. This is really unfortunate, especially because December won't be easy. We face Derby County and Newcastle United twice. I would consider it a miracle when we're still 2nd come January 1st.