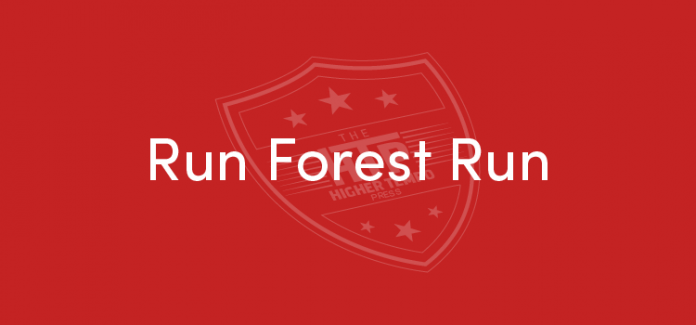 And so we start our first Premier League season in 17 years. Everything but relegation will be considered a success. I expect to win few matches, cry a lot and having a horrible time. But it's the Premier League! Gary Lineker talks about us every week. Alan Shearer will be showing exactly why we fail. It's good to be among the big boys.
August

When I chose Dimitar Evtimov to be my first team goalkeeper, some eyebrows were raised. Especially the bushy ones of Stojkovic, a seasoned goalie who had done well during the promotion campaign. But the young Bulgarian has become the bane of the entire northern part of London. He kept out an incredible 14 shots on target against the likes of Harry Kane and Alexis Sánchez. It's because of him we got these valuable points against Tottenham Hotspur and Arsenal. Otherwise, we haven't been off to a good start. It's the games against sides you'd expect to stand a chance against that we lose. In particular, the match against fellow relegation candidates Crystal Palace was really poor. Up to that point they hadn't earned a point, but we were outplayed and didn't stand a chance. We, well I, need to think of something different if this isn't going to be an absolute nightmare of a season. Our 2 points and a goal difference of -3 leaves us 18th, at the top of the relegation zone.
Tactical changes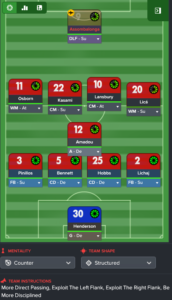 After the match against Crystal Palace and that meagre August, we had an international break. That's a boring time for football fans, but a wonderful time for managers whose side are not doing well. And alas, we fit in that category. I decide to retain the same shape, a 4-1-4-1, but to go a little more attacking. This way, we'll end the campaign with the lowest amount scored during one season in the Premier League (TRIVIA: that was Derby County, who scored 20 goals during the 2007-08 season). So, I add a few attack roles to my side. My M (L) will now be a wide midfielder on attack, and Lansbury a central midfielder on attack. To make sure they concentrate on their attacking duties, I switch to a more structured team shape. Hopefully, this will give us more of an attacking threat. Furthermore, Browning and Mancienne are axed and replaced by Lichaj and Bennett, respectively. To give a bit more confidence to the team, I arrange a friendly against non-league side Hucknall Town FC.
September
Well, the new tactic looked to be working until it didn't. West Brom and Watford are sides we should be picking up points against, but we lost both matches in a disappointing manner. On the plus side, we are scoring more goals: 7 against 2, compared to August. I'm seriously beginning to doubt if we have enough quality to survive in the Premier League and without much financial backing to be expected, we are in for a grim season. But maybe we can give our fans some joy with our EFL Cup run. We won away at the Brittannia Stadium thanks to a good performance by Pajtim Kasami. After a few weeks' stay outside of the relegation zone, we are very much back in the quagmire at 19th place with 5 points out of 8 games.
October

October has been a mixed bag. We started the month well with an already legendary match against Leicester City. Basically, we FM'ed them with a goal in the 90th and 92nd minute. A crucial three points were won that day. The other two Premier League matches were less happy affairs. But, on the other hand: it's not like we were humiliated by Liverpool and Swansea. The goal against Liverpool came from a rare defensive error by Hobbs and the goal against Swansea was a direct free kick. We failed to create many chances ourselves, and that worries me a bit. On the bright side, our amazing cup run has now been stretched to the quarter final. Two wonderful minutes saw us overturn an early Jay Rodriguez goal.

Oh, and remember when I said the thing about financial backing?
"…and without much financial backing to be expected, we are in for a grim season."
See? I did say something about it. Well, I was wrong. Very wrong. When my request for improved youth facilities was denied by Mr. Romanov, I cheekily asked him to raise the transfer budget instead. And by God, he did. I still have bruises from falling from my chair out of astonishment.
So now I have the means to strengthen the squad in January. But since it's still only November, I still have time to firstly determine what area to strengthen and second, who to strengthen it with. This will be continued.
And so we end our first three months in the Premier League just above the relegation zone, thanks to a better goal difference then Bournemouth. I hope we can put a little bit more distance between us and the bottom three with winnable (well, on paper at least) matches against Stoke City, Huddersfield Town, Bournemouth and Burnley ahead.