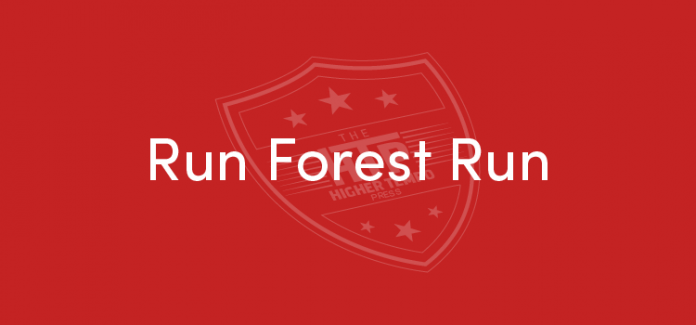 This promotion has been a bit of a surprise. Even though we played well and were in the top ten for the entire season, still something in me doubted that we could go up. But by George, we did. And we did it well. But we will have to adapt if we want to stay in the Premier League. That means a different tactic to begin with.
An often used quote is: "a clean sheet is worth just over two goals scored in terms of points across the course of a season." With that in mind, my tactics will be centred on not conceding goals. We are one of the weakest teams in the league and I expect most teams to play a high defensive line against us. This gives us the opportunity to launch fast moving counter attacks in the space that has opened up behind their lines. So, we are going to be sturdy in the back, and fast moving going forward.
Tactics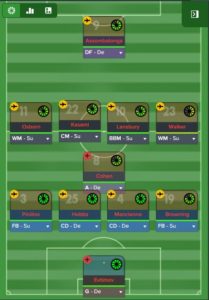 To facilitate this change of tactic, I'm going to use Cleon's counter-attacking formation as a template. I'm trying to create two solid banks of four with the defensive midfielder in between. In attack, I want runners who will chase down the ball and put in the other side's net. Simple, no? So on the left you'll see how we'll be lining up.
As you can see, this is a one-on-one copy of the formation described by Cleon. Like I said, I'm going to use it as a template and make small changes whenever I think that will aid my goal. I'm especially curious about the role of the lone striker. I might change it to a deep lying forward or change it's role to support. But we'll have to wait and see.
A new tactic also requires new players. I don't have any need for players with much flair, but little else. I want brave, hard workers with lots of stamina and heart. Furthermore, not all players are suited to the Premier League. This time we will be facing some of the best teams in the world and I need players who can cope with that. So, I'll be saying goodbye to some of my players and replacing them with players who better fit my new tactic better. I've been given almost £10m to spend on new players, but I'll be looking to supplement this with player sales.
Arrivals
My main priorities for new players are: a wide midfielder, an anchor man (not looking at you, Ron Burgundy!) and a defensive forward. To further strengthen the depth of my squad, I'll be keeping a sharp eye on the retained lists of the other Premier League teams.
With Kasami's loan deal running out, I decide to sign him permanently for £2m with a salary of £47k per week, making him one of the top earners in the team. This may be surprising considering the bit part role he played during the second half of last season, but that was when I did not think we would be promoted and be able to sign the Swiss midfielder. That's why I decided to give other players a chance. But now we're in the Premier League, things are quite different. He's a good all-round midfielder and will play next to Lansbury in central midfield.
My first real purchase is right winger Adam Forshaw from recently relegated Middlesbrough. He has all the right attributes to slot in perfectly as my right midfielder. He cost £7.5m and will earn £25k per week. It's apparently a new record for the club.
My second acquisition is another 'shaw'. Tom Bradshaw joins us from Bristol City for a cool £2m with a salary of £10.5k. He will perform as understudy for Assombalonga and is just the type of combative striker I was looking for.
The third new face joining our ranks is Cameroonian defensive midfielder Ibrahim Amadou. He's a perfect fit for what is essentially a new role for our side. We bought him from French outfit Lille for £4m and a salary of £25.5k per week.

With my three main areas of concern filled with new players, I shift my focus to increasing the depth of the squad. Although the Premier League does not feature as many games as the Championship, we still have a long season ahead of us and will need a large squad of good players in order to avoid relegation. This is complicated by the lack of funds. Kasami, Forshaw, Bradshaw, and Amadou have depleted the transfer kitty and I'll have to be creative to add more players to my squad. Luckily, there is such a thing as the free agent market. I'm able to snap up two more players:
Ryan Bennett is an experienced center back and will offer some real competition for Mancienne and Hobbs.

Conor Hourihane will be a back-up for Kasami and Lansbury. Plus, he can also play at left midfield.
Other new members of the first team come from the youth system. Matty Cash, Dimitar Evtimov, Tyler Walker and Anel Ahmedhozic are promoted from the U23s. Evtimov has done so well during his stay in Portugal he is instantly promoted to be my first choice between the sticks. Cash's time in the first team was cut short by Burnley offering £3.7m for him. That is four times his value and I readily click the 'accept' button.
Although I only get a fraction of the money paid for Cash (if you'd pardon the pun), I still am able to get a decent replacement for him. Enter Gary Gardner, an all-round midfielder who was curiously enough transfer-listed by Aston Villa and only cost me £700k with a weekly salary of £16k.
Departures
The first players to depart were former loanees Jordan Williams, Dominic Solanke, Nicolao Dumitru, and Hildeberto Pereira. Some (especially Solanke) have played a valuable part in our promotion season, but like I said: I need different players now. They are followed by David Vaughan and Matty Fryatt, whose contracts had run out. Vaughan decides to retire; Fryatt will be looking for a new club.
The next to leave is Thomas Lam, who will try to earn himself a contract renewal at newly relegated Rotherham United. Lam had played well in the second half of the season, but I doubt he will (ever) be ready for Premier League football. Other players leaving on loan are Mustapha Carayol (QPR), Armand Traoré (Blackburn Rovers), Jamie O'Hara (Burton), and Jamie Ward (Burton). I wanted them to leave permanently, but a lack of interest prevented this.
Pre-season
Except for the match against South Normanton, these are small victories. But this whole tactic has been implemented to combat the bigger teams in the Premier League, the Big Nineteen if you will. We couldn't expect Ayr United, Montrose, or Hartlepool to come at us and deploy a high defensive line. Hartlepool was a fixture I arranged myself. Now I have faced all of the clubs Clough managed in real life. Sadly, there was no Steam achievement.
Tactics wise, I noticed that Lansbury doesn't go forward as much as I want to in his role as box to box midfielder. So I decide to give him the 'get further forward' instruction and teach him the PPM 'gets forward whenever possible'. I also switch the defensive forward from a 'defend' to a 'support' role. This will make him a bit more of a goal scoring threat. When playing the big teams, I might undo these changes to be more on the safe side.
Will it be enough? Read my next post to find out. In a departure from how I described my first season, I will no longer be giving monthly updates. Instead, my updates will cover multiple months and describe trends. This will allow me to delve deeper into certain aspects of the game, such as youth development, tactics or transfer policy.