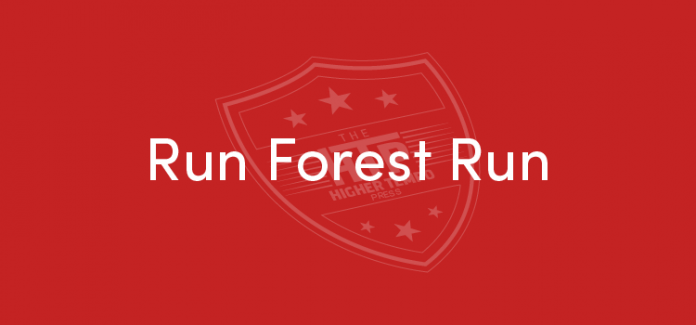 What can be said about such a season? We spent large parts of it on the edge of the top six, being kept out by our own inconsistency and Birmingham City. But at the end, a run of 12 matches without defeat was enough to secure a place in the promotion playoffs. There, we defeated our arch rivals in the ultimate Cloughian clash between Derby and Forest for a place in the Promised Land, the Premier League. In the Final we faced Hasselbaink's QPR, and a late Lansbury goal made all the difference between another season in the Championship and moving forwards, both between the lines and outside it as a club.
Players
And he has been mentioned, the man of the hour, Henri George Lansbury. He has been phenomenal. I don't think we would be in the same position without him. After having to adjust to a new role (enganche) in the old formation, he fully came to his own as a central midfielder with an attacking duty. Making late surges into the box or just blasting it away from distance: Lansbury always found an opportunity to hit the target. And justifiably, that has brought him a much deserved Championship Player of the Year Award, a place in the PFA Championship Team of the Year (together with Jack Hobbs) and the Fans' Player of the Year Award.
His stats are simply impressive:
The other, without whom I doubt we would be in this spot, is Britt Assombalonga. He's fickle as a leaf during an autumn storm, but if you look at the whole season you can come to no other conclusion than that he has been awesome as well with a tally of 17 goals and 13 assists. He started the season as an inside forward on the left side, moved to center forward and ended the season as right winger. During long periods of the season, he wanted to leave to Watford, but in the end he stayed and I don't think he is regretting it now.
The third and final player I want to highlight is defensive stalwart Jack Hobbs. He was not only our rock at the back, but also contributed some very important goals, such as the one against QPR in the 92nd minute which secured our spot in the playoffs. His place in the PFA Championship Team of the Year is more than deserved considering his consistent performances and no nonsense defending. We will need his character and stability to survive against the nation's elite clubs.
Tactics
During the campaign I played with two tactics: a possession based 4-3-3 DM and a 4-4-1-1 direct play. Both had their merits, but we were very inconsistent, regardless of the tactic used. Things picked up when we converted the 4-3-3 DM to a 4-1-4-1. This worked very well, especially against stronger sides. Against weaker sides, the 4-3-3 DM proved a little bit more effective. The more direct 4-4-1-1 was eventually abandoned, because when we moved up the table, the opposing sides played more defensively and there wasn't enough room for us to play the long, direct passes. Next season will be totally different, however, and I'm going to use different tactics to adjust to our new situation.
Youth teams: U23s
We're not a rich club and considering Mr. Romanov is not much of a sugar daddy, we'll have to rely on youth development as a source of new players. So it may be worth our while to check what the youth teams have been doing. First up, we'll discuss the U23s. Jack Lester's boys have been doing fine this season, finishing 4th in the Under 23s Group 2 North. Their best player was central defender Anel Ahmedhozic (6.97), who has made his first team debut this season. Other fine performers were Ryan Yates (6.96), and Frederik Nielsen (6.95). Cup wise, they finished at the bottom of their group in the Premier Division Cup, although they did manage to beat Man City.
Youth teams: U18s
On to the other youth team. They have had an impressive season in Under 18s Group 2 North. Gareth Holmes managed to get his boys up to 2nd place and therefore qualified for the promotion play-offs. Unfortunately, they were beaten in the semi-final after extra time by eventual winners Ipswich Town. Top performers were division top goalscorer Luke McCormick (20 goals in 31 appearances), Yacine En-Nayeh (3rd in the league on average rating with 7.38) and 'keeper Jordan Wright, who kept 7 clean sheets, just one below the number one. They also managed to reach the Under 18s Cup Quarter Final, which they lost on penalties against West Brom.
In conclusion, 2016-2017 has been a great season for Nottingham Forest. We have returned to the top flight for the first time in 18 years. Our next objective is simple: stay up. This will be a very difficult challenge, but with the right tactics and transfer moves, I'm confident I can pull it off.