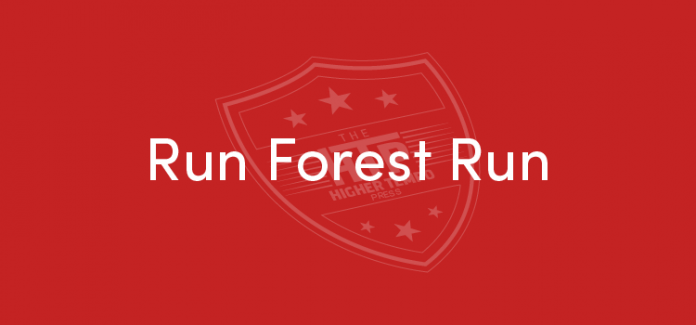 March is the penultimate full month of regular competition football. It is therefore vital we secure a top six position. April will be very busy with 7 matches in 29 days and we have to compensate for the inevitable loss of points due to fatigue. This month we will face Brighton & Hove Albion, Brentford and Burton – three sides who are virtually stuck in mid table security and are both safe from regelation and far from playoffs participation. Even so, we know we have to work hard for every three points because we don't have the quality to underestimate any team in this league.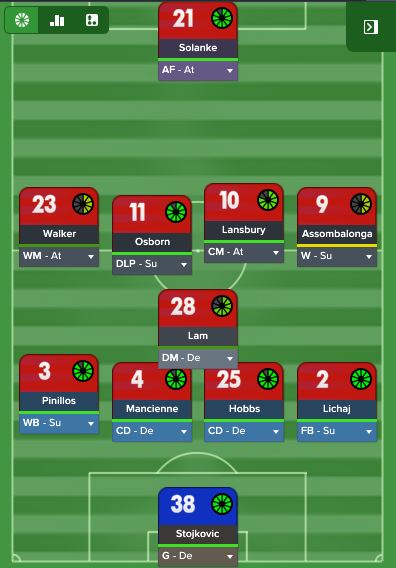 Meanwhile, my assistant David Byrne has brought something crucial to my attention. It appears 14 of 31 assists against us has been coming from the left side of the pitch, were Dani Pinillos plays as a wingback on support duty. It seems that he's so caught up in the attacking play, he isn't back in defensive position fast enough to prevent crosses from happening. To remedy this, I have turned to the FM Slack community, where the wise and powerful bestow advice on the weak and unworthy. And it was there I got the advice the turn my 4-1-2-3 DM in a 4-1-4-1, i.e. bring the wide players back to the MC strata. This wil solidify the flanks. Unfortunately, there is no inside forward role at left midfield, so I adjusted the wide midfielder role to act like an inside forward. So, my formation going forward is going to be something like pictured on the left. We face Brighton without Dominic 'I'm on fire' Solanke, because he's 87% fit. This means Assombalonga will return as a striker, with Licá taking over his position on the right side.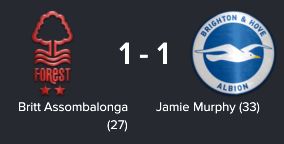 Well, this has not been a very pleasing first outing for our new formation. Assombalonga was his usual self, and despite scoring the opening goal, he missed quite a lot of real chances. Also, Walker's sight was not on point as he also found it difficult to find the net. But as far as I could see, there was nothing really wrong with the formation. And to be honest, even though Wigan is a few places below us, they have the same quality players we have, so I'm not particularly displeased either. We simply lack the quality to blow fish like Brighton out of the water.
The draw against Brighton still leaves us only one point out of the top six, because of Birmingham drawing at home to Leeds. Our refusal to overtake The Blues when they lose points is quite infuriating. Next up we face Brentford at home in a midweeks fixture. Solanke returns as our lone forward, and Assombalonga will take his place as a winger. Hopefully, our young Chelsea loanee can repeat his perfomance against Wigan for us. The Bees travel to the City Ground full of confidence after a 1-2 away win against Ipswich Town. They have one of the most lethal strikers in their side in the form of Lasse Vibe. The Dane has already scored 15 goals. We'll have to be super careful.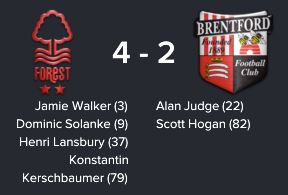 We can be frustratingly inconsistent, but when we're good, oh boy… we ARE good. We give The Bees a show they'll not soon forget. Walker, Osborn, Lansbury, and Solanke toy with Brentford like a cat with a mouse. One fluid attack after another strikes the Londoners' defence and they are run ragged. This is the sort of perfomances that help me sleep at night, thinking it will all be alright. Of course, Birmingham City also win and so we're still out of the top six. The top six looks like a very elite country club where we're not allowed because we have a Lithuanian owner and we smell vaguely of elder berries.
For the last match against teams starting with a 'B', we travel to lovely little Burton Albion. Nigel Clough's side have slipped down the table since we first met at the beginning of this season and find themselves in the relegation zone, 4 points from safety. There's nothing more dangerous than a relegation candidate in March, however, so we have to be careful. Before the match, a belated Christmas miracle happens. Assombalonga informs me he is happy to stay at the club, since Watford are no longer interested in him. This is great news, since he's been very important for us with 14 goals and 11 assists. For the match against Burton, we'll be without Mr. Dependale, Eric Lichaj, who's serving a 2 match suspension for collecting 10 yellow cards. His place will be taken over by Browning. At the other end of my defence, Fox will replace Pinillos, who has been suffering from an abdominal strain.
And there it is! After so many weeks of fruitlessly looking for a place in the top six, where all the cool kids are, we are finally there. We manage a good, solid victory against Burton Albion and elsewhere Birmingham City succumb to a 3-1 loss against Cardiff City. We were kept at bay for the first 45 mins, but a fine run by Assombalonga down the right flank and a Solanke finish was all it took to break the deadlock. The game was put beyond doubt by a mighty Hobbs header. This was a very solid perfomance in a match we used to draw and perhaps even lose. We're unbeaten in 5 games now and have found our heading once more.
But the next challenge is going to be difficult. We face the Dinkleburg to our Mr. Turner, the Newman to our Seinfeld, the Derby County to our Nottingham Forest. Our nemesis has been doing very well and find themselves in 3rd position, five points above us. But they still have Steve McClaren as manager, so an end-of-the-season-give-it-all-away-slump is inevitable. And I'll be able to start this. We face The Rams without Jack Hobbs, our captain since Cohen went and got himself injured. His place will be taken by Matt Mills. The many injuries and suspensions incurred by our defenders have made room on the bench for youngster Anel Ahmedhozic, who gave a good showing of himself against Sporting CP during pre-season.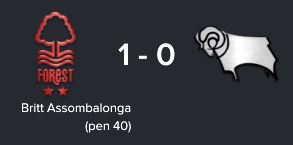 This has been one of the finest matches I had the honour of guiding from the sidelines. A vital win against our arch rivals. The 1-0 score is totally deserved, since we completely dominated the first 45 mins. Derby were nowhere to be seen and when that penalty hit the net, it was nothing short of poetic justice.  In the second half, I decided to tell the lads to retain possession. As long as we have the ball, the other team can't score, right? Right?! And that turned out to be true. We hold the line and even had the opportunity to give Cohen a comeback after months of injury and hand Ahmedhozic his official debut.
Elsewhere, Birmingham City manage to defeat Newcastle United. This means we haven't put them at a distance, but also that automatic promotion is only 3 points away. And seeing the performances we have put in this last month, we could be a contender. April is going to be very tough, that is for sure. We have no less than seven matches waiting for us. Two of them against top six teams and the others against teams near the bottom of the table. Both categories present its own difficulties. But I'm really starting to believe this team can take it all the way.