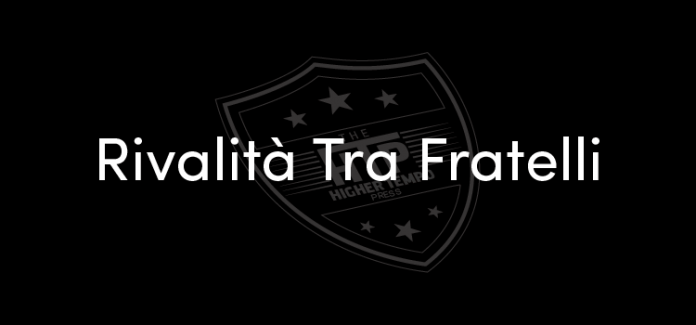 This is the story of two brothers, a modern-day Cain versus Abel if you will, based in the northern powerhouse Italian city of Milan. If you'd like to replicate this challenge, we're using the updated medium database with the following leagues: England (Premier League, Championship, League One & League Two), Italy (Serie A & Serie B), Spain (La Liga & Segunda División), France (Ligue 1 & Ligue 2) and Germany (Bundesliga & 2. Bundesliga).
Rivalità Tra Fratelli – #WeAreTheRivals, Episode 8
CHARLIE: To let you know the size of the task currently facing me, let me run down the list of players who are wanted by various other clubs. Some of them are bigger than us, most have Champion's League football to offer and of course, plenty of money for wages.
Gary Medel is wanted by Jiangsu
Yûto Nagatomo is wanted by Lyon
Juan Pablo Carrizo is wanted by River
Geoffrey Kondogbia is wanted by Manchester City
Jeison Murillo is wanted by Liverpool and A. Madrid
Mauro Icardi is wanted by Arsenal, Manchester City, Manchester United and Tottenham
Davide Stanton is wanted by Leicester City
Ivan Perisic is wanted by Manchester City and Tottenham
Marcelo Brozovic is wanted by Manchester City
Miranda is wanted by Chelsea
Aside from Davide Stanton, who I'd be happy to drive myself to Leicester, I'd rather not lose anybody. At least the window doesn't open for a couple of weeks, although I have noticed Mike perusing the transfer list like a keen reader in a library. In a true story, I have been looking at that same list for the last two days and have been unable to spot anything of interest and wondering what is interesting him so much. Maybe Marco Asensio from Real Madrid might interest me… then I realised that I was looking at the loan list not the transfer list. An easy mistake to make. The big names available are Van Dijk at Southampton (£31 million), Javier Pastore from PSG (£21.5 million), along with a couple of the Manchester City boys – Kolarov and Jesus Navas. No wonder they want half my squad if there's a clear out imminent.
Just before I refocus on the game upcoming, which is Sampdoria away, I'd like to take a look at the available jobs, not that I'm thinking of jumping ship. There's some good clubs looking for managers too. Granada we'll gloss over, but Saint-Etienne, Aston Villa, Cardiff and Empoli look decent shouts. David Lee at Bolton and Claude Puel at Southampton appear to be the next managers most in jeopardy. By the time this is posted, Paulo Sousa has also been sacked at Fiorentina as they lie thirteenth in the table. Sevilla and West Brom are also interviewing candidates.
Sampdoria are the surprise package in Serie A, although not in a good way. They are down in seventeenth, despite being predicted twelfth and privately, I thought they could go higher to trouble the Europa League positions. As I'm putting the team together, I notice who are now our two best performers in terms of rating. Icardi's recent troubles has put him third in our own squad, he's trailing Charlie Taylor (7.55) and Kortney Hause (7.58). I think you'll find that they were my own signings so that's something I'm especially proud of.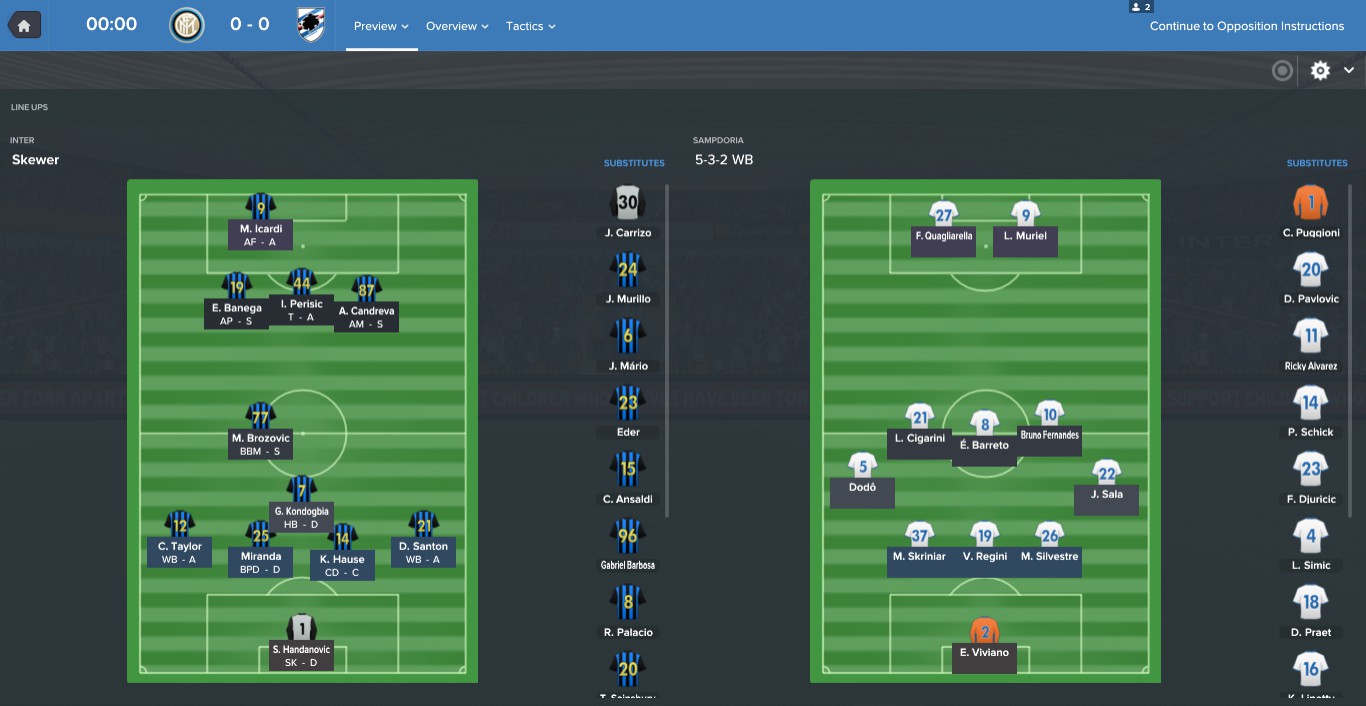 The game follows the pattern I expected, having seen Sampdoria's extremely defensive 5-3-2. They're obviously setting up for the draw and a point would be a good result for them. Sadly, we see another red card as part of the FM17 Challenge and Bruno Fernandes is this weeks' guilty party for two cheap bookings.
Kortney Hause further enhances his reputation with a headed goal, getting to the ball just before Emiliano Viviano (formerly at Arsenal, albeit briefly) to put us in the lead. With Sampdoria a man down, the second half is dearth of entertainment and highlights. We record a 1 – 0 win to make it 16 matches unbeaten. Hause, as you'd expect, is deservedly Player of the Match.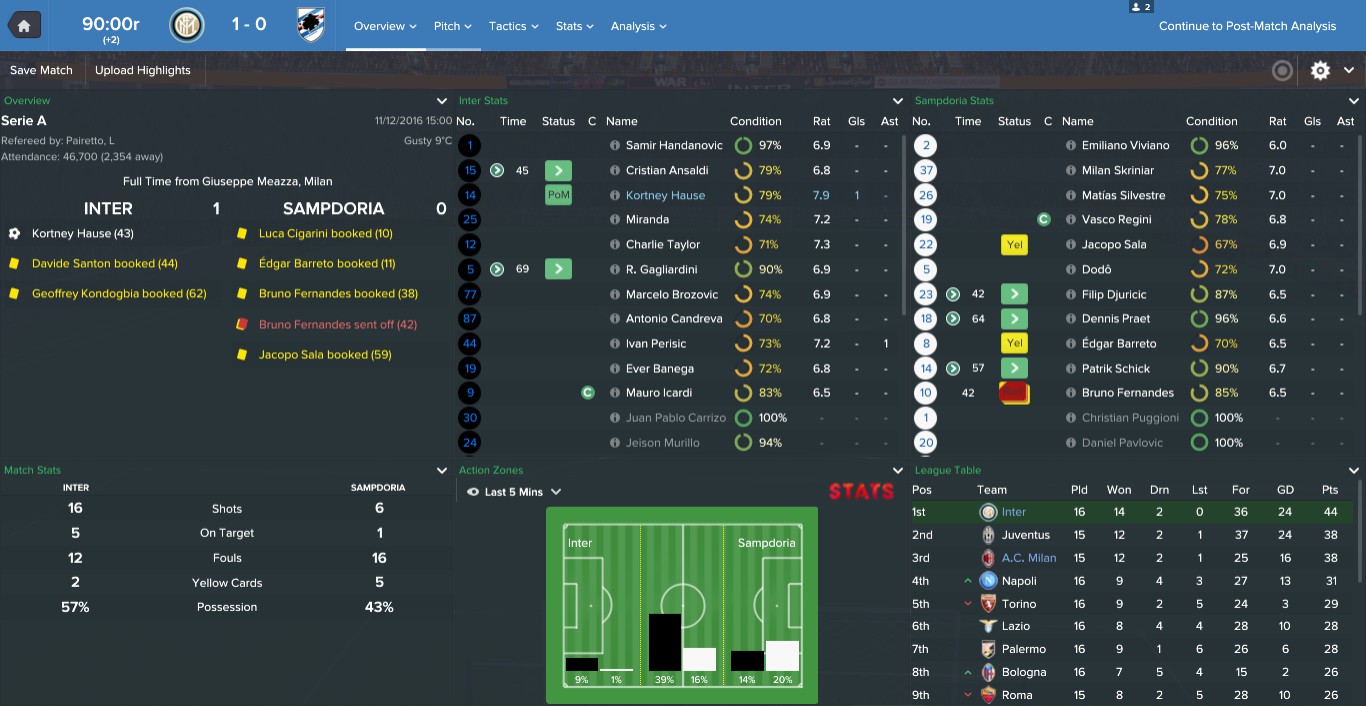 MIKE: In the aftermath of Inter Milan's victory over Sampdoria, they part company with Marco Giampaolo, even as Charlie is busy lending him support via his press conference I'm organising his farewell party. Interesting that the favourite for the job is Louis Van Gaal.
In an effort to get back on the winning path, I've rested Romagnoli and awarded youngster Axel Campeol his first team debut. Up top there's no Pasalic, Sosa, Suso or Deulofeu. Kucka and Bonaventura sit ahead of Regista Montolivo with Honda Jazz and Mati Fernández operating in the space behind Bacca. Charlie makes sly comments away from the writing about how I've not found my perfect midfield and while he has a point, I'm not admitting that out loud.
I just want to win, that's all. I don't care about the performance, I don't care about goal difference. Aggressive is the order of the day. I'm not afraid to get in the players faces and tell them exactly what I'll do to every single one of their pets if they don't get the job done.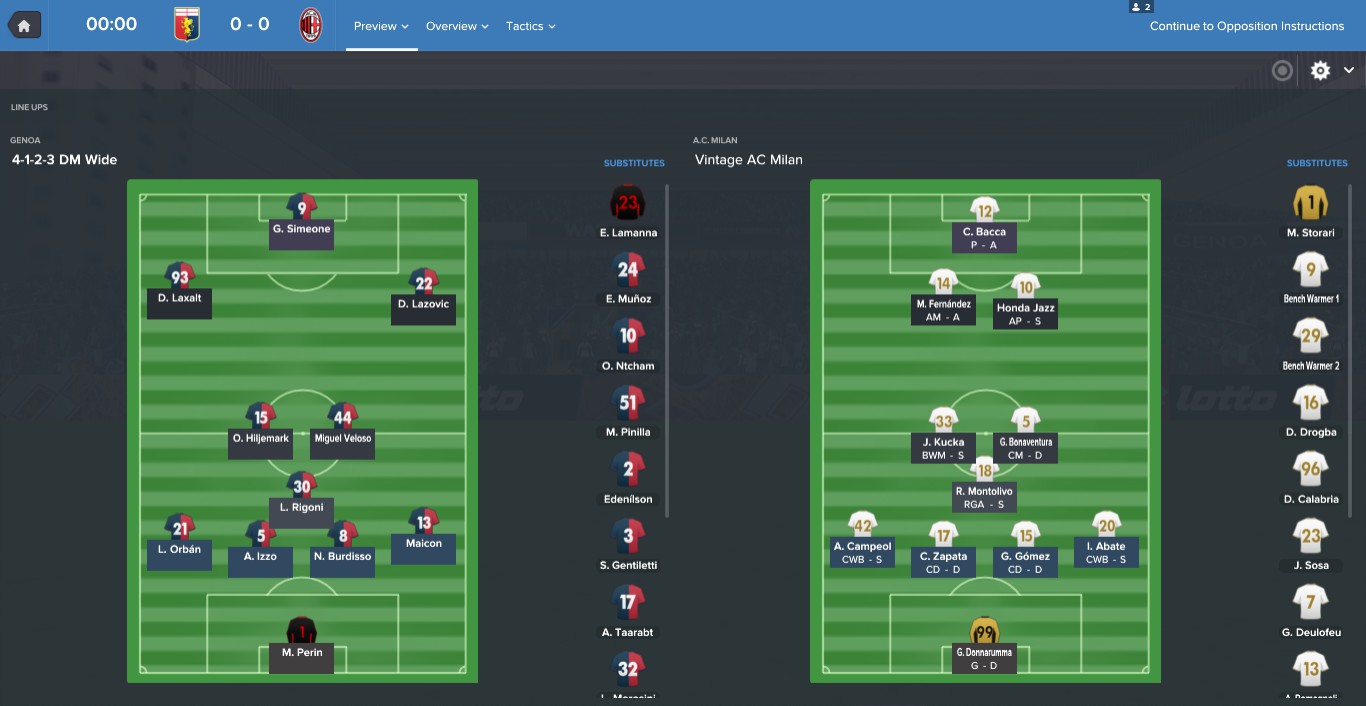 It's a good job I didn't care about the method, only the outcome, because it wasn't pretty.
Carlos Bacca has slotted back in like a hand inside a fitted glove. The Columbian striker races onto a ball from Honda Jazz via Lucas Orbán's deflection and pops it in to give us a deserved lead. That lasts to 59 minutes, when Kucka plays a suicidal pass across his own box and Goran Pandev taps in.
Luckily for us there's another red card as Maicon, the one torn to pieces by Gareth Bale once upon a time in an Inter shirt, slides through the back of Mati with two feet on about the half way line. Despite bringing on Didier Drogba for his farewell appearance before retirement, it takes until we have less than half a minute left on the clock for Bacca to squeeze a through ball for Honda Jazz to snatch away the full three points. I may now upgrade him from a Jazz to a Civic.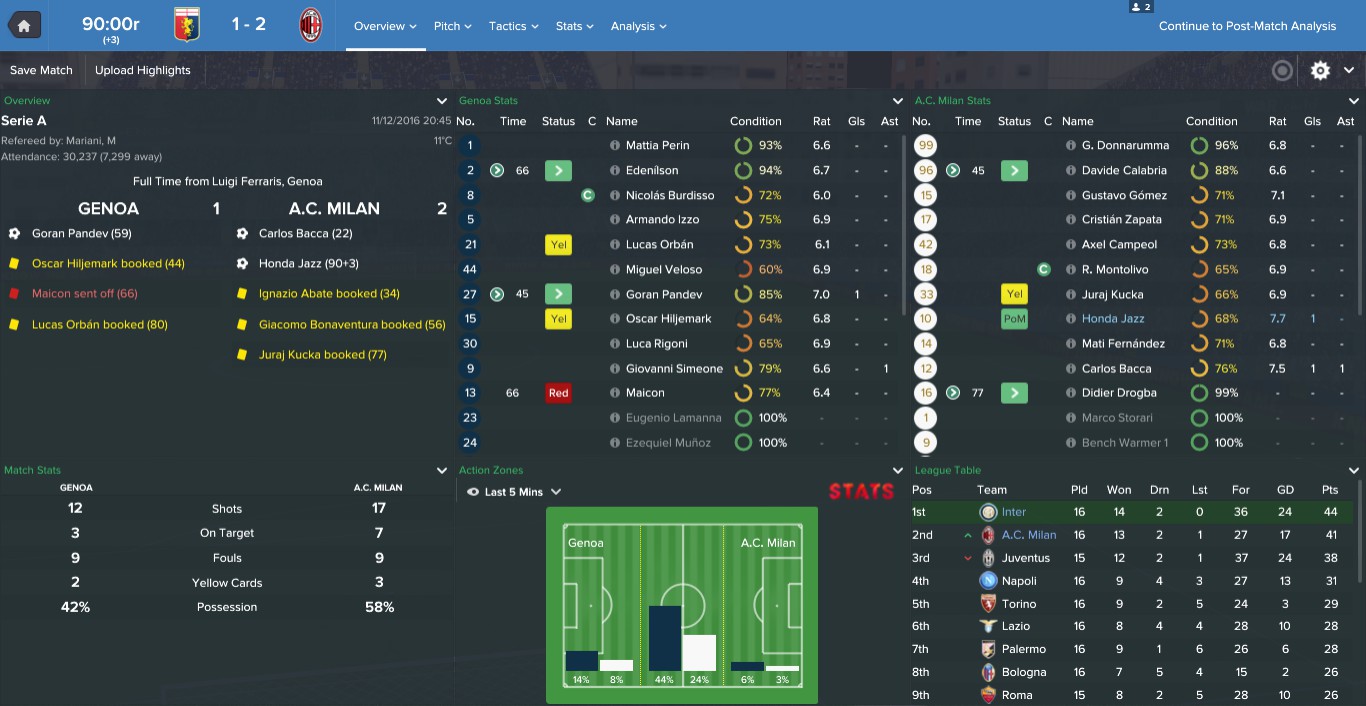 There's no contrived awful ceremony for Didier Drogba. No John Terry moment, just a knowing of a professional doing what he does best. He came in, did a good job and leaves with my respect. Thank you Dids, you're a good egg.
CHARLIE: Let's all sit down together and watch the Europa League first knockout round draw. As I said in a previous episode, I normally skip through these but in the interest of this story I wait with baited breath. The teams I really don't want are Ajax, Manchester United, Dortmund and Monaco. I won't go full Mourinho about how teams shouldn't be in two European competitions during one season… but he has a point. It would certainly make my life easier. I'll take AZ, Krasnodar, Mainz or Saint-Etienne. That should see us safely though.
In the draw we get… drum roll please… Zenit St. Petersburg. Now managed by Mircea Lucescu, who I have honestly never heard of, but he did manage Inter between 1/7/1999 and 1/7/2000. That's something to talk about when we have the pre-match handshakes.
We head into the next round of fixtures buoyed by our friends at Sassuolo, who defeated Juventus 2 – 0 at the Mapei Stadium. There's a good article on Football Whispers by Blair Newman written at the start of this season about their rise, I highly recommend it.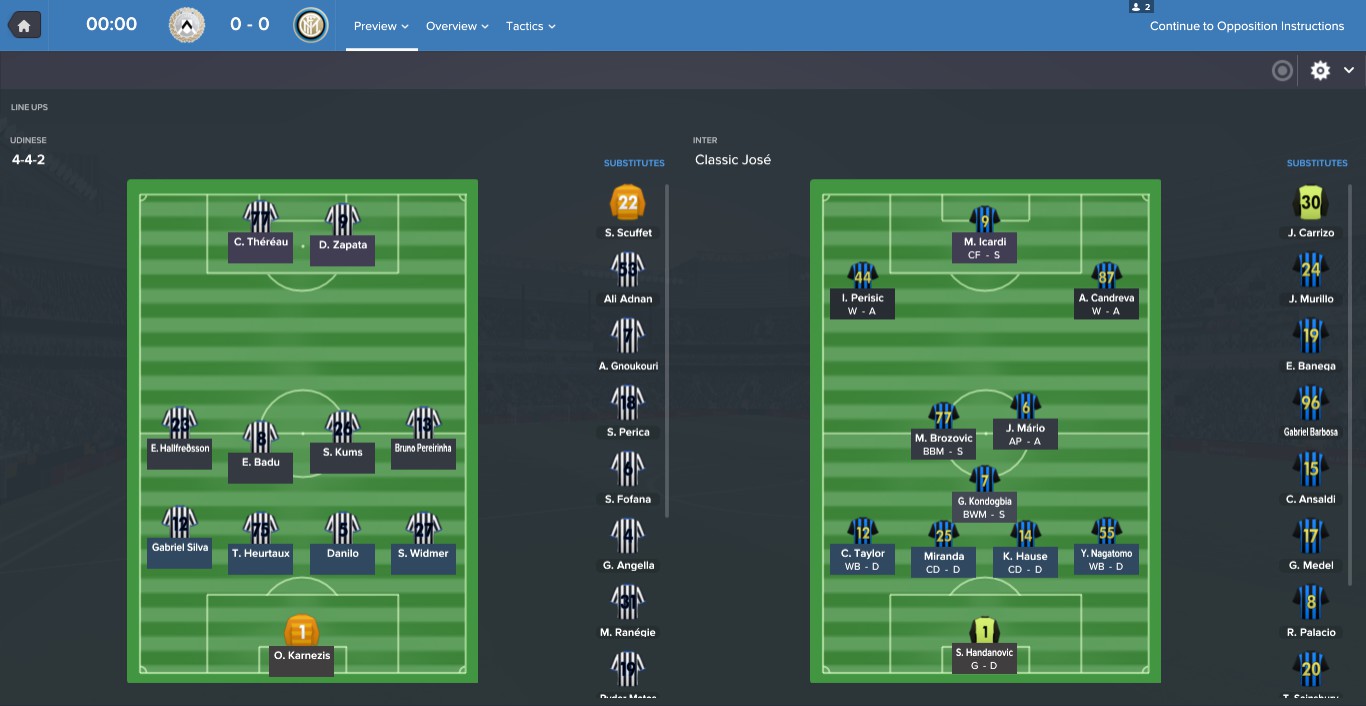 If Mauro Icardi is looking to strengthen his hand then he's not showing it. Number one rule heading into negotiations is to come from a position of strength, but right now he's the weakest member of our forward line. He was so anonymous I hooked him on 63 minutes for wonderkid Gabriel Barbosa. Ivan Perisic has decided that he is happy to stay now that transfer interest has subsided, funny how that works. He celebrates with our opening goal, before Candreva curls in a trademark free-kick and Kortney Hause heads from a Candreva dead ball to add to our score.
It's the comprehensive win I've been searching for and it feels sweet. 3 – 0 up at half time and to make matters all the more sweet, Perisic stole in front of Icardi to get his goal. The second half sees Perica grab one back for Udinese, but Candreva is on hand to sidefoot our fourth, thanks to a pass across the six-yard box by Barbosa.
MIKE: They say that you should get back on the horse after getting knocked off, which quite frankly is only the second most ridiculous piece of advice behind 'dive in at the deep end'. We did get back on the horse, though, and we squeezed out a 2 – 1 win at Genoa.
Having just realised that our next match after Cagliari is the Italian Super Cup against Juventus, we need to beat the Cagliar… ians to head to the Jassim bin Hamad Stadium in Doha, Qatar. Whoa, hold the phone. Jassim bin Hamad? In Qatar? Why in the name of all that is holy are we playing this game in Qatar??? Oh, I see. Somebody has sold out, haven't they? Well, I just hope that some of that cash finds its way into our coffers.
Vangioni has served his punishment for his poor performance in the derby, he's back in now. Honda Jazz not only scored for us last time out, but for the Rossoneri this very weekend in that pesky alternate reality, so I'm hoping for a big performance. The important thing is to win, again.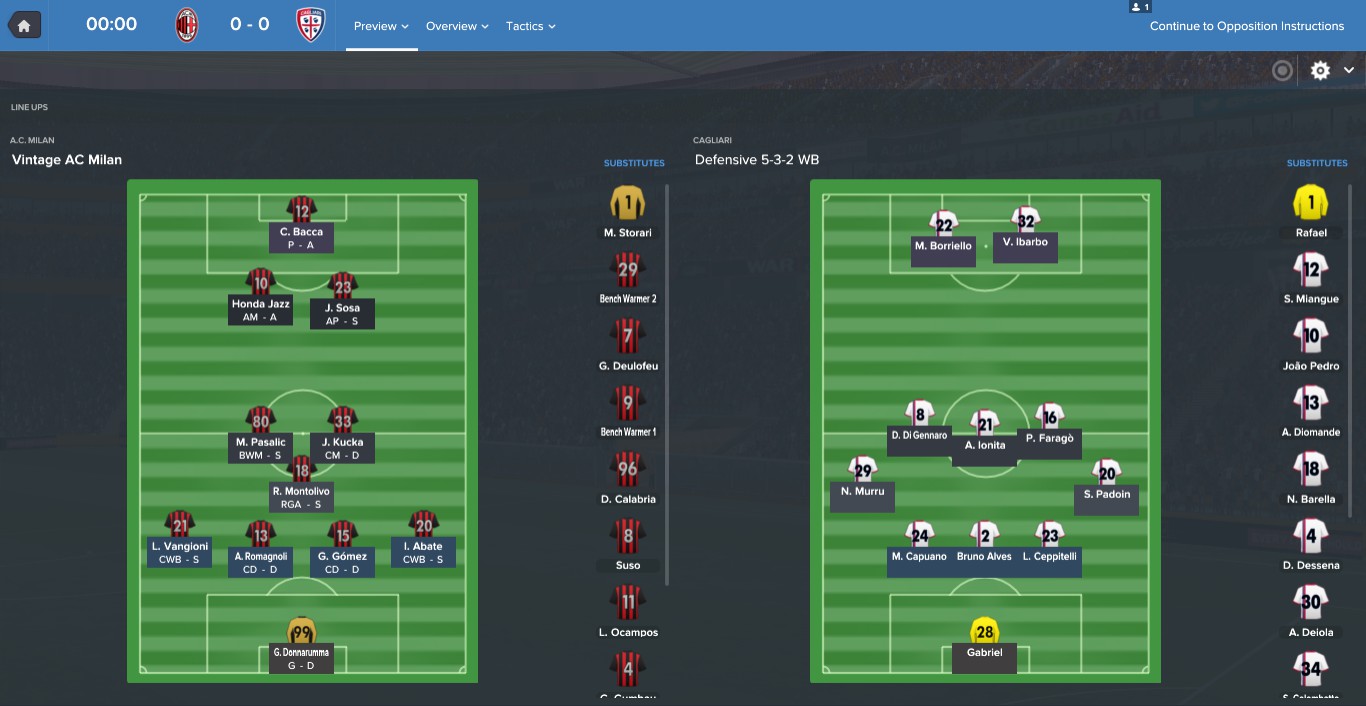 Four minutes in and they are tossing this away just to spite me. I've handed out no less than three promises to players including Carlos Bacca that if we don't get into the Champion's League then he can leave and this is how they repay me.
Boriello is in the box doing the square root of bugger all, but then, somewhere between Kucka and Romagnoli, they bring him down. As I shout that it was a tangle of legs and that it was soft, Boriello practically winks at me. He may as well be staring right at me as he takes a casual run up and MISSES. Unlucky, Marco. It appears at least he hasn't read the script. For a player with 16 scored penalties, that was unexpected. I'm actually doing Donnarumma a disservice because he made a fantastic save, but it was a bad strike too close to the goalkeeper.
From there it's a safe, simple, calm, collected, entirely reasonable performance. Cagliari are not down in seventeenth by chance and Pasalic puts us ahead before the break, then Carlos Bacca shows Boriello how it's done by scoring a penalty after the interval. It does seem like the game is rubbing Boriello's nose in it by awarding him a 5.9 rating. Harsh.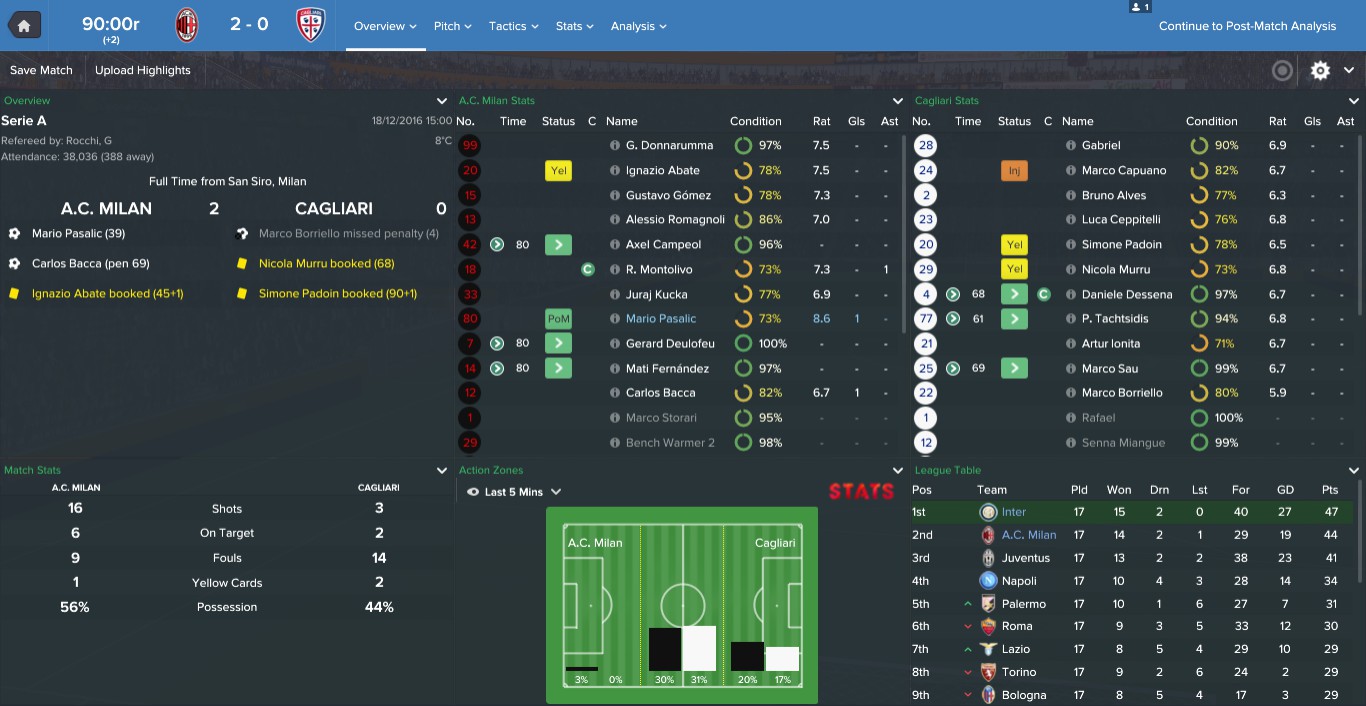 CHARLIE: Before Mike has this Italian Super Cup engagement, we play Crotone. I actually really want to see how AC Milan do against Juventus so this does feel a little underwhelming.
It must be the time to drop Mauro Icardi. It's a decision which has taken some coming to, I can tell you. His stats in the last few games have been shocking and he hasn't scored since the Milan Derby. I'm badging this as a rest, since ironically, we also play Juventus soon.
Gabriel Barbosa gets the start in Icardi's place, also taking part is 34-year-old Rodrigo Palacio. Both Kortney Hause and Charlie Taylor are a booking away from suspension, I'd rather have them available to play against Juventus so they too are rested. Both took it with good grace and wished their counterparts well, Mike suggested I prepare a couple of cups of Earl Grey for them since they'll only be used in an emergency.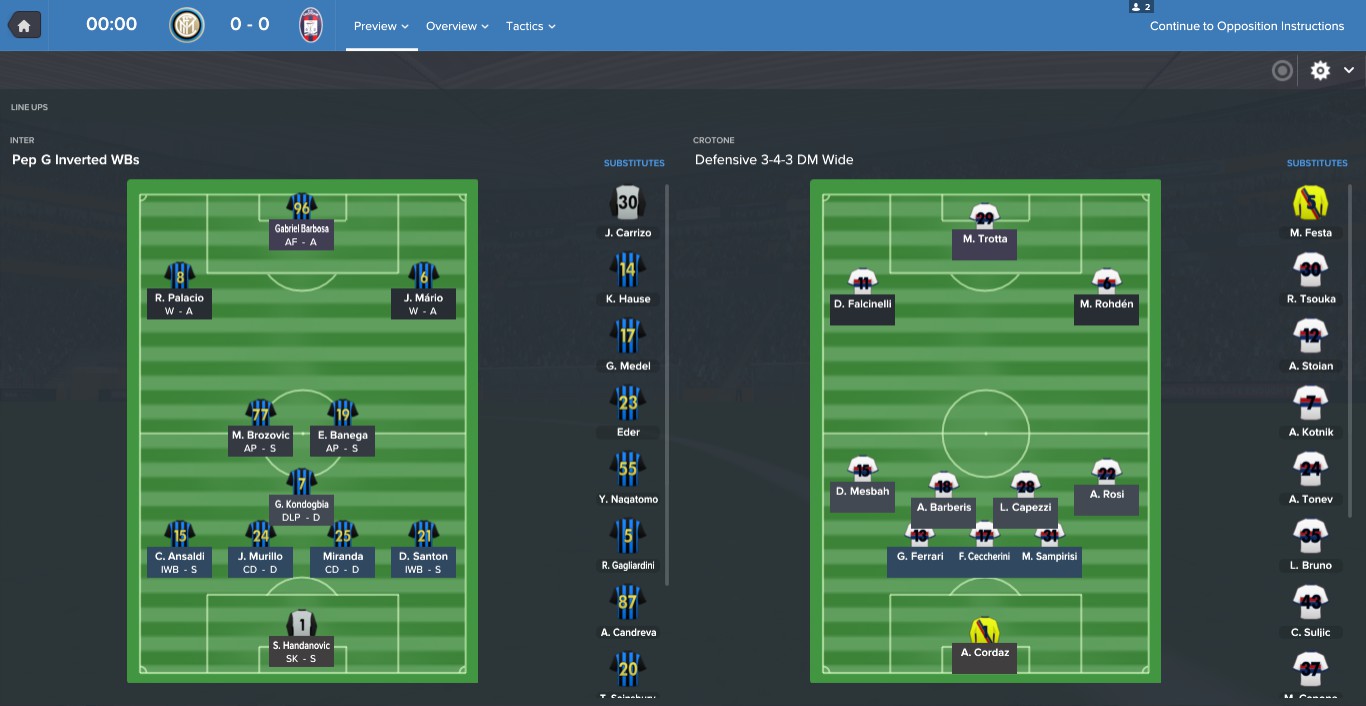 Before the game begins I note that the preview mentions that the bookies may as well have stopped taking bets considering Crotone's poor form.
And so it proves. João Mário misses a penalty with a shocking lob over the bar but thankfully his corners are better. One in particular is plucked out of the air by Palacio and the ball pinballs around the penalty box before Kondogbia just steps in to blast it home, it was like a man playing with children. After half time João Mário makes up for his earlier miss by scoring a penalty, before Gabriel Barbosa puts his name on the scoresheet.
To add to the pleasing result, both Ansaldi and Jeison Murillo (replacements for Hause and Taylor) are cautioned. I look to have saved our English noblemen from suspension.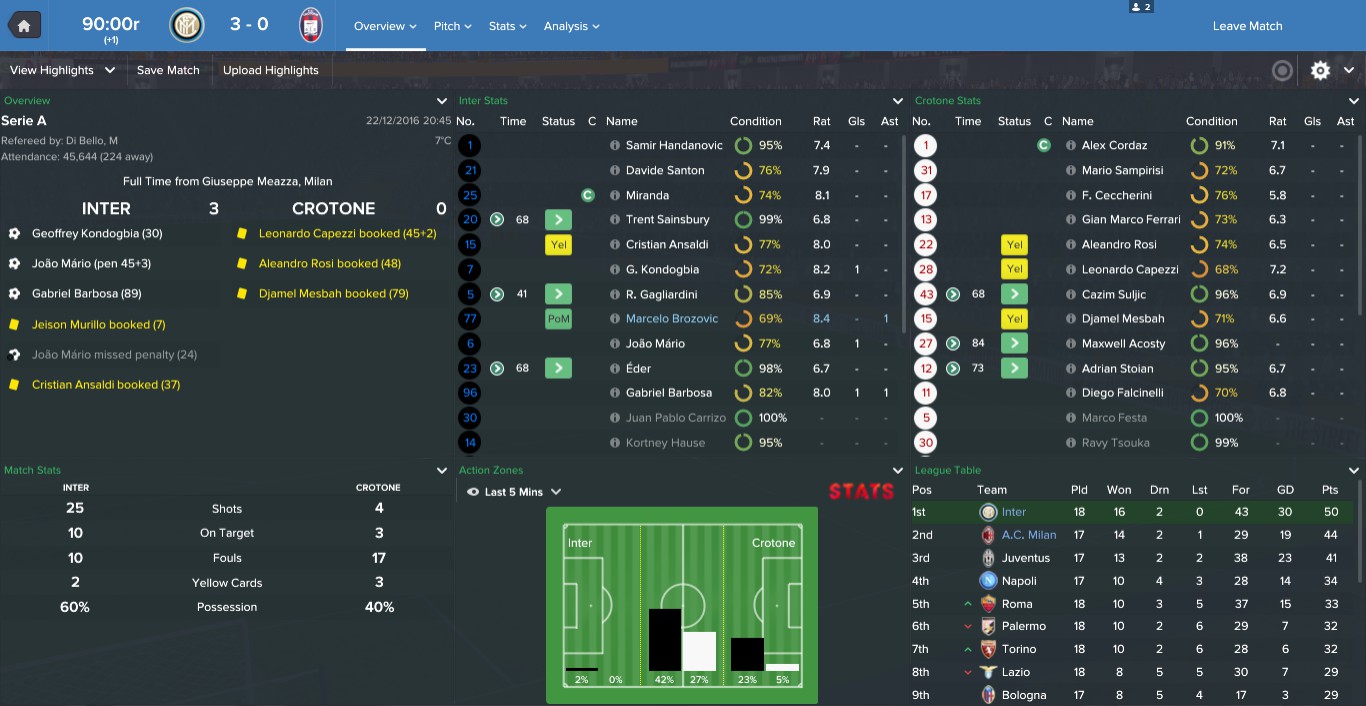 MIKE: The first silverware of the season is the Italian Super Cup, or to give it its proper name the Supercoppa Italiana, on the line in Doha between ourselves and the mighty Juventus.
I'm not scared of Juve. I've seen them barely survive against us. I've seen them lose to Sassuolo and Lazio. I've seen incriminating photos of Max Allegri…  okay that's made up. But I have seen Tempo's YouTube prediction of his fictional (thus far) reign at Arsenal. Seventh in the first season and sacked before Christmas in the second? Not good enough. Thank you to @brian_gendo for that.
The board don't care about this competition but I've come around. It's silverware and I want it. It's a trophy and it's the first one of the season. Tango Towers is quiet for this one. Charlie takes a seat somewhere behind me, I can feel him looming over my shoulder. He's already offered to buy a victory pizza if AC Milan win but considering how that went last time, I assertively declined.
In the pre-match warm up, I put my arm around Honda Jazz. He's not starting. I'm moving Bonaventura further forward. I see his lip quiver but I'm not equipped to deal with that sort of emotion so I move on to Carlos Bacca. As I see Icardi struggle over at Inter, I sense that Bacca's performance is key. "Don't worry about all the fans hating you, they hate me." He counters with; "They will do if I score." I like the cut of his jib.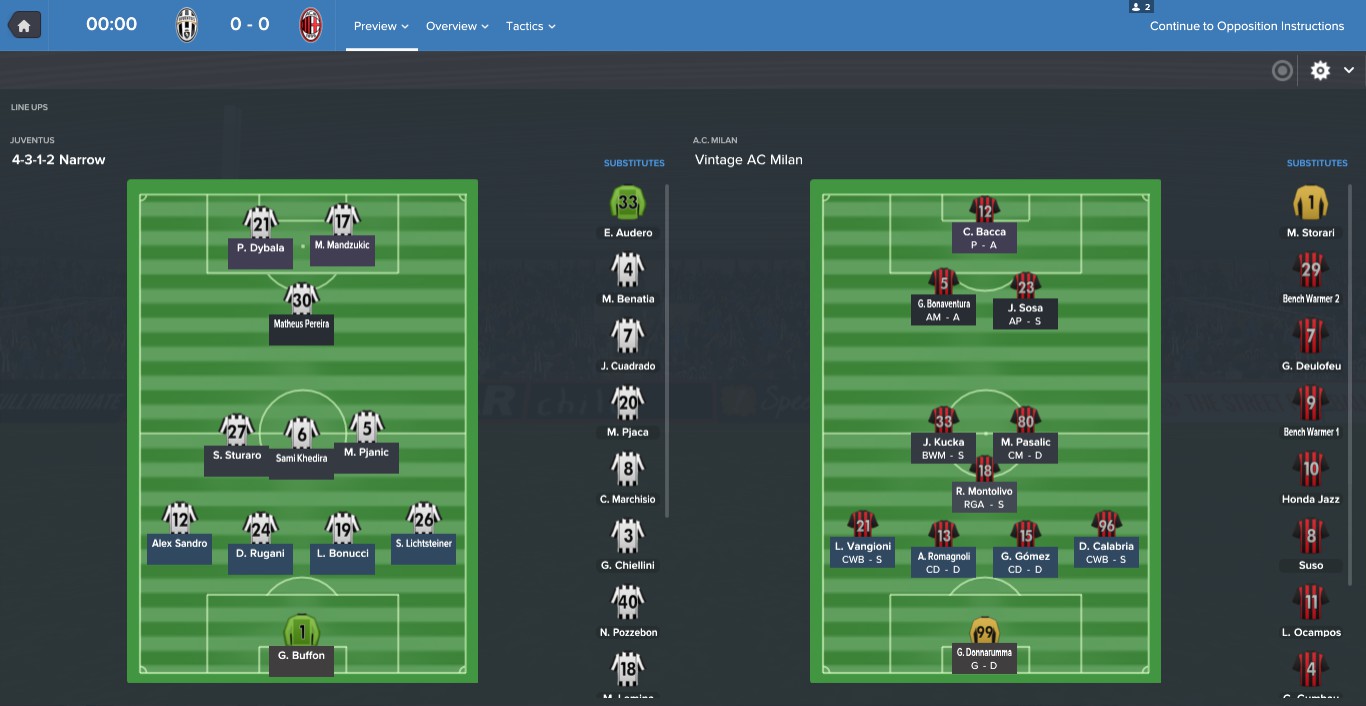 Have you ever been waiting for something that's never come? It's like a scene in Game of Thrones where the villain is blindfolded, placed on the wooden plinth and about to have his head cut off but it never happens. He eventually takes off the blindfold to realise that he's still alive and the area is vacated.
This game was a lot like that. Waiting and waiting and waiting and more waiting for Juventus to strike but they never did. Surprisingly. Very surprisingly. They were pretty toothless, despite a big number of shots they were pot shots from well outside the box.
At half time I'm thinking that we're unlucky just to be 0 – 0 and five minutes into the second half Sosa's free-kick starts a chain of events that sees Bonaventura, who I personally selected further forward than his usual position, to fire across the box and Bacca loses his marker at the near post to divert the ball underneath Buffon. Any goal scored against Buffon is worthy of celebration. Our second comes from a Gomez clearance, Bonaventura again runs at the Juventus defence and flicks the ball to Bacca. I'm shouting shoot but he knows what he's doing, he plays a low pass for Suso to score his first ever goal for AC Milan.
We win the trophy. That doesn't even feel right saying that. This feels like a dress rehearsal, was that the real game? Does somebody know something I don't?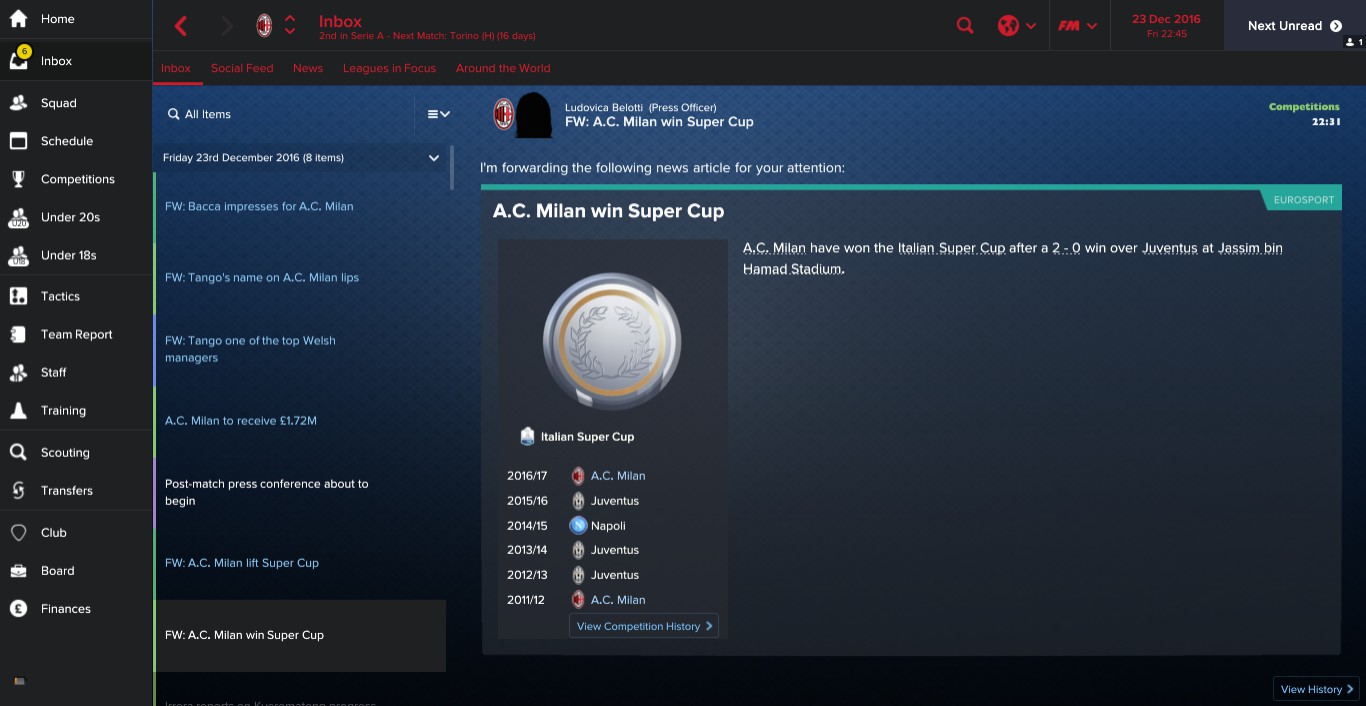 CHARLIE: Even I don't know how that happened, amazingly, AC Milan held their own in the first half, although in truth, Juventus offered practically nothing. Khedira was talked to by the referee while already on a booking, Higuaín must be injured because he wasn't in the squad and Paulo Dybala had a rare off night. First gong of the season and it's in the red and black trophy cabinet of AC Milan. I'm actually stunned. At least the league table makes for positive reading.
Thank you for reading, join us on twitter at @FM17Challenge, @CharlieTangoFM & @MikeTangoFM for excusive comments, developments prior to episodes and reaction afterwards. Continued thanks to Chris and everyone at Tempo for the opportunity to share this with the readers.